Telescoping Conveyor Streamlines Sludge Loading
Conveyors are used to move dewatered sludge from belt filter presses or centrifuges to container storage or truck loading areas.
Jan 1st, 2007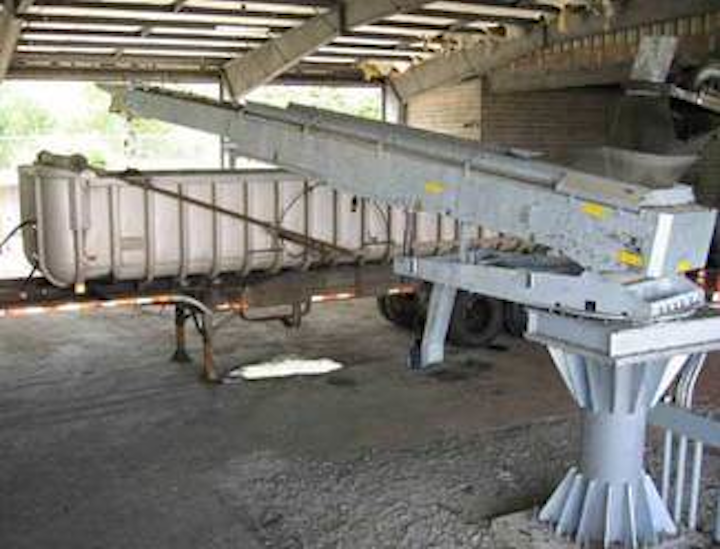 Conveyors are used to move dewatered sludge from belt filter presses or centrifuges to container storage or truck loading areas. Failing to completely fill containers or trailers used for transporting sludge increases the frequency of trips and the expense associated with hauling.
A common approach to adequately fill a trailer with sludge is for a driver to incrementally reposition a truck so that an unfilled section of the trailer is directly under the discharge point of the conveyor. Another method is to winch or push the unfilled portions of containers and bins under the discharge point. More elaborate container handling systems include movable containers on fixed rails, motorized containers, or using powered container movers. In addition to the time, cost of labor and equipment involved in repositioning these receptacles, the repetitive task of moving containers interferes with more pressing plant maintenance issues.
A telescoping conveyor manufactured in the United States by Serpentix® under an exclusive arrangement with German company, Puratek Anlagentechnik GmbH, offers a different solution - move the conveyor discharge over multiple points within the stationary receptacle.
The "Puratek" Telescoping conveyor extends, contracts, and pivots to reach in and discharge materials to each sector of a trailer, bin, or container. The movable discharge feature on the telescoping conveyor coupled with PLC controls and sensors, e.g. an echo sounder, enable unmanned, complete, and uniform filling of receptacles.
Numerous trailers, bins, or containers can be automatically and systematically filled when they are positioned in an array and without the constant vigilance of plant personnel. In addition to rotating 360 degrees and extending to reach different areas of a container, the conveyor incline angle can be altered to accommodate containers of different heights.
Typically the telescoping conveyor uses a ¼ hp pivoting motor, a 3 hp geared motor to drive the belt, and a ½ hp reversing motor to extend and contract the conveyor. A single belt, available in widths from 20 to 32 inches, is specially designed to flex in two directions. Idlers provide a slight trough shape to the belt. Internal traveling tensioning rollers maintain perfect tension on the belt throughout the conveyor's range of motion.
The conveyor is constructed from galvanized mild steel or stainless steel. The maximum extension on the largest telescoping model is 16 feet.
For more information on the telescoping conveyor or other conveyors with flexible discharge features offered by Serpentix Conveyor Corp., visit www.serpentix.com.