Membrane Retrofits: A Growing Trend in Municipal Drinking Water Plants
While not commonly accepted in drinking water plants until the early 1990s, low-pressure membrane technology for municipal drinking water plants is becoming more widely accepted.
Jun 1st, 2009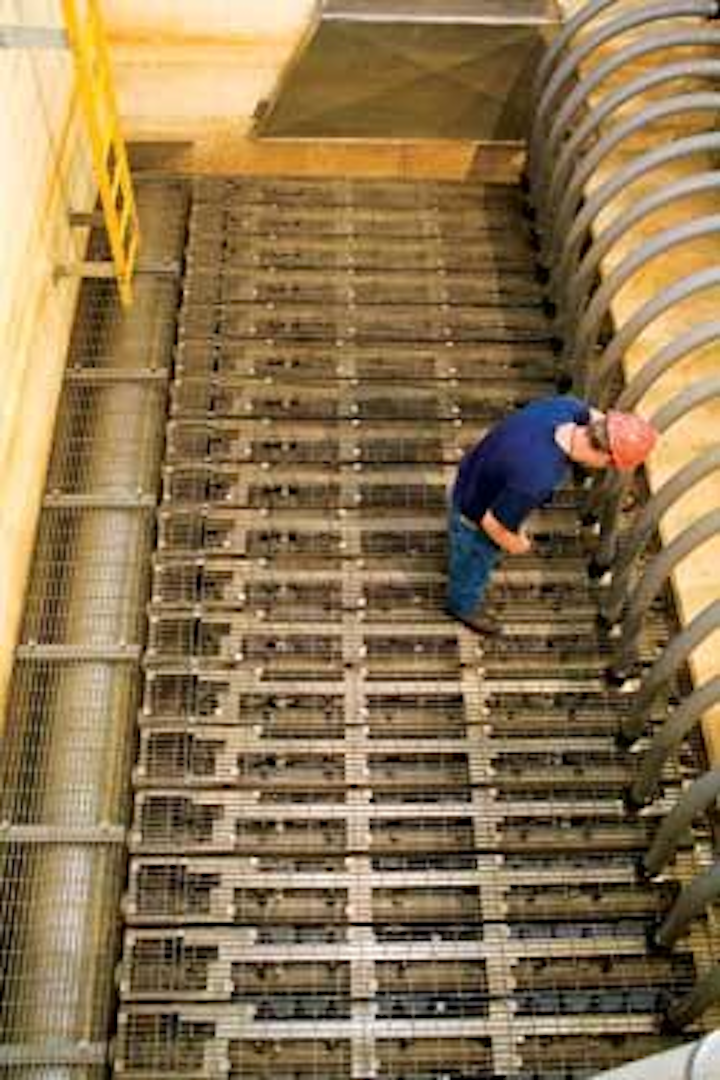 By Stratton Tragellis
While not commonly accepted in drinking water plants until the early 1990s, low-pressure membrane technology for municipal drinking water plants is becoming more widely accepted. The technology caught on once its performance track record was established and safe drinking water act amendments imposed new requirements on drinking water system contaminant removal. Today, a growing percentage of publicly owned water systems in the United States use low-pressure membrane filtration.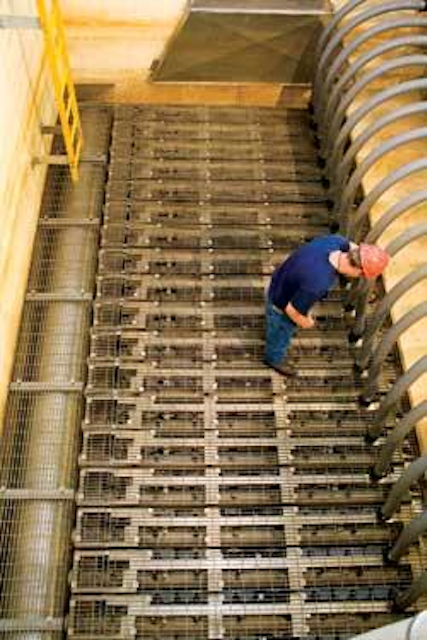 Submerged membrane system installed in existing filter basin at Kennewick.

Click here to enlarge image
When a plant needs to expand, many communities and engineers look to this technology due to high quality water and reduced footprint. Moreover, when a community needs to upgrade equipment or expand capacity, they are increasingly choosing to retrofit existing media filtration with low-pressure membranes. This is especially true when the plant has little or no available land to build a new facility, yet requires capacity expansion to support population growth and/or economic development.
Low pressure membranes produce high quality water that meets the USEPA's Long Term 2 Enhanced Surface Water Treatment Rule. The advantages over conventional media filtration include a physical barrier to harmful pathogens such as Cryptosporidium and Giardia, and the ability to be integrity tested for additional security. Low-pressure membranes offer reduced energy consumption, operating cost savings, small system footprint and easy system expandability.
There are two kinds of low-pressure membranes designed for drinking water applications – pressurized and submerged. In pressurized systems, feed water is pumped through the membranes at up to 40 psi, and the systems operate in a closed environment. Submerged membrane systems operate in an open-tank design. Feed water typically flows by gravity into the membrane cell. A process pump draws filtrate water by suction through the membranes at up to 12 psi. The system has fully automated processes including backwash, cleaning and membrane integrity testing. Membrane modules can be isolated in groups of four, or clovers. Many operators prefer the open tank process, as they can easily view system operation and more easily maintain the system.
Submerged membranes are the type most often used for retrofits because they can fit into existing filter basins, reducing the capital cost and construction time. The individual membrane modules are assembled onto racks containing up to 48 membranes. The membrane racks require less than four feet of head room for installation, which allows for retrofit into facilities with limited ceiling height. Multiple racks form a cell, and multiple cells form a system. Each system is equipped with a service access platform for ease of installation and start-up. The design of the racks, hardware and ancillary equipment is standardized and modular to simplify system design and installation.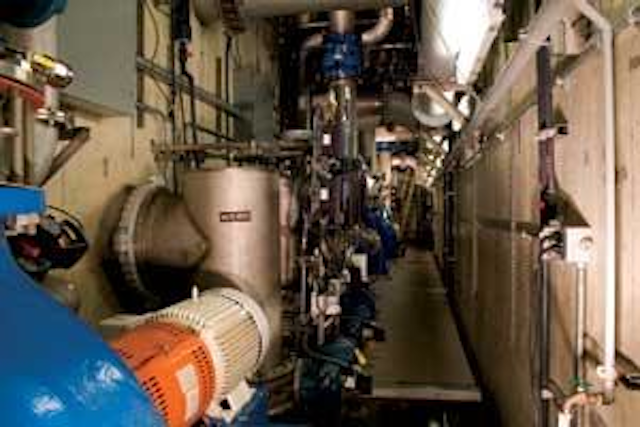 The membrane system used the existing piping and new filtrate pumps installed in the pipe gallery.

Click here to enlarge image
In most cases, existing media filter capacity can be greatly increased without building a new facility. Because most submerged membrane systems produce filtration rates greater than 15 gpm/ft2, compared to 5 gpm/ft2 with media filters, the submerged membrane system will deliver up to a three-fold improvement in capacity when retrofitted into the entire existing filter media box. Thus, the capacity expansion is usually limited only by the amount of water that can be brought to the facility and the capacity of the existing infrastructure.
Not all existing media filters are good candidates for retrofit, however, as certain plant configurations may result in complex pipe work and ancillary system designs that may not provide the level of access for maintenance or inspection required. Retrofitting is a good option when the new membrane filters will fit within the existing hydraulic profile with minimum modifications to the existing concrete. It is also important to ensure that the adjacent media filters can continue to operate while the membranes are being installed. With proper planning and project execution, the system retrofit can be completed without any interruption in plant operation.
Case Study
The City of Kennewick, WA, needed to double the capacity at its 7.5 mgd filtration plant that had been built in 1979 to treat the Columbia River source. The plant was designed to augment two collector wells that provided the main sources of drinking water. The city wanted to be able to operate the plant year-round and rely less on the wells. The treated water also had to meet both current and anticipated Safe Drinking Water Act (SDWA) regulations.
The city considered three options: building a mirror-image of its current plant, increasing capacity of the existing plant with a high-rate sedimentation/filtration process, or retrofitting with submerged membranes to replace the existing granular media filters.
After evaluating the three choices, the city decided to retrofit with submerged membranes, as this presented the most cost-effective option and the shortest construction time. The membrane system could be installed in the existing filter basins, could be easily automated, and offered the greatest flexibility to meet future regulations.
The city conducted a side-by-side pilot test on the Memcor CS system and another vendor's system, and concluded that the CS system would offer the lowest 20-year lifecycle cost. The CS system could be used with the existing piping and new filtrate pumps installed in the pipe gallery, and would double the capacity to 15 mgd without having to expand the footprint.
Since startup, the plant has met its capacity and performance needs. Should it need to be expanded in the future, new modules may be added to the membrane basins in a short time and without a major expense. —m
About the Author:
Stratton Tragellis is Global Director, Product Management, Purified Water Municipal Segment at Siemens Water Technologies in Shrewsbury, MA. He can be reached at stratton.tragellis@siemens.com.