New Membrane Technology Helps Tempe Boost its Water Supply
In arid climates such as the American Southwest, finding ways to reuse as much water as possible is becoming increasingly critical.
Jun 1st, 2009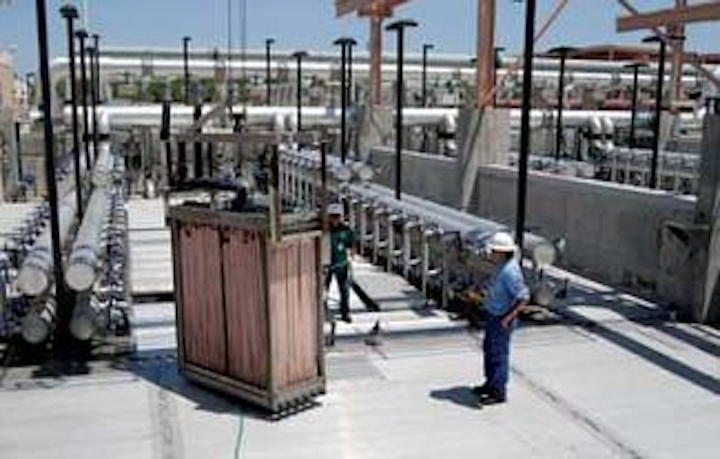 In arid climates such as the American Southwest, finding ways to reuse as much water as possible is becoming increasingly critical. The thriving community of Tempe, near Phoenix, AZ, is experiencing strong commercial/industrial growth. To meet the growing wastewater treatment needs of the area, and to reduce demand on the potable water supply, the city decided to expand the existing Kyrene Water Reclamation Facility (WRF).
GE Water, a business unit of GE Energy, was selected to provide its ZeeWeed Membrane Bioreactor (MBR) system to upgrade and expand the existing conventional treatment facility. The compact and modular design of the MBR system allowed the city to double treatment capacity without increasing the plant footprint, plus reuse a significant portion of the existing infrastructure.
The expansion has resulted in the reuse of an additional 2.5 billion gallons of water a year for commercial and industrial applications, and for aquifer storage. The facility's treatment capacity has doubled from 4.5 to 9 million gallons of water per day, with a peak flow of 11.7 million gallons, making Kyrene WRF one of the largest MBR plants in North America today.
"We have to make use of every water resource that we possibly can," said Don Hawks, Tempe's water utilities manager. "Water is our most precious resource. Without water, there is no life. So it is vital for people, not only in the Southwest but everywhere, to be judicious in their use."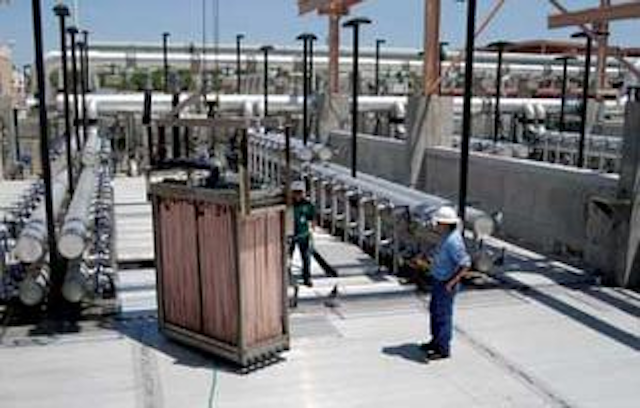 The Kyrene Water Reclamation Facility in Tempe, AZ, is one of the largest MBR plants in North America.

Click here to enlarge image
The existing conventional plant consisted of coarse screens and grit removal, followed by a bioreactor, two secondary clarifiers and a sand filter. In the plant expansion, the existing bioreactor was split into four parallel biological trains, with two additional trains constructed next to it. The two clarifiers were each converted into four identical membrane trains and were retrofitted with ZeeWeed ultrafiltration membranes.
Raw wastewater is pumped to the headworks, which includes a new coarse screening system, traveling band screens, grit removal and equalization, prior to biological treatment.
Each train consists of one anoxic tank and one aerobic tank for denitrification and nitrification processes respectively. Mixed liquor flows from the aerobic tank to the eight membrane trains. The membranes are immersed directly into the mixed liquor and draw treated effluent into the fiber using a slight suction. With a pore size of 0.04 microns, the membrane fibers act as a physical barrier, preventing suspended solids and pathogens from entering the final effluent. The effluent is then sent to a UV system for further disinfection and discharged directly into the water reuse system.
The reclaimed water plays a critical role in the city's long-term water management strategy. High quality, treated effluent is used for non-potable applications such as cooling at a major power plant and irrigation at a municipal golf course. The city also injects the reclaimed water into local aquifers, earning aquifer storage credits that can be used to access additional water supplies during times of drought.
Tempe Town Lake, the city's artificial recreational body of water, also may benefit from reclaimed water. The city has proposed to use its aquifer as a virtual pipeline to refill the lake, which loses up to two million gallons per day to evaporation. Reclaimed water can be injected into the aquifer in one area, and then withdrawn at another, to refill the lake.
"The project is an example of the growing trend to turn wastewater into a valuable new resource, particularly in areas where water suppliers are severely limited. The Kyrene expansion allowed the city of Tempe to double its water recycling capabilities without expanding plant footprint. Thanks to its the compact design and quiet, low-odor operation, most people in the densely populated city are not even aware that the plant is there," said Yuvbir Singh, GE Water's general manager for the ultrafiltration, membrane bioreactor and ABMet product lines.
Tempe Mayor Huge Hallman noted, "We're working to create the opportunity for water reuse in our community like never before. The Kyrene facility expansion helps us address one of our most difficult challenges: water shortage." —m