Products & Technology
International Products Corporation's Micro-90® is used to clean industrial filter membranes.
Mar 1st, 2009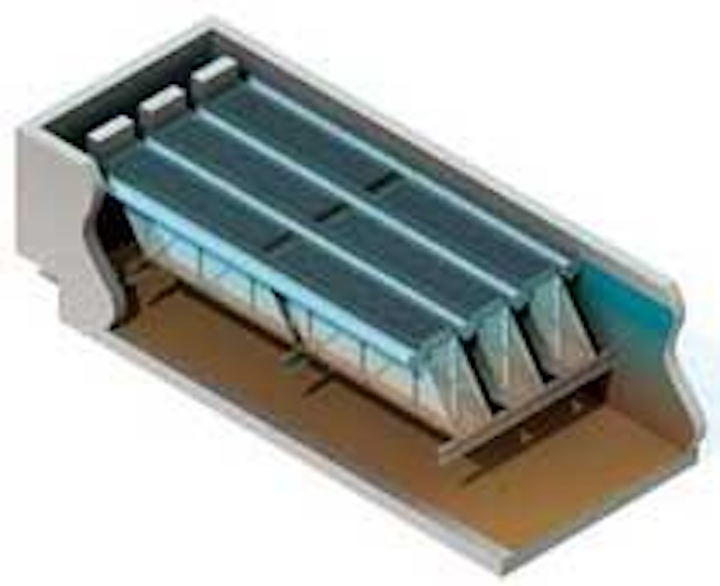 Cleaning system
International Products Corporation's Micro-90® is used to clean industrial filter membranes. The mild, yet powerful, multipurpose, alkaline cleaning concentrate has long been used in laboratories, industrial applications, and critical cleaning processes. It is a unique chelating detergent that contains ionic and nonionic ingredients, which combine to produce a variety of cleaning actions. The cleaner lifts, disperses, emulsifies, sequesters, suspends, and decomposes soils, then rinses them away leaving the surface absolutely clean. Its target soils include oil, grease, wax, tar, flux, particulates, hard water stains, and biological debris. The cleaner is effective at defouling filter membranes and can be validated in critical cleaning applications. International Products Corp.
Burlington, NJ
Tel: 609-386-8770
Web: www.ipcol.com
MBR system
Bio-Microbics has introduced a new generation of wastewater treatment systems, the HSMBR® (High-Strength Membrane Bioreactor) BioBarrier®. Ideally suited for commercial properties, residential developments, and other high-strength, water-reuse applications, the system helps meet the increasingly stringent needs of these specialized applications. The membranes and processes used act as an impenetrable physical barrier for nearly all common pollutants found in wastewater. The completely automated operation sequence uses an advanced control strategy that simplifies maintenance. The pre-engineered, modular MBR units ship installation-ready for refurbishing existing systems, improving quality and capacity, or for new installations.
Bio-Microbics Inc.
Tel: 800-753-3278
Web: www.biomicrobics.com
Plate settlers
Brentwood Industries' new AccuPac™ Plate Settler Systems are available with stainless steel or fiberglass structural frame, PVC plates and FRP troughs. Suitable for pre-treatment before membrane plants, the plate settler is an economical alternative to all-stainless steel units. The company is also offers its line of IFR-6000 series tube settler modules. Available in USF approved potable grade PVC in standard sizes 24, 36 and 41 inch height, tube settlers increase the allowable application rates in sedimentation tanks by increasing settling capacity and the solids removal rate in the settling basins. Extended tube settlers (3' & 4') are particularly effective in higher flow rate (3.0-4.5 gpm/ft2) applications making them an economical means of increasing capacity of a water treatment plant without adding additional settling basins.
Brentwood Industries Inc.
Reading, PA
Tel: 610-236-1113
Web: www.brentwoodprocess.com
Ceramic membrane filtration
Kruger offers the advanced NGK microfiltration ceramic membrane to the U.S. municipal market. With its robust design, the system is able to directly filter variable raw water, thereby eliminating the need for large pretreatment clarifiers. The membrane system offers high rate treatment (100 gfd) for difficult to treat surface waters, such as those having cold temperatures, significant organics, and turbidity fluctuations of up to several hundred NTU. The ceramic membrane systems removes bacteria, cryptosporidium, and Giardia with over 99.99% efficiency. The systems consist of multiple pressurized membrane elements having a nominal pore size of 0.1 microns. The water is filtered from the inside out and is collected in multiple channels throughout the membrane element where it is directed toward the filtrate side.
Kruger Inc.
Cary, NC
Tel: 919-653-4574
Web: www.kruger.com
Low-flow membrane treatment
Pall Aria™ AX packaged water treatment systems are designed for applications less than 150 gpm. Similar in functionality and operation to the company's Aria AP system, the AX model features even smaller footprints at a lower capital cost. The system includes all the necessary equipment for automated operations in low-flow surface water, groundwater under the direct influence of surface water, and pre-RO applications. The systems feature fully automated operation and are designed for simplified installation and maintenance.
Pall Corp.
Port Washington, NY
Tel: 888-428-5597
Web: www.pall.com/water
Water tubes
Toray Membrane USA has introduced an 1.125 inch product water tube for models of TMG20–400C and TMG20-430C reverse osmosis – low pressure brackish membrane elements. The new tubes will provide the benefit of a common sized end cap adaptor for membrane replacement and will allow users to replace RO membranes without the inconvenience of changes in pressure vessel adaptors. Toray will continue to offer the original 1.5" product water tube model for replacement of existing elements. Specification sheets can be found on the company website.
Toray Membrane USA Inc.
Poway, CA
Tel: 858-218-1518
Web: www.toraymem.com
RO system software
Koch Membrane Systems has updated its ROPRO® software to version 8.0. This new version of the reverse osmosis system design tool can now be downloaded directly from the company's web site. The software is a sophisticated tool for predicting the performance of spiral wound RO membrane elements manufactured by KMS. It allows customers to predict the effect of various system process design choices including: single pass, single pass with recycle, two pass with or without interstage pumping, and two stage concentrator. Version 8.0 features an up-to-date performance database of all available RO products including the new high surface area, high rejection seawater element and the MegaMagnum ® large diameter spiral elements.
Koch Membrane Systems Inc.
Wilmington, MA
Tel:888-677-5624
Web: www.kochmembrane.com
RO pretreatment
In addition to the salt and dissolved ions that RO membrane systems remove, sea water can also contain algae, color, organics, soluble metals, dissolved solids and oil that can foul and damage the membranes. ITT Leopold® desalination pretreatment systems can remove these contaminants before they reach the RO membrane system. The company offers two desalination pretreatment system technologies—Leopold Clari-DAF® dissolved air flotation system and Leopold FilterWorx™ rapid gravity media filtration. They can be used individually or in combination to provide the cleanest influent to feed the RO membrane filters. The Clari-DAF system requires no polymer, has high loading rates, is compact in design and effectively operates in low temperature raw water. The FilterWorx rapid gravity media filter system has a downflow design, efficiently stores solids, handles wide swings in solids loading, and provides long filter runs with high production rates.
ITT Water & Wastewater, Leopold
Zelienople, PA
Tel: 724-452-6300
UF membranes
Miller-Leaman's Ultra-Pure UF Membrane System is designed to remove suspended particulate, bacteria, colloidal, and high molecular-weight contaminants from source water. Target applications include municipal, reuse water and wastewater. The company's Ultra-Pure system provides high quality effluent water, removing all total suspended solids (TSS). The system produces output water turbidity of less than 0.4 NTU. It operates at less than 22 PSI, reducing energy costs compared to other systems. The system has an integrated Maxim controller for backwashing. Triggered by the Trans-Membrane Pressure, the air pulse actuated backwash cycle will remove suspended solids from the outside membrane surface, therefore extending the time between chemical cleaning cycles. With a small footprint, the system is a sensible replacement to coagulation, flocculation, large clarifying tanks, media and sand filters.
Miller-Leaman Inc.
Daytona Beach, FL
Tel: 800-881-0320
Web: www.millerleaman.com
Desalination membrane elements
Dow Water Solutions offers two new FILMTEC™ 8-inch SWRO membrane elements for improved performance and energy efficiency in desalination applications. At 99.80%, the SW30XHR-400i has the highest salt rejection consistently demonstrated in the industry. It also effectively removes boron and other dissolved solids. The SW30ULE-400i elements have a flow rate of 11,000 gpd with 99.70% salt rejection, offering flow twice that of the original sea water element introduced in 1985, without having to sacrifice salt rejection. They're especially suited for seawater desalination at low temperatures, in addition to high TDS brackish water systems.
Dow Water Solutions
Edina, MN
Web: www.dowwatersolutions.com
MBR system
Bord na Móna Environmental Products U.S. now offers the new PuraM® Membrane Bio-Reactor (MBR) system, which is designed to meet water reuse and stringent Total Nitrogen standards within a greatly reduced overall footprint. The system is engineered specifically for the decentralized municipal, community and commercial wastewater treatment market with an emphasis on reduced operational input, ease of maintenance and less complexity than comparable systems. The system is based on flat plate ultra-filtration membrane technology assembled into stainless steel membrane cassettes. Each cassette consists of an integral, dedicated air diffuser assembly that eliminates the need for back-pulsing or frequent chemical cleaning. The system does not require permeate pumps or any site-installed chemical dosing system while achieving a typical time between recovery cleanings of approximately 12 months.
Bord na Móna Environmental Products U.S.
Greensboro, NC
Tel: 800-787-2356
Web: www.bnm-us.com
Membrane water treatment
The Memcor CP system from Siemens Water Technologies is a pressurized membrane system that ensures microbial protection, achieving goals set by the Long Term 2 Enhanced Surface Water Treatment Rule. The filtration system is ideal for gravity-driven systems as well as treatment that requires coagulants, and is also well-suited for pre-treating reverse osmosis applications such as desalination and reuse. Its compact, modular design makes the system easy to install and start up, and it can be expanded to meet future capacity demands without increasing the footprint. Membrane modules are pre-loaded into arrays, and up to three arrays can be combined to create a skid that uses common piping, valves and controls. The fully skidmounted system arrives at the customer's site ready for installation.
Siemens Water Technologies
Web: www.water.siemens.com
Filtration systems
Amiad's vertical EBS filter series now offers in-line and on-line versions with more filtering surface area. These filters provide protection for membrane systems acting as a pre-filter to reduce dirt loads, increase recovery rates and lessen chemical consumption for membrane cleaning. In urban settings the company's compact SAF horizontal configuration is used as a point-ofentry pre-filter to point-of-use purification systems. In rural environments the SAF is used to compliment or replace media filtration systems for potable water, reducing energy demand and wastewater during flushing and cleaning processes. The AMF automatic, self-cleaning thread filter is the 21st century version of the cartridge filter. This microfiber filter removes suspended and colloidal foulants in the 2-10 micron range, making it very suitable as a pre-filter before membrane filtration systems.
Amiad Filtration Systems
Oxnard, CA
Tel: 800-969-4055
Web: www.amiadusa.com
Ion exchange system
Orica Watercare's MIEX® Technology is an ion exchange process developed for dissolved organic carbon (DOC) and color removal. This technology has application as membrane pre-treatment for high purity water applications and for municipal and industrial water treatment. MIEX is derived from 'Magnetic Ion EXchange' as the resin beads have a magnetic property and form rapidly settling agglomerates. The 200 µm resin bead size provides a large surface area, facilitating rapid kinetics. The resin is used in a continuous process including contacting, separation, and regeneration.
Orica Watercare Inc.
Denver, CO
Tel: 877-414-6439
Web: www.miexresin.com
UF membrane system
UF membrane system TriSep's SpiraSep™ submerged ultrafiltration process uses spiral wound membranes. Water is "pulled" through the membrane using a slight vacuum. Air "bubbles up" through the element feed channels, scrubbing the membrane surface clean. The rigid, durable structure of the system design eliminates mechanical integrity issues commonly associated with hollow fibers, preventing unwanted solids passage. The UF membranes provide a complete barrier layer which removes all particulates, offers high flux rates and low chemical usage, in a low-energy, fully automated package.
TriSep Corp.
Tel: 805-964-8003
Web: www.trisep.com
Suspended solids meter
Easily measure the concentration of sludges or slurries without the reading being affected by color using the Markland Model 502 Suspended Solids Meter. The meter can be used in drinking water plants to measure the concentration of the backwash sludge from sand or membrane filters before it is sent for further processing. In wastewater treatment plants it is used to measure primary, secondary and return activated sludges. The system uses the attenuation of ultrasound to read the concentration.
Markland Specialty Engineering
Toronto, Ontario
Tel: 905-873-7791
Web: www.sludgecontrols.com
Immersed MBR system
NEOSEP® immersed membrane bioreactor (MBR) treats high BOD/COD wastewater to a quality suitable for discharge, irrigation or reuse. The compact system design eliminates the need for final clarification and tertiary filtration and results in a small footprint as compared to conventional systems. The process can adapt to high load variations, and the automated controls enable reliable operation with minimal attention. The systems have been used in both municipal and industrial wastewater treatment applications and is appropriate for greenfield, retrofit and sewer mining plants.
N.A. Water Systems
Moon Township, PA
Tel: 800-337-0777
Web: www.nawatersystems.com