Briefs
QuantumSphere Inc. has filed for a U.S. patent on a water purification process that serves as a more energy-efficient alternative to current desalination methods.
Mar 1st, 2009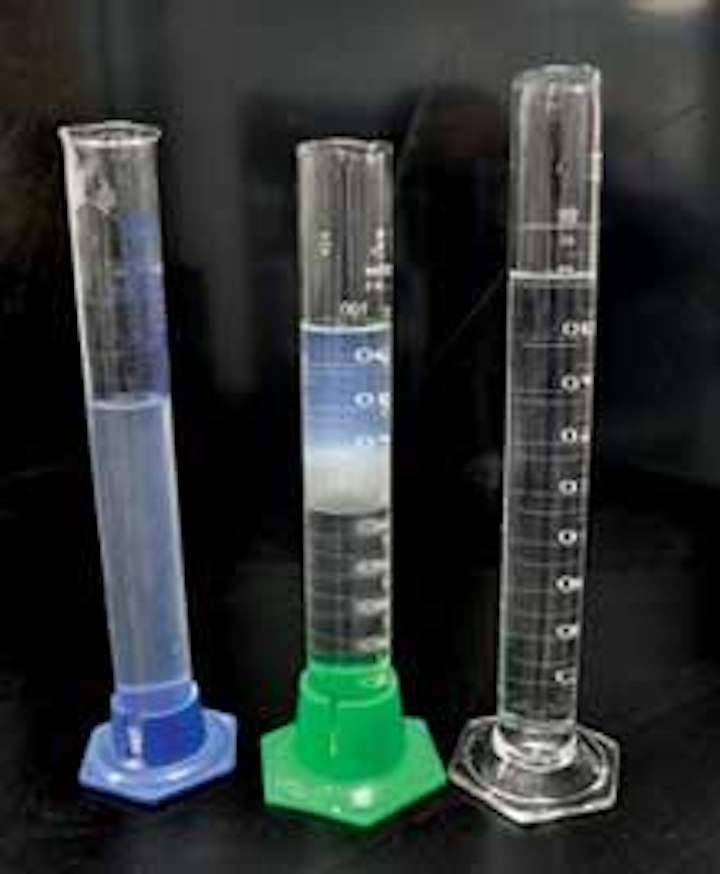 Company Files Patent for Energy-Efficient Water Desalination System
QuantumSphere Inc. has filed for a U.S. patent on a water purification process that serves as a more energy-efficient alternative to current desalination methods.
The company intends to commercialize the "forward osmosis" technology to address the challenge of growing demand for potable water. The forward osmosis process uses certain organic solutions to separate water from salt water or polluted water in an osmotic purification process. The company has constructed a prototype system that can purify several gallons of water a day for demonstration purposes and intends to scale the process with large development partners to serve large-scale municipal drinking supplies.
The QuantumSphere process will provide an alternative to thermal desalination and reverse osmosis desalination processes that require more energy than the forward osmosis process it has developed.
"Today, most high-volume thermal desalination is conducted at complex plants in the Middle East, where an inexpensive oil supply makes it more practical than most other parts of the world," said Subra Iyer, principal technologist for QuantumSphere. "The reverse osmosis process also requires tremendous amounts of energy for desalination.
"The forward osmosis process we've developed can purify water at less than 3,000 kWh per acre foot, which is approximately 70% cheaper than the energy cost of traditional reverse osmosis processes."
The company is seeking development partners to further refine and scale the process to make it a commercially viable large-scale process for seawater desalination.
Forward osmosis using the company's proprietary process can also purify brackish and polluted water. The process uses a semi-permeable membrane to separate water from salt water into a special organic solution across the membrane. The diluted organic solution is then warmed to cause the specially formulated organic solute to drop out, leaving only fresh drinking water after a final purification step through activated charcoal.
QuantumSphere expects to build larger prototypes to accelerate the water purification rate of forward osmosis to 1,000 gallons a day and then 10,000 gallons a day, the latter being sufficient to supply a hotel or a seaside resort. Within three years, the company will address larger engineering challenges to bring the rate up to a million gallons a day, or enough to supply a small municipality.
For more information on QuantumSphere and its products, visit www.qsinano.com.
---

Membranes Help Make Plant More Cost Efficient
Dow's fouling-resistant Filmtec™ Reverse Osmosis (RO) membrane technology was used to modify the feedwater source of the DECO water treatment facility in Terneuzen, The Netherlands, with minimal changes to the plant design. DECO is operated by Evides Industriewater B.V. and provides Dow's Terneuzen site with process water.
Initially, the DECO water plant's feedwater source was river estuary water. After the re-engineering, the plant was supplied with the effluent of Terneuzen's municipal wastewater treatment facility. Although the organic fouling potential of the feedwater significantly increased, the retrofit was achieved through the replacement of the existing membrane modules with Dow's latest high-performance fouling-resistant brackish water membranes. Additionally, the feed pumps were changed and slight modifications were done for piping.
The benefit of this retrofit is double: Water recovery increased by 20 percent while the operational costs diminished by 50 percent, due to the lower feed pressure requirement. In addition, the city's wastewater is no longer discharged to the sea.
"Since the start-up in March 2007, these very robust membranes have shown that they can virtually withstand the necessary harsh and frequent cleanings without compromising a stable performance at a very high level," said Kevin Reyntjens, European Technical Service and Development Leader for Dow Water Solutions.
"With enabling the reuse of municipal waste water streams, Dow Water Solutions membranes helped preserve natural resources and saved water and energy, making Dow's businesses more sustainable and committed to communities and the environment," said Fabien Creus, Global Water Reuse Market Development Manager for Dow Water Solutions.
---

New System Serves Water-Constrained Region
CH2M HILL, an engineering, procurement, construction, and operations firm, has delivered design, construction, and commissioning services to the Sharjah Electricity and Water Authority for two seawater reverse osmosis (SWRO) desalination plants in the United Arab Emirates. A third desalination plant for the Authority is currently under construction and is expected to be online by mid-2009.
Located in the rapidly developing United Arab Emirates, the Sharjah Electricity and Water Authority is responsible for providing electricity and water to the Emirate of Sharjah. As water demands increase, the authority is turning to SWRO membrane desalination to diversify and augment the region's potable water supplies.
"The Emirate of Sharjah needs additional water supplies," said CH2M HILL's Felix Wang who served as commissioning manager and process engineer. "Salty water comes from the taps in some areas, such as Khor Fakkan. The new desalination plants will serve a critical need in the existing distribution network. It feels great to know that we are doing good work for the people of Sharjah."
CH2M HILL has served as the single-source of responsibility for engineer-procure-construct services for the three new desalination plants, which will provide more than 60,000 cubic meters (16 million gallons) per day of desalinated water to the people of Sharjah. The Layyah and Khor Fakkan SWRO desalination plants began exporting desalinated water in October 2008.
The environments and source waters of the three plant sites differ dramatically, each presenting unique design and engineering challenges. The Layyah SWRO desalination plant lies on the Arabian Gulf, about 15 kilometers (10 miles) northeast of Dubai. The Khor Fakkan and Kalba SWRO desalination plants are located on the opposite side of the Oman Peninsula on the east coast of the UAE, facing the Arabian Sea.
The engineering challenges have been addressed with an array of advanced desalination technologies. The Layyah and Khor Fakkan sites use dual-stage media filters for treatment of the raw seawater prior to reaching the high-pressure SWRO system. The Layyah site incorporates a dissolved air floatation system before the media filters for enhanced removal of particulates, and better protection against accidental oil spills and seasonal algae blooms.
Instead of conventional media filters, the Kalba desalination plant will use high-performance ultrafiltration membranes that are specifically designed for SWRO pretreatment applications. All three plants incorporate the highest efficiency energy-recovery devices available on the market, which will help lower capital and operating costs.
CH2M HILL's Keith Scott, program manager and a veteran of design-build desalination projects, is responsible for the concurrent delivery of the three plants.
Scott said, "At the conclusion of these projects the team can look to each other and be extremely proud of what we have accomplished together: single-source EPC delivery of three desalination plants to the water-starved Emirate of Sharjah that will serve as showcase facilities for the Authority and CH2M HILL."
---

Toray Membrane USA adds Regional Manager
Toray Membrane USA has announced the addition of Lee Telin as Regional Manager – Special Separations. Telin has over 20 years of dairy and process experience.
Telin was previously the Technical Sales Engineer for GEA Process Engineering in Hudson, WI, where he provided membrane solutions to dairy, food, and bio-pharm companies on a worldwide basis. He has extensive experience with specialty reverse osmosis, nanofiltration, ultrafiltration and microfiltration processes. He has been involved in the development of many new membrane applications.
Toray Membrane USA, a global membrane manufacturer for water purification and wastewater reclamation, offers expertise in water, wastewater, and specialty process treatment technologies, including integration of membrane solutions such as MF/RO, UF/RO or MBR/RO technology. For more information, visit www.toraywater.com.
---

New Inge Watertechnologies AG Website Online
Ultrafiltration technology provider inge watertechnologies AG from Greifenberg am Ammersee, Germany, has developed a new website, www.inge.ag.
The site provides detailed information on the treatment of drinking water, process water, sea water and wastewater. Visitors to the site can also browse market facts, technical specifications and sample applications for the products and systems that feature the company's patented Multibore® membrane.
The website was designed to make it easy for visitors to find what they are looking for, whether they are interested in the technology, product information, general market facts and figures, or specific details about the company itself.
The site features sample ultrafiltration projects from all corners of the globe. Reference projects range from the replacement of sand filters and ozone plants in German waterworks to water pretreatment in sea water desalination plants in China, the Middle East and the Mediterranean region. Additional examples focusing on the treatment of wastewater and industrial process water illustrate the flexibility of ultrafiltration as a water treatment technology.
---

New Wastewater Treatment Facility Benefits County, Environment
Middlesex Water Company, a provider of water and wastewater services in New Jersey and Delaware, announced that its Delaware subsidiary, Tidewater Environmental Services Inc., has placed into service a new advanced wastewater treatment facility that is addressing immediate and long-term needs in Sussex County, DE.
For several years, the residents of the Woods on Herring Creek have been burdened with a failed community septic system that allowed sewage to pool on top of the ground in the their residential community. The county recently took the system over as they established a county sewer district in this area. Located near Angola in the environmentally sensitive Inland Bays Watershed, this aged system only marginally removed certain pollutants including harmful nitrates that could make their way into local area residents' drinking water.
Nearby was a recently constructed advanced wastewater treatment facility, owned by Tidewater. It was built to serve the newer community of Bay Front, but was not being fully utilized pending further build-out of the Bay Front community.
Partnering with Tidewater, Sussex County selected Tidewater to provide temporary treatment and disposal services at the Bay Front plant for a period of 24-36 months, while the county designs and installs the necessary infrastructure to serve this area. The county was able to install a short force main just a few hundred feet away and discharge into the Bay Front system, thus saving the county monies for pumping and hauling wastewater by truck while their system is being designed.
"We were pleased to solve the long-standing problem for the residents of the Woods on Herring Creek," said Sussex County Engineer Mike Izzo. "The location and capability of Tidewater's facility presented an ideal solution," he added.
The Bay Front Facility is a highly-advanced membrane bioreactor which cleans the wastewater to the highest standard technically feasible. The clear effluent discharged from the plant will meet nitrate limits that are less than half of that required by Delaware's drinking water standards. This approach yields long-term environmental benefits because water discharged into sand rapid infiltration basins, also serves to recharge ground water aquifers thus preventing salt water intrusion into area wells.
Tidewater Utilities Inc. operates over 150 water and wastewater plants in Delaware for over 100,000 citizens. Middlesex Water Company, organized in 1897, provides regulated and unregulated water and wastewater utility services in New Jersey and Delaware through various subsidiary companies.
---

Carlsbad Climate Action Plan Wins Engineering Award
The Climate Action Plan developed by Poseidon Resources for its Carlsbad Desalination Project has received an Engineering Excellence Merit Award from the American Council of Engineering Companies (ACEC) California.
Each year, ACEC California's prestigious Engineering Excellence Awards recognizes projects that benefit local communities and California as a whole. Poseidon's Climate Action Plan was approved by the California Coastal Commission in 2008 as part of the desalination plant's development approval.
As part of its Climate Action Plan, Poseidon will use a number of industry-leading initiatives to minimize its energy consumption, including use of state-of-the-art efficiency measures, green-building design, solar panels, purchasing renewable energy credits and funding carbon offset projects.
One of the carbon offset projects includes a pledge to assist San Diego's wildfire recovery by planting 5,000 trees in areas damaged by the 2007 wildfires. Poseidon's plan will reduce the project's overall energy requirements and neutralize the Carlsbad facility's carbon footprint.
---

New Desalination Contracts to Feature Underdrain System
Severn Trent Services has been selected to supply Tetra® LP Block™ filter underdrain systems for use in pre-treatment filtration systems at two desalination plants in North Africa and South America. The desalination plants have been designed and constructed by ACCIONA Agua, Spain.
The contracts are the latest of a number of recent orders for Tetra LP Block systems in the desalination market, including an order for their use at the largest desalination plant in Europe. The system will form the floors of the rapid gravity sand filters that will treat seawater prior to desalination by reverse osmosis membranes. The block floor supports the sand media during filter operation and provides excellent distribution of air and water during backwashing to enhance filter cleaning and extend run times.
The desalination plants are scheduled for commissioning in 2009. The filter for the 300 million liters-per-day (MLD) plant in North Africa will employ more than 3,500 Tetra LP Blocks across 20 cells, each 5m wide and 15.5m in length, while the 400 MLD South American plant will use a total of 4,500 blocks in 18 cells, each measuring 19m x 6m.
The dual parallel lateral underdrain system is constructed from high-density polyethylene molded plastic blocks that provide effective distribution of both air and water for either concurrent or sequential backwashing. The lightweight construction and easy assembly and installation of the system make it ideal for both new and retrofit filter underdrain applications.
---

Desalination Plant to Serve Luxury Bahamas Resort
Veolia Water Solutions & Technologies has been retained to construct a sea water desalination system for Albany, a $1.3 billion luxury resort community under development in The Bahamas.
The desalination structure at Albany will contain two seawater reverse osmosis units that will irrigate the resort community's 18-hole championship golf course. The Veolia RO system at Albany will be the first of its kind in the Caribbean. The desalination structure's modular design allows for ease and flexibility of installation, with limited exterior pipe runs.
Manufacturing, testing and delivery of the systems will be completed within 17 weeks.
Developed by investment company Tavistock Group and professional golfers Tiger Woods and Ernie Els, Albany is a 565-acre oceanfront community on the island of New Providence in The Bahamas. Conveniently located just seven minutes from Nassau's international airport, Albany will feature a luxury boutique hotel, an array of residential offerings and amenities for all members of the family, including a mega-yacht marina, a family water park and an 18-hole championship golf course designed by Ernie Els.
---

Toray to establish membrane manufacturing joint venture company in China
Toray Industries Inc. and China Blue Star & BS Group Co., have reached an agreement to establish a new joint company for water treatment in Beijing. The company, Toray Blue Star Membrane Co., will focus on the manufacture and sales, and import and export of water treatment products.
The plan calls for facility construction to commence in 2009 and be completed by 2010. Business operations will begin in 2009 while the manufacturing facility is being built. The new company will be capitalized at $35 million.
As a production facility, this new company will install casting and coating machines to produce polyamide composite reverse osmosis membranes as well as auto-winders which will assemble that membrane into elements using Toray's state-of-the art automated technology. Toray expects that after TBMC's start-up in 2010 the company's annual overall production of RO elements will see a 1.5-fold increase compared to 2008 and a threefold increase compared to 2006 when combined with production at their facilities in Ehime, Japan, and Toray Membrane USA in California.
Both Toray Industries and China Blue Star bring important abilities to the table which will lead to the success of TBMC Co. Toray will provide the manufacturing and technological know-how necessary to make world-class membranes for wastewater, seawater, and brackish water treatment while China Blue Star will bring the vast and already established business network necessary to gain a foothold in the quickly-expanding Chinese water treatment market.
---

Company Wins MBR Contracts
ADI Systems Inc. has won two recent design-build contracts for the installation of its membrane bioreactor system.
Golden Flake Snack Foods Inc. has awarded ADI a multimillion dollar contract for a system to treat wastewater from its Birmingham, AL, production facility. MillerCoors purchased a system for its brewery near Elkton, VA, to treat effluent from two existing anaerobic reactors to meet new nitrogen and phosphorus discharge limits.
Golden Flake produces a variety of snack foods, from potato, tortilla and corn chips, to pretzels and pork rinds. The new 400,000 gpd ADI-MBR facility will allow Golden Flake to direct-discharge its treated effluent to a small stream located adjacent to the plant, eliminating significant POTW surcharges. The treated effluent will also serve to enhance the downstream environment by increasing the water flow within the small watercourse, beneficially impacting the local ecosystem.
Design of the new ADI-MBR facility is already underway, and the plant is scheduled to be operational later this year.
The new, stricter discharge limits for the MillerCoors facility are being imposed as part of the five-state effort to reduce nutrient loadings to Chesapeake Bay. The ADI-MBR will replace an existing conventional activated sludge system at the site.
The MBR system is a five-stage biological nutrient removal process, with both biological and chemical phosphorus removal. The project also includes the installation of a new sludge dewatering system featuring two belt filter presses. The new facility will be operational later this year.