South African water project gains momentum through improved management
A programme management project should improve usage of project funds for the Community Water Supply and Sanitation Programme (CWSS-P), an ambitious nationwide water and sanitation project in South Africa that should help the government realise its goal to provide water to 14 million people by 2009.
Apr 1st, 2003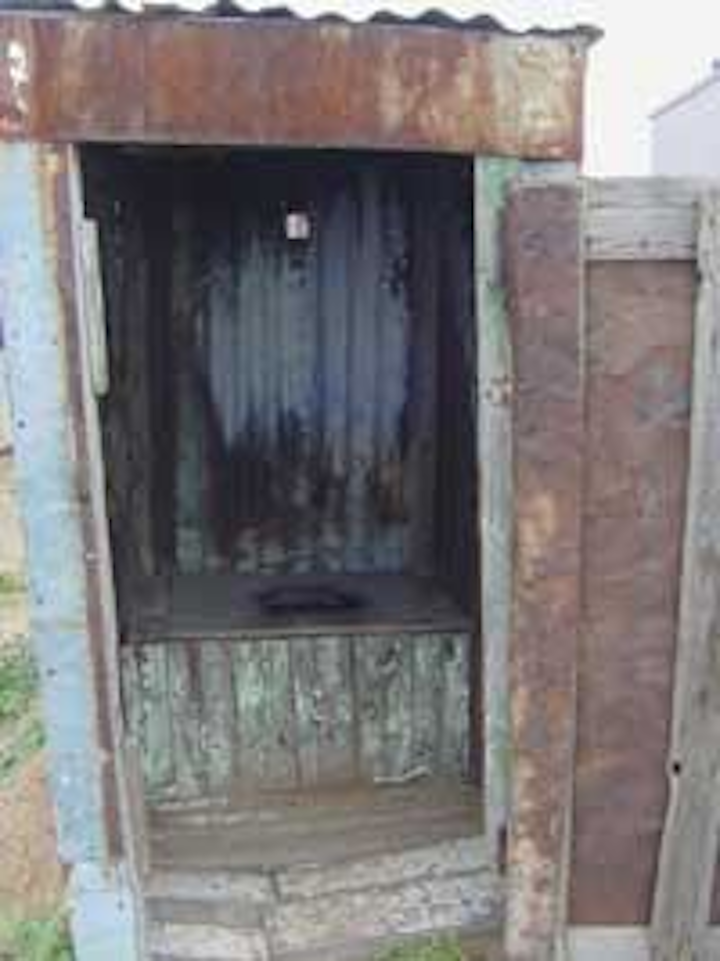 By Peter Walker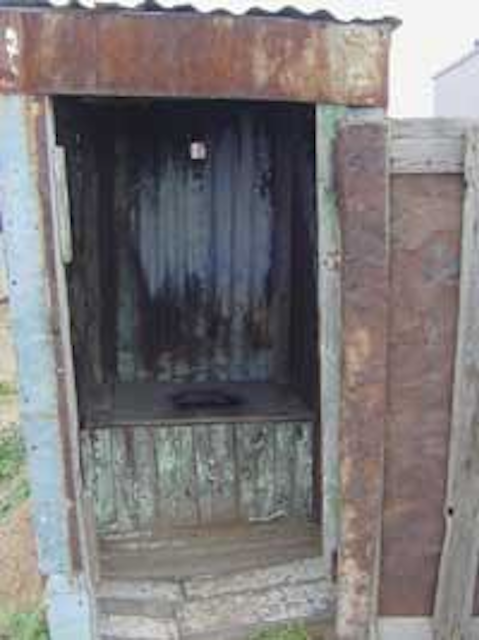 The DWAF programme will supply three million toilets to provide sanitation facilities for areas without services, and to replace old structures.
Click here to enlarge image
Since the democratic elections in 1994 that dramatically changed South Africa, the government has focused on providing basic water supply and sanitation to poor people, including communities in remote rural and semi-arid areas that never received these public services.
Then-president Nelson Mandela pushed an ambitious, high-priority programme, that later became known as the Community Water Supply and Sanitation Programme (CWSS-P), which has so far supplied clean water to more than nine million people. The South African government plans to expand coverage to seven million more within the next seven years, reported Ronnie Kasrils, Minister of Water Affairs and Forestry in South Africa, at the Stockholm Water Symposium last 12 August 2002.
The Department of Water Affairs and Forestry's (DWAF) programme requires exceptional coordination of projects, extraordinary commitment and programme management leadership to meet its goals to provide services to more than 14 million people in all nine provinces, especially rural and inaccessible areas. This figure is based on 1996 census data so it will increase once new census figures are released.
The programme included 1040 individual water and sanitation projects. The water programme is estimated to cost US$ 1.45 billion, but this figure is questionable since the sanitation component was initially not included within the overall programme. As of March 2000, US$ 400 million was spent on the national programme. A European Union grant covers ten percent of the total cost. More than 500 consulting and contracting companies have worked on the programme, which created employment for 338,400 people.
The programme gained rapid momentum in the 1990s since it was clearly meeting a great need; however the urgency to deliver water in previously unserved areas compromised sound project and programme principles by 1999. For example, the programme experienced numerous difficulties -
• No consistent project or programme management protocol;
• No single point of responsibility to coordinate the programme across the organisation;
• No dedicated programme management reporting tool;
• Differing priorities within the DWAF resulted in a fragmented commitment to consistency;
• Serious lack of project and programme management capacity and skills; and
• High rate of staff turnover accelerated by the political pressure of transformation.
The international consultancy Turner & Townsend, the lead consultant with selected joint venture consultants, based in Johannesburg/Pretoria, designed and implemented a process to solve these deficiencies. The solution combines project and programme business processes, training and capacity building and IT support system in order to assist and guide public sector project managers in the management and implementation of projects and programmes. Several considerations influenced the methodology used by Turner & Townsend:
• Need to develop skills within DWAF to empower it, and to facilitate and manage its core business processes without external intervention in the future;
• Need for a process that ensures initiatives are completed;
• Need for an inclusive and transparent process;
• Importance of addressing core business areas and support areas concurrently due to an urgent need for improvement in all areas.
The programme management support to regional management integrated the inputs and activities of a large number of organisations and stakeholders. The organisations involved, which affect the delivery of water to rural communities through the CWSS-P, include the DWAF head office, DWAF regional offices, consultants supporting DWAF head and regional offices, implementing agents and local government.
The Programme Management Improvement Process (PMIP) began with Stage 1, an assessment of the present situation that laid the foundations for improvement. Stage 2 focuses on continual improvement.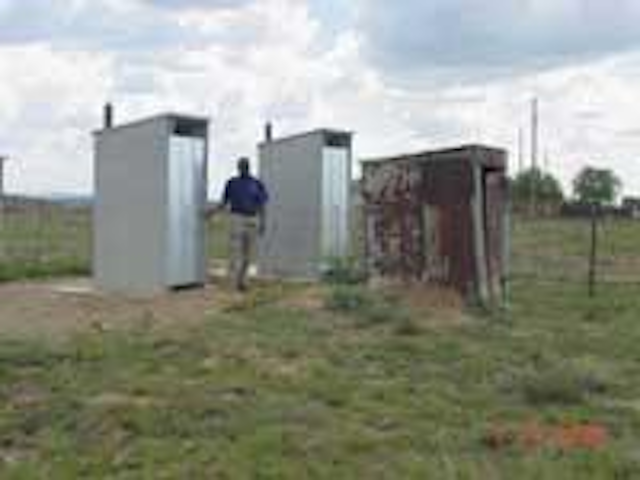 New ventilated improvedpit latrines replace old structure.
Click here to enlarge image
In Stage 1, Turner & Townsend conducted an overall organisational analysis. New processes were designed, systems were set up and knowledge transferred. The firm assisted in appointing programme managers and the design of reporting structures within the DWAF in Phase 0. Consultants developed and defined the project schedule and deliverables.
Phase 1 entailed a comprehensive organisational assessment. A model based on the Carnegie Mellon Project Management level assessment was used to benchmark the initial programme management capacity and measure the improvement as the PMIP progressed. This model measured individual capacity, methodologies and systems. Business processes and procedures and existing Programme Management Capacity were also documented in this stage.
Phase 2 included the design of a comprehensive set of programme management business processes for DWAF to bring consistency into the programme. Although the business processes developed were based on international project management best practices, new and creative programme management techniques were designed that best suited DWAF needs. Business procedures were developed to provide detail and rigidity on selected issues in the project and programme management process. They provide practical steps to guide project and programme managers to use a consistent methodology to better manage their programmes. To effectively achieve this goal, the water services (CWSS-P) organisation had to be strategically re-organised into an enabling one, i.e. project/programme management organisation that is client-focused (local government). The DWAF accepted and implemented the structure with exemplary results.
Phase 3 focused on the implementation of previously designed business processes and procedures. Staff members were trained to use the business process and the information support system. Phase 4 called for the continual transfer of skills and an assessment and appraisal of the previously implemented phases.
Having achieved its primary objectives, the PMIP also improved the efficiency in usage of South African and EU funds by improving the programme management of US$ 499 million in grant funding. Improved processes are spilling over to other directorates within the DWAF. In addition, these skills will provide the catalyst for further skills development in the DWAF beyond this project.
---
Author's note
Peter Walker is a partner in Turner & Townsend Africa and is based in Johannesburg, South Africa.
---
Fast-tracked sanitation programme makes progress
Implementation of a new programme management approach that measures performance in terms of delivery as opposed to expenditure is resulting in accelerated delivery and installation of sanitation facilities, making South Africa's sanitation challenges set for 2010 feasible.
During the last five months of the 2001-2002 financial year, sanitation delivery was fast-tracked as one of the special interventions undertaken on the CWSS-P. The full sanitation allocation of that year was spent with 49,000 toilets built in that year alone, representing 70% of the total number of toilets delivered up to that date. By the end of August 2002, five months into the 2002 financial year, the programme delivered a further 39,600 toilets for just under US$ 4.95 million.
Previously, South Africa's sanitation program, initiated in 1997 as part of the CWSS-P, had not performed as well as expected. Only 21,000 toilets had been delivered for more than US$ 18.82 million by the end of March 2001.
In September 2001, the South African cabinet approved the new Household Sanitation Policy and the Sanitation Framework Strategy, documents that set a target date of March 2010 to supply toilets for approximately 18 million people. To meet this target, delivery of about three million toilets in the next eight and one half years had to be achieved with actual budget allocations of US$ 12.1 million per year. Achieving this target date was clearly not possible given the extremely slow rate of delivery, so the government launched several initiatives to streamline the process. The DWAF appointed Turner & Townsend Business Solutions, the lead consultant with selected joint venture consultants, in October 2001 as Interim Programme Managers to address sanitation programme management issues.
Sanitation solutions are not technically difficult. The minimum level of basic sanitation as defined in the policy is a ventilated improved pit latrine (VIP). A VIP consists of a pit of three cubic metres that may require lining in certain circumstances, a slab, pedestal, top structure and a ventilation pipe covered with a fly screen. The ventilation pipe ensures that any smells are removed into the air. The fly screen allows the whole VIP to act as a massive fly and insect trap if the structure is kept dark.
Sanitation provision, however, also includes health and hygiene awareness, education and training. The approved strategy discourages a pure contractor-driven approach and encourages a demand-driven approach focussed on community participation and development of a sense of ownership within the community. To achieve this, the DWAF provided a household subsidy purposely kept to a minimum to ensure that communities participate by providing sweat equity. These requirements, however, made the project challenging and complex to successfully initiate and complete.
Turner & Townsend's new programme management approach empowered regional DWAF offices to take ownership of their regional sanitation programmes. A new integrated tracking and monitoring system is currently being rolled out to provide more accurate and up-to-date information for programme control. Training and capacity building of sufficient hands-on implementers to ensure delivery at the increased rate remains a challenge, but work is underway to address this challenge. The DWAF recommended that the Treasury increase funds to eradicate the sanitation backlog by March 2010. Sanitation allocations will peak at US$ 75.4 million a year.