Processing system stops pipe and pump clogging
A liquid waste treatment facility in Ventura, California, USA, ends clogging of pipes and pumps, eases tank cleaning and improves billing efficiency.
Feb 1st, 2003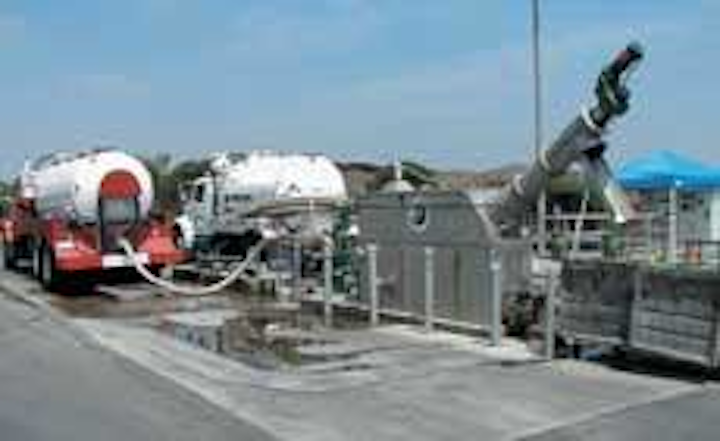 By Clifford Seth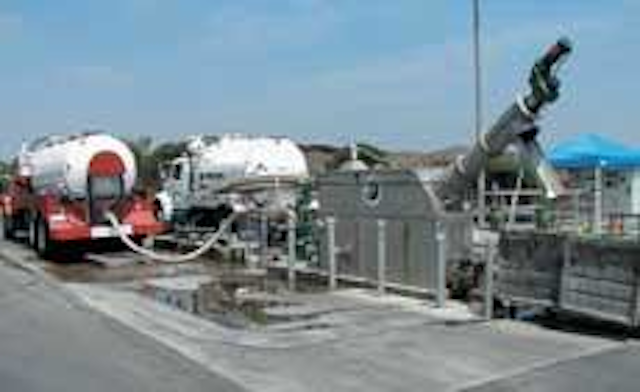 New septage receiving system at the Ventura municipal liquid waste treatment facility stopped the clogging of pumps and pipes, and burdensome deposits in tank bottoms.
Click here to enlarge image
Management at the Ventura Regional Sanitation District's Liquid Waste Treatment Facility (LWTF) reports that it has ended rag-generated clogging of pumps and pipes, and burdensome deposits in tank bottoms by installing a new processing system at the septage receiving station. They also note dramatically improved working conditions at the station, and improved billing efficiency.
The Honey Monster™ Septage Receiving System, designed and manufactured by JWC Environmental of Costa Mesa, California, USA, was installed at eight other municipal sewage treatment facilities in Canada and the USA within the last two years, and in a sewage processing plant operated by a privately-held septic pumper.
"Rags tended to find each other and form ropy, knotty masses we called 'mopheads', which added significantly to our maintenance burden by clogging pumps and pipes, and building up in tank bottoms," recalled Ken Rock, the director of water and wastewater for the district.
"Meanwhile, septage delivery tanker truck drivers had the unpleasant task of emptying their loads onto a parallel bar grate over the receiving pit, which they then had to scrape clean with a bow rake. With the new system receiving septage directly through a pipe connection, the drivers no longer have the raking task, and we can also much more effectively screen out rocks, rags, plastics, and other trash. In addition, we can more accurately measure the volumes received from each truck, while gaining further advantage of a more streamlined billing system."
The 90,000-gallons-per-day (gpd) regional waste handling facility, employing a modified activated sludge treatment process, typically receives 45,000 gpd in the form of tanker trucked waste from residential septic tanks (50%), public chemical toilets (20%), industrial (20%), and small waste activated sludge (WAS) plants (10%). Another 25,000 gpd comes from industrial brines and restaurant grease, which were processed separately from the receiving scheme.
Tanker truck drivers stated volumes delivered based on their own estimates, with charges based on waste type and quantity. The medium-to-large trucks straddled a 30-in-wide, 12-ft-long, 9-ft-deep receiving pit, covered by a bar grate with 1-in spacing. Billing information was hand-entered.
Plant personnel installed the new septage receiving system in March 2001 with technical advisory assistance provided by JWC. The new system requires codes for the hauler and waste type to be entered via digital keypad. The pressurised tanker contents are then blown directly into the new system's pipe connection for gravity discharge. Waste codes cover 16 types, such as car wash, raw sewage, and industrial wastes with varying organic and solids loads. A printed invoice eliminates the need to hand enter billing information into a computer, or transfer it into LWTF records.
Large rocks entering the new receiving system are caught in a special trap, with the remaining flow ground up, metered, spray-washed, augured, and dewatered. Screenings are collected in a dumpster at the rate of about one-half cubic yard per day, and hauled to regular domestic landfill with no further treatment needed to qualify for deposit there.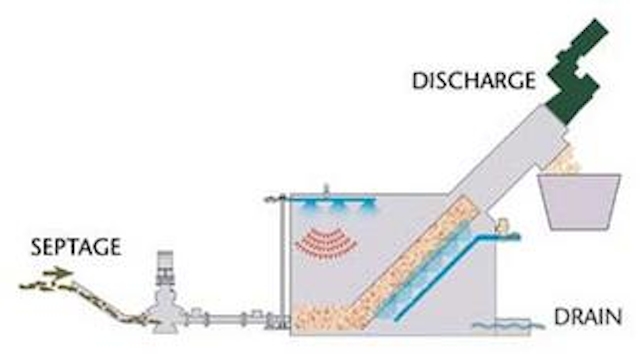 The Honey Monster Septage Receiving System grinds, washes, and dewaters septage in five to fifteen minutes for a typical tanker truck.
Click here to enlarge image
"We operated the new receiving system for about a year and a half without it ever jamming up, even though we certainly gave it plenty of opportunities," said Rock. "The components were well integrated and complete; it was obviously designed by someone who had actually been in this business."
The company says its system's combination of grinding, washing, and dewatering septage waste can be accomplished in five to fifteen minutes for a typical septage truck. Dual-shafted grinding maximises surface area on solids, facilitating cleaning, while two dual-manifold wash water systems help break up soft organics, and provide for enhanced dewatering with cleaner solids.
A high-level ultrasonic sensor and modulating plug valve regulates flow into the system and prevents overflow conditions. If the billing option is installed, flow into the system is measured by a magnetic flow meter, and the data is sent to the controller to create a billing record.
Equipment dimensions can be varied to suit particular installation requirements. Typical maximum flow is 137 cubic metres per hour, and typical screenings capacity is 2.55 cubic metres per hour.
---
Author's note
Clifford Seth is the president of Indumark, an independent technical reporting firm, based in New York, New York, USA.