Impulse Generation for Well Capacity Restoration
San Diego-based engineering firm employs a German high-pressure nitrogen injection process for a chemical-free, efficient well rehabilitation solution.
Jul 1st, 2009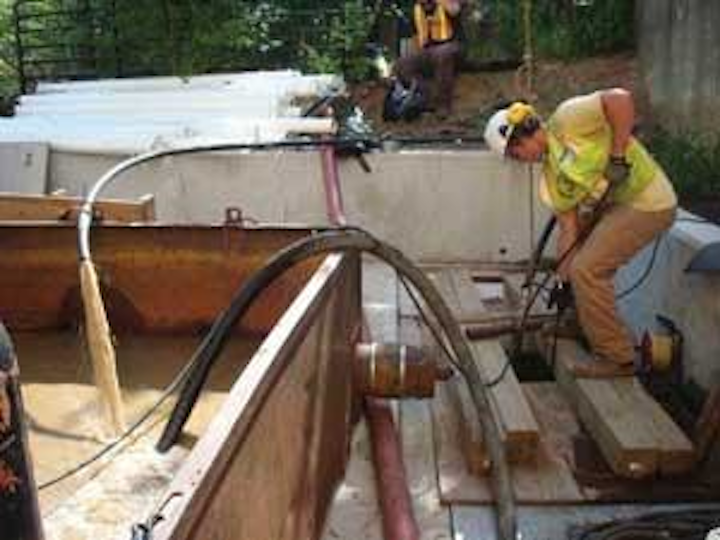 By Chris W. Allen, L.G.
San Diego-based engineering firm employs a German high-pressure nitrogen injection process for a chemical-free, efficient well rehabilitation solution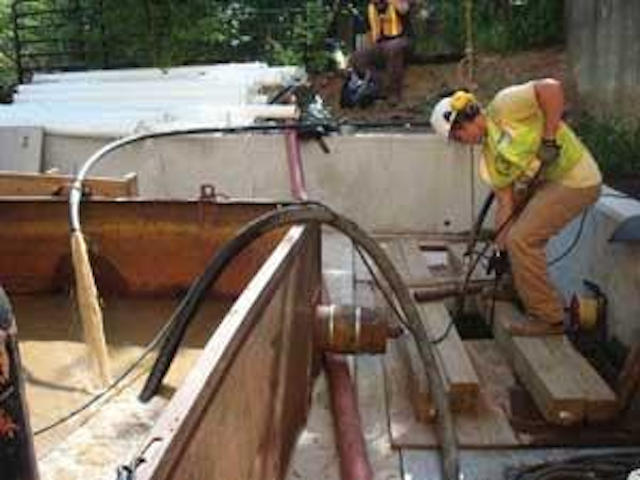 Hydropuls in operation at Canadian well rehabilitation site
Click here to enlarge image
Traditional well rehabilitation methods typically utilize mechanical, hydraulic or chemical technologies with a goal to maximize well production and reduce operating costs. These technologies include brushing, surging, high-pressure jetting and/or chemical injection. In recent years, owners have found that new impulse generation technology, such as Hydropuls®, is more cost effective and efficient than alternative well rehabilitation techniques alone. This process from Germany's Pigadi GmbH increases or restores productiveness of wells, as well as the functional capability of groundwater measuring points.
High-pressure nitrogen pulsing
The impulse generator, equipped with a pressurized hose and valve system, is positioned in the well screen or water-producing zone. Once in place, the operator releases impulses of high-pressure nitrogen in short, repetitive bursts. Through controlled release of compressed nitrogen, the generator produces an elastic impulse and a secondary expansion of gas bubbles, causing a pressure wave that moves laterally through the screen into the well's gravel pack and adjacent formation. Expansion of compressed gas creates an air lift effect and vibrates and loosens mechanically plugged sediment and biological deposits from the screens and surrounding aquifer. Typically, the impulse generator is used in tandem with other mechanical methods (surging and isolation pumping) operated by a drilling/pump contractor to remove loosened sediment and biological deposits.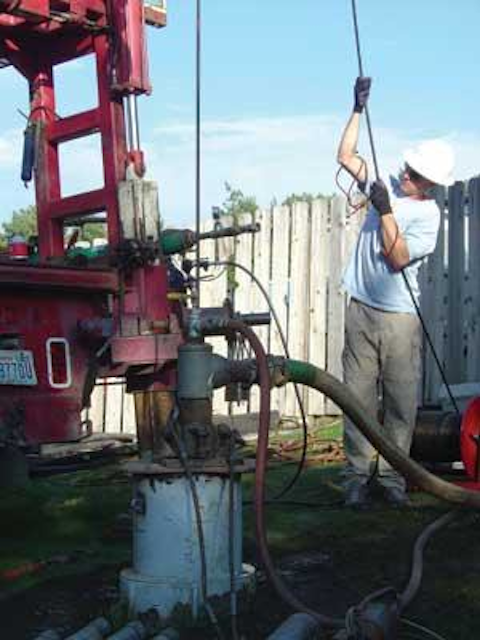 Geothermal well rehabilitation at Brooklyn Children's Museum in New York
Click here to enlarge image
Impulse generation technology has been extremely successful in a wide variety of well types, including water supply, geothermal and dewatering, as well as injection wells and soil vapor extraction (SVE) well systems in Canada, Europe and the United States. Hydropuls impulse technology can be used in wells up to 6,000-ft deep and within a variety of well types, including vertical and horizontal screened wells, perforated or slotted steel casing, open rock boreholes, and PVC-lined wells with diameters from 2 inches to over 24 inches.
Scaling & biofouling aid
The city of Parksville, British Columbia, Canada, chose to rehabilitate two wells after observing declining pumping water levels and mineral and biologic encrustations coating the pumps and pump column pipe. Via a video inspection of the Parksville wells, personnel from engineering and project management firm Kleinfelder, observed clogging of the screen with biofoul and encrustations, along with fine sand at the bottom of each well. The video assessment confirmed a need for well rehabilitation in both wells. Utilizing well performance data and the video recordings, a rehabilitation process was developed for each well, consisting of the following methods:
Impulse generation
Isolation pumping
Sand bailing each well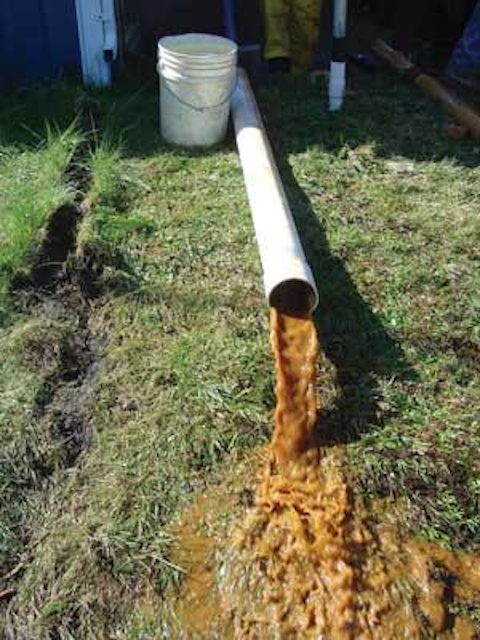 Sediment removal during Hydropuls operation
Click here to enlarge image
After the rehabilitation, the city measured an improvement of 29% and 100% in specific capacity on these two water supply wells. And Parksville has continued to use impulse generation on other wells.
Improved well capacity
The technology also was used to rehabilitate four geothermal wells used for heating and cooling at New York's Brooklyn Children's Museum. Initial development of the wells was done using surging and bailing techniques. Soon after going into operation, they produced limited flow and showed excessive system back pressure. The New York Department of Design and Construction retained Kleinfelder to assist with efforts to rehabilitate the wells. After 15 days of redevelopment using Hydropuls along with simultaneous pumping, the rehabilitation was successful in unclogging the screens and surrounding formation and increased well capacity over 240% in all four wells. These increases in capacity resulted in a significantly more efficient geothermal system and reduction in long-term operating costs.
Conclusion
Impulse generation technology is rapidly growing in popularity for its speed, cost effectiveness and ease of use. However, because of the broad range of well construction techniques, well designs and aquifer characteristics, a successful rehabilitation project isn't related to one particular rehabilitation method. Whether chemical, mechanical or impulse generation, it's important to assess the well's condition by reviewing operating data and performing a video inspection before selecting a particular method, or combination of methods, and then prepare a comprehensive rehabilitation plan that specifically addresses the conditions responsible for declining well performance.
---
Author's Note:
Chris W. Allen, L.G., is senior water resources specialist at Kleinfelder, a San Diego, California, USA construction management, engineering and environmental solutions firm. Contact: 858-320-2000 and www.kleinfelder.com