Playpumps promote clean water, exercise in Africa
Grassroots campaign brings together school children, faith-based organizations, companies, foundations and individuals to provide clean water to sub-Saharan Africans.
Feb 1st, 2009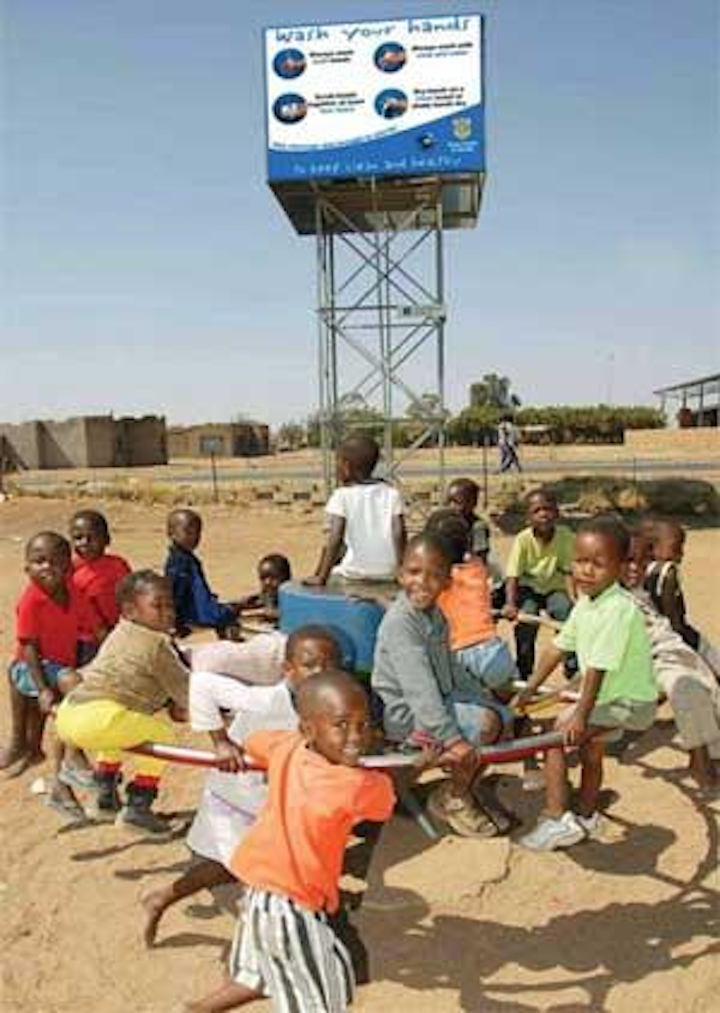 Grassroots campaign brings together school children, faith-based organizations, companies, foundations and individuals to provide clean water to sub-Saharan Africans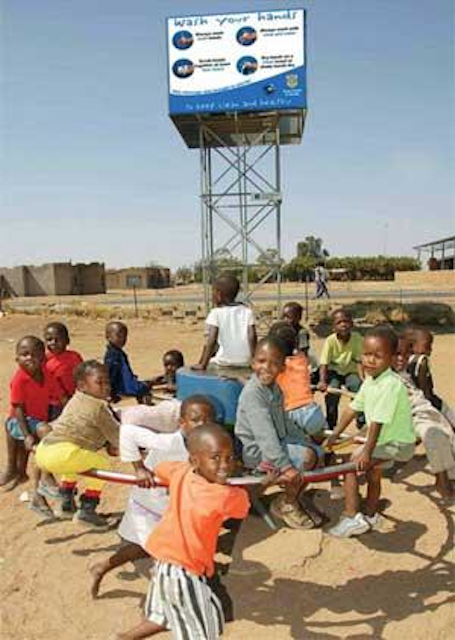 Click here to enlarge image
PlayPumps International raises funds to donate toward installation in African communities and schools of an inventive pump system where children playing on a merry-go-round drive a pump system that recovers groundwater from a borehole and stores it in overhead tank towers for use later as clean drinking water.
Its local partner RoundAbout Water Solutions, of Rivonia, South Africa, manufactures the systems. They're goal is to install 4,000 PlayPump® water systems in 10 countries in sub-Saharan Africa by 2010, bringing benefits of clean water to 10 million people. Here are two stories of how they helped.
Community Profile
The village of Swatkopfontein is down a dirt path about 1.5 km off a tarred road in South Africa's North West Province. About 800 people live here, coming mostly from the Eastern Cape. The few employed residents travel up to 130 km to work in Rustenburg, often living there during the week and leaving their children to be looked after by elders.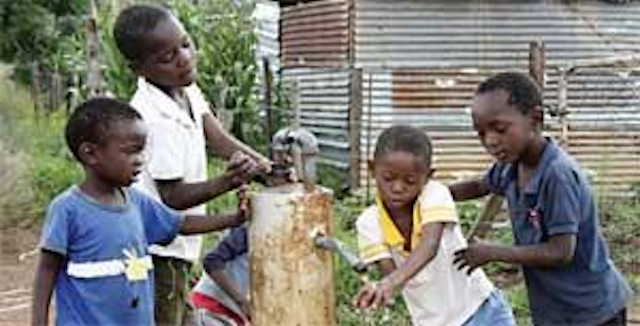 Benefits of clean drinking water include improved sanitation and hygiene. Rather than helping carry water long distances, children can stay in school. And access to water allows villages to augment incomes by growing and selling produce.
Click here to enlarge image
Over 60 households now benefit from a stable water supply from the PlayPump water system. Before it was installed, the only water source was a hand pump that was often broken. Now, there's always a supply of safe, clean water. "The PlayPump keeps me busy after school and I have fun with my sibling when we play on it," says Veronica, age 14.
"I am not worried about the scarcity of water any longer as there is water as children play on PlayPump. Previously, we stayed for a week without water" said one resident, Meme, age 54. She is organising the unemployed women to build a vegetable garden. Since the village is very poor, the community depends on the vegetables. They grow tomatoes, cabbage, spinach, onions and beetroot to sell as well as to feed their children.
The benefits extend beyond the immediate community. People walk from as far away as 2 km to visit the PlayPump daily because it's the only stable water supply in the greater area. "I do not mind coming this far because I know that I will get water and the children always play on it," said Lucas, age 46.
School Profile
As school secretary for over 15 years at the Sakhe Primary School in Mpumalanga Province, South Africa, Nozuko Nkamana has learned to accept two truths: a marginalized school such as Sakhe would never be able to afford play equipment for the kids, and access to water would always be a challenge. She never expected both issues could be dealt with one solution.
"The year I joined the school was the hardest year ever," Nkamana said, recalling one of the country's most devastating droughts. "We had to buy water from those wealthy enough to have boreholes on their farms and pay for transport to bring it to us."
Before the school's PlayPump system was installed, children were encouraged to bring drinking water from home. Often, attendance would go down on days water was cut off. "We understood the children were helping their mothers collect water and that this took priority," explains Nkamana.
Today, the school's outlook is transformed thanks to generous donors like Pioneer Foods which helped fund 20 PlayPump systems across South Africa — including the one at Sakhe Primary. Now, the children are able to attend classes and take water home.
Nkamana is acutely aware of student health and access to clean drinking water has improved attendance. "We no longer hear complaints of sore stomachs and we have over 200 children aged 6 to 14 eager to make something of themselves," she says. Even though the PlayPump system is enclosed on school grounds, the school allows the community access after hours. "Our gates are never locked" says Nkamana.
As the sound of children's laughter and singing rises up from the merry-go-round, the message to conserve their most precious resource looms above on one of the water tower's billboards: "Water Sustains Life — Use it With Care."
Conclusion
With two of four billboards promoting hygiene and HIV/AIDS awareness on each tower, the Playpumps program, in 2000, won a World Bank award for this and the pump service. Former First Lady Laura Bush also unveiled during the 2006 Clinton Global Initiative meeting a $16.4 million public-private partnership to install more systems with funding from the U.S. government and the Case and MCJ foundations. And a 2007 global grassroots campaign raised over $1.5 million to donate 111 more systems in a "100 Pumps in 100 Days" challenge as part of World Water Day. Several other notable efforts to raise funds and awareness — often involving schoolchildren — include Facebook-style social networking, celebrity spokespersons, e-newsletters and video PSA contests. WWi
Acknowledgment: Raymond Lebepe of Limpopo, South Africa, prepared the portion of this article on the Swatkopfontein village. For more information, contact Marissa Valdez, program manager at Washington, DC-based PlayPumps International: 202-292 1775, info@playpumps.org or www.playpumps.org