Innovative Solution Plugs Flooding in Norfolk
Asset International provides a custom-tailored Weholite HDPE tank and piping system, marking an innovative approach to Anglian Water Services' AMP4 combined sewer overflow (CSO) reduction project.
Oct 1st, 2007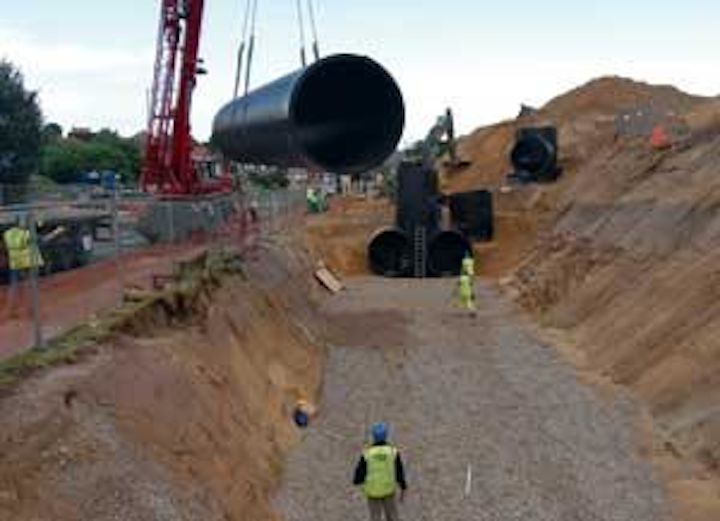 Asset International provides a custom-tailored Weholite HDPE tank and piping system, marking an innovative approach to Anglian Water Services' AMP4 combined sewer overflow (CSO) reduction project.
With severe flooding hitting the United Kingdom this and in previous years, an innovative solution featured on a project to protect a residential area in Norfolk from similar damage highlights the benefit of effective stormwater management.
The £340,000 flood alleviation scheme to remove properties in the town of Cromer from the DG5 At-Risk Register, saw Weholite, a high-density polyethylene (HDPE) pipe manufactured by Asset International Ltd., become the product of choice. Part of Anglian Water Services' AMP4 programme, the project delivered by contractor Barhale Construction, was designed to attenuate the excess flow of surface water and protect the residential area of Barclay Close.
Situated 15m below a commercial development consisting of mid-sized properties, a supermarket and council offices, properties in the area would frequently flood during heavy rainfall and extreme 1:20 year events. Due to the minimal amount of land available, the project posed some constraints restricting the range of suitable materials. Asset's bespoke solution requiring only 315m2 of space, proved the best option.
David Chadwick, sub-programme delivery manager of the Anglian Water @One Alliance, commented on how Asset proved successful in a similar scheme rolled-out in Cromer in March. He said: "Flood alleviation is high on the agenda of our customers and we are eager to develop more efficient solutions such as Weholite pipes as part of our major investment programme in this area.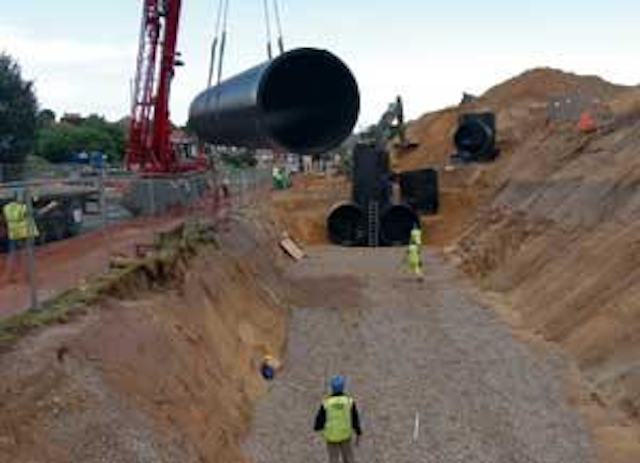 Asset International Ltd.'s pre-fabricated Weholite water management solution is delivered onsite at the Barclay Close area of Cromer, Norfolk, UK.
Click here to enlarge image
"Asset's bespoke product provided the ideal solution for the flood alleviation schemes in Cromer. In addition to reducing our project time-frame, we gained an estimated 30% cost saving overall".
A Bespoke Solution
Working in partnership with the flooding sub-programme design team of the @One Alliance – a collaborative organisation formed to deliver the AMP4 programme – Asset developed a bespoke offline storage tank with flow control devices. The solution consisted of two 2,100mm diameter Weholite tanks which, once completed, would contain water diverted from an existing manhole via a new sewer. When full, it would have a capacity of 480m3. During periods of heavy rainfall, water would be stored in the tank and released by gravity at a controlled rate through a 40L/sec Hydroslide valve, when the storm abated.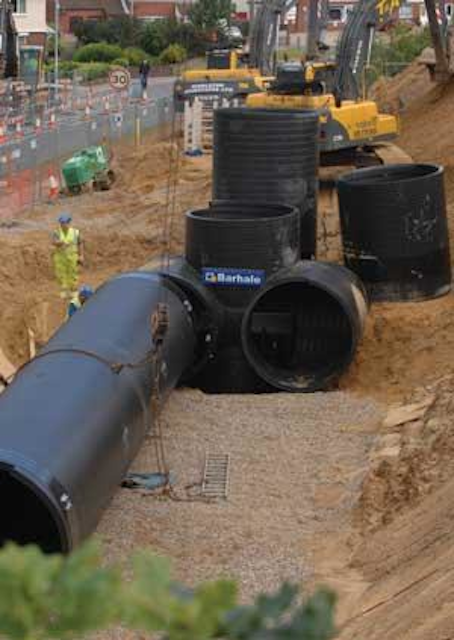 The first of two Asset 2,100mm diameter Weholite pipes forming the offline storage tank, are off-loaded by crane for installation.
Click here to enlarge image
Commenting On the collaborative design process, Asset managing director Simon Thomas said: "By working in partnership with Anglian Water Services and the design team, we were able to provide a sustainable solution to alleviate flooding in the area. Our ability to provide bespoke designed solutions, in diverse lengths and diameters, allowed us to offer the exact solution, which subsequently provided benefits to the contractor during installation".
Time & Cost Efficiencies
By opting to use Weholite above more traditional materials such as pre-cast concrete in the project, several benefits were generated including substantial time and cost savings. It was estimated that the volume of trucks required to deliver and off-load the materials was reduced from 50 to just eight using Weholite. Similarly, by using the lightweight product, construction time on site was reduced almost three-fold from an estimated 20 weeks for pre-cast concrete to only seven weeks using Weholite. In using this particular solution, the project also proved less disruptive to the surrounding community and wider environment, with one lane of the neighbouring road remaining open throughout the project.
Andy Pearce of Barhale Construction, explained: "The tank provided significant labour, installation time and cost savings, with an estimated three-fold reduction compared with traditional materials such as precast concrete".Pearce also noted the significant benefits directly to contractors, which now carry even greater responsibility to reduce the risks of accidents and injuries onsite. He added: "Health and safety was also a key factor. The product pre-fabricated and then joined onsite decreased the amount of time workers spent in the trenches and in confined spaces".
Asset's products, pre-fabricated offsite at its purpose-built facility based in Newport, South Wales, also provided environmental benefits, reducing onsite wastage that's often generated by other materials and methods.
---
Asset International Ltd. (www.weholite.co.uk), of Newport, South Wales, UK, manufacturers advanced technology HDPE water management systems for use in diverse infrastructure projects.