Valves, Fittings and Controls
Mar 1st, 2012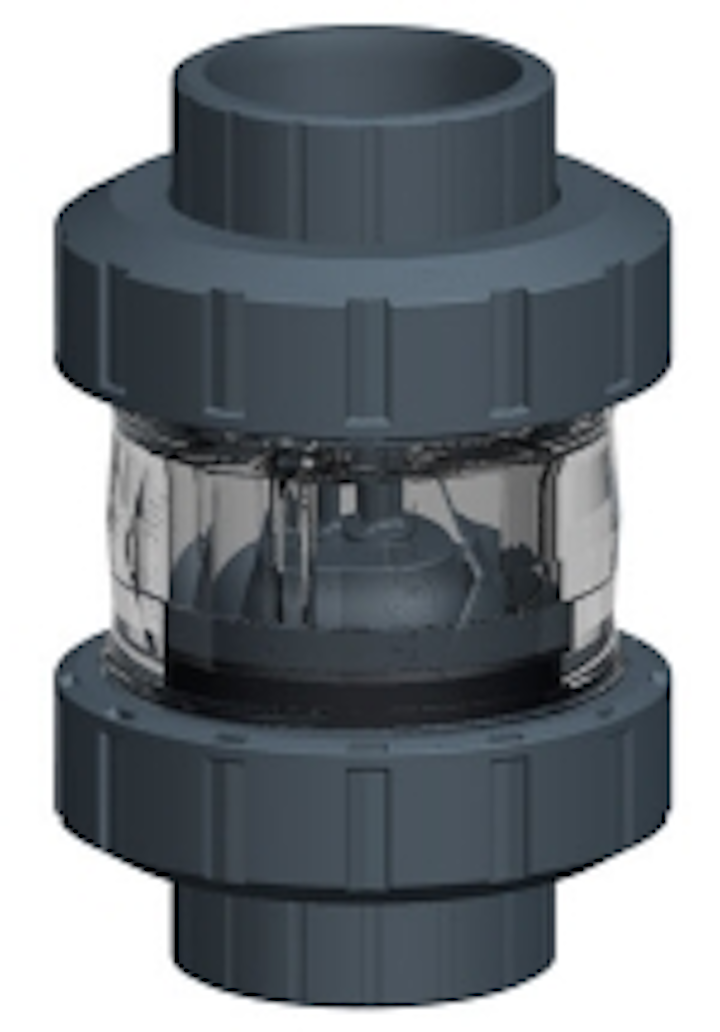 Valve solution to prevent media backflow
A new generation of check valves from GF Piping Systems aims to help prevent failure-free backflow of media. Check valves, in particular, are subject to many wear factors: mechanical stress because of high flow velocities, water hammer in the pipeline and chemical attack on the valve components, such as elastomer seals. This can have serious consequences on process control, said GF, beginning with a small leak caused by swelling of the elastomer seal to valve components becoming jammed and finally total breakdown of the valve.
The new valve has been hydrodynamically optimized, which GF said minimizes pressure loss and at the same time increase follow by 25% compared to the previous generation. The cone is double guided, which the manufacturer means it is practically impossible for the valve cone to jam.
Another positive effect of the new cone contour is that the valve can optionally be equipped with a return spring and thus implemented in completely new applications. Equipped with a return spring, the check valve can be installed in nearly any position, horizontal or vertical. To ensure a long service life of the spring-loaded valves, the spring is also available in three different materials: stainless steel (V2A/304), Nimonic90® and with Halar (ECTFE)-coated stainless steel.
www.piping.georgfischer.com
Corrosion protection for £2 millionnew pipeline across England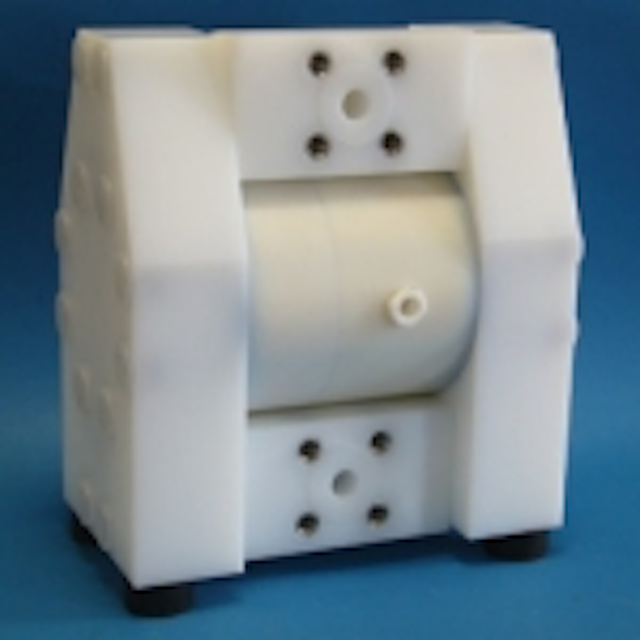 Iron technology firm Saint-Gobain PAM UK has supplied South West Water with pipes and fittings for a £2 million pipeline to deliver water from Beacon Hill service reservoir in Pinhoe to Cranbrook new town in East Devon. The 6.35 km DN500 pipeline will serve mains water to 7,300 properties and the company said its "Natural pipes" offering corrosion protection across a variety of ground conditions helped win it the contract. Anchor gaskets eliminated the need to use concrete thrust blocks in remote and waterlogged access points.
www.saint-gobain-pam.uk
Emergency shutdown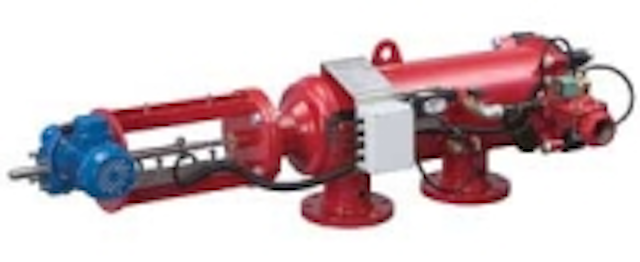 The Halogen Valve Terminator Actuator™ closes and torques hazardous gas 150 lb. cylinder valves in an emergency in three seconds. This microprocessor controlled and sequential operated system applies 40 foot-pounds during an emergency situation to the valve stem as recommended by the Chlorine Institute. The Gemini controller has a self-contained battery system that the manufacturer said guarantees the operation of the motorized closing mechanism even during a power failure. The latest Fire Codes recognize and approve the "automatic-closing fail-safe shutoff valve" system in lieu of a scrubber treatment system.
www.halogenvalve.com
New control head for process valves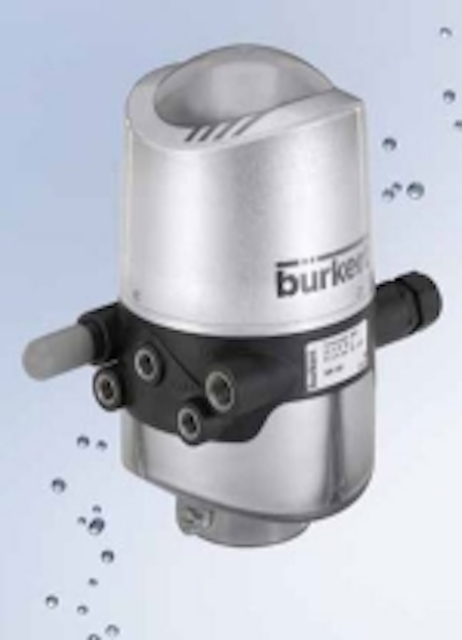 Control head 8681 for decentral automation of hygienic process valves
With the 8681 Bürkert presents a new control head which has been specially optimized for decentral automation of pneumatically controlled hygienic process valves. It is universally adaptable and can be combined with all commercially available valve types, such as butterfly valves, ball valves and single and double-seat valves. The company said the control is suited for hygienic applications as it's made of chemical resistant materials and features time-tested IP protection.
Within the framework of decentral automation concepts the 8681, as a central unit, performs all pneumatic actuation, feedback and diagnostic functions, as well as bus communication. Depending on the process valve, as many as three pneumatic actuator chambers can be controlled separately.
The 8681 control head has been specifically developed for decentral automation of hygienic seat valves, butterfly valves and ball valves. It supplements the Bürkert ELEMENT series of control heads, digital positioners and process controllers for diaphragm, angle seat and globe valves and rounds out the automation portfolio for the food/beverage and pharmaceutical industries.
The respective switching positions of the process valve are measured by the control head via an inductive analog position sensor and transmitted to a PLC. After installation of the control head on the valve actuator the switching positions are automatically determined by a fast and reliable teach-in function, which eliminates the need for manual configuration. A fourth switching position can be read in by an externally mounted inductive proximity switch. The switching speed of each driver chamber can be set individually for both directions of movement by means of a restrictor function integrated in the pilot valve.
www.burkert.dk
Metal seat ball valves ideal for high temperatures
M-series metal seat ball valves from A-T Controls are engineered with specially coated matched balls and seats to stand up to high temperatures, pressures and abrasive materials encountered in the oil/gas, chemical, power generation, pulp and paper, food processing and mining industries. Valves in the M-Series have a temperature range of -20°F to 661°F, and a pressure rating up to ANSI class 600.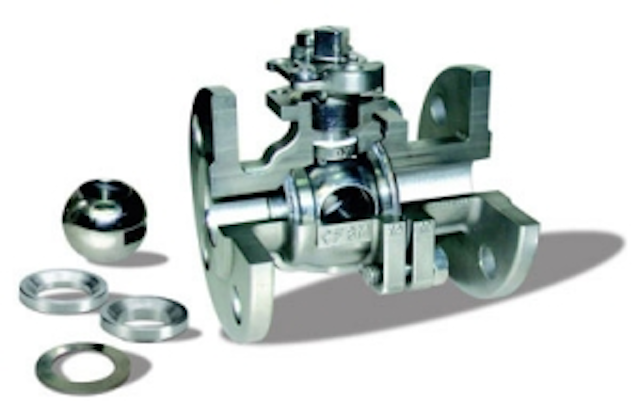 M-series ball and seat materials include stainless steel, satellite welded, and hard chrome-plated steel, allowing the valves to perform well in applications involving abrasive fluids and steam. Two optional coatings are also available – a tungsten carbide (TC) coating for heavy slurry environments, and a chrome carbide (CC) coating for higher temperature applications. An oversized stem prevents deformation at higher pressures and temperatures. Larger ball design provides a tight seal, preventing leakage, and an Inconel seat spring maintains positive contact between the ball and seat during operation.
M-Series valves are available with four connection options – flanged, threaded, socket weld and butt weld – and body material options include WCB, CF8 and CF8M. Special material is available based on application. Nominal pipe size (NPS) range is 0.5 to 8.0 inches. A uni-directional shutoff is standard, with a bi-directional shutoff available for back flow applications.
www.a-tcontrol.com
More Water & WasteWater International Current Issue Articles
More Water & WasteWater International Archives Issue Articles