Global engineering goes altruistic
Engineers Without Borders-USA and Carollo Engineers are on a mission to improve water quality worldwide, including for a school in a small town in Ecuador.
Dec 1st, 2008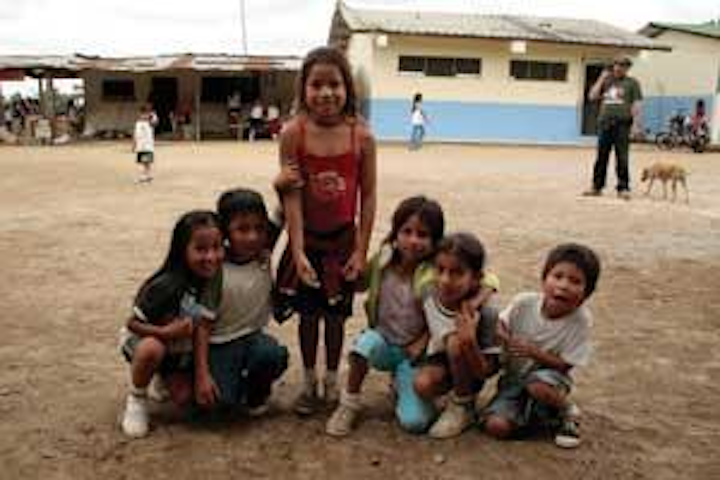 By Gina Earles
Engineers Without Borders-USA and Carollo Engineers are on a mission to improve water quality worldwide, including for a school in a small town in Ecuador.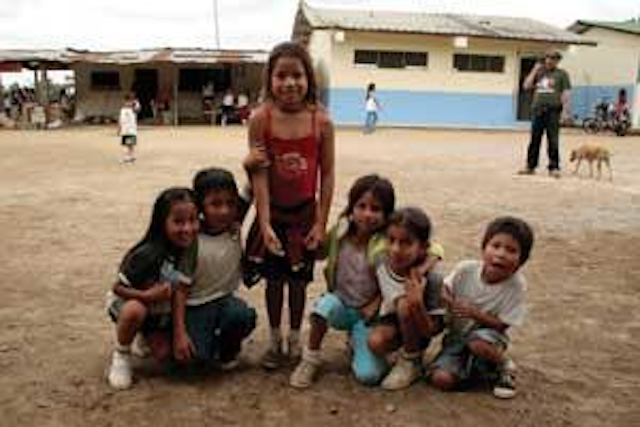 School children pose for the camera in the playground of the Abraham Calazacon School.
Click here to enlarge image
For a new generation of professionals, the desire and drive to do meaningful work extends beyond the walls of the workplace. The nonprofit group Engineers Without Borders-USA (EWB-USA) offers young engineers a valuable opportunity to apply their knowledge and skills not only in the context of a real world project, but also in the spirit of volunteerism. Currently, there are about 12,000 volunteer members worldwide, both young and seasoned engineers. EWB-International also hosts a Humanitarian Engineers' Registry, which links those in need with those who can provide services, technologies, and solutions to eradicate poverty in communities across the globe.
According to Dr. Marco Aieta, water practice director for USA-based Carollo Engineers and president-elect of EWB-USA, the organization has partnered since 2001 (when EWB-USA was established) with disadvantaged communities in developing countries to improve their quality of life through education and implementation of sustainable engineering projects. It also promotes new experiences for engineers, engineering students and similarly motivated non-engineers.
Participation from the water industry and its professionals is especially crucial, as it's estimated a billion people across the globe lack access to clean water.
"Frequently, EWB-USA works with remote communities that are off the radar of larger aid organizations," Aieta says. "EWB-USA water professionals focus on providing sustainable and replicable solutions that will provide low-cost clean water and sanitation, as well as develop alternate energy sources such as solar and wind power." Education in particular is key to fostering ultimate independence and confidence in addressing future issues.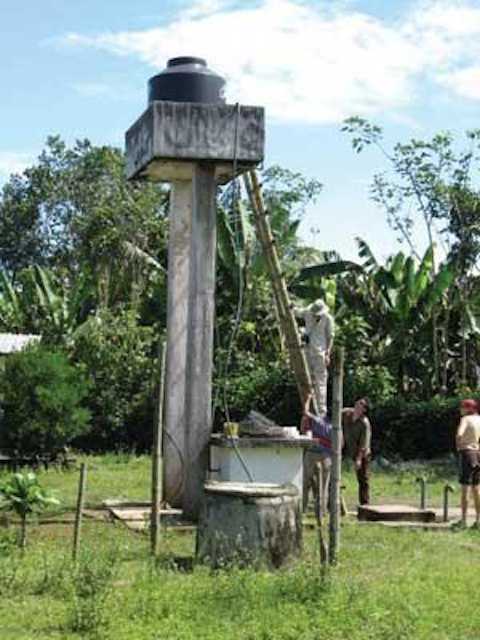 EWB team members collect water samples at the school for water quality testing
Click here to enlarge image
Rachel Armstrong, who joined Carollo's Portland, Oregon, office in 2007, is a good example of the global perspective and humanitarian sensibility that many young engineers now bring to — and increasingly expect from — employers. "My drive to become an engineer began with the passion to help underdeveloped communities," explains Armstrong. "Several times as a teenager, I traveled to extremely poor areas in Mexico doing service work, such as improving roads at an orphanage and constructing simple homes in the outskirts of Enseñada. Ultimately, these trips led me to pursue engineering as a vocation."
Throughout college and as a young engineer, Armstrong found it difficult to keep a focus on applying skills where she believed they were needed most. She recalls, "At least once a year through college and in the five years since graduation, I have struggled with balancing the engineering profession with my original goals. I always found myself asking, 'How am I helping people in need?' — while studying the properties of concrete, designing a new street for a suburban neighborhood, or evaluating wastewater pump stations for a large city. And every year I said to myself, 'Some day, all my training will prepare me.'"
As Armstrong sees it, the dilemma is that today's engineering education system and profession generally focus on large-scale projects, whereas developing communities need local, low-tech, small-scale solutions — for example, composting toilets. Small-scale projects require a special design and construction knowledge, which isn't commonly taught in schools nor practiced in the engineering world. Armstrong frequently was
torn between working in the professional field and devoting her time and energy to working directly in needy communities.
After accepting the position with Carollo in Portland, Armstrong discovered a natural outlet for her drive to apply her engineering experience to making a difference in the lives of those less fortunate: she joined the local EWB-USA chapter. By day, she works on treatment plant designs, developing water system master plans and performing hydraulic analyses for Carollo, and thoroughly enjoys it. As she says, "I have wonderful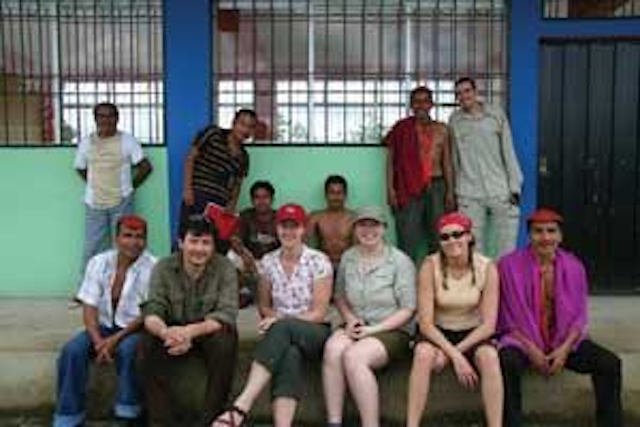 EWB team and local Padres de Familias (Family Fathers)
Click here to enlarge image
mentors and greatly value my colleagues." But once a week, she attends a meeting of EWB-USA's Portland Professionals Chapter to work on their current project: resolving an overflowing septic tank at a school in Bua, Ecuador.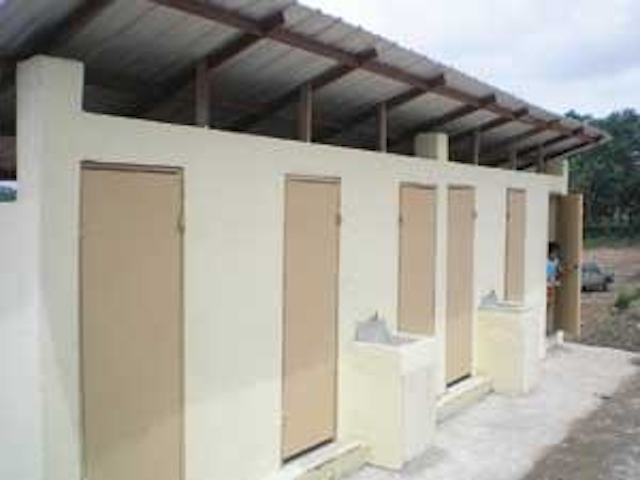 New toilets at school
Click here to enlarge image
The Ecuador project was just taking shape when Armstrong joined EWB-USA in late 2007. She immediately joined the project team and traveled to the indigenous community in March 2008 to survey and gather information for the project.
The Yanapuma Foundation, a non-governmental organization (NGO) in Ecuador, contacted EWB-USA requesting help in resolving water and sanitation issues at a school in the Tsachila community, near Santo Domingo, Ecuador. One of the many native cultures to Ecuador, the Tsachila people are learning to adapt to the pressures of the modern world while maintaining their longstanding culture. One of their bilingual schools, the Abraham Calazacon School, serves 250 students and urgently needed an improved toilet system and reliable water supply. Through working with Yanapuma and the local school leaders, the EWB-USA project team designed a new composting toilet system. EWB-USA team members were also responsible for overseeing completion of the concrete block structure.
According to Armstrong, her chapter's involvement will extend beyond this project: "One of EWB-USA's goals is to continue relationships with the communities we serve, so we expect to continue working with the school community on their long-term plans for expansion." Armstrong anticipates additional projects at the school will involve building a library, installing rainwater collection, designing an irrigation system for an organic garden, and expanding the school to include an agricultural college.
Now president-elect of the EWB-Portland chapter, Armstrong especially appreciates the support she receives from her employer in balancing her professional responsibilities with volunteer projects. "Carollo has been very supportive of my involvement in EWB-USA. I am working with other employees at Carollo to develop a company support system for volunteers with EWB-USA, who often need to leave the country."
From Carollo's perspective and other leaders in the water industry, participation in organizations such as EWB-USA offers a win-win proposition for everyone concerned. Aieta points out water-related problems are some of the most critical impediments to healthy living conditions and progress for most developing communities. "As water professionals, we can help communities develop not only adequate supplies of water, but also its safety for a wide range of purposes, from human consumption to water for agriculture and industry. We are able to literally save lives — and that knowledge is tremendously gratifying."
From a recruiting standpoint, companies that encourage volunteerism frequently appeal to the "best and brightest," whether they're new graduates or professionals with years of experience.
As Armstrong puts it: "In addition to the wonderful feeling of knowing you're making a small difference in the world, the best part of being a member of EWB-USA is finding yourself among talented people who are passionate about doing the same! While the work I do at Carollo may not directly relate to the specific problems we face in the Ecuador project, I feel that I've found a way to balance my life goals with my career. With each decision I make, these two seemingly parallel tracks are merging."
---

Acknowledgments
The author would like to thank Carollo Engineers' Rachel Armstrong for her assistance on this article. Founded in 1933 and with about 30 U.S. offices, the company offers planning, design and construction management services for the water and wastewater needs of municipal and industrial clients alike. Contact: +1-800-523-5822 or www.carollo.com
Author's Note:
Gina Earles is managing director of Engineers Without Borders-USA. EWB-USA has 300 U.S. student and professional chapters and over 12,000 members working now on 280 projects worldwide. Contact: www.ewb-usa.org