Three Coins in a Fountain
IWA, AIDIS and WEFTEC deliver diverse program on sustainable water needs.
Oct 1st, 2008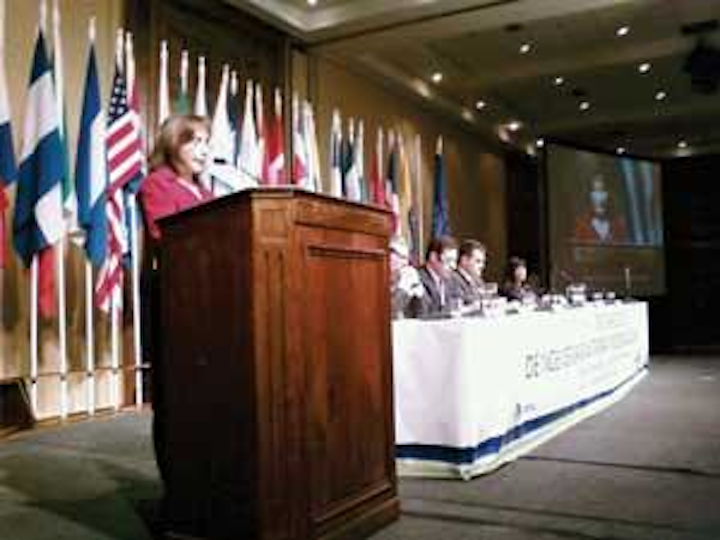 IWA, AIDIS and WEFTEC deliver diverse program on sustainable water needs.
No way could I include the breadth of information presented at the International Water Association (IWA) biennial World Water Congress, Sept. 7-12 in Vienna, the biennial congress of the Inter-American Association of Sanitary and Environmental Engineering (AIDIS - for its Spanish acronym), Oct. 12-15 in Santiago, Chile, and Water Environment Federation's WEFTEC.08 in Chicago, Oct. 19-22, in such a short column.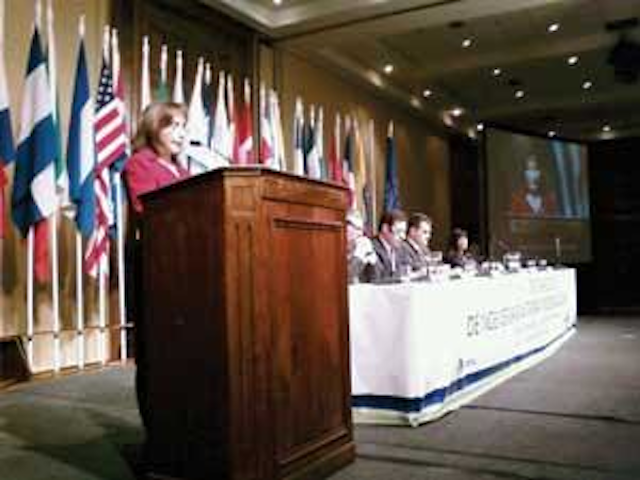 Dr. Socorro Gross-Galiano, assistant director of the Pan-American Health Organization's Sanitary Bureau and a native of Costa Rica, addresses the XXXI Congreso de AIDIS in Santiago, Chile.
Click here to enlarge image
Among IWA highlights:
UN Habitat's release of a Global Atlas of Excreta, Wastewater, Sludge and Biosolids Management underscored a recent IWA reference paper based on work of its Sanitation 21 Task Force, stressing that 2.6 billion people don't have access to improved sanitation.
Steve Loranger, CEO of ITT Corp., which pledged US$3 million over three years in its ITT Watermark philanthropic outreach in Asia and Latin America, called for investment and innovation to address the global sanitation crisis. He was joined on a panel by moderator and Circle of Blue director J. Carl Ganter, Water For People's Ned Breslin and IWA development director Dr. Darren Saywell. This event was reprised with different players, emphasizing ITT's recent related partnership with Mercy Corps, at WEFTEC in Chicago. Video of both can be viewed at our website.
Israel's Arison Group announced formation of Miya with a $100 million investment to assemble a global dynamo focused on water loss management. Among its subsidiaries are Swiss-based Gutermann, Israeli pressure control valve maker Dorot, Croatian-based IMGD, Romania's Romiya, North America's Veritec Consulting, and WRP, active largely in South Africa and Australia. Israeli companies were in force also at WEFTEC, marked by a daylong presentation by Israel NEWTech, a national program to promote the country's water industry abroad.
Fresh from success at its first Singapore International Water Week, the island nation's national water agency, PUB, released its Blue Paper, pointing to the need for sustainable solutions to the world's water and "used water" problems. An interview with PUB chief Mr. Khoo Teng Chye appears in this issue's "Executive Watch" column.
Dr. Jim Gill, of Australia's WaterCorp., and Prof. Mark van Loosdrecht, of the Netherland's Delft University of Technology, won IWA's Grand Award – the first time it's gone to two people. Dr. Joan Rose, co-director of the Center for Advancing Microbial Risk Assessment and Center for Water Sciences at Michigan State University, received the inaugural IWA Hei-jin Woo Award for achievements of women in the water profession.
IWA and MWH launched a wide-ranging, three-year program to tackle the impact of climate change in the water sector – a recurring theme at the congress and the subject of several presentations directly and indirectly.
At the AIDIS event, key meetings involved a series of roundtables, spotlighted by one involving the IWA, USEPA, U.S. Centers for Disease Control, Pan-American Health Organization and DIAGUA to launch a "water security plan" program in the Americas building on a UN-funded effort for vulnerability assessment partnerships on water resource protection and development in the region. Begun in 2005, this has resulted in about a dozen pilot programs from Mexico to Brazil. In addition, AIDIS and IWA joined to promote IWA's Water Operator Partnerships program, which teams large and small water agencies, in the Americas.
Notable at WEFTEC were keynote addresses by Chicago Mayor Richard Daley and 2008 Stockholm Water Prize winner and "virtual water" pioneer Prof. John Anthony Allan, and a session on the "Politics of Clean Water" looking at issues faced by local elected officials with how the winner of U.S. presidential elections might affect environmental policy. My time at WEFTEC was taken up largely by a series of 33 video interviews I and other PennWell editors conducted with different industry players that we'll highlight online and in e-newsletters. As such, the recent world financial meltdown was on the minds of many. The more concerned were worried about stabilizing global credit and liquidity, in particular in bond markets that help finance major infrastructure projects. Those less concerned thought the water industry was somewhat insulated by the critical nature of the resource and inability to continue avoiding infrastructure investments.
We can no longer afford to ignore water needs was the underlying theme of all three conferences.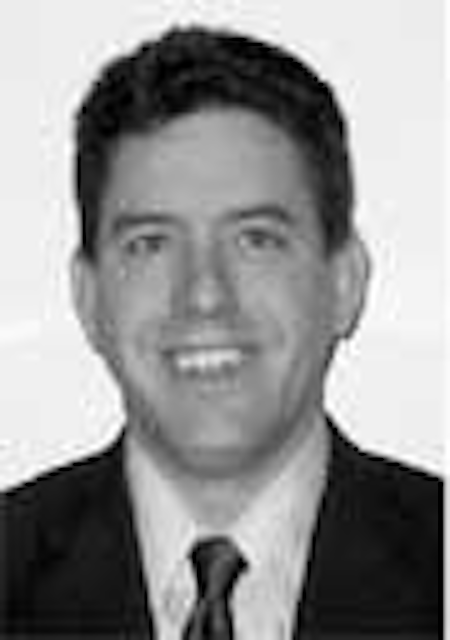 Click here to enlarge image
Carlos David Mogollón,Managing Editor