Finning Expands Green Power for Thames Long Reach
Sewage plant recovers 2.3MW to 3.3MW via CHP biogas generator, making wastewater facility carbon neutral
Feb 1st, 2008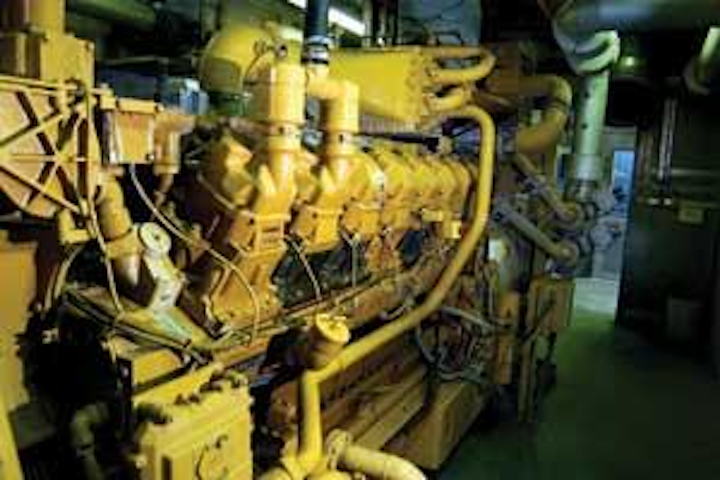 Sewage plant recovers 2.3MW to 3.3MW via CHP biogas generator, making wastewater facility carbon neutral
By David Hatherill
Finning Power Systems has increased the amount of green electricity produced by Thames Long Reach sewage plant from 2.3MW to 3.3MW with the installation of a third CHP biogas generator. Phase two of the turnkey installation was completed in the fall of 2007.
The project involved installing and commissioning a customised Cat G3516 biogas generator set, from Caterpillar, as a combined heat and power (CHP) system, expanding the switchgear with an additional HV board cabled to the existing system and expanding the LIMA remote control and monitoring system. Finning also completed any necessary civils work such as building, sound attenuation and additional pipework.
Phase 1 of the turnkey project, to produce electricity from the methane gas produced by the sewage, was also completed by Finning Power Systems. Due to the more efficient generation of methane gas, Thames Water decided to add a third CHP biogas generator set. Original projections were for 17,000m3 of methane gas. This has since increased to 22,000 m3 and improving the sewage digestion system will further increase the methane available for power generation to 28,000 m3.
The extra electricity produced by the third biogas generator is used to power the expanded sewage operation and also to export more green power to the national grid. The extra 1MW provides enough electrical power for 200 homes a day.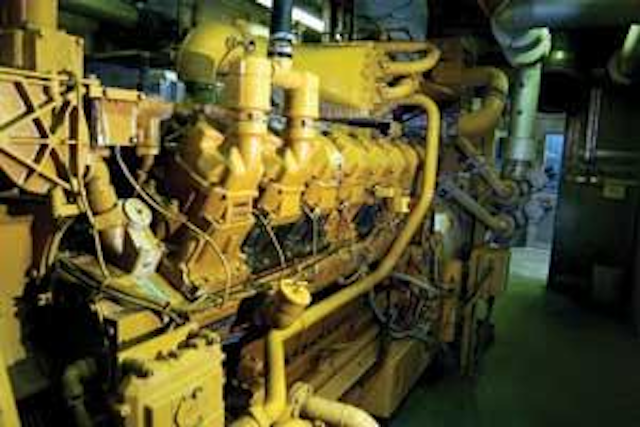 A biogas generator sets at Thames Longreach sewage plant in the UK;
Click here to enlarge image
The aggressive nature of sewage gas means that Finning Power Systems fully hardened the Cat generator set before it was installed. This involved using special lubricants with high temperature cooling jackets.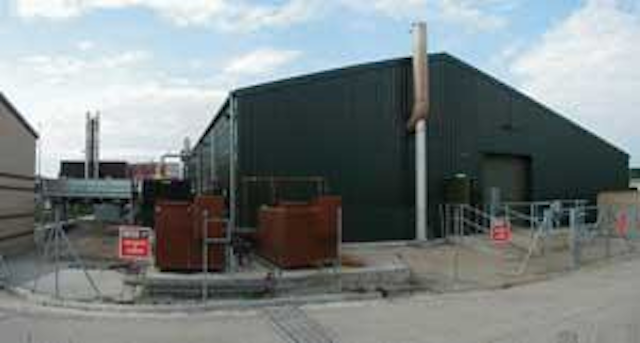 Thames Longreach biogas recovery facility
Click here to enlarge image
The current installation provides enough electrical output to power the 1.8MW sewage works load making the plant completely carbon neutral. In addition, the power station can export electricity to the grid depending on the tariff available at the time.
A back up diesel generator set provides failsafe power generation if both of the existing biogas generator sets fail and another auxiliary diesel generator provides a third level of back up.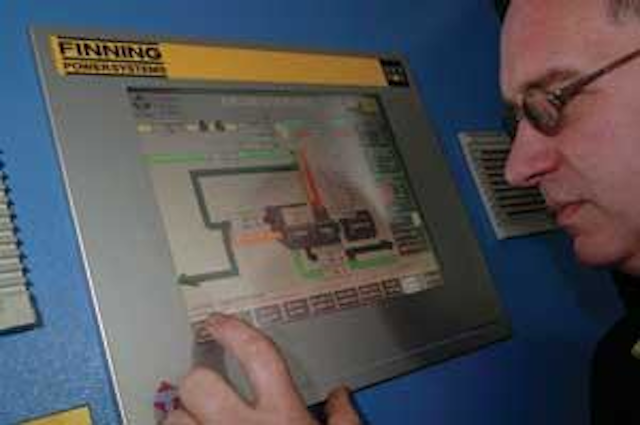 Finning LIMA control system with colour touch-screen interface
Click here to enlarge image
The LIMA control system can switch between generator sets automatically and also prioritise which circuits are powered if there is a problem. Again two levels of redundancy means that generator sets can be switched automatically or manually using LIMA, or manually using key switches. It also allows remote monitoring of the whole system
as part of Finning's 24/7 maintenance contract.
In addition the methane gas can be stored in double skinned expandable balloon holders so the amount of fuel used, and therefore electrical power generated, can be managed. The CHP system also generates 2MW of heat. This heats up the sewage digestors to generate more methane gas for power generation.
Comments Thames project manager, David Watts: "When the original power station burnt down in 2000, we decided it was more energy efficient and environmentally friendly to use the methane gas to generate electricity rather than burn it off.
"We originally chose Finning for the project because they can supply the complete turnkey solution, not only supplying the customised Cat generator, but also the design, installation and commissioning and full service back up. Phase two of the project further increases our capacity to generate green electricity."
---

Author's Note:
David Hatherill is engineering manager at Finning Power Systems, a unit of Finning (UK) Ltd. – which is a Caterpillar equipment distributor. The company is based in Berkshire, United Kingdom. Contact: +44 (0) 1753 497300 or www.finning.co.uk/industries/powersystems