Valve & Fluid Control
Tideflex Technologies' Tideflex Mixing System (TMS) greatly improves the quality of water in finished water storage reservoirs.
Mar 1st, 2010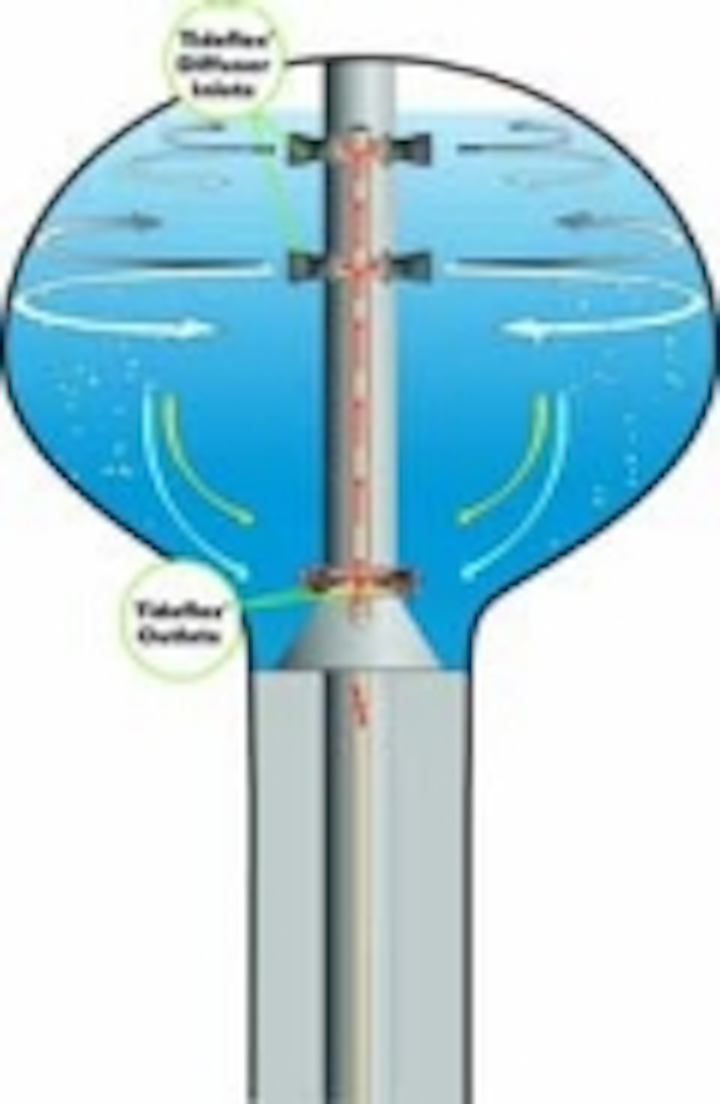 Tank mixing system
Tideflex Technologies' Tideflex Mixing System (TMS) greatly improves the quality of water in finished water storage reservoirs. The TMS is a combination of patented Tideflex Check Valve technology and a piping manifold that separates the inlet and outlet. The system can be installed in new or existing water storage tanks of all shapes and sizes to eliminate stagnation and short-circuiting. Tideflex Technologies, Carnegie, PA, 412-279-0044, www.tideflex.com.
Valve actuators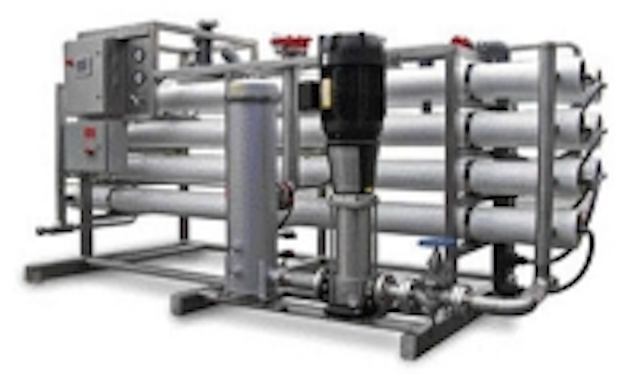 Val-Matic's traveling nut manual actuators are designed to specifically match the torque characteristics of the company's Ener-G® Ball Valves and American-BFV® Butterfly Valves and are built in accordance with AWWA Standards. The traveling nut actuator provides characterized closure, which allows the valve to slowly close during the last half of travel to reduce pipeline surges. Val-Matic actuators have the exclusive feature of externally adjustable stops rated to 450 ft-lbs of input torque. Val-Matic, www.valmatic.com.
Ozone check valve
Markel has introduced the Motionless™ Ozone Check Valve, a device that protects ozone generators from water intrusion. The valve consists of bundled FPM™ Porous PTFE Hollow Fiber Membranes mounted in an all fluoropolymer housing with no moving parts. Valves are available in two sizes and can be inserted in ozone feed lines with stainless steel or PVDF compression fittings. The valve is suited for applications where ozone feed systems experience low pressure process upsets and mechanical valves are ineffective at blocking the flow of water or fail in service. Markel Corp., Plymouth Meeting, PA, www.markelcorporation.com
Valve controller
Emerson Process Management has expanded its Fieldvue™ instrument product line with the DVC6200 Series digital valve controller, featuring linkage-less, non-contact feedback technology. The instrument was designed for applications that experience high levels of vibration, corrosion, or material entrapment. The technology improves reliability by eliminating linkage wear. The instrument has undergone electro-magnetic compatibility (EMC) testing to meet IEC standards and will ship with the CE mark. It is available with either the Hart or Foundation Fieldbus communication protocol. Emerson Process Management, www.emersonprocess.com
Butterfly valves
Bray Controls has designed a line of 22"– 120" resilient seated butterfly valves specifically for highly abrasive and corrosive applications. These valves meet process requirements with chloride content from low to very high parts per million in applications such as seawater and sanitary service. The internal splined (standard to 48" and selected sizes 54" and above) or double-keyed disc-to-stem (selected sizes 54" and above) connections prevent many valve failures due to erosion, corrosion and vibration. Bray Controls, Houston, TX, 281-894-5454, www.bray.com.
Valves
KZValve offers ball, butterfly, and manifold valves in stainless steel, bronze, polypropylene and nylon, all with stainless steel hardware. Sizes range from 1∕4" to 4", with pressure ranges up to 2,000 psi. The company's actuators are NEMA 6P rated as waterproof, NEMA 7 rated as ignition protection tested in an explosive atmosphere, and tested to and exceed USCG electrical systems standard test procedure. Actuators are available in 12 vDC, 24 vDC and 24 vAC. The actuators can be removed while the valves stay in service. Custom applications are available for larger valves systems. KZCO Inc., 800-288-1112, www.kzvalve.com.
Control valves
The OCV ValveMeter Ultra is a stand-alone, electronic flow measuring and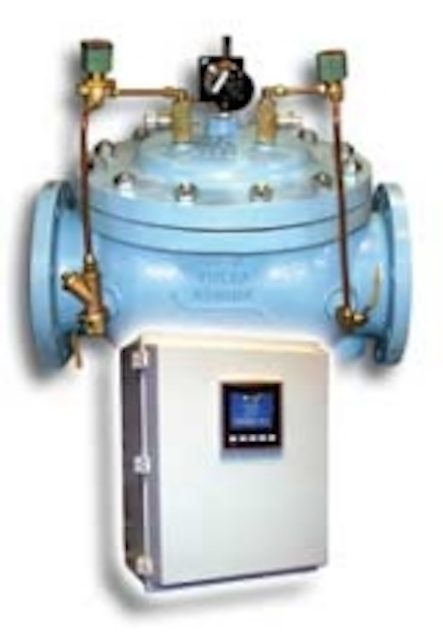 control system. Based upon the variables of valve differential pressure and valve position, the system automatically calculates and displays the flow rate and signals the solenoids on the control valve to control the flow rate at a given set point. There is no need for a separate flow meter in the line. The system offers userselectable flow units; includes two totalizers; and allows for local (touch screen) or remote (4-20 mA) set point selection. The system is available on all OCV valves, sizes 4"-24". OCV Control Valves, Tulsa, OK, 888-628-8258, www.controlvalves.com.
Multiport selector valve
Plast-O-Matic Valves has introduced Series S, a compact multiport selector valve for high-purity or corrosive environments. These valves are available in standard 2-way, 3-way, 4-way, and 5-way configurations with a variety of flow paths. Selector valves can be "stacked" in multiple combinations for manifold applications; they can also be custom drilled to provide unique flowpaths for laboratory sampling, testing, custom mixing, and other multi-port uses. The selector valve is available manual or actuated, and is suitable for liquid applications to 125 PSI. Series S uses a machined PTFE rotor to direct flow to or from the selected port. Body material options include PVC, CPVC, PVDF, PTFE and natural polypropylene. Plast-OMatic Valves Inc., Cedar Grove, NJ, 973-256-3000, www.plastomatic.com.
Ball valves
The compact, light weight BVP70/BVP80 series Pneumatic and Electric Actuated Ball Valves from Omega Engineering feature a stainless steel external trim and FKM O-Rings standard. The pneumatic valves are designed to operate using an air supply of 50 to 125 psi and the direct valve stem coupling to actuator shaft minimizes backlash. Electric actuators feature two ½" NPT conduit ports and integral thermal overload protection. Omega Engineering Inc., 203-359-1660, www.omega.com.
Foot valve
Flexi-Hinge® foot valves combine all the flow advantages of the company's check valve with a 6:1 open area ratio type 316 stainless steel screen. The valves are available in either male threaded or flanged end connections. Sizes range from 1" through 12" pipeline size. Available body materials include carbon steel or corrosion resistant type 316 stainless steel, and all come with type 316 stainless steel internals. A stainless steel spring provides an immediate closure of the foot valve preventing backflow and/or head loss. Flexi-Hinge, Erie, PA, 814-833-9814, www.flexi-hinge.com.
Valve drive system
Easing valve operation for workers, Smith Flow Control introduces the Easi-Drive for the water and wastewater industries. The portable drive system is adaptable and can operate many different valves, including the largest gate and butterfly valves, with a single tool. The drive is an alternative to installing permanent, dedicated actuators for every valve. The lightweight drive's adaptor and reaction set provides safe operation of valves by transferring reaction away from the operator. Its variable torque outlet ensures that it will operate numerous valves with varying torque requirements from 350 to 75,000 foot pounds, and the operator can select torque output to avoid overtorquing the valve. Smith Flow Control, Erlanger, KY, 859-578-2395, www.smithflowcontrol.com.
Control valves
Parker Fluid Control Division now offers a line of High-Flow NAMUR Valves for direct mounting to pneumatic actuators. Process industry applications for the product line include the control of larger process control valves commonly used in water and wastewater applications. The series introduces a compact and modern design ideally suited for controlling actuators of all sizes. The new solenoid valve offers NAMUR-compatible models in 3∕2, 5∕2 and 5∕3 functions for the control of single- and doubleacting pneumatic actuators. They are offered with ¼" and ½" NTP port sizes with standard manual override. Parker Fluid Control Division, New Britain, CT, 860-827-2300, www.parker.com/fcd.
Butterfly valves
GF Piping Systems has announced expansion of its large diameter size range for the Type 567 Butterfly Valve to include sizes 14"-16". The new size range features a double eccentric off-center design and excellent chemical compatibility. The off-center shaft allows the disc to completely disengage from the disc seal, even when partially open. This results in reduced seal friction for longer service life. GF Piping Systems, Tustin, CA, 800-854-4090, www.gfpiping.com.
Backflow preventers
Wilkins 300 Series Backflow Preventer valves use composite materials that resist corrosion, and have a short lay length to fit in to smaller valve boxes. The backflow preventers are available with a completely removable check valve housing. The optional Blow Out/Flush (BOF) fittings are unique to the Wilkins 300 series backflow preventers. The BOF fitting is used for either winterizing the system or start-up flushing. Wilkins, a ZURN Company, 877-222-5356, www.zurn.com.
Valve products
APCO Valve & Primer produces a complete line of Air Release / Air Vacuum Valves. The company also manufactures the following valves: Silent Check, Slanting Disc Check, Cushioned Swing Check, Rubber Flapper Check, Automatic Control, Double Door Check, Metal Seated Ball and Cone Valves. The company recently added Eccentric Plug valves to its product line. It also offers engineering and technical help for all of its products. APCO Valve & Primer Corp., 800-323-6969, www.apcovalves.com.
Electric actuators
Hayward Flow Control Systems has announced availability of a new line of reversing electric actuators and accessories for a wide range of valve automation applications. The company's new corrosion-resistant EPM, EPS, and EPL Series electric actuators are available in a variety of quarter-turn reversing, spring return, and linear drive models. EPM Series Reversing Actuators are designed for use with all ball and butterfly valves up to 24" in size, provide torque outputs from 300 to 13500 in. lbs., and are available with positioners for special on/off or modulating requirements. Hayward Flow Control Systems, Clemmons, NC, 336-712-9900, www.haywardflowcontrol.com.
Valve actuator control
The Rotork Pakscan P3 modular control system now offers the addition of a network card option that enables users, including control room personnel, to communicate wirelessly with the company's valve actuators in the field. The wireless capability operates on the 2.4GHz frequency and has a line-of-site operating range of approximately 70 meters indoors and 1000 meters outdoors. It includes built-in web pages that provide an easy way for control room operators to access and extract important asset management information such as actuator data logger and configuration files without the need of having to manually download the information in the field. Rotork Controls Inc., Rochester, NY, 585-247-2304, www.rotork.com.
Gas shutoff system
Eclipse Actuators close toxic gas valves on 150 lb. and ton cylinders in less than one second when activated by remote sensors. These electronic actuators are "close only devices" requiring an operator to visit the site to determine the cause of the problem. The battery-operated actuator allows an operator or remote gas sensor to shut off leaking toxic gas without requiring the operator to enter the hazardous atmosphere. The chlorine valve can be opened or closed manually with the actuator installed and ready to operate. Halogen Valve Systems, Irvine, CA, 877-476-4222, www.halogenvalve.com
More Industrial WaterWorld Articles