New System Targets High Strength Organic Wastewater
>A new membrane bioreactor (MBR) system under development combines three technologies - membrane separation, biological processes ...
Sep 1st, 2010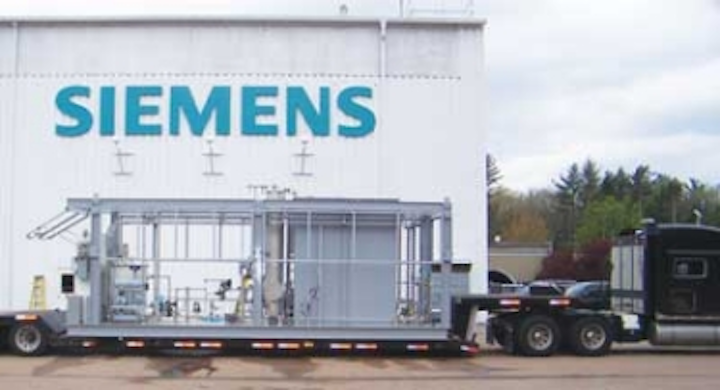 By Michael Howdeshell, Thomas Schultz, and Robert Wenta
A new membrane bioreactor (MBR) system under development combines three technologies - membrane separation, biological processes, and activated carbon - into a single wastewater treatment step to treat high-strength organic wastewaters. The system produces high-quality water that can be direct-discharged into the environment or reused within an industrial plant.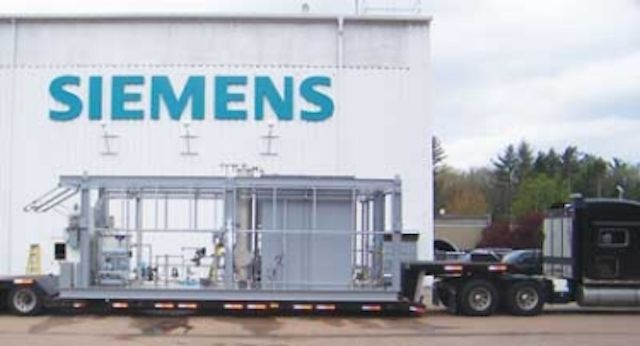 The EcoRight MBR system pilot unit sits outside Siemens Water Technologies' Rothschild, WI, facility, prior to being shipped to Saudi Arabia.
In addition to industrial reuse applications, the process may also be ideal for a wide range of municipal and industrial wastewater treatment applications such as parks and resorts, retrofits and turnkey projects.
Siemens Water Technologies and Aramco Overseas Company, B.V., a subsidiary of Saudi Aramco, are collaborating on the development of the new EcoRight™ carbon-enhanced MBR system.
MBR + PAC vs GAC
Siemens and Saudi Aramco worked together to develop a wastewater treatment system that could treat a very complex refinery wastewater stream that could not be treated by conventional means. MBR technology was selected instead of a conventional system using clarifiers because of the very high TDS in the refinery wastewater and a large concentration of biologically refractory organic compounds. Additionally, the MBR was selected because it can reduce solids in the effluent, provide more robust operations, reduce operating problems, improve effluent quality, and have a smaller footprint - all items required for the refinery's treatment need.
Powdered activated carbon (PAC) was initially paired with the MBR in the pilot studies. Testing determined that the PAC-MBR system was significantly more stable and capable of removing more biologically refractory organic compounds than the MBR alone. It met the treatment requirements of the refinery. However, adding the PAC was found to abrade the membranes and reduce their permeability such that it would be uneconomical to operate.
Work then focused on developing a cost-effective system that provided the benefits demonstrated with a PAC-MBR system without the additional abrasion cost. Reducing abrasion can be accomplished by either engineering a more robust membrane or isolating the carbon from the membrane altogether.
The solution developed was to use a GAC that was large enough to be isolated in the aeration tank through the use of a screening/separation system. This prevented the carbon from entering the membrane operating system (MOS) tank. This was proven to nearly eliminate the membrane abrasion problem and provide a more cost-effective, robust treatment system for wastewaters containing biologically refractory organic compounds. Saudi Aramco and Siemens Water Technologies have submitted multiple patent applications for this system and modifications to the system.
System Benefits
Besides allowing industrial plants to reuse wastewater, conserve fresh water supplies and reduce the amount of wastewater discharged, the EcoRight MBR system may also reduce capital and operating costs compared to existing biological treatment technologies. While GAC polishing can also address high COD effluent concentrations that sometimes result from biologically refractory organic compounds, it requires higher capital costs for the carbon filtration equipment and a higher operating budget for the large amount of GAC that is required by this type of treatment.
The EcoRight MBR system does not require the extra capital equipment and uses significantly less GAC. It has also been demonstrated to reduce extracellular polymeric substances that cause process upsets or reduce membrane performance, has a reduced system footprint, has fewer process steps, improves sludge settleability, and has a modular expansion capacity.
The MBR system is flexible enough to meet changing regulations, and the system's product water is clean enough to meet stringent environmental discharge requirements.IWW
---
About the Authors: Michael (Mike) Howdeshell, Ph.D., is the R&D director for oil & gas products and systems at Siemens Water Technologies. Thomas (Tom) E. Schultz is the director of sales and marketing for the petroleum and chemical industry at Siemens Water Technologies. Robert (Bob) J. Wenta is the director of downstream technologies for the oil & gas and integrated solutions division of Siemens Water Technologies. Questions about the EcoRight MBR system may be directed to Wenta at robert.wenta@siemens.com.
More Industrial WaterWorld Articles
Past IWW Issues