New Products
In partnership with Bolton Photosciences, Blue Ridge Numerics Inc. has released the new CFdesign UVCalc Module, an industry-first upfront computational fluid dynamics (CFD) solution for simulating and validating ultraviolet reactor performance to ensure accurate fluence rates for UV light disinfection.
May 1st, 2009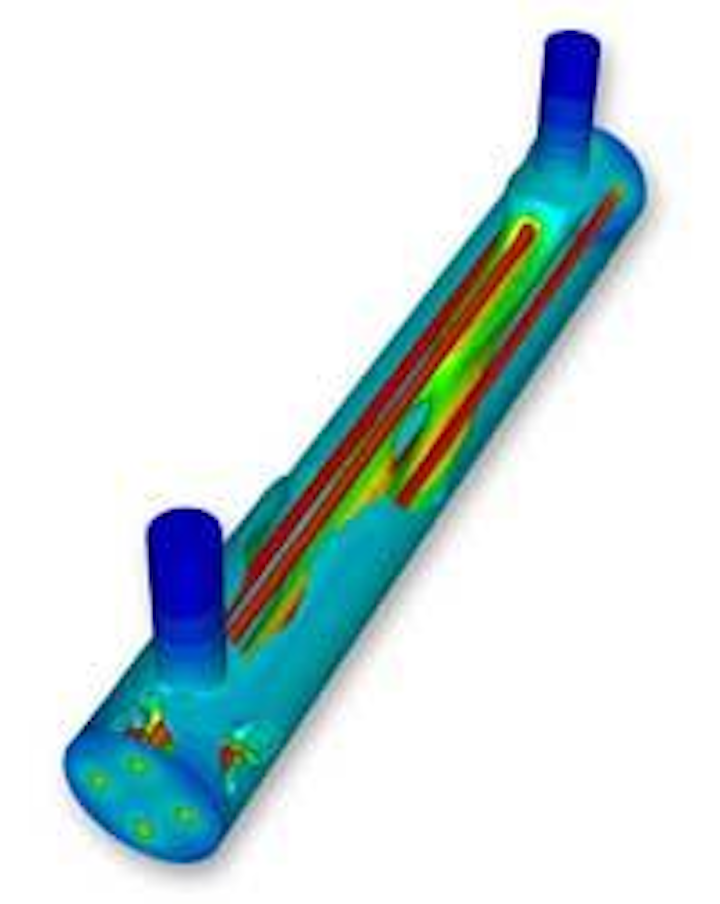 UV reactor validation
Click here to enlarge image
In partnership with Bolton Photosciences, Blue Ridge Numerics Inc. has released the new CFdesign UVCalc Module, an industry-first upfront computational fluid dynamics (CFD) solution for simulating and validating ultraviolet reactor performance to ensure accurate fluence rates for UV light disinfection. The use of germicidal UV light is a rapidly expanding technology used to ensure public safety by deactivating the DNA of bacteria, viruses and other pathogens, removing their ability to multiply and cause disease. Blue Ridge Numerics Inc., Charlottesville, VA, 508-839-7114, www.cfdesign.com
Rupture disc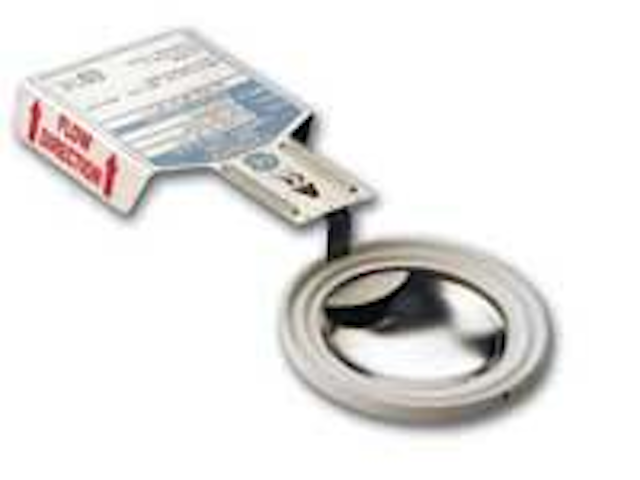 Click here to enlarge image
Continental Disc has introduced the new SANITRX® MP rupture disc featuring industry leading cycling technology and severe service application capabilities at the INTERPHEX show in New York. The product line is designed specifically for the pharmaceutical, biotech and food and beverage industries. It offers proven performance from full vacuum to the recommended operating pressure in excess of 100,000 cycles. Precision scoring on the vent side of the dome assures optimum cleanability and improves rupture disc performance in severe service applications. Continental Disc Corp., Liberty, MO, 816-792-1500, www.contdisc.com
Ozone generators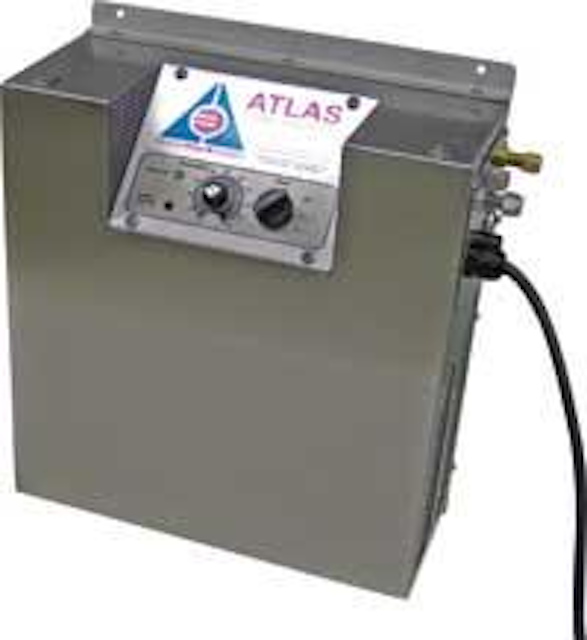 Click here to enlarge image
New Absolute Ozone® Atlas Series ozone generators make it possible to dissolve twice as much ozone in water, as most equally rated air-cooled ozone generators on the market, utilizing only half the oxygen and matching the ozone concentration of water-cooled units. Its Microfluidic platform technology reliably provides ozone concentration up to 16% by weight for a variety of applications. Now, even in small water bottling applications, operators are capable of achieving ozone dissolve efficiencies above 80%, previously possible only with water-cooled ozone generators. Absolute Systems Inc., Edmonton, Alberta, Canada, 877-486-3761, www.absoluteozone.com
RO elements, spacers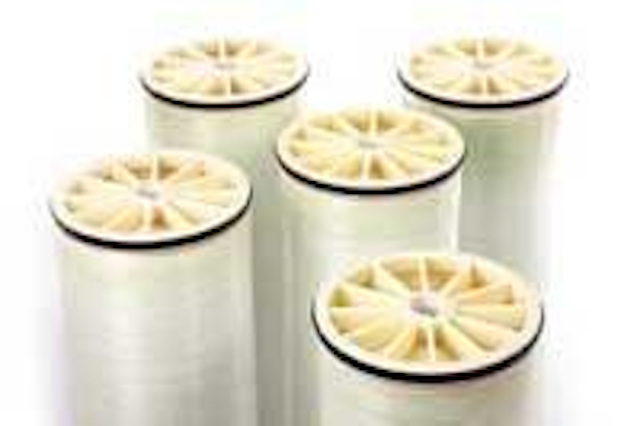 Click here to enlarge image
Toray Membrane USA has introduced two new low pressure brackish models of TMG20-400C and TMG20-430C reverse osmosis membrane elements. The new products feature a new permeate tube design that standardizes permeate tube dimensions without need for special adaptors when replacing competitor elements. Toray also offers new 34 mil brine spacer for models of TM720N-400 high rejection brackish elements and TMG20N-400 low pressure brackish elements. The thicker brine spacer makes the element more resistant to fouling and easier to clean in waters with higher suspended solids and difficult process water applications. Toray Membrane USA Inc., Poway, CA, 858-218-2390, www.toraywater.com
Ozone monitors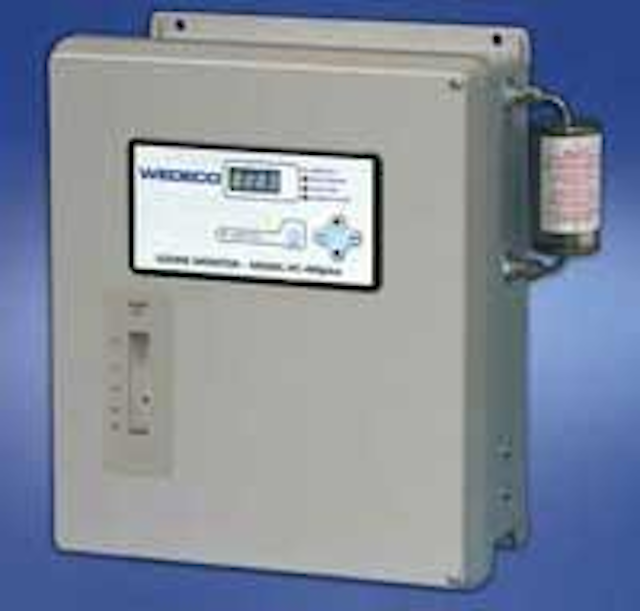 Click here to enlarge image
The 400plus series of ozone monitors is the newest addition to ITT's WEDECO product portfolio. They replace the current 400 and 500 series of low, medium, and high concentration monitors. Utilizing the same reliable measurement principle as the current analyzers, this series provides improved accuracy and increased operational flexibility. In addition, the modular design is ideal for an existing facility or for a new ozone application. ITT Water & Wastewater, Charlotte, NC, 704-409-9700, www.wedeco.com
Filter cartridges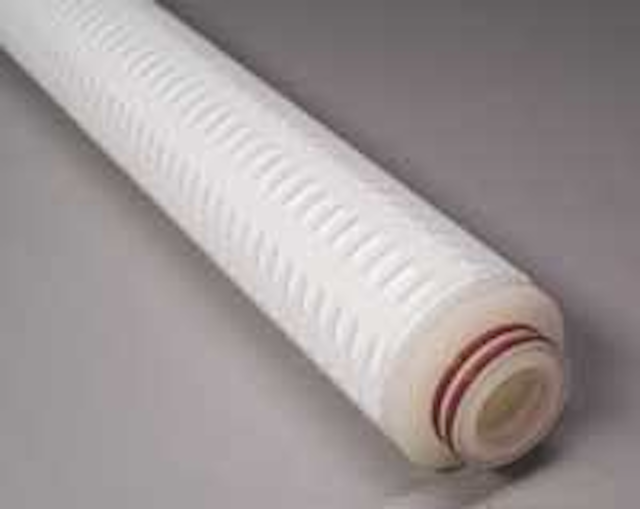 Click here to enlarge image
Argonide recently announced an addition to its line of NanoCeram® electropositive water filter cartridges. They now come in a full line of single open ended (SOE) filter cartridges designed for use in most applications where absolute-rated pleated filtration are needed with the added assurance of an absolute seal between cartridge and housing. The SOE filters are available with flat, fin or spring end caps with 222 or 226 double o-rings. This is in response to demand for such cartridges from markets such as the pharmaceutical/biopharma and semiconductor industries. Argonide Corp., Sanford, FL, 407-322-2500, www.argonide.com
Stormwater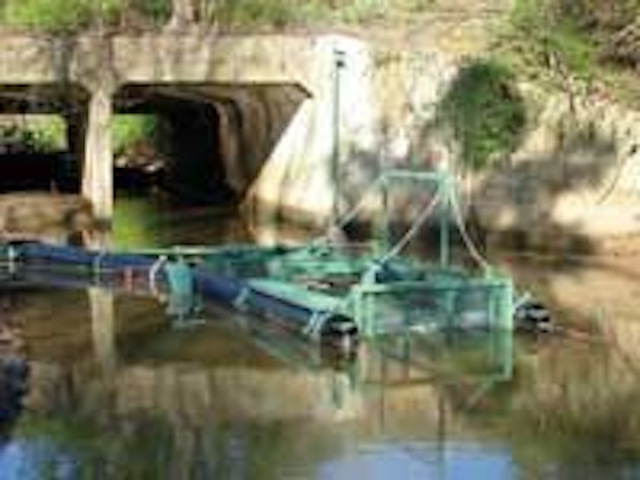 Click here to enlarge image
Washington, DC, recently installed the nation's first Bandalong Litter Trap™ from Storm Water Systems Inc., North America's exclusive licensee, which installed the floating litter collecting device in the Watts Branch tributary into the Anacostia River. Constructed of inert, corrosion-free high density polyethylene (HDPE) and aluminum, the litter trap floats in waterways using the water's current to guide and capture litter before it flows downstream. It was funded by a grant obtained in collaboration with the District Department of the Environment, the Earth Conservation Corps and Anacostia Riverkeeper. Storm Water Systems Inc., Cleveland, GA, 888-730-5819, www.stormwatersystems.com
Engineering software
BlueCielo ECM Solutions released InnoCielo Meridian Enterprise 2008a Service Pack 1 and InnoCielo TeamWork 2008a Service Pack 1, which provide updated AutoCAD 2010 support, among other enhancements to its Engineering Content Management (ECM) software solution. BlueCielo's flagship product InnoCielo Meridian Enterprise enables companies to strategically manage asset information and engineering processes to optimize performance, control costs and reduce risk, while InnoCielo TeamWork offers industry-leading functionality for engineering teams. BlueCielo ECM Solutions, Rijswijk, The Netherlands, 800-531-2287, www.bluecieloecm.com
Stormwater modeling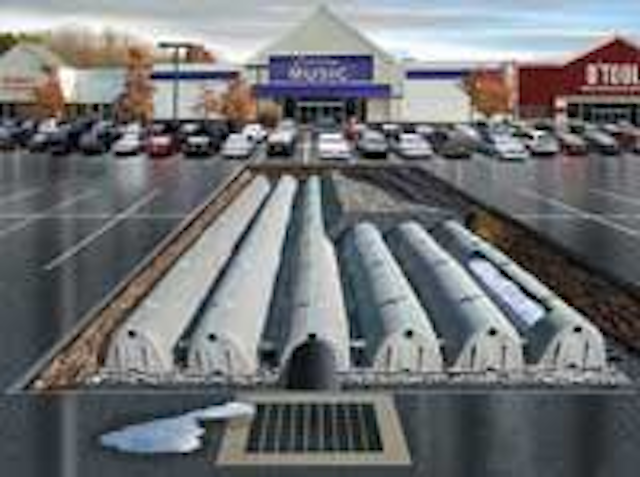 Click here to enlarge image
All CULTEC stormwater chambers are now modeled in BOSS International's StormNET® software, including the new Recharger® 330XL. They were added to the software in response to inquiries from engineers, consulting firms and municipalities that use the company's chambers to solve stormwater management and septic leachfield needs. The software is a hydrodynamic modeling package that helps analyze and design urban stormwater, wastewater, and combined sewer systems. It can handle a variety of complex flow situations such as looped networks, interconnected ponds, and pumps. BOSS International, Madison, WI, 800-488-4775, www.bossintl.com
Clean room hoist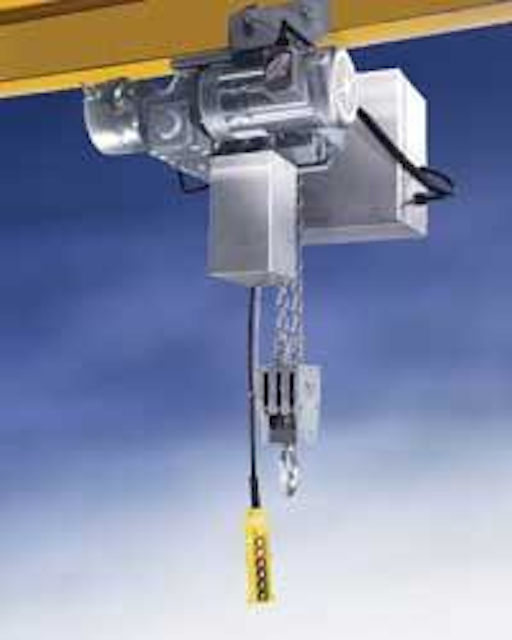 Click here to enlarge image
The David Round Company introduced a new series of stainless steel hoists for clean room use. Their ideal for pharmaceutical and electronics manufacturers as well as food processors who have lifting applications in environmentally-controlled, wash down or corrosive processing environments. All external components are polished stainless steel, including hooks, chain, frames and trolleys. Gearing is sealed, with food-grade lubrication. Features include smooth ground welds, flush mounting faces and plugged fasteners to help reduce the likelihood of contamination. The David Round Company, Solon, OH, 800-535-2725, www.davidround.com
Sweepers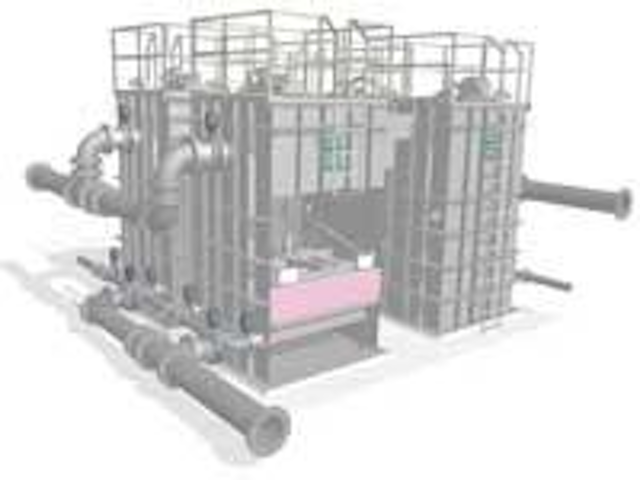 Click here to enlarge image
Elgin Sweeper, a unit of Federal Signal Corp., released results of a rigorous sweeper test performed by an independent group of stormwater control experts that demonstrate the efficiency of Elgin Sweeper street sweepers in removing stormwater pollutants. The test was conducted on four models – a prototype Crosswind NX high-performance filter regeneration sweeper with dust control, the regenerative air Crosswind®, the vacuum Whirlwind® MV and the mechanical Waterless Eagle® FW. As part of the field test, five controlled pick-up performance tests were conducted over a three-day period at a curbed test track. Elgin Sweeper, Elgin, IL, 847-741-5370, www.elginsweeper.com/airandwater
Storm power security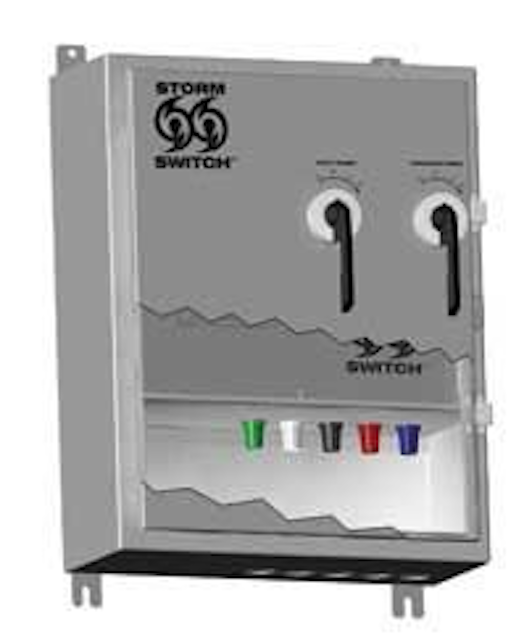 Click here to enlarge image
ESL Power Systems has introduced StormSwitch™, a line of ready-to-install commercial manual transfer switches engineered to provide safe and easy portable generator hook-up to lifts or pump stations when utility power is out. During a power outage, it makes plugging in the lift or pump station to a portable generator simple and safe at a fraction of the cost of a permanent onsite back-up power generator system. Available in 200A, 400A, and 600A versions with 1P, 3P, 3P+N configurations for voltages up to 600VAC, the switch is UL Listed as a Manual Transfer Switch under UL 1008, complying with NEC Article 702 requirements for optional standby systems. ESL Power Systems Inc., Corona, CA, 800-922-4188, www.stormswitch.com
Particle vision instruments
Click here to enlarge image
The new FlowCAM® Particle Analysis Lab Testing Services allow use of the FlowCAM particle imaging and analysis system before buying. They enable water quality professionals, process engineers, research scientists and others in water treatment and quality assurance to gain access to the system's array of patented imaging and analysis capabilities on a contract basis. The technology automatically takes high resolution, full color digital images of particles and cells in a sample and saves them in real time with related sets of measurements such as size, shape, perimeter, elongation and dozens of others for immediate review and collaborative analysis. Fluid Imaging Technologies Inc., Yarmouth, ME, 207-846-6100, www.fluidimaging.com
Tank level switch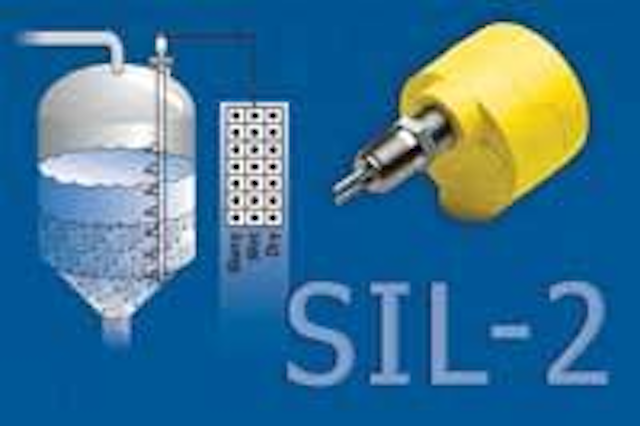 Click here to enlarge image
The FLT93 Tank Level Switch from FCI is now rated for Safety Integrity Level (SIL) 2 compliant service. This rating has been documented in a failure analysis report with FMEDA techniques by the testing laboratory TUV NORD CERT GmbH. The switch has been classified as a Type A subsystem in accordance to IEC 61508-1 with a hardware failure tolerance of 0. Fluid Components International, San Marcos, CA, 800-854-1993, www.fluidcomponents.com
Stormwater management
Click here to enlarge image
SedimenTrap™ from HydroLogic Solutions effectively captures and removes sediment from stormwater prior to groundwater recharge. It's a low cost, high performance stormwater management system component. When used in conjunction with StormChamber™, the resulting subsurface system exceeds all regulatory water quality requirements as an infiltration BMP. With addition of the SedimenTrap it's also a highly effective water quality BMP in soils with low infiltration rates. HydroLogic Solutions, Occoquan, VA, 877-426-9128, www.stormchambers.com.
Ozone dosing skid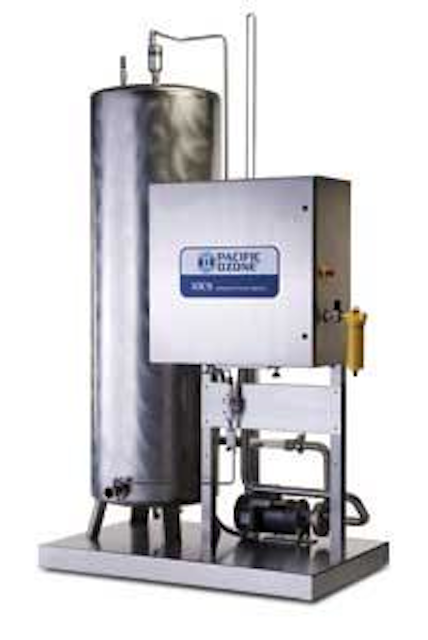 Click here to enlarge image
Pacific Ozone's new ozone dosing system for bottled water filling applications, the IOCS Series of integrated ozone contacting systems now features feed forward control. The advanced integrated system provides unprecedented control and precision of ozone dosing – well within 10% of target concentrations. It incorporate all four critical elements of ozone – feed gas preparation, ozone generation, mass transfer, and complete process control – in a single stainless steel-clad skid. Pacific Ozone, Benicia, CA, 707-747-9600, www.pacificozone.com
Industrial UV systems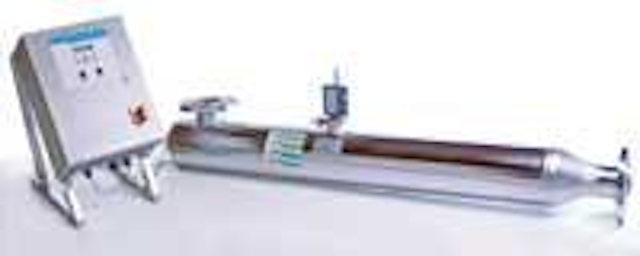 Click here to enlarge image
The AF3 industrial UV system from Aquionics, part of the Fluid Technology Division of Halma p.l.c., is capable of handling flows between 400-13,300 gph (1.5 and 51.0 m3/hr) with lamp outputs ranging from 51 to 270 watts. Using low pressure amalgam UV lamps, the units have a small footprint and can easily be installed within existing pipework, vertically or horizontally, even in very restricted spaces. They can be fitted either with automatic wipers or quick release Tri-Clamps, which keep the quartz sleeves surrounding clean and clear of deposits, ensuring optimum UV output. Aquionics Inc., Erlanger, KY, 859-341-0710, www.aquionics.com
High purity water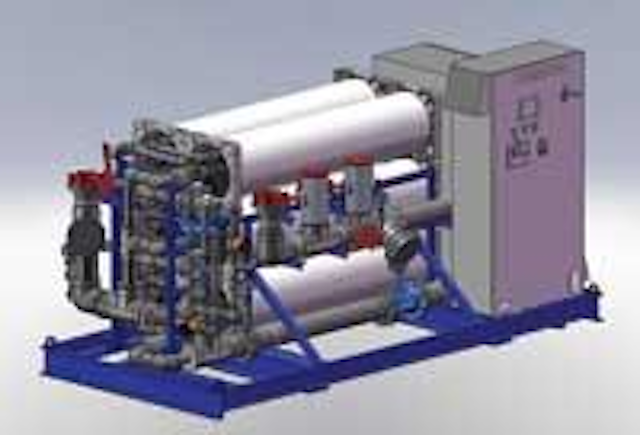 Click here to enlarge image
Siemens Water Technologies has introduced the Vantage VNX system, an eco-friendly, high purity water system for the power, microelectronics and general industry markets. These compact, modular skidded systems are a green alternative to chemically regenerated mixed-bed deionization (MBDI) systems and are designed to produce 50 gpm (11.4 m3/hr) to 900 gpm (204.4 m3/hr) of deionized water from RO feed. The compact skid system incorporate Ionpure continuous EDI (CEDI) technology that uses stackable high-flow VNX modules. CEDI is a simple and chemical-free process for deionizing water using a combination of selective ion exchange membranes, conductive resins, and electricity to remove ions from water. Siemens Water Technologies Corp., Colorado Springs, CO, 719-550-2137, www.water.siemens.com