NEW LITERATURE
The Gorman-Rupp Company has published two new product brochures: Engineered Pumping Systems (AV-05533 9/03) and the Pressure Booster Stations (AV-05569 10/03).
Nov 1st, 2003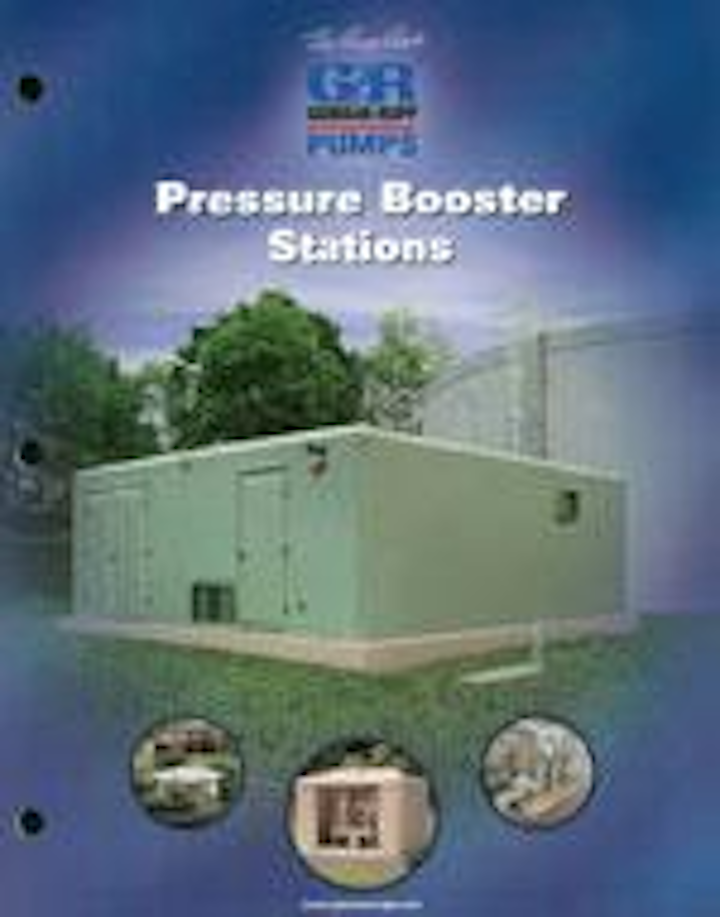 Pumping systems
The Gorman-Rupp Company has published two new product brochures: Engineered Pumping Systems (AV-05533 9/03) and the Pressure Booster Stations (AV-05569 10/03). The full-color brochures highlight pumps and stations for the municipal and industrial markets. The Engineered Pumping Systems brochure highlights the company's line of pumps and pre-engineered, pre-assembled, pre-tested pumping stations. The Pressure Booster Stations brochure shows the line of pressure booster pumps, stations, controls and enclosures.
Gorman-Rupp Co.
Mansfield, OH
Tel: 419-755-1011
Web: www.gormanrupp.com
Gas detection systems
The new Sierra Monitor Capabilities Brochure and CD-ROM provide information about the company's hazardous gas detection systems. The literature covers the company's Sentry Gas Risk Management System, and its line of gas sensor modules for combustible gases, oxygen deficiency and toxic gases.
Sierra Monitor Corp.
Milpitas, CA
Tel: 800-727-4377
Web: www.sierramonitor.com
Stormwater management
UltraTech has published its Stormwater Management Products 2003-2004 catalog featuring more than 40 Best Management Practices (BMP) products. The catalog includes a brief description of the basic requirements of a stormwater pollution prevention plan, as outlined in NPDES, 40 CFR 122.26. Featured products include the Ultra-DrainGuard catch basin inserts. The inserts are designed for use at industrial facilities to keep oil and other contaminants from entering storm drains.
UltraTech International Inc.
Jacksonville, FL
Tel: 904-292-1611
Web: www.stormwater-products.com
Motor performance curves
Emerson Motor Technologies is offering performance curves for its standard motor products. Three key performance curves are performance vs. horsepower; performance vs. torque; and torque, current, power factor vs. RPM. The curves are available through MotorBoss 3.0, the company's online motor ordering and tracking system. They may be obtained using a MotorBoss submittal request program on the US Motors web site, www.usmotors.com.
Emerson Motor Technologies
St. Louis, MO
Tel: 800-665-4850
Web: www.emersonmotors.com
Controls, gauges
Dwyer Instruments has just released its new 2004 catalog, packed with more than 3,000 products. The 2004 Dwyer Controls & Gages Catalog includes prices, photos, descriptions and diagrams of a variety of products for the measurement and control of pressure, temperature, level, flow and other related applications. The catalog includes reference materials such as air velocity flow charts, gas conversion curves and other information.
Dwyer Instruments Inc.
Michigan City, IN
Tel: 800-872-9141
Web: www.dwyer-inst.com
Electric motors
Baldor Electric has published a 16-page brochure "Specify With Confidence," designed to provide a comprehensive look at the capabilities, experience and value the company offers. The brochure discusses the company's stock products; modified and custom products; electrical and mechanical design capabilities; application solutions; and the latest in electronic and cyber tools it offers.
Baldor Electric Co.
Fort Smith, AR
Tel: 800-828-4920
Web: www.baldor.com
Power control panels
Chandler Systems has published a catalog of its line of RK Series Control panels from 115/230 single phase controllers, non-cog grinder panel, and 208/230/460 - 3 phase panels. The series also provides a line of accessories and components for the sump and sewage market. Panels come standard with non-conductive sub-door, stainless steel lockable latches, flashing red alarm, float indicator lights and "touch-to-silence" pad.
Chandler Systems Inc.
Ashland, OH
Tel: 419-281-5767
Web: www.chandlersystemsinc.com
Pipe products
Anvil just launched a newly designed and reorganized website. A number of tools have been added which include UPS tracking for customers; downloadable Excel list price sheets; customized submittal packages; and a new search option, which makes it easy to identify and link to product display pages via keyword or part number search. In addition, specifying engineers can now access and download hangers and supports specifications, along with the Gruvlok specifications.
Anvil International, Inc.
Portsmouth, NH
Tel: 603-422-8028
Web: www.anvilintl.com
Pump catalog
The Pump Division of Netzsch now offers a new comprehensive catalog for its entire positive displacement pump product line. The 28 page, full color catalog outlines the advantages and benefits of proven the company's vertical, sanitary, close coupled, and standard pumps. Details about Nemo® Progressing Cavity Pumps and Tornado Rotary Lobe Pumps are described. In addition, a wide variety of standard and optional geometries, joints, spare parts & accessories are discussed. Application examples for the company's entire range of products are also provided.
Netzsch Inc.
Exton, PA
Tel: 610-363-8010
Web: www.netzschusa.com
Rental pumps
Godwin Pumps offers a Big Jobs, Big Results brochure featuring nearly 20 color pages of large pump rental projects for municipalities, industry, contractors, and mines. Projects depicted in the brochure represent planned as well as emergency work and include applications such as sewer bypass, dewatering, flood control, and water supply. Job sites range from New York City to Phoenix, AZ, to Puerto Rico. Godwin Pumps is manufacturer of the automatic self-priming Dri-Prime® pump, as well as Godwin Sub-Prime® electric and Heidra® hydraulic submersible pumps, wellpoint dewatering systems, and related accessories and equipment.
Godwin Pumps
Bridgeport, NJ
Tel: 856-467-3636
Web: www.godwinpumps.com
Sludge pump
Moyno has released a new eight-page brochure detailing the launch of its newly enhanced Moyno 2000 pump line. The line features the proprietary Moyno Ultra-Technologies®, that optimize the durability, performance and longevity of these pumps in handling highly viscous, abrasive materials, even in excess of 80% solids. The brochure covers the Moyno 2000 G1, G2, G3 and G4 models as well as the Moyno 2000 HS System which can handle a higher percentage of solids than any other progressing cavity based system. Differentiation aspects of the pump line are identified along with corresponding performance advantages.
Moyno, Inc.
Springfield, OH
Tel: 877-486-6966
Web: www.moyno.com
Process control
Eurotherm has published a new product catalog covering its line of temperature/ process controllers, data recorders, SCR power controllers, indicators, valve actuators and other process control components. The catalog includes a controller selection guide, technical instructions on PID control and tuning techniques and other helpful information. Several new products are featured including the 3000 Series controllers, which feature full alphanumeric message center, infrared configuration port and enhanced control algorithms.
Eurotherm, a Division of Invensys
Leesburg, VA
Tel: 703-669-1324
Web: www.eurotherm.com