NEW PRODUCTS
DeZurik Eccentric Plug Valves, available from SPX Valves, are used for applications throughout water and waste treatment plants, water distribution systems...
Nov 1st, 2003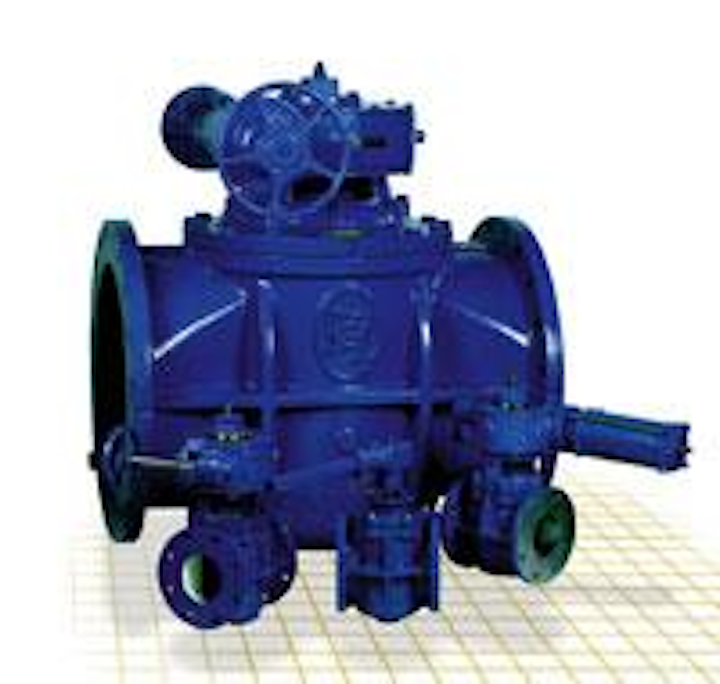 Eccentric plug valves
DeZurik Eccentric Plug Valves, available from SPX Valves, are used for applications throughout water and waste treatment plants, water distribution systems, power and chemical plants, paper mills, HVAC applications, as well as hot-process applications and mining operations. These valves have the ability to handle a large array of liquids, gases and solids, including water, air, slurries, petroleum, paint and non-corrosive chemicals.
SPX Valves & Controls
Sartell, MN
Tel: 320-259-2000
Web: www.spxvalves.com
Polymer mortar pipe
Hobas centrifugally-cast, fiberglass reinforced, polymer mortar pipe performs reliably through a wide range of pH factors, chemicals and temperatures. It is typically used for cooling, circulating or wastewater lines, but is also approved for potable water. The pipe is widely used in both new construction and rehab for corrosive environments such as industrial effluents, contaminated drainage or foul air because of its inherent corrosion resistance. The improved flow rates (Manning's .009, Hazen Williams 155) that can be achieved with the pipe provide substantial pumping cost savings. The pipe is manufactured in sizes from 18" through 110".
Hobas Pipe USA Inc.
Houston, TX
Tel: 800-856-7473
Web: www.hobaspipe.com
Aeration, mixing
A new concept in mixing and simultaneous aeration of all types of liquids has been introduced by ITT Flygt. Designated as Flo-Get, the systems incorporate a Flygt submersible pump, an air suction tube, and an ejector/diffuser nozzle. The systems are versatile since one or more Flygt submersible pumps can be used with one or more ejectors. Pumps of different power and hydraulic performance can be connected to ejectors of different flow capacities to meet most system requirements. The system is suitable for any type of tank regardless of its size, shape or depth. Using different ejectors, it can perform different tasks, including oxygenation, CO2 neutralization, sludge recycling, ozone treatment, mixing, foam suppression, and homogenization (mixing). Installation requires no major modifications to existing structures.
ITT Flygt Corp.
Trumbull, CT
Tel: 203-380-4700
Plastic lined pipe
Edlon offers plastic-lined pipe and fittings designed for use in the chemical, pharmaceutical, and food processing industries. These products provide high-temperature corrosion resistance to most chemicals and can reduce the buildup of deposits on pipe walls. The piping systems are available in sizes from 1/2" to 144" with the following liner materials: PTFE, PVDF, Polypropylene, Polyethylene, Halar®, Tefzel® and PFA. The product line also includes dual and secondary containment systems, jacketed pipe & fittings, high-purity systems, and large-diameter pipe and vessels.
Edlon, Inc.
Charleston, WV
Tel: 800-753-3566
Web: www.edlon.com
Treatment supplies
Millipore has released a complete line of consumables and accessories for its Milli-Q water purification systems. The comprehensive offering allows users to optimize water purification systems for specific application needs or feed water quality. For on demand water quality, the consumables maximize the performance of downstream purification media. Plug-in Q-Gard® purification packs are tailored to particular feed water sources. Application specific Quantum™ cartridges remove ionic and organic contaminants down to trace levels. Pharmaceutical-grade, absolute 0.22 µm Millipak® 40 or Millipak Express 20 membrane filters execute final purification of ultrapure water at the point-of-use (POU).
Millipore Inc.
Billerica, MA
Tel: 800-645-5476
Web: www.millipore.com/H2O
RO membranes
Watts Pure Water has introduced its new M-Series Tap Water Reverse Osmosis Systems. The M-Series is a line of commercial water purification systems designed to use low energy membrane technology. Models are available in sizes .33 gpm (450gpd) up to 10.5 gpm (15,000 gpd) to serve a wide variety of commercial application needs. The systems feature stainless steel membrane vessels and front panel, low energy TFC membranes, panel mounted flow meters, low voltage electronics, liquid filled pressure gauges and a low inlet pressure switch. The systems are performance tested and sanitized and UL 508A listed.
Watts Pure Water
North Andover, MA
Tel: 800-617-3274
Web: www.wattsind.com
Variable speed drives
PumpSmart Control Solutions, a division of ITT Industries, has introduced another addition to its PumpSmart product line. The new Model PS 200 is a microprocessor based, variable speed drive, programmed specifically for any centrifugal pump up to 700 HP. The drive is designed for both simplicity and functionality, making it ideal for a wide range of applications where previously process controllers were too costly and complex.
PumpSmart Control Solutions
Seneca Falls, NY
Tel: 800-734-7867
Web: www.pumpsmart.com
Expansion joints
Proco Products supplies a variety of products to the chemical/industrial industry. For highly corrosive chemical lines, the company recommends the Series 440 molded PFA/PTFE expansion joints. The joints are available in 2, 3, and 5 convolutions and range in size from 1" ID to 12" ID. These products are in stock and available for immediate shipment.
Proco Products Inc.
Stockton, CA
Tel: 800-344-3246
Web: www.procoproducts.com
Submersible sewage grinders
The Sewer Chewer Grinder with optional submersible (IP68) motor, offered by Yeomans Chicago, is designed for direct wet-well mounting or mounting in locations prone to flooding. The optional guiderail basket frame system facilitates mounting the grinder directly in the pump wet-well, thereby allowing design of smaller and simpler lift stations resulting in reduced civil construction costs. Patented cutter design and state-of-the-art digital interface controllers are provided for high performance and ease of operation. Standard channel-mounted and flanged inline-mounted units are also available.
Yeomans Chicago Corp.
Aurora, IL
Tel: 630-236-5500
Web: www.yccpump.com
Centrifugal pumps
Magnatex Pumps offers Magnatex® MMP Series Pumps, designed specifically for low-flow, low-head applications. These magnetically driven, sealless centrifugal pumps provide efficient, leak-free pumping of flows from 1/2 to 20 gpm, heads to 90 feet and pressures to 85 psig. The pumps use the company's exclusive "straddle bearing" design which reduces shaft load and bearing wear. They are furnished with shaft, thrust ring, sleeves and bushings made of Beta sintered Silicon Carbide material. Slip-fit construction allows for easy maintenance and the sealless, mag-drive design eliminates the need for mechanical seals.
Magnatex® Pumps, Inc.
Houston, TX
Tel: 713-972-8666
Web: www.magnatexpumps.com
Metering pump
The Moyno® Metering Pump is designed for metering low-flow liquids in a wide range of processing applications including dosing, sampling and metering. Its progressing cavity design results in a smooth flow free from pulsations and variations in velocity and volume. This prevents material waste or mixture imbalance. Additional advantages and features of the pump include sealed universal joints for longer life; pressures to 300 psi; flow rates from 1 gph to 190 gph and a wide variety of materials of construction.
Moyno, Inc.
Springfield, OH
Tel: 877-486-6966
Web: www.moyno.com
Portable gas monitor
With over 250 versions available, the Eagle portable gas monitor from RKI features readout of up to six combinations of gases including the widest range of detectable super toxic gases such as PH3, Cl2, NH3, HCl, HF, and O3, which make it an ideal solution for water/wastewater facilities. Standard features on the monitor include PPM and LEL hydrocarbon detection, autocalibration, an industrial strength internal sampling pump with a 125' range and automatic low flow pump shut off, 30 hours of continuous operation on alkaline batteries, and methane elimination switch for environmental applications. Each channel has two programmable alarm levels plus TWA and STEL.
RKI Instruments Inc.
Hayward, CA
Tel: 800-754-5165
Web: www.rkiinstruments.com