PRODUCTS & SERVICES Process Meters
The Badger Meter M-Series electromagnetic flowmeter uses microprocessor based signal conversion to produce flow accuracies of ± 0.25% or better.
Nov 1st, 2004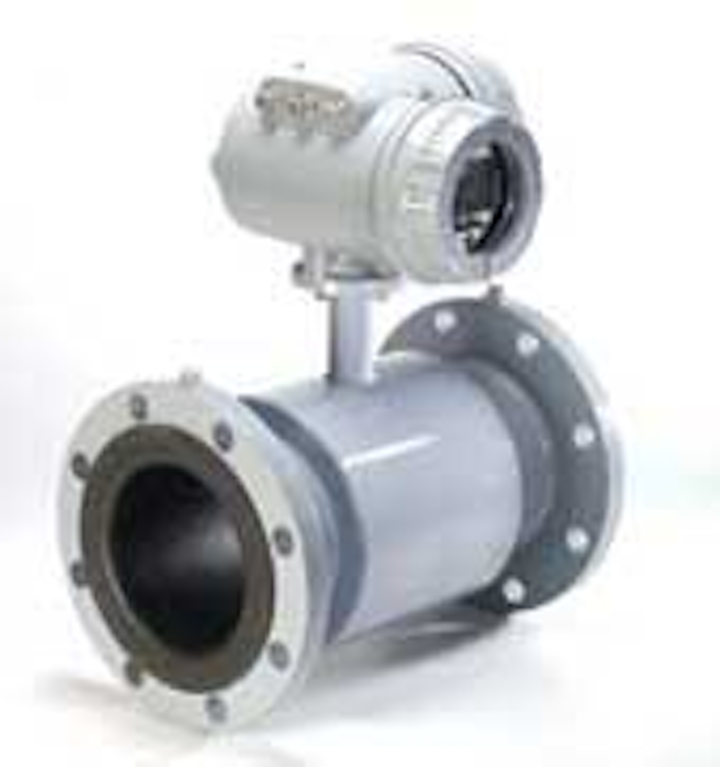 Electromagnetic flowmeter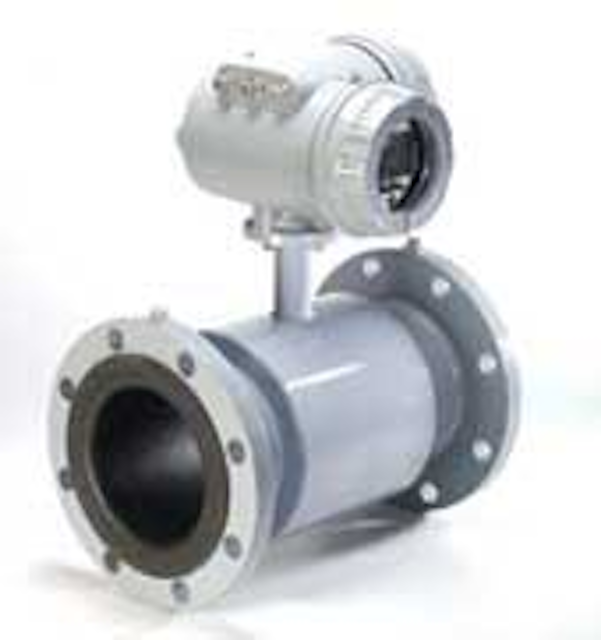 Click here to enlarge image
The Badger Meter M-Series electromagnetic flowmeter uses microprocessor based signal conversion to produce flow accuracies of ± 0.25% or better. A wide selection of optional liner and electrode materials insures maximum compatibility and minimum maintenance. The electronics housing is available in meter-mount and remote mount versions incorporating a rotatable display allowing easy viewing regardless of the meter's position.
Badger Meter Inc.
Milwaukee, WI
Tel: 877-243-1010
Web: www.badgermeter.com
Chemical flowmeter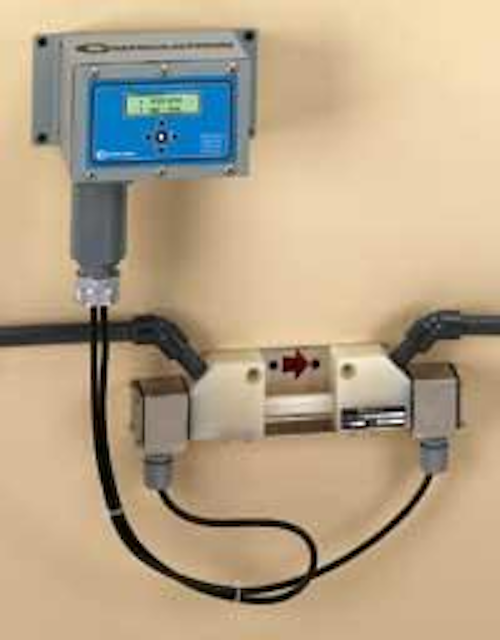 Click here to enlarge image
The System 1020FT In-Line Transit-Time Flowmeter from Controlotron is ideally suited for low velocity, small line applications. A non-wetted transducer design, constructed of CPVC or Kynar tube material, allows it to be used on even the most aggressive chemical applications. It accurately measures flow rates as low as 1 gph. Almost any liquid can be measured, from water to a diverse range of process liquids and chemicals such as fluoride, polymers, acids, sodium hypochlorite, sodium hydroxide, alum, potassium permanganate, etc. Single and multi-channel models are available. The meter can also be programmed to allow operation with clamp-on transducers, as well as low-flow flow tubes.
Controlotron
Hauppauge, NY
Tel: 800-275-8479
Web: www.controlotron.com
Slim-line level sensor

Click here to enlarge image
The Model SST Submersible Level Transmitter from Ametek PMT Products is designed to fit into tight applications, while providing the same digitally compensated level measurement capability as other Ametek PMT Products. The model's 0.69" diameter housing allows it to fit small-bore applications, while rugged 316SS diaphragm construction offers environmental protection.
Ametek U.S. Gauge/PMT Products
Feasterville, PA
Tel: 215-355-6900
Web: www.ametekusg.com
Oil-in-water analysis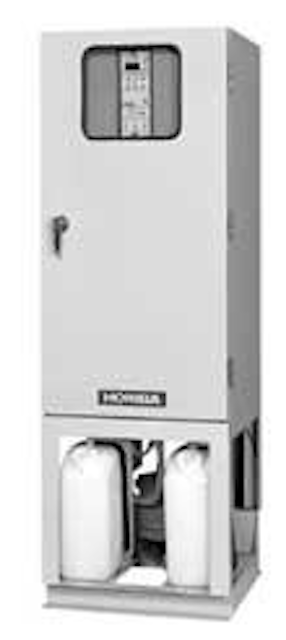 Click here to enlarge image
The OCMA-25 content analyzers are a unique solution to the problem of continuously and accurately measuring oil content in water; monitoring oil content in boiler water; monitoring process water for hydrocarbon break-through; and monitoring wastewater discharges to meet regulatory requirements. Their automated NDIR/solvent extraction method is sensitive to all oils. Six alarm functions alert instrument operation fail modes and high oil in water content. The detection range is 0-100 ppm.
Horiba Instruments Inc.
Irvine, CA
Tel: 800-446-7422
Web: www.wq.hii.horiba.com
Sensors catalog
Click here to enlarge image
Pepperl+Fuchs introduces the 2004-2005 Sensors Catalog. This 800+ page resource includes complete features, benefits, selection guidelines, specifications, dimensions and wiring diagrams for their full line of capacitive sensors, inductive sensors, special sensors, ultrasonic sensors, photoelectric sensors, cordsets, amplifiers, counters, timers and controls, and accessories. It also includes detailed information on the fundamentals of each sensing technology. Visitors can request a hard copy or download PDF information at: www.am.pepperl-fuchs .com/literature/litform.asp
Pepperl+Fuchs
Twinsburg, OH
Tel: 330-486-0001
Web: www.am.pepperl-fuchs.com
Gas, flame monitor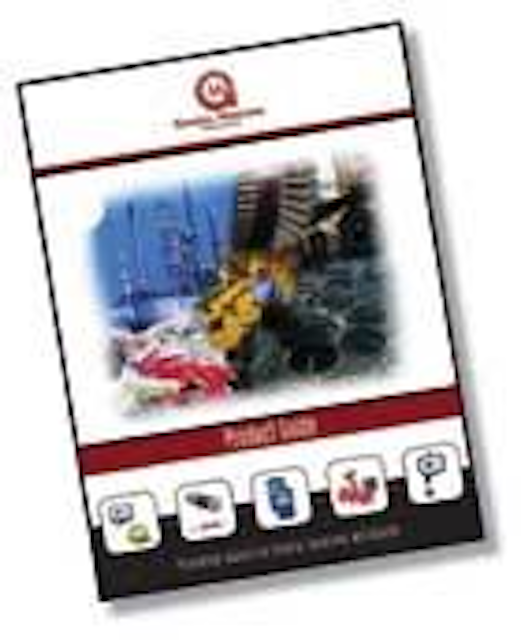 Click here to enlarge image
Process, plant and safety engineers will find the new Guide to Gas and Flame Monitoring from General Monitors offers comprehensive product and applications information to help safeguard employees, equipment and facilities from dangers of combustible, flammable and toxic environments.
General Monitors
Lake Forest, CA
Tel: 949-581-4464
Web: www.generalmonitors.com
Wireless pressure monitor
Pipetech International and Qamelion Technology release their TP-1 Transient Pressure Monitoring System for detecting rapid pressure changes in fluid-filled pipelines. In the water industry, transient pressures are often referred to as water hammer – often unnoticed due to insufficient monitoring but which can exceed design pressure of a pipe making it vulnerable to
Pipetech International
Phoenix, AZ
Tel: 602-357-4257
Web: www.pipepressure.com
Peristaltic pumps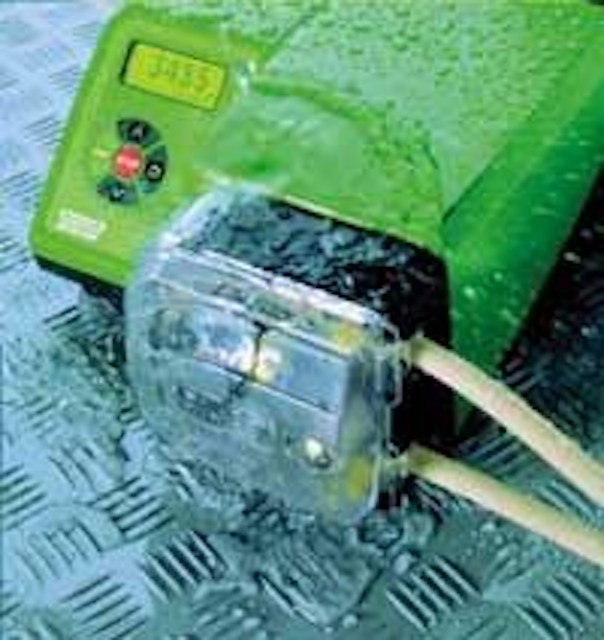 Click here to enlarge image
Watson-Marlow Bredel offers a range of peristaltic pumps for biopharmaceutical processing applications, from dispensing to tablet coating to bioprocess filtration. With a NEMA 4X washdown sealed enclosure, the new 520 series pumps are ideal for metering, dosing and transferring of corrosive or sensitive fluids, as well as fermentation in biotech and pharmaceutical processing applications. They feature low shear, contamination-free pumping and predictable pump service intervals, extending validation periods.
Watson-Marlow Bredel
Wilmington, MA
Tel: 800-282-8823
Web: www.watson-marlow.com
Industrial metering pumps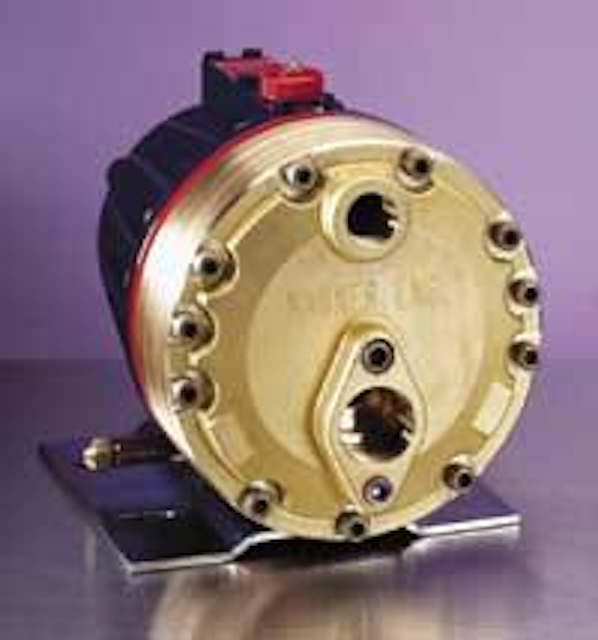 Click here to enlarge image
Hydra-Cell Industrial Pumps, Wanner Engineering Inc., introduces H25 Metering Series Industrial Pumps. The hydraulically balanced diaphragm pumps are engineered to pump some of toughest solutions imaginable at up to 1200 gpm, while providing ±1% steady state accuracy with 10:1 turndown ratio, at fraction of the cost of conventional precision metering pumps. The pumps operates smoothly and quietly while requiring less horsepower than most pumps of comparable size and capabilities. They can operate at 1,000 psi, but can also meter with the same accuracy at 50 psi.
Wanner Eng. Inc./Hydra-Cell Ind. Pumps
Minneapolis, MN
Tel: 612-332-5681
Web: www.hydra-cell.com
Ultra-capacity control valve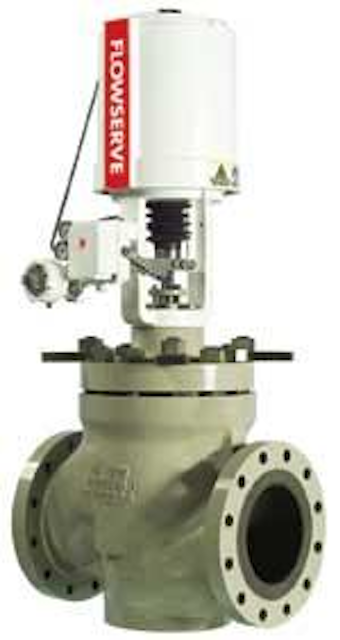 Click here to enlarge image
The Flowserve Mark 100 globe control valve delivers higher capacity in a smaller valve than similar conventional valves in sizes 6"-16" and pressure classes 150-600 psi. A wide, streamlined gallery increases capacity an average of 15% over competing valves (e.g., tested capacity for 10" Mark 100 comparable to catalog capacity of others' 12" valves). Available with a full range of noise and cavitation reduction severe service trims, the valve is applicable to a range of industries: chemical manufacturing, oil & gas production, and power generation.
Flowserve Corp., Flow Control Division
Springville, UT
Tel: 801-489-2605
Web: www.flowserve.com
Flow transmitter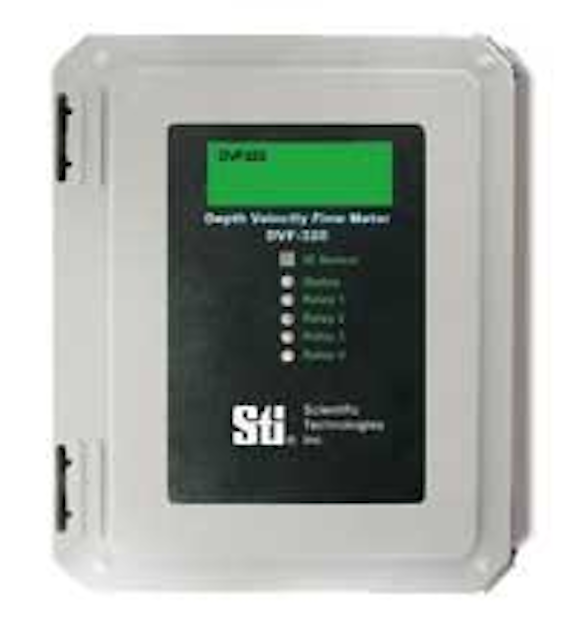 Click here to enlarge image
Scientific Technologies, Automation Products Group, introduces the DVF-320 Depth Velocity Flow Transmitter. The system uses a 4-20 mA signal to provide long-term monitoring and transmission of flow rate, and includes four programmable outputs to provide liquid level, velocity and flow metering. It features a sealed design and isolated outputs to reduce site visits. The unit also comes with an IP65 housing with hinged sealing cover to protect LCD display. A datalogging function stores multiple readings.
Scientific Technologies Inc./Automation Products Group
Logan, UT
Tel: 888-349-7098
Web: www.stiapg.com
Level transmitters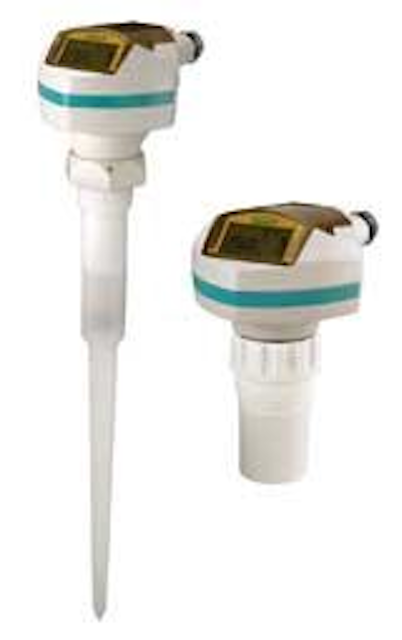 Click here to enlarge image
Siemens Energy & Automation has introduced the new SITRANS Probe LU (ultrasonic) and SITRANS Probe LR (radar) continuous level transmitters for storage vessels, process vessels, and open channels in water and wastewater. The probes are based on the Siemens-Milltronics® The Probe®. They offer a longer measurement range and an improved signal-to-noise ratio that enhances echo processing features, such as Sonic Intelligence® and Auto False-Echo Suppression, for greater accuracy and reliability.
Siemens Energy & Automation Inc.
Spring House, PA
Tel: 215-646-7400
Web: www.sea.siemens.com/ia
Denitrification system
The Leopold elimi-NITE™ Denitrification System uses the advantages of deep bed, mono-media filters to effectively remove nitrogen in wastewater effluent. In addition to nitrogen, the system can simultaneously remove suspended solids. The gravity, downflow, packed-bed denitrification system is an attached growth, microbiological process which removes nitrate-nitrogen achieving levels below 1 mg/liter. Physically, it is identical to a deep-bed downflow sand filter with Leopold® Type S® Dual Parallel Lateral Underdrain and silica media.
F.B. Leopold Company Inc.
Zelienople, PA
Tel: 724-452-6300
Web: www.FBLeopold.com
Process monitor, control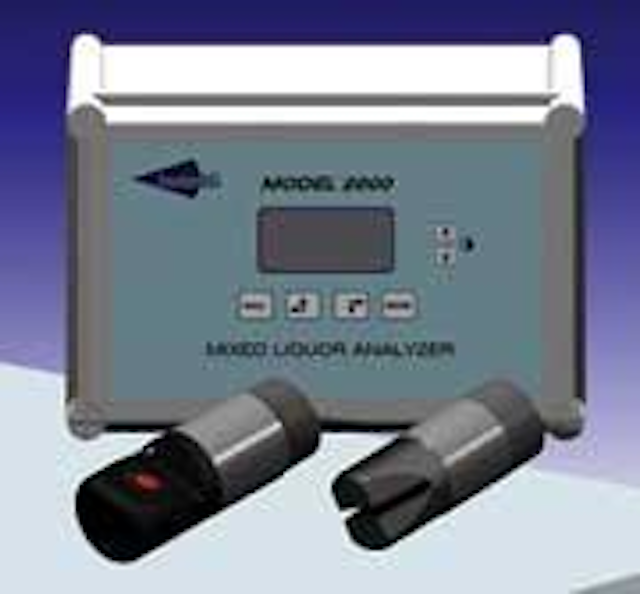 Click here to enlarge image
Dissolved oxygen and suspended solids are two of the most important controllable parameters in any biological reactor. Stabilizing these two parameters will reduce operation costs and enhance process performance. Insite Instrumentation Group's Model 2000 will make both of these crucial measurements. The dissolved oxygen sensor is an optical design that eliminates the need for replaceable membranes, sensor caps, cartridges, and fill solutions.
Insite IG
Slidell, LA
Tel: 985-639-0006
Web: www.insiteig.com
Electromagnetic flowmeters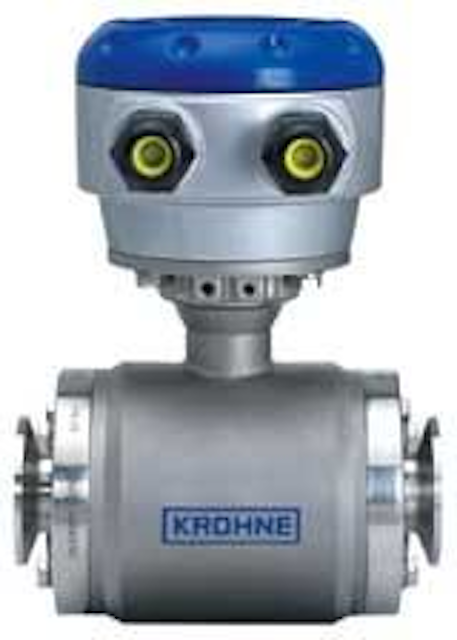 Click here to enlarge image
Krohne has introduced its new Optiflux family of electromagnetic flowmeters. The family consists of nine flowmeter models covering a wide range of applications in the water and wastewater, chemical, pulp and paper, and pharmaceutical industries. All models feature unique 3 x 100% diagnostics: 100% Application Diagnostics, 100% Accuracy Diagnostics, and 100% Instrument Diagnostics. Consequently, maintenance engineers not only have information on the state of the flowmeter and the quality of the measurement, they will also obtain notification of unnoticed application faults.
Krohne Inc.
Peabody, MA
Tel: 800-356-9464
Web: www.krohne.com
Sludge level, turbidity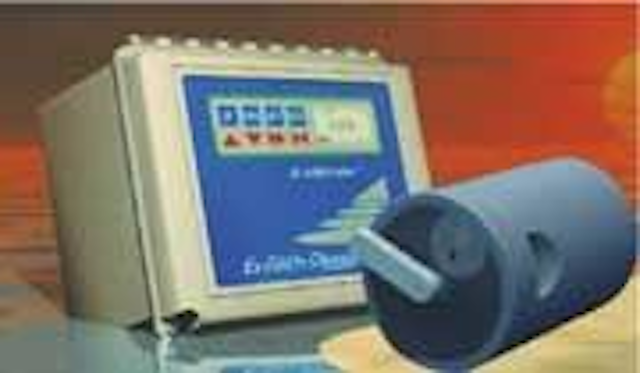 Click here to enlarge image
BinMinder 9300-ETS, available from Entech Design, combines ultrasonic sludge level and 90° scattered light turbidity measurements in a dual sensor analyzer. Sludge level measurement in clarifiers and thickeners supports operator efforts to maximize underflow density while minimizing solids discharge in the process effluent. Effluent turbidity assists operators with chemical application and provides early indication of process upset that could lead to avoidable regulatory penalties. The dual purpose sensor is located near the surface and close to the effluent weir – the ideal point to maximize both measurements. Instruments are available in single or multi-channel configurations.
Entech Design Inc.
Denton, TX
Tel: 940-898-1173
Web: www.blanketlevel.com
Pressure gauge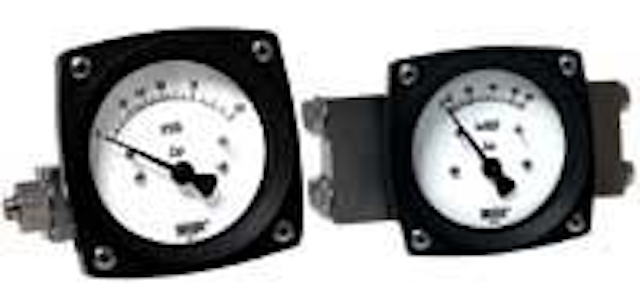 Click here to enlarge image
Wika's Type 700.04 piston-type gauge measures differential pressure ranges of clean liquid or gaseous media to 100 PSID, with a maximum working pressure of 6000 PSID. It is suitable for measuring pressure drops across heat exchangers, chillers and vaporizers; and for local flow indication and control in filters, strainers/separators, pumps and valves. The company's Type 700.05 diaphragm-style assembly is suited for "no blow-by" low/medium differential and medium/high process pressure media.
Wika Instrument Corp.
Lawrenceville, GA
Tel: 770-338-5216
Web: www.wika.com
Panel meter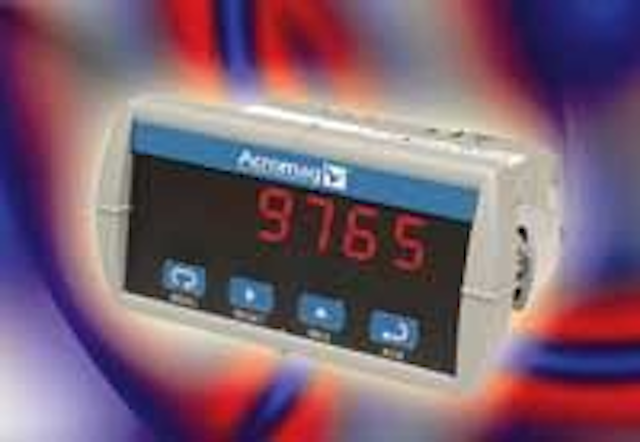 Click here to enlarge image
Acromag's new APM765 Panel Meter displays data collected from process current, DC voltage and temperature inputs. Several output options convert the display into a transmitter with proportional 4-20 mA output or a serial communication interface to Modbus-RTU networks. A relay output option adds limit alarm and pump alternation control capabilities. Other options include single or dual transmitter excitation supplies and software for remote viewing and data logging.
Acromag Inc.
Wixom, MI
Tel: 800-881-0268
Web: www.acromag.com
Wireless remote monitoring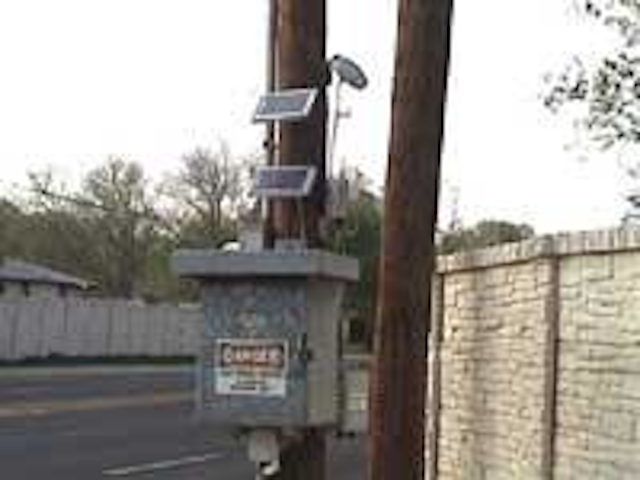 Click here to enlarge image
American Innovations (AI) offers a new addition to its Bullhorn® family of wireless remote monitoring products: the APM4AM-SAT. The monitoring system uses the Inmarsat D+ satellite system for communication and is an excellent way to supplement installations where 100% cellular coverage is not available. It is ideal for international use and enables equipment monitoring in very remote locations. The system monitors many different kinds of equipment and provides automatic notifications of alarm events via voice notification, fax, page and/or email.
American Innovations
Austin, TX
Tel: 800-229-3404
Web: www.aimetering.com
Event monitor trigger system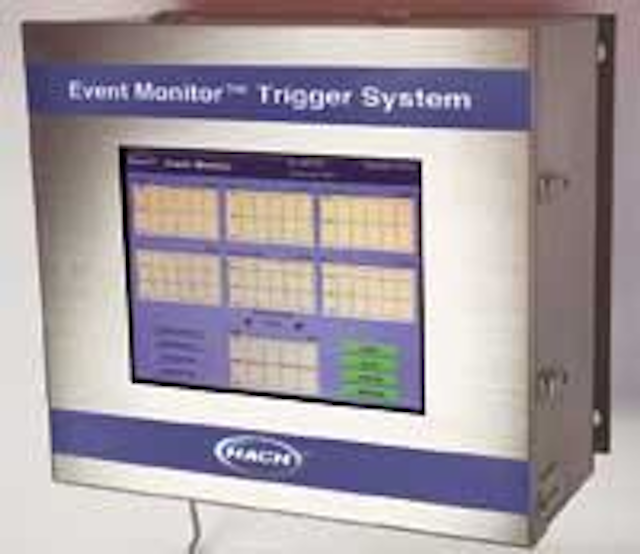 Click here to enlarge image
For industries proactively managing water networks, the new Event Monitor™ Trigger System from Hach Company maximizes value for continuous, remote water quality surveillance. System receives measurements from multiple sensors of Hach's Water Distribution Monitoring Panel (WDMP) or PipeSonde™ In-Pipe Probe and the astroTOC UV On-Line TOC Analyzer and relates all measurements as a single, real-time trigger signal indicating distribution system water quality changes. By 'learning' sensor measurement combinations detected by the trigger signal and storing them in its internal plant event library, the Event Monitor system can recognize recurring network events immediately and alert operating personnel – differentiating baseline data changes of transient events such as flushing or source water change from those due to abnormal events such as equipment failure, pre-nitrification, or unknown contamination.
Hach Company
Loveland, CO
Tel: 800-604-3493
Web: www.hach.com
Air/gas flowmeter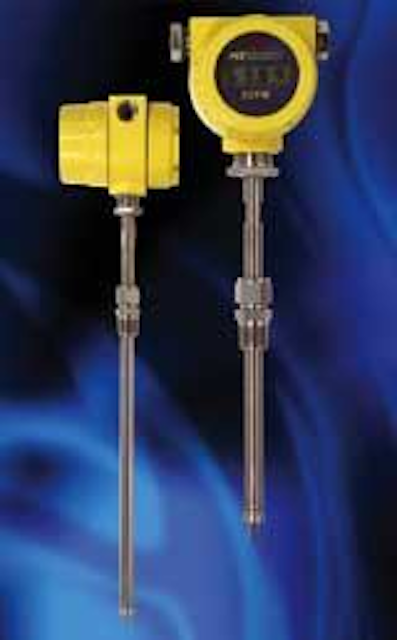 Click here to enlarge image
Designed with a thermal flow sensing element combined with an optimized feature set, the new ST50 Flowmeter from Fluid Components International (FCI) provides flow measurement of air, compressed air and nitrogen gas in line sizes from 2-12" in many common applications. Its no-moving-parts design meets the challenge when compared to orifice plates, differential pressure, vortex shedding and other thermal instruments.
Fluid Components International
San Marcos, CA
Tel: 800-863-8703
Web: www.fluidcomponents.com