Oxygenators Maintain Uninterrupted Production & Reduce BOD
Three pulp and paper mills in the U.S. Southeast were allowed to maintain uninterrupted production while they experienced excessive waste loads in their treatment ponds...
Sep 1st, 2004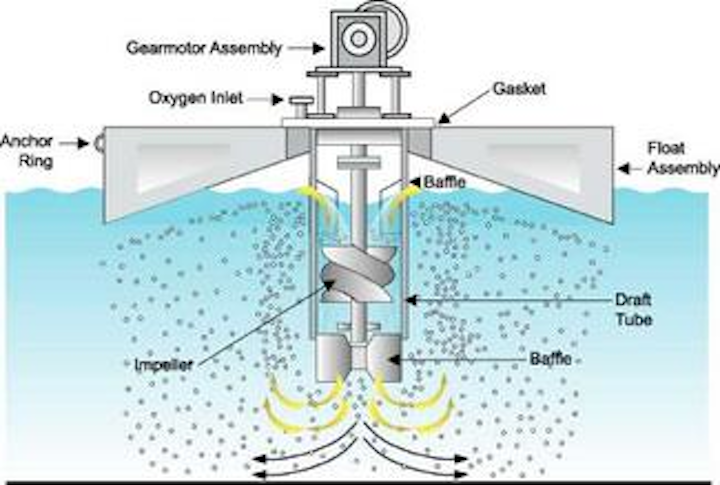 Three pulp and paper mills in the U.S. Southeast were allowed to maintain uninterrupted production while they experienced excessive waste loads in their treatment ponds, courtesy of Praxair Services Inc. In each case, the company's In-Situ Oxygenation (I-SOSM) emergency service unit was found to be a rapid and economical solution for reducing biological oxygen demand (BOD).
Each portable unit transfers more than four times as much oxygen into the water as traditional surface aerators, while using half the horsepower. The system includes a liquid oxygen tank, a portable vaporizer that converts cold liquid oxygen to ambient-temperature gas; and a portable, floating mechanical oxygenator unit, which injects and stirs oxygen into the water. One 40 hp unit delivers 7,000 pounds of oxygen daily, doing the job of four 75 hp air-based units.
Rapid BOD Reduction
One urgent BOD-reduction situation occurred at a mill that was expanding its sub-surface bubble diffuser system. It had taken its aeration stabilization basin out of service to add aeration arms. Wastewater was being moved, untreated, directly into a 240-acre holding pond. The mill had been putting 20 million treated gallons a day into the holding pond, and releasing the same. To compensate for the increased BOD from the now untreated water, the mill had planned to release less, retaining the excess until the treatment pond was back in service and the holding pond had normalized. The project ran long, however, and the mill was facing a severe retention problem. As the mill's senior engineering advisor said, "We had a shut-down situation. We needed extra BOD treatment capability, now!"
Three units were placed toward the end of the retention pond, in channels where the flow occurred inlet-to-discharge. These units added 21,000 lbs. of oxygen daily to the wastewater, which allowed them to release enough treated water to run at full production levels.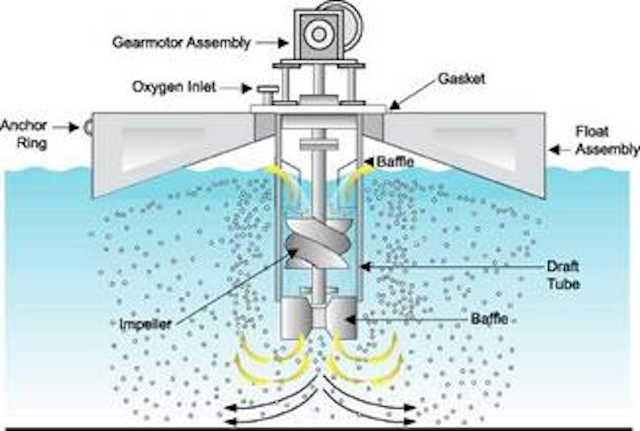 Click here to enlarge image
"Praxair gave the quickest response and the best service I've ever gotten, on a problem that was not straightforward," the advisor added. "Within just seven days, they were here and up and operating. It was remarkable. And the equipment did it from there."
Simplicity, Efficiency
Its simplicity and efficiency led another paper mill to choose the same system to handle a weather-related BOD excursion.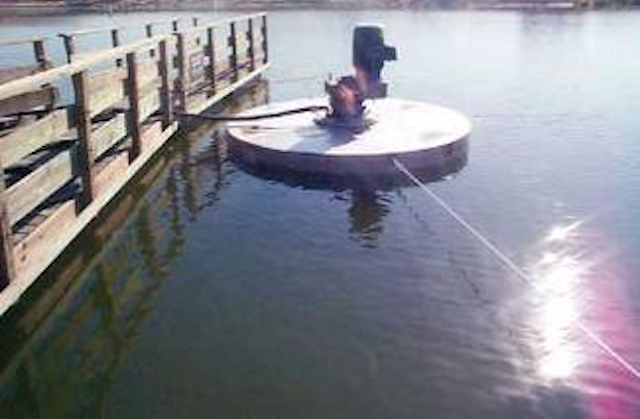 Click here to enlarge image
"This system is just so much simpler," said that mill's environmental engineer. "And faster. That's why we chose it – because the equipment can reduce more BOD than conventional aeration, and Praxair can install it within three to four days of when they get the purchase order. I was looking for speed, and they hustled."
He explained the situation: "I produce 20,000 pounds of BOD a day. When an excursion occurs, you have to move fast. Before, I would rent expensive mechanical aerators that are labor-intensive to set up. In this situation, I would have needed 12-13 aerators, at 75 hp each, plus the generators to run them. I would have had to find a place to put the generators, and I would have had to bring in a diesel truck to fill them. It would have been two weeks just to set up. With these units, I issued a purchase order on Thursday, I was feeding oxygen by the next Thursday, and I was back to a comfortable BOD rating in two weeks."
Even More Speed
Mills manage living waste treatment systems that aren't predictable in their responses to weather and other factors. Often, unexpected things occur. That was the situation with the third mill.
This integrated pulp and paper mill had undergone some changes, and suddenly saw an elevated waste load. They needed a fast fix while they were diagnosing the problem.
"Their response time was tremendous. I called on Thursday, and they were in on Friday. The system was operating by the following Thursday," said the facilities manager at the third mill.
"We took two aerators offline and put two units in a five-acre section of our 1,000-acre wastewater treatment system. We then had seven times as much oxygen going in. We measured the dissolved oxygen (DO) in the pond before we put in the units and it was 0.50 parts per million. After the units were up and running, that five-acre area was saturated, with 10-12 parts DO per million."
Conclusion
Rapid response, immediate BOD reduction, simplicity and cost effectiveness are making In-Situ Oxygenation a preferred solution at paper and pulp mills that want to maintain full, uninterrupted production all year round – whether confronted by a sudden emergency or routine maintenance event.