NEW PRODUCTS
The Aegis Shelter™ fiberglass building line is light weight, strong and corrosion resistant.
Sep 1st, 2003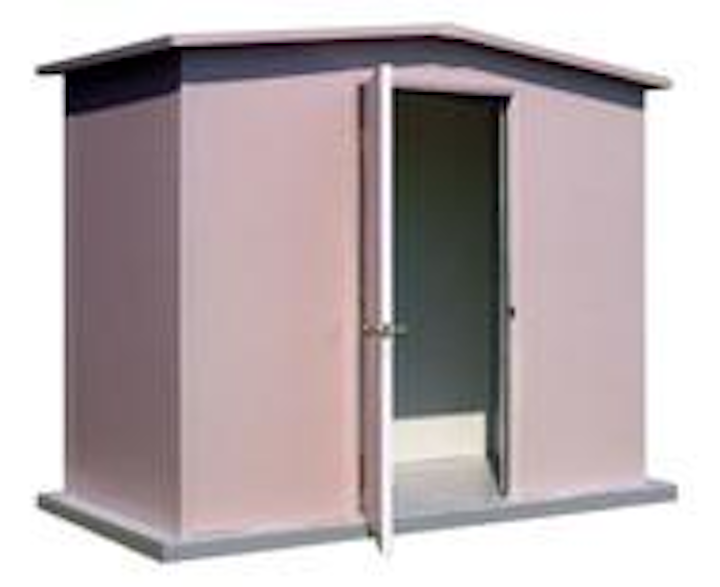 Fiberglass buildings
The Aegis Shelter™ fiberglass building line is light weight, strong and corrosion resistant. Their shock resistant, non-conductive construction consists of a fiberglass composite "sandwich" of internal and external sheets of fiberglass laminated to an insulation core. Polyisocyanurate foam insulation is used between the laminates, with a colored UV resistant gel coated exterior surface and a reflective white gel coat finish on the inside. These weather tight enclosures are designed to house mechanical equipment and/or supplies such as: chlorination equipment, chemicals, power and generation equipment, pumps, monitoring equipment and a multitude of other systems and inventory.
Aegis
Tel: 888-852-3447
Web: www.aegisshelters.com
Portable holiday detectors
Pipeline Inspection Co. offers three portable holiday detector packages designed to inspect pipe coatings on two to 60 inch pipe. Its Spy® Models 715, 725 and 735 are lightweight and self-contained. The Model 715 is designed for thin-film coatings, while the 725 is used to inspect a wider range of coatings including most coal tars, extruded and tape coatings. The 735 is designed for extra-thick and somastic coatings. All portable detectors feature infinite voltage settings to allow specific sensitivity adjustments on the fly.
Pipeline Inspection Co.
Houston, TX
Tel: 713-681-5837
Web: www.picltd.com
Valves
Ludlow-Rensselaer valves, exclusive to Patterson, feature the Ludlow-pioneered double wedging design of locking gates, which operate easier under pressure and with less wear. These valves are made of the best applicable materials, and are precision-machined for longer service life.
Patterson Pump Co.
Toccoa, GA
Tel: 706-886-2101
Web: www.pattersonpumps.com
Waste disposal
Texas World Operations is an environmental consulting, engineering and well services firm that provides specialty services related to subsurface disposal of liquid wastewater via deep well injection. The company' staff is experienced in all phases of injection well technology including well design, permit application preparation, drilling, completion, workover, operations and training. Texas
World Operations
Houston, TX
Tel: 713-365-9570
Web: www.texasworld.net
Rental pumps
Pumpex provides a variety of submersible sludge pumps for the rental market. The company's pumps feature a narrow profile design that is suited for installations in manholes and other narrow areas. The mechanical seal components are separated from the particulate and/or contaminant-laden fluid or sludge. Rental pumps are available for a variety of applications such as construction site dewatering, storm water runoff, sewer bypass, dredging of ponds and lagoons, sewage lift station maintenance and emergency pumping.
Pumpex Inc.
Somerville, NJ
Tel: 908-927-0800
Wastewater treatment
Aqua-Aerobic Systems, Inc. has complimented its line of wastewater treatment equipment and systems with the addition of Aqua Control Systems and Aqua SCADA Systems. Both are appropriate for application in SBR systems, Cloth Media Filter Systems, and MixAir® Systems. The company designs, configures and manufactures each Control and SCADA system individually, according to a plant's specific control requirements. Following submittal and production engineering, systems are factory tested in the company's in-house Controls Lab and Panel Shop for quality assurance. It also offers customer service support of the system throughout the life of the plant. For stand-alone applications such as aerator/mixer motor control, pump control, and local interface panels, the company offers smaller, definite-purpose control panels. Operator devices and control configuration options are flexible to meet individual plant needs.
Aqua-Aerobic Systems, Inc.
Rockford, IL
Tel: 815-654-2501
Web: www.aqua-aerobic.com
Water treatment products
Martin Marietta offers FloMag® and MagneClear™ water treatment products, equipment and services to bring wastewater within pH and heavy metal discharge limits. The company also offers NSF Certified granular and powder grades of magnesium oxide and magnesium hydroxide powder products for potable water treatment. Magnesium-based products are cost effective, safe and easy to handle and essentially harmless to the environment. Current principal end users are industrial processors, chemical process industries, electroplaters, steel plants, electrical utilities, municipalities, and food processors, among others.
Martin Marietta Magnesia Specialties
Baltimore, MD
Tel: 410-780-5500
Web: www.magspecialties.com
Nutating disc flowmeter
Niagara has expanded its Nutating Disc Flowmeter offering to include stainless steel cases, high pressure Teflon® coated carbon steel cases and larger line sizes. The flowmeters are available for lines sizes from 1/2" to 4" bore, or 3/4" to 4" connection size; flow ranges from 0.2 gpm to 400 gpm; pressure ratings up to 1400 psig; and operating temperatures up to 400 degrees F.
Niagara
Spartanburg, SC
Tel: 864-574-3327
Web: www.niagarameters.com
Self priming centrifugal pumps
The Godwin Dri-Prime® -- an automatic self-priming centrifugal pumpset available in sizes from 2" to 16" – is used for various types of bypass pumping applications, general dewatering and other pumping needs. With maximum flows to 10,000 gpm, heads to 600 feet and solids handling to 5" in diameter, the pump is capable of handling industrial sludges, oil, sewage, and storm water. The pumps feature automatic self-priming to 28 feet of suction lift and the ability to run dry without damage. Units are available with a variety of diesel engines or with an electric drive. Sound attenuated models are available for all diesel versions.
Godwin Pumps
Bridgeport, NJ
Tel: 856-467-3636
Web: www.godwinpumps.com
Volumetric feeder
Vibra Screw has announced the availability of its AccuFeed Vibrating Volumetric Feeder for low-cost, precision feeding of water and wastewater treatment chemicals. Available in sizes from 1"-6" screw diameters and feed capacities from 2.8 to over 600 cu.ft. per hour, the feeder is accurate to ± 1-2% in feeding materials such as lime, activated carbon, alum, diatomaceous earth and other treatment chemicals. The feeder's polyethylene construction is inert and noncorrosive and a quick-disassembly design allows for cleaning between material changes. It also adapts to a variety of storage/discharge and mixing systems.
Vibra Screw Inc.
Totowa, NJ
Tel: 973-256-7410
Web: www.vibrascrewinc.com
Pump service, repair
Blackhawk Environmental, a manufacturer of positive displacement piston pumps, has introduced a new Field Service Evaluation & Repair Program for its electric and pneumatic Anchor Pumps®, and its Trident Pumps™. Since the pumps feature patented piston pump technology with top head drive motors, they can be easily disassembled and shipped directly to the company. Staff will perform a maintenance check, identify any problems, make necessary repairs and ship the pump back to its owner.
Blackhawk Environmental Co.
Glen Ellyn, IL
Tel: 630-469-4916
Web; www.blackhawkco.com
Primer coating
Series 1 PurplePrime from Tnemec is a primer developed for immersion and non-immersion environments in water and wastewater facilities. Its unique purple color provides for easy visual confirmation of application and selected topcoat offerings allow for simplified specification writing. The product is a single-component, moisture-cured primer that is substrate tolerant and provides triple corrosion protection. It can be brush, roller or spray applied, dries to handle in one hour and is NSF Std. 61 certified under select Tnemec topcoats.
Tnemec Co., Inc.
Kansas City, MO
Tel: 800-863-6321
Web: www.tnemec.com
Tubing cutting tools
Ridge Tool offers a growing family of tubing cutting tools for a wide variety of applications. The tools are designed for accurate cutting of tubing and pipe in a broad range of sizes and materials. The line includes midget cutters, enclosed feed cutters, screw feed cutters, quick-acting cutters, plastic pipe cutters, internal tubing cutters and cutter wheels. The family of cutters also includes 18 different cutter wheels.
Ridge Tool Co.
Elyria, OH
Tel: 800-769-7743
Web: www.ridgid.com
Diaphragm pump
All-Flo Pump has introduced a new 1/2" bolted, plastic, air diaphragm pump. Stock wet end materials include polypropylene, PVDF, Nylon, and conductive Nylon (for applications where grounding of the pump is needed). Elastomers are available to match any application. The air pressure rating has been upgraded to 120 psi and the fluid capacity has been increased to 17 gpm. Stock models are side ported with provisions for alternative porting. Optional features include the Max-Pass valve system which allows 3/8" solids to pass.
All-Flo Pump Co.
Mentor, OH
Tel: 440-354-1700
Web: www.all-flo.com
Carbon monoxide monitor
The Draeger microPac Plus carbon monoxide monitor is a compact gas measuring and warning device for carbon monoxide in the 0-1000 ppm range. The instrument includes a fully functional LCD concentration display with audible, visual and vibrating alarms. The low-profile design allows the monitor to be worn on the lapel, shirt pocket or belt. It has a two-year operational life-span, without the need for calibration or battery replacement.
Draeger Safety Inc.
Pittsburgh, PA
Tel: 412-787-8383
Web: www.draeger.net
Flammability analyzer
The PrevEx, formerly the 670 series of analyzers, is Control Instruments' Flammability Analyzer for Lower Flammable Limit monitoring. It can be used for sampling, measuring and reporting of LELs. The analyzer features flame/temperature technology. The flame must always be on and the system working properly, or one of six alarms is given. A new brochure provides information on the analyzer and its applications.
Control Instruments Corp.
Fairfield, NJ
Tel: 973-575-9114
Web: www.controlinstruments.com
Reproduction software
GE Power Systems introduces its ZEHPlot for Smallworld™ application software. This new Smallworld product, offered by GE's Network Reliability Services business, brings Raster Image Processing (RIP) technology to the Smallworld user to allow complex images to be converted into a simple format for printing, without distorting the quality of the image. This software product addresses the need to produce high quality plots in a timely fashion, in a variety of formats, using a host of devices. Developed in collaboration with ZEH Software Inc., based in Houston Texas, GE's ZEHPlot for Smallworld software is based on the existing Smallworld Core Spatial Technology™ print capabilities, using a filter template to export PostScript files through the Smallworld ZEHPlot RIP engine for creation of printer-ready data.
GE Power Systems
Atlanta, GA
Tel: 770-859-6948
Web: www.gepower.com
Flowmeter
McCrometer's new V-Cone differential pressure flowmeter can perform in applications with limited installation space, disturbed flow or dirty fluids. Ideal for retrofitting into existing piping layout, the flowmeter can be sized for line diameters of 0.5" to over 120" and does not require straight pipe runs. With no moving parts to maintain, it offers long-term performance with low operating costs. The flowmeter never needs recalibration, so once installed, it can operate unattended for years.
McCrometer
Hemet, CA
Tel: 909-652-6811
Web: www.mccrometer.com