Anaerobic Wastewater Digester Employs Analyzer for Monitoring, Control
The anaerobic process in bio-digesters is based on a complex ecosystem of bacterial species that degrade organic matter in waste streams.
Sep 1st, 2004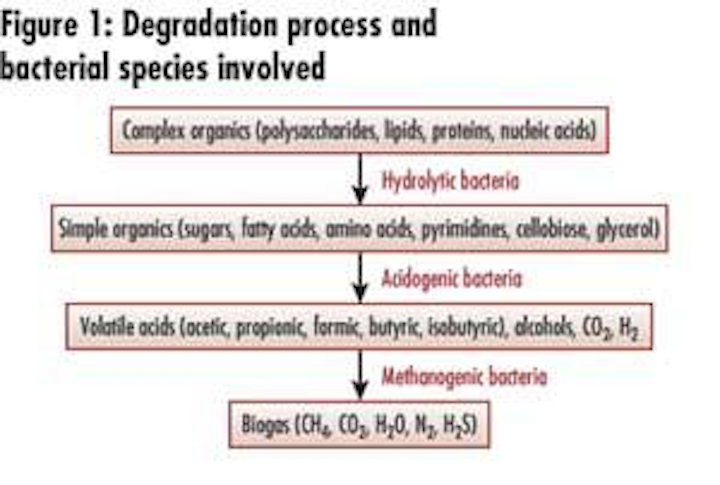 By Kristof De Neve, Ph.D., and Kristof Lievens
The anaerobic process in bio-digesters is based on a complex ecosystem of bacterial species that degrade organic matter in waste streams. In recent years, this process has gained increasing importance on an industrial scale. Especially in the agriculture and food industry, big quantities of wastewater are treated using this process. The success of this anaerobic waste treatment is due to the low production of sludge (since disposal of sludge is the highest cost for aerobic treatment), energy recovery by combustion of the produced methane, and the ability to treat wastewater with a high organic load. Figure 1 shows the degradation process and several bacterial species involved.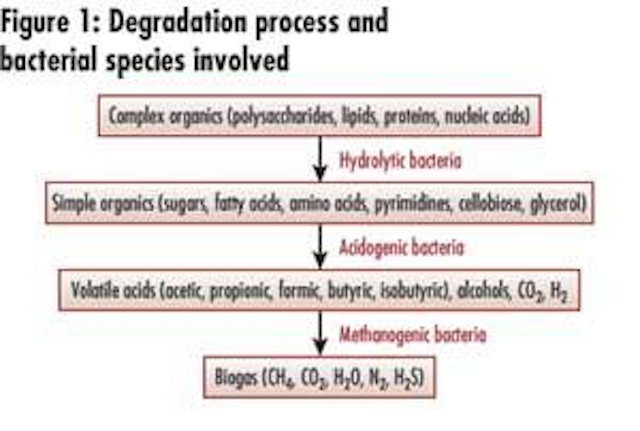 Click here to enlarge image
The anaerobic process however is susceptible to variations and, therefore, eventually less stable than the classical aerobic wastewater treatment. Methanogenic bacteria that are strictly anaerobic grow slowly and are very sensitive to pH changes. The formation of methane from volatile fatty acids (VFA) by these bacteria is also the slowest step in the process. Acidogenic – or acid-forming – bacteria, however, have a more rugged nature. Therefore a good balance between the several microbial populations is necessary.
After periods of non-activity of the bio-digester, like in the agro-industry where production is seasonal, the process is extra vulnerable and needs to be monitored more frequently. Instability will lead to a less efficient process, instable gas production and a possible total failure of the bio-digester.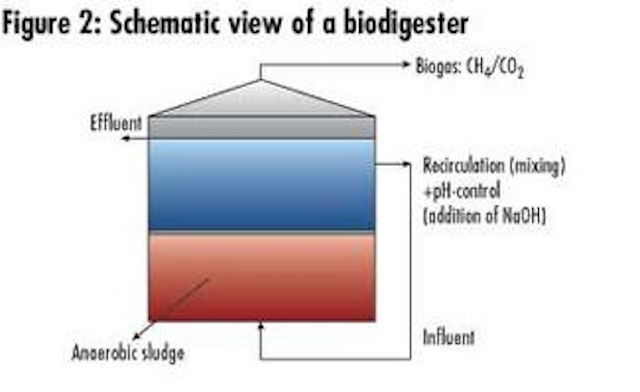 Click here to enlarge image
The first step in destabilization of the anaerobic process begins with an increase of the VFA concentration in the bio-digester. Due to a high organic loading, failure of the heating or inhibition of the methanogenic – or methane-producing – bacteria (lack of nutrients or the presence of toxic compounds), VFA are more rapidly formed than degraded. While the concentration of VFA is increasing, the bicarbonate concentration will decrease and the CO2 concentration in the biogas will increase. If the biogas is used for energy recovery, an unstable gas production will result in a less efficient energy production.
As long as bicarbonate in the water buffers and protects the Bio-digester, organic molecules will be degraded. If no action is taken, however, the VFA concentration will continue to increase and, when all the bicarbonate is consumed, the pH of the bio-digester will drop very fast. Such a drop in the pH will cause a destruction of the bacterial ecosystem and, finally, the methanogenic bacteria are killed. Recovery of the bio-digester can take several months.
Thus, it's clear that a stable process is very important. To avoid instability of the anaerobic process, a bio-digester should be controlled via measurements of VFA, which is one of the most sensitive parameters, in combination with measurements of bicarbonate, alkalinity and pH.
In industry, though, few laboratories are equipped for VFA measurements because the standard techniques like gas chromatography (GC) require specialized equipment, high investment, significant operating costs and highly trained personnel. Because of the complex sample preparation, GC analysis is time consuming. If the process needs to be monitored very frequently (every 15 minutes), in case the bio-digester is being restarted after a period of non-activity, it's almost impossible to do so with GC.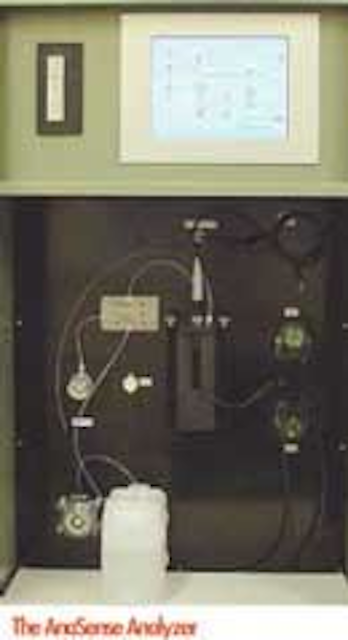 Figure 3- AnaSense® analyzer
Click here to enlarge image
Because of these issues industrial bio-digesters are usually not extensively monitored. Only pH and gas production are continuously measured. Nevertheless, using only these parameters, the organic loading rate (and efficiency) of the digester needs to be kept low due to safety precautions. This leads to an inefficient and less-controlled process that also results in a bad quality to the produced biogas.
To improve the anaerobic digestion process and offer the industry a better solution for this monitoring problem, an on-line analyzer for measuring VFA, bicarbonate, alkalinity and pH has been developed by AppliTek in the framework of a European project with a/o technology of INRA (the French National Institute in Agronomic Research in Narbonne, France). This algorithm-based analyzer measures in about 10 to 15 minutes the concentration of VFA, bicarbonate and alkalinity in a harsh environment, allowing the operator to keep the process stable while it's optimized. In Figure 3, the newly developed anaerobic analyzer is shown.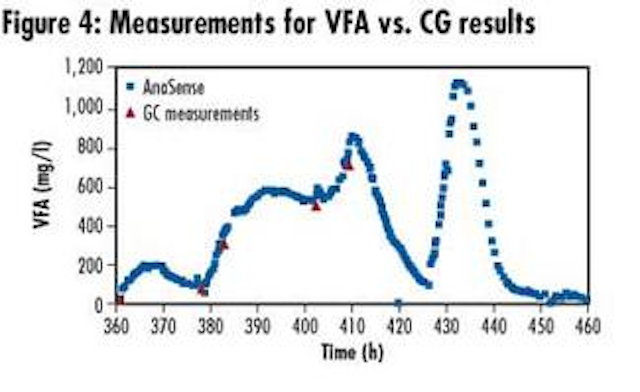 Click here to enlarge image
This unit, the AnaSense® analyzer, was tested on anaerobic digesters with successful results. It provides online results every 10-15 minutes, with a range of 0-5,000 ppm for VFA, 0-100 meq/L for bicarbonate and 0-150 meq/L for alkalinity.
Click here to enlarge image
In the following graphs (see Figure 4&5), the VFA results and the bicarbonate results are shown. These VFA results were compared with those obtained by GC – and no difference was noticed. From the graphs, one can also see that when concentration of VFA is increasing very fast due to a higher organic loading, the concentration of bicarbonate is decreasing.
Conclusion
On-line measurement of volatile fatty acids, bicarbonate, pH and alkalinity was successfully implemented for the effluent of anaerobic digesters with fluctuating concentrations of bicarbonate. The newly developed AnaSense analyzer was tested on-line and is a cost-effective and robust alternative for existing techniques like GC. This analyzer offers the possibility to control the anaerobic process and increase the efficiency of the anaerobic treatment.
About the Author:
Kristof De Neve, Ph.D., is research and development applications manager and Kristof Lievens is a project and research scientist at AppliTek NV of Nazareth, Belgium. The company, which lies 30 minutes from Brussels, was founded in 1985 by Jo Laurier, the board chairman. It's managed by David Laurier. The authors can be contacted at +32 9 386 34 02 or team@applitek.com.