Treatment System Removes Stormwater Contaminants
Stormwater runoff from industrial facilities typically does not require the same extensive processing included in treatment of industrial wastewater.
Sep 1st, 2003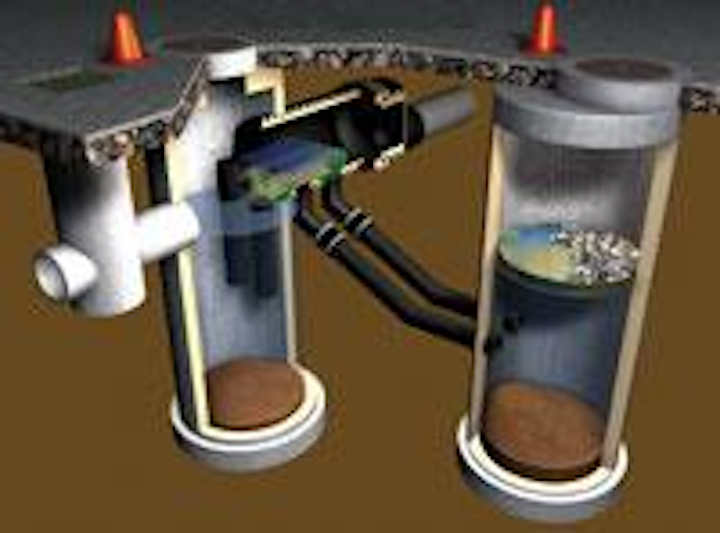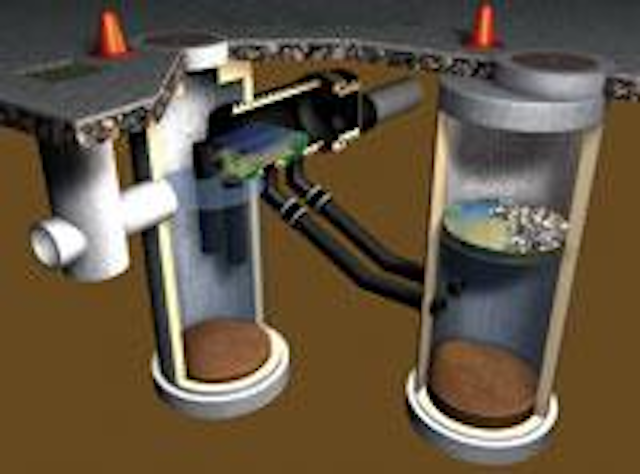 Click here to enlarge image
Stormwater runoff from industrial facilities typically does not require the same extensive processing included in treatment of industrial wastewater. However the importance of stormwater runoff treatment ranks high in industrial settings because of Clean Water Act stormwater treatment regulations.
The Simpson Timber Co. in Seattle, WA, owns production facilities in Washington and California where it converts logs into dimension lumber. The company has a long history of instituting voluntary water conservation and treatment programs. The issue of stormwater runoff treatment to protect the natural waters around its facilities was no exception.
Two facilities at the Seattle facility were slated for stormwater treatment projects, a log yard upland and a mill along Shelton Creek.
During the review process, Simpson reviewed which stormwater best management practices (BMPs) would be most suitable to achieve the goals of meeting stormwater runoff treatment regulations. Considerations for the log yard facility included the need for treatment of sediments and oil sheen from truck and machine traffic.
Based on facility layout, another consideration was placement of the BMPs. It was decided that swales, ponds and pretreatment with underground hydraulically operated stormwater management systems would best suit this project.
Simpson chose a underground separation system from BaySaver® for the project. Facility size, the need to treat runoff from parking lots and metal saw mill structures, and grading considerations dictated that two 3K BaySaver Separation Systems would be installed.
Treatment Process
The BaySaver system is an inline gravity separator with offline storage. Each system is composed of two standard precast manholes and a separator unit. The two manholes for each system allow the removal and storage of pollutants, and the separator unit directs the flow of water to provide the most efficient treatment possible. The BaySaver systems are manufactured of high density polyethylene (HDPE).
The system is designed to function under variable flow conditions. The 3K BaySaver systems each treat 3,498 gpm of runoff with pollutant removal rates up to 80% total suspended solids. The systems also feature a unique internal by-pass hydrology allowing each system to convey 13,455 gpm without the risk of resuspending captured pollutants.
During a storm event, rainfall intensity can vary significantly. Peaks in the rainfall intensity result in higher runoff flows at various times during the storm, resulting in an additional flush of contaminants. While competing systems tend to treat only the first flush and bypass the higher flows, the BaySaver® Separation System was designed to operate throughout the entire storm and, when properly sized, will treat all flows of an average storm for any given geographic area.
The system can be retrofitted into existing storm drains and can add an additional level of protection in places where a new industrial process may be added or an existing process is being expanded.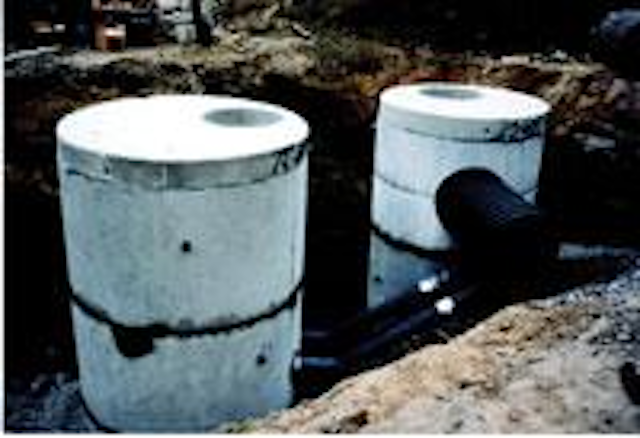 A BaySaver Separation System during a typical installation project.
Click here to enlarge image
Simpson Timber's stormwater mitigation plan has accomplished the needed treatment for stormwater runoff. Use of the underground treatment system has kept oils, sediments, and floating debris from entering surrounding swales and ponds.
An additional benefit has been the ease of maintenance to properly dispose of pollutants. The primary and storage manholes can be inspected and maintained from the surface, without the need for confined space entry. This makes the execution of Simpson's Preventive Maintenance Program easier. The systems are inspected every six months and maintained as inspections dictate.