New Filter System Cuts Process-Related Stormwater Zinc
A hot-dip galvanizer in San Diego, CA, was able to reduce process-related zinc in its stormwater runoff through installation of new downspout filter systems at front yard and back alley outfalls.
Sep 1st, 2003
A hot-dip galvanizer in San Diego, CA, was able to reduce process-related zinc in its stormwater runoff through installation of new downspout filter systems at front yard and back alley outfalls. Initial measurement of zinc showed a decrease of 87%, with further reduction expected.
San Diego Galvanizing, operating since 1967, chemically cleans steel parts and then coats them with zinc via hot-dip galvanizing. End uses include structural steel, pipework, railings, and fencing for shipyards, utilities, bridges, highways, and commercial and residential uses, as well as various components for steel fabricators.
Parts are dipped in a 21' long, 4' wide, 5' deep galvanizing kettle containing 110 tons of molten zinc at 830-840 degrees F. About 80% of the zinc chloride and ammonium chloride fumes coming off the galvanizing bath are fan-drawn into a 3' diameter pipe inlet to a water scrubber.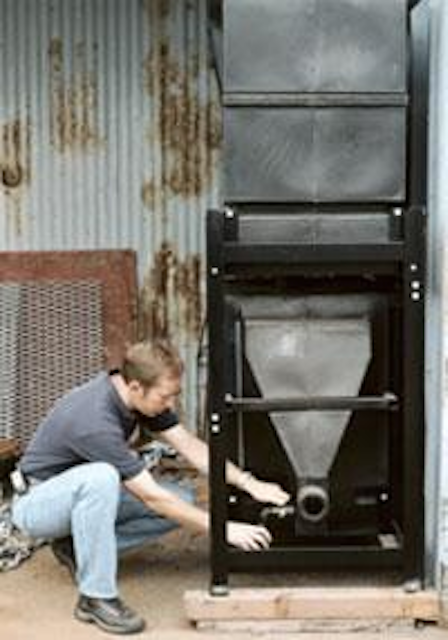 Installation of new downspout filter systems at front yard and back alley stormwater outfalls dramatically reduced zinc content. Initial sampling showed an 87% reduction, with further decrease expected.
Click here to enlarge image
Condensate from the scrubber is gravity-collected in a bin at the exhaust end of the system for recycling back into the galvanizing process. Fugitive, zinc-containing emissions escape onto the roof through various openings in the building.
The scrubber was installed in the mid-1980s to comply with new air pollution control rules. Stormwater sampling began in 1999 with the onset of NPDES permitting. Initial samples contained 10-20 mg/L zinc, with the source uncertain.
Further sample analysis by PBS&J Engineering in San Diego revealed that the primary source of zinc in stormwater runoff was from the facility's roof downspouts. Management then decided to install holding tanks to collect stormwater runoff from the roof and recycle it back into the galvanizing process, as was being done with the scrubber condensate. Two 3000 gallon tanks were fixed to the gutters and downspouts in the front yard and back alley.
"But we found that managing that water was very difficult because the tanks weren't large enough to handle consecutive storm events," said Lewis Wise, vice-president of San Diego Galvanizing. "While we were consuming water collected from the first event, the second event would quickly exceed tank capacity. In any case, sampling during both normal and overflow conditions was still in the range of 5-10 mg/L zinc."
"We hadn't been cited yet, but we heard concern from the Regional Water Board, the county, and then the city."
The company's environmental compliance consultant, Mike Cairns of PBS&J, stated that the operative compliance goal for zinc in the plant's stormwater runoff was 0.2 mg/L. The facility is also responsible for monitoring total suspended solids (TSS), oil and grease, nitrates and nitrites, specific conductance, and pH.
"The National Pollution Discharge Elimination System (NPDES) General Industrial Permit in San Diego does not have numeric effluent limits at this time," Cairns said, "and the San Diego Basin Plan only addresses zinc with regard to drinking water standards. However, the California Ocean Plan lists an instantaneous maximum concentration water quality objective for zinc of 0.2 mg/L, as measured in the receiving waters. The San Diego Regional Water Quality Control Board has directed that this guideline shall serve as the stormwater pollutant discharge goal for San Diego Galvanizing."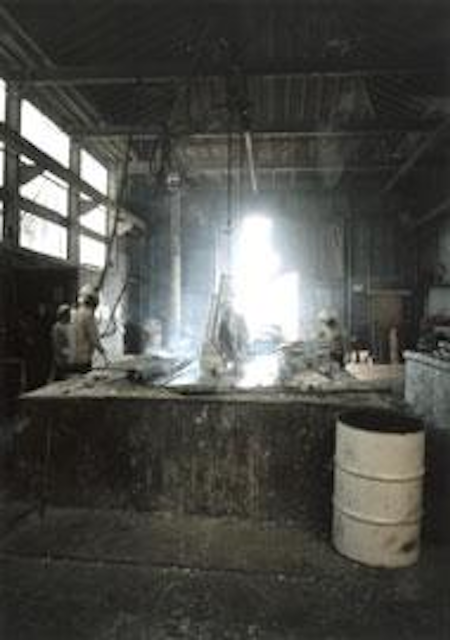 About 80% of zinc chloride and ammonium chloride fumes from the galvanizing bath are drawn into a water scrubber, but fugitive, zinc-containing emissions escape onto the roof, where they can become part of stormwater runoff.
Click here to enlarge image
To help meet those limits, the company acquired two DownSpout StormFilter™ systems custom-designed and manufactured by Stormwater Management Inc. of Portland, OR and Baltimore, MD. Each is a two-stage unit, installed in conjunction with stormwater holding tanks. The company says the filter systems are readily upgradeable by changing to new media cartridges as they become available, at minimal additional investment, to gain further improvement in filter performance.
"We installed the two units last March, and took our first sample in April," Wise said. "The inflow to the filter measured 2.5 mg/L of zinc, and the discharge showed 0.33 mg/L —- a reduction of 87%. On another occasion at the outfall we got a reading of 0.18 mg/L."
"These results are very encouraging, since we are now close to or below compliance levels. We had researched five other technologies for stormwater filtration before finding this one to be the most effective and the most cost-effective. We are confident that we are using the 'best available' pollution control technology."
Inflow from each holding tank, situated at locations based on existing roof drainage, spills via gravity feed to an overflow pipe that empties onto the open grate cover of the first stage of a two-stage filtration unit. Filtrate from the first stage is hard-piped through the sealed top of the second filtration stage for final treatment there, with sample ports located at the outlets.
Stormwater Management's MetalRx™ high-capacity organic media is used in both the first and second stages of the treatment system to achieve a higher level of dissolved metals removal.
The StormFilter is customarily installed with two cartridges, allowing it to treat runoff from rooftops up to 15,000 sq. ft. The number of filter units, as well as the cartridge configurations, are tailored to individual site requirements. For applications requiring a higher degree of treatment, such as that for San Diego Galvanizing, a two-stage unit is typically used. Other configurations of the StormFilter are available, and are used in industrial, remediation, commercial, residential, and transportation sectors. A suite of accessories is available to complement the company's core products.
The company also provides catch basin inserts, screening, and oil/water/grit separator systems to treat pollutant loading at a particular site. Typical metals reductions achieved for single stage StormFilter units are zinc, 50-85%; copper, 60-90%, and lead, 65-90%.
For further information, contact Stormwater Management Inc., 12021-B NE Airport Way, Portland, OR 97220, phone 800/548-4667, fax 800/561-1271, industrial@stormwaterinc.com, www.stormwaterinc.com.