Aeration System Improves Performance at Processing Plants
Faced with an immediate need to upgrade handling of its wastewater, the country's largest producer of fish oil and fish meal products found a recent innovation to a traditional treatment process to be the right solution to its problems.
Sep 1st, 2003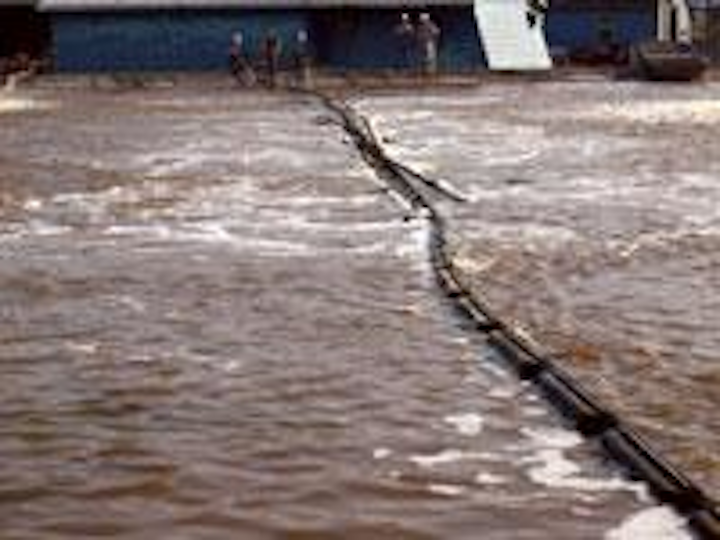 Faced with an immediate need to upgrade handling of its wastewater, the country's largest producer of fish oil and fish meal products found a recent innovation to a traditional treatment process to be the right solution to its problems.
Since then, an additional food services industry has adopted the fine bubble aeration system provided by Aeration Solutions, Inc., and found it to meet its environmental requirements.
The industrial applications by geographically diverse companies Omega Protein of Hammond, LA, and Naturally Potatoes of Mars Hill, ME, are verifying what municipalities in 12 states have already learned — that the ASI system works to both improve effluent chemistry and reduce electrical operating costs.
Developed by a Tennessee fish farmer to meet the aeration needs of his tank-grown tilapia operation, the ASI system has quickly gained favor with municipal wastewater treatment operators and is being seen as a viable treatment method in varying industrial environments.
While drawing on the characteristics of fine bubble aeration — long considered the best method of increasing the dissolved oxygen levels in wastewater — the ASI system has been fine tuned to overcome some of the traditional drawbacks of other fine bubble systems such as rupturing and fouling. It has performed without fouling failures, while consistently generating electrical energy savings in the 40-60 percent range.
At the heart of the ASI system is an innovative-patented membrane, manufactured to strict tolerances producing a pore size of 50 microns with 95 percent uniformity. The membrane is capable of withstanding 25 PSI without rupture, long a problem with conventional EPDM membranes, and has been independently tested to deliver oxygen in the 6.0-8.0 pounds/horsepower/hour (per ASCE standards). Most mechanical aerators deliver oxygen in the 2.0 pounds/horsepower/hour range.
The membrane also acts as a passive element, rather than requiring the inflation of a "bladder." This reduces the frictional losses associated with other fine bubble diffusion systems.
Air is provided by shore-mounted Gast regenerative fan blowers, which are easier and safer to service than traditional mechanical aerators that are mounted in the lagoon. The modularity of the system means that the extensive manifolding which is required with other fine bubble diffusion systems is not required with the ASI product. Also, since the blowers operate at noise levels below OSHA standards, blower houses are not needed.
The ASI system features a "grid" system with four-by-five-foot grid frames constructed of stainless steel. Each grid is interlaced with 42 1/2 feet of its patented membrane. The grids are then set into the receiving lagoon at depths determined by the BOD and TSS loading in order to maximize oxygen transfer while providing good mixing. Not only does the ASI system do an efficient job of increasing the DO levels, reduction in the lagoon's sludge blanket is a welcomed benefit. Trained ASI crews, working from boats, place the grids in the lagoon, strategically locating them to maximize their effectiveness.
Omega has a big wastewater stream, incurred from its processing of between 400 and 500 million menhaden, also known as poggies, during a fishing season that runs from mid-April through October. The company operates a fleet of 11 ocean-going fishing boats from its Abbeville, LA, processing plant. The fish are seldom used for human consumption but yield high quantities of long-chain Omega 3 fish oils.
During processing, the fish are heated to about 210 degrees. The fish are then pressed and the resultant oils and water are caught and separated by centrifuges. Most of the oil is sent to the company's diverse customer base while the remainder goes to the company's Reedville, VA, facility for additional processing.
The remaining wastewater, after separation from the oil, goes to the plant's lagoon for treatment and discharge.
Omega had been considering the ASI system for a while and when the demand for its products caused a processing overload that threw the plant's lagoon chemistry out of balance, Omega asked ASI to help restore the system. From the time ASI was called, a system to meet Omega's needs was designed, constructed and installed in a seven-day period. Soon, the plant's treatment system was back in balance and the company has continued to operate the ASI system as an integral component of its wastewater treatment plant process.
"We appreciate the fact ASI responded to our needs in such a timely fashion and helped get our treatment system back in balance without any harm to the environment. Since then, the ASI aeration units have been a valuable component in our scheme of treatment for our wastewater products," said Al Vidrine, production manager at the Omega plant in Abbeville.
Omega uses only its lagoon in its treatment process and handles about 225,000 gallons of influent daily during the six-month fishing and processing season.
With a discharge point into a river adjacent to the Intracostal Waterway, the company's permit allows for a monthly average of 120 pounds per day of CBOD with a daily maximum of 180 pounds. For Total Suspended Solids (TSS), the permit was 434 pounds per day over a monthly reporting period with a maximum daily load of 651 pounds.
The permit allowed for 60 pounds per day monthly average and daily maximum for NH3 and a 90 pounds per day monthly average and the same 90-pound daily maximum for MH3. The DO permit limit is greater than 5.0.
Pre-ASI, the influent loading was registering 600 mg/L for CBODs and 100 mg/l for TSS. The plant DO level was averaging 3.9 while the NH3 level was registering 150 mg/L
The post ASI numbers bear sterling testimony to the ASI system's effectiveness. The CBOD declined to 15.0 mg/L while the TSS dropped to 60 mg/L and the DO increased to 6.0.
The most dramatic decline came in NH3 where the numbers show a reduction from 150 mgl to only 12 mg/L.
Pleased with ASI's performance, Omega subsequently selected the company to install another fine bubble aeration system at its Reedville location.
The ASI system at Abbeville resulted in reducing the company's horsepower load from 130 hp to only 30 hp. Typically able to replace the horsepower needed to run mechanical aerators on a one to three ratio, a 66 percent reduction, the Reedville facility also is anticipating a significant energy savings.
Naturally Potatoes
Naturally Potatoes, another ASI installation, shares a similar environmental commitment with Omega Protein and its ground-breaking methods of processing potato products is matched by an equally innovative approach to dealing with environmental issues at its plant which can process 30,000 pounds of potatoes each hour. That's 180 million pounds annually.
After processing, the company uses the remaining wastewater to make snow in the winter and to irrigate crops in the summer.
When seeking ways to improve on its already environmentally sound operations, Utility Manager Greg McCrum turned to ASI and its fine bubble technology.
"I have tried other fine bubble systems and all of them were hampered by clogging and fouling, necessitating frequent change outs of the diffuser material. That has not been our experience with the ASI system," he said.
In fact, Naturally Potatoes is systematically adding new components of the ASI system to its treatment process on a regular basis.
"We are pleased with the results we are getting," McCrum said, noting that the company is constantly seeking ways to be more environmentally friendly and to take care of the natural resources of the region.
A new high-tech plant constructed in 1997 furthers the company's innovative blend of fresh, never-frozen, potato products and exemplifies the company's commitment to environmentally sensitive production methods.
Conclusion
ASI has witnessed numerous other successful applications including affording some municipalities reductions in their energy bills of over 60 percent while helping others come into compliance with stringent regulatory controls along with being able to bypass the construction of new and costly treatment plants.
The company's process has been featured in the journal of the National Small Flows Clearing House, the Tennessee Journal of the American Public Works Association and numerous newspapers.
ASI can be contacted toll free at 731-968-7588. Additional information is also available at www.aerationsolutions.com.