New Stormwater Filtration Technology Helps Curb Urban Runoff
A recent binational report on Great Lakes water quality pointed to urban sprawl as a leading cause of deteriorating prospects for improving conditions...
Sep 1st, 2004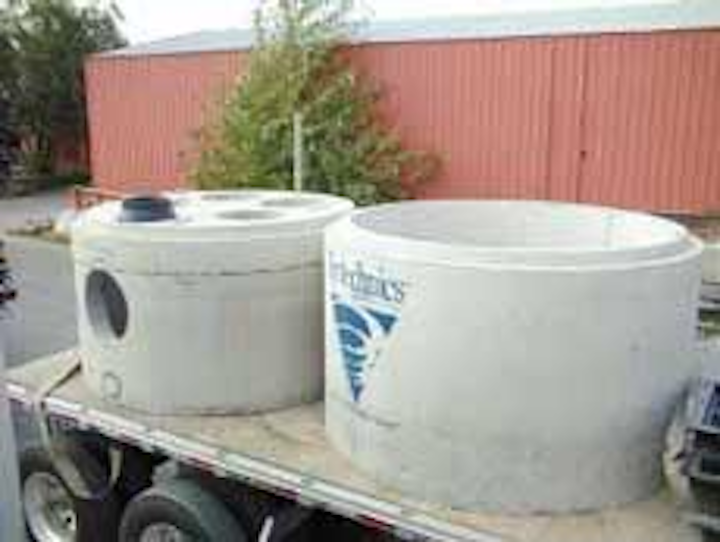 By Kim West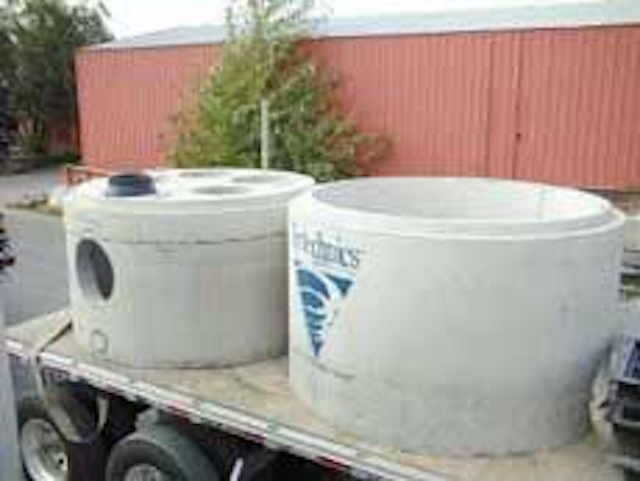 A VortFilter™ model VF6r arrives on-site for installation at a new office building in Port Orchard, WA.
Click here to enlarge image
A recent binational report on Great Lakes water quality pointed to urban sprawl as a leading cause of deteriorating prospects for improving conditions on both their U.S. and Canadian shorelines. Negative byproducts of urban sprawl include sewage overflows and stormwater runoff, both of which have become more highly regulated than ever before.
Just about any facility – industrial, commercial or institutional – with a parking lot and roadways have become subject to stricter stormwater oversight. The two phases of federal rules governing this, including for industrial sites, are summarized at: http://cfpub.epa. gov/ npdes/stormwater/indust.cfm.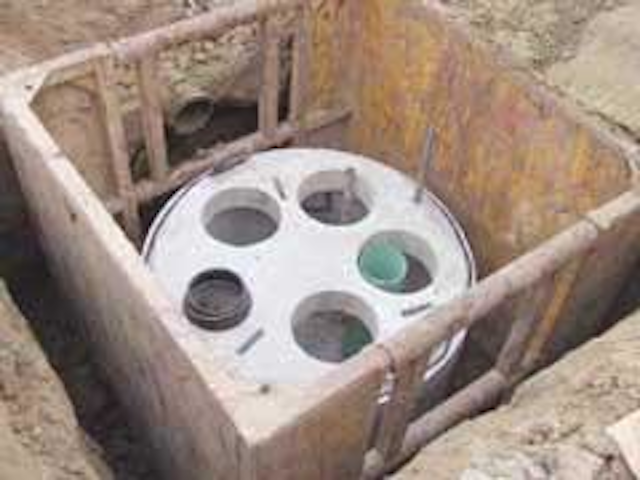 View into the VortFilter™ of the filter basin deck where media cartridges will be mounted. Stand pipe (green pipe seen above) will be mounted into the black sleeve as part of the installation process.
Click here to enlarge image
Developed in 1990, Phase I of the EPA NPDES Stormwater Program highlights 11 areas of industrial activity, as well as construction activity affecting five or more acres, for closer scrutiny. Phase II, published in 1999, addresses small municipal separate storm sewer systems and construction activity disturbing less than five acres.
Triple Treatment Approach
A recent innovation combining three proven stormwater treatment processes in one easy-to-maintain water quality device comes from Vortechnics Inc. The company recently introduced VortFilter™, a customizable filter cartridge system engineered to remove very fine particulates from stormwater flows before they enter the surrounding watershed.
These systems are used to clean stormwater running off of parking lots, roads and other impervious surfaces. If not removed, the pollutants can accumulate in surface waters, damaging ecosystems and diminishing habitats for native plant, fish and bird species. The system was developed to meet more stringent stormwater requirements, particularly for locations where regulators identified filtration as the preferred method of removing fine sediments that may carry hydrocarbons, nutrients, heavy metals and other contaminants.
Offering a large surface area per cartridge, the filter's unique radial up-flow pattern and proprietary media increases treatment capacity while decreasing headloss, thus requiring fewer cartridges than other filter product available. With customized filter media to target site-specific pollutants, the system was created to help specifying engineers, municipalities, site developers and owners meet stringent stormwater regulations – all with the convenience of one, water quality device.
The filter's sizing and performance was optimized through rigorous full-scale lab testing, with more than 3,000 individual samples tested to date. Performance data gathered through testing of a silica-based sediment sample with a range of particle sizes and flow rates provides a solid baseline for sizing to meet specific regional requirements. Filter cartridges can be customized to treat flows from 12-20 gpm.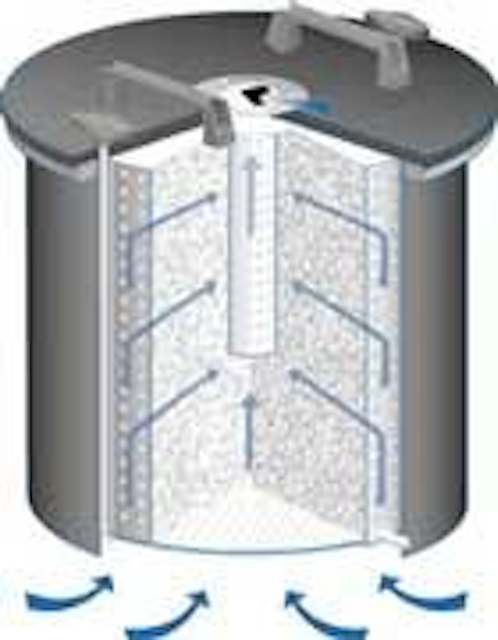 Unique Dual Flow Path: Stormwater flows through the VortFilter™ cartridge into the filter media in both an upward and a radial direction, delivering one of the highest treatment capacities per cartridge available in the industry today.
Click here to enlarge image
Whether in standard round and vault precast concrete structures, the filter is easy to install and maintain. This flexibility gives specifiers and contractors a wide range of options when choosing the most appropriate treatment system. Both structures have a concrete horizontal deck where filter media cartridges are installed. Maintaining the system, usually required only once a year, is made easy with a media release feature of the cartridge that allows spent media to be deposited in the sedimentation basin prior to handling cartridges.
How the System Works
The three stormwater treatment processes integrated in the system are sedimentation, floatation and filtration.
Sedimentation and floatation: The sedimentation basin functions as a pretreatment sump, and allows the system to use gravitational forces to capture pollutants. Sediment and heavy materials are separated from stormwater flows and accumulate on the bottom of the basin. All floatable materials, such as hydrocarbons, trash and debris, are contained under the filter basin deck, preventing the potential for blinding of the cartridges and any reintroduction of oil and other materials into the filter media.
Filtration: Stormwater is forced both in an upward and radial direction through the cartridge where fine particulate matter is removed. The treated water is released from the discharge elbow, onto the filter basin deck and then out through the outlet. When flows exceed the water quality flow rate of the system, they discharge through a stand pipe that extends vertically from the filter basin deck. The stand pipe is sized to allow the peak flow rate to pass through filter without restriction. Other features include a vent pipe, which allows air and gas to escape from the storage area below the filter basin deck, and two manholes, which allow for cartridge installation and maintenance.
System Maintenance
Maintenance is critical to the system's long-term performance. Support is provided to site owners by assisting them in setting up a maintenance contract with approved local providers that offer technical expertise, including disposal and documentation to ensure compliance with local waste regulations.
Maintenance intervals range from six to 18 months and are determined by the pollutant load on a specific site. A quarterly visual inspection through the manhole, which is located over the stand pipe, helps to establish the appropriate maintenance interval for each site. When an appreciable amount (about six inches or 0.15 meters) of sediment accumulates on the floor of the sedimentation basin, a maintenance event should be scheduled.
During maintenance, the spent filter media is released onto the sedimentation basin via the system's media release feature. This allows maintenance contractors to handle only empty cartridges. Once spent media is released into the sedimentation basin, a vactor truck can remove pollutants in one operation. Pollutants are then disposed of according to local regulations. After removal of used cartridges, which are returned to the manufacturer for refurbishing, a set of cartridges with fresh media is installed in the deck of the system.
About the Author:
Kim West is marketing and communications manager at Vortechnics Inc., Scarborough, ME. For more information, contact 877-907-8676 or www.vortechnics.com.