PRODUCTS & SERVICES COOLING SYSTEMS
Fluid Treatment Systems' MetalOx® cooling tower filters are designed to control hard scale without the need for chemicals.
Sep 1st, 2003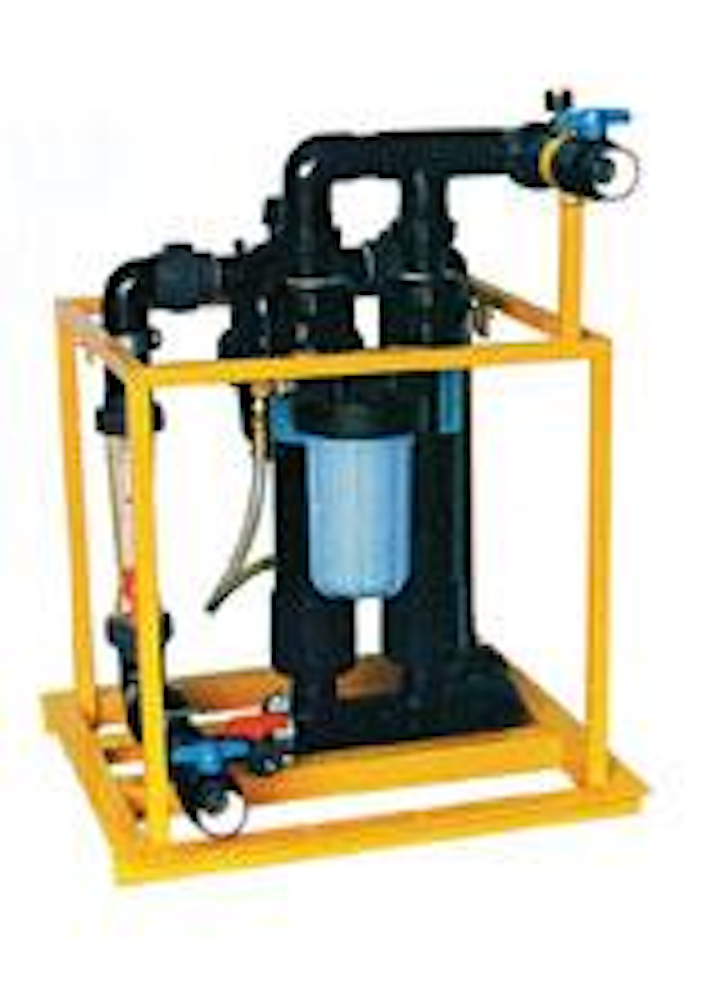 Cooling tower filters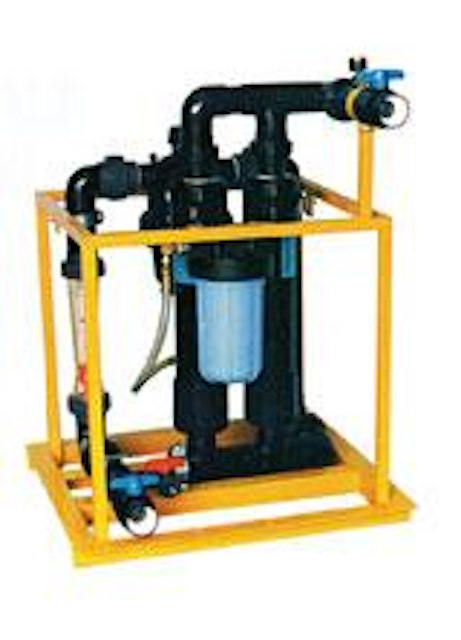 Click here to enlarge image
Fluid Treatment Systems' MetalOx® cooling tower filters are designed to control hard scale without the need for chemicals. The filters are constructed of a bi-metallic reticulated foam produced from high-purity copper and zinc. When water flows through the foam, one metal oxidizes and the other reduces, causing electrons to flow. This electron flow will change hard scale calcium carbonate calcite into a soft aragonite which does not scale up. The process can also descale existing equipment. Use of the filters can allow cooling water systems to operate at higher TDS levels.
Fluid Masters, Inc.
Edgewater, MD
Tel: 410-798-9410
Web: www.fluidtreatment.com
Polymer testing system
Click here to enlarge image
The K-1190 field test from Taylor Technologies measures the level of scale- and sludge-inhibiting polymer in cooling water systems. This turbidimetric test develops a precipitate proportional to the free polyacrylic acid concentration in the sample. The test range is 0–10 ppm with printed standards equivalent to 0, 2, 5, 7, and 10 ppm. The kit contains all components necessary to perform up to 24 tests, including reagents, calibrated pipettes, a graduated sample tube, a syringe-type filter with filter discs, and waterproof instructions. In addition to its new polymer kit, Taylor offers a complete line of water analysis tools including color-matching tests, drop-count and burette titrations, handheld meters, and testing supplies such as reagents, general use glass- and plasticware, and a demineralizer bottle.
Taylor Technologies, Inc.
Sparks, MD
Tel: 800-837-8548
Web: www.taylortechnologies.com
Digital counter/timers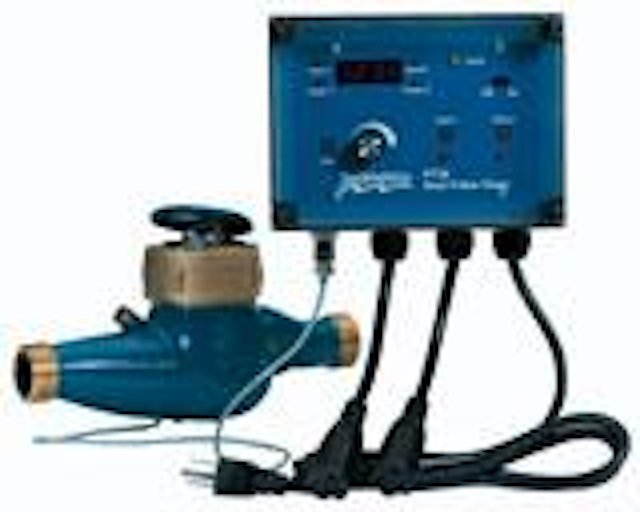 Click here to enlarge image
SeaMetrics' PT34 single-counter timer and PT35 dual-counter timer are designed for use with the company's (and others) pulse water meters and sensors. These digital counter-timers are typically used in chemical feed and bleed applications, in cooling towers and boilers. They are best suited for geographic areas where low TDS (solids) in the water make it difficult to use a conductivity controller. For cooling towers, where one counter/timer is used to feed chemical and the other is used to bleed water periodically, the PT35 is ideally suited. Input is from a single meter or flow sensor, but the accumulators and timers are set independently of each other.
SeaMetrics
Kent, WA
Tel: 800-975-8153
Web: www.seametrics.com
Centrifugal pump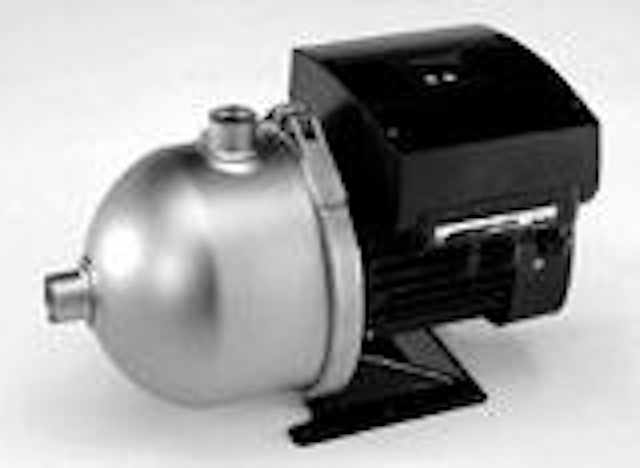 Click here to enlarge image
Grundfos Pumps has released a new compact horizontal multistage centrifugal pump with a built-in variable speed motor. The pump is particularly well-suited to OEM and industrial use, such as water treatment, water supply, heating, cooling, and air conditioning systems. The new integrated variable speed MLE motor enables the pump to work harder during peak demand and reduce speed when required. It can also switch off the pump at a no-flow condition. The result: significant energy savings (up to 50% depending upon the pump and application) plus lower maintenance costs. The pumps feature stainless steel (AISI 316) construction, low noise, and compact design. They come in a 1-phase, 208-230V version, have an integrated control panel and also can be set via remote control. The pumps cover a flow range of 0-70 gpm and pressure boost up to 260 feet of head.
Grundfos Pumps Corp.
Olathe, KS
Tel: 913-227-3465
Cooling tower systems
Marley Cooling Technologies, a unit of SPX Corp., is a manufacturer of cooling towers and air-cooled condensers. The company designs, manufactures and markets wet, dry and hybrid technologies for power generation, industrial, refrigeration and HVAC markets. The company recently introduced a new system designed to recover water vapor discharged from a production system cooling tower and condense it back to liquid form. The technology can be retrofitted to existing cooling towers. The condensed water can be returned to the tower circulating system or collected for reuse elsewhere in the plant.
Marley Cooling Technologies
Overland Park, KS
Tel: 913-664-7400
Web: www.marleyct.com
Water treatment products
Martin Marietta offers FloMag® and MagneClear™ water treatment products, equipment and services to bring wastewater within pH and heavy metal discharge limits. The company also offers NSF Certified granular and powder grades of magnesium oxide and magnesium hydroxide powder products for potable water treatment. Magnesium-based products are cost effective, safe and easy to handle and essentially harmless to the environment. Current principal end users are industrial processors, chemical process industries, electroplaters, steel plants, electrical utilities, municipalities, and food processors, among others.
Martin Marietta Magnesia Specialties
Baltimore, MD
Tel: 410-780-5500
Web: www.magspecialties.com
Filtration system
The CTF System from Valve & Filter Corp. is a filtration system for removing particulate from fluid handling systems. It works to remove suspended solids down to 15 micron using stainless steel screen media. A controller monitors dirt cake buildup on the screen and at preset intervals or high D.P., conducts a backwash lasting less than 30 seconds without interrupting filtration and flow. The system can be used to keep cooling towers clean for improved efficiency. It mounts in a "side stream" loop around a cooling tower. The skid-mounted system comes with its own filter, pump, valves, controller, and pump starter.
Valve & Filter Corp.
Arvada, CO
Tel: 303-425-4242
Web: www.valveandfilter.com
Cooling water treatment
Dramatic improvements in scale and corrosion protection for alkaline pH cooling water systems in industrial facilities can be obtained with GE Water Technologies' halogen stable Continuum™ AEC treatment program. This non-phosphorus calcium carbonate inhibitor is combined with a proprietary halogen resistant azole to provide scale and corrosion protection without any loss of effectiveness in the presence of chlorine and bromine. Conventional azoles like TTA are decomposed by oxidizing biocides, losing their effectiveness in protecting copper and copper alloys against corrosion.
GE Water Technologies
Trevose, PA
Tel: 215-953-2348
Web: www.gewater.com
Solids recovery filtration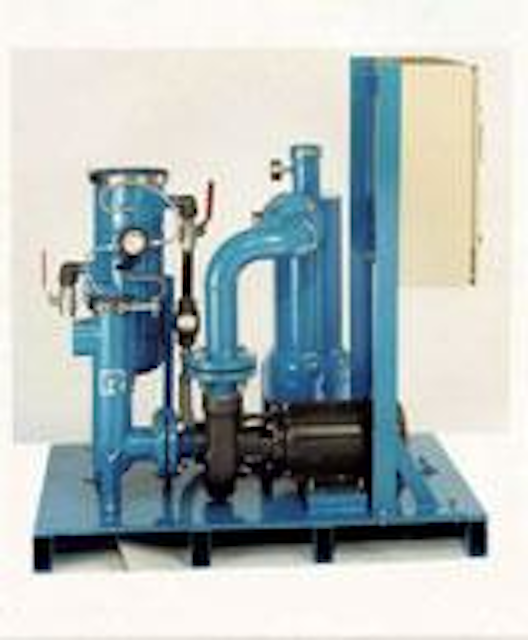 Click here to enlarge image
Rosedale Products has released its new Solids Recovery Filtration system (SRF). The system is designed to protect open and closed loop cooling processes. Ideal for cooling tower water systems, the SRF can be used in a variety of applications to reduce solids problems. Components of the system include a basket strainer for coarse filtering, a centrifugal pump with motor, a separator achieving 50-75 micron removal rating, and a bag filter following the purge of the separator. It features an electrical control panel with a HOA selector switch and NEMA 4x enclosure. Fully assembled and skid mounted, the package has a compact design that minimizes floor space. Flow capacity ranges from 50 gpm to 1200 gpm with pressure ratings to 125 psi.
Rosedale Products Inc.
Ann Arbor, MI
Tel: 734-665-8201
Web: www.rosedaleproducts.com
Sodium hypochlorite generators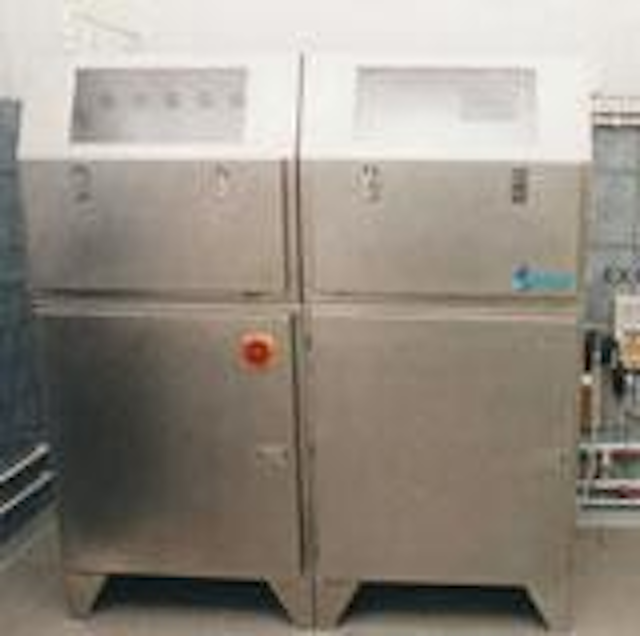 Click here to enlarge image
Miox's on-site sodium hypochlorite generators use only salt, water, and electricity to form a dilute chlorine solution for wastewater disinfection, cooling tower treatment, or other industrial water treatment. No hazardous chemicals are involved, eliminating Risk Management Plan (RMP) compliance audits and the hassles of HAZMAT, SCBA, and DOT trucking requirements. Not only are plant safety improved and regulatory paperwork reduced, but the chlorine solution is always freshly generated on-demand, so there are no shelf life or storage issues.
Miox Corp.
Albuquerque, NM
Tel: 505-343-0090
Web: www.miox.com
Scale control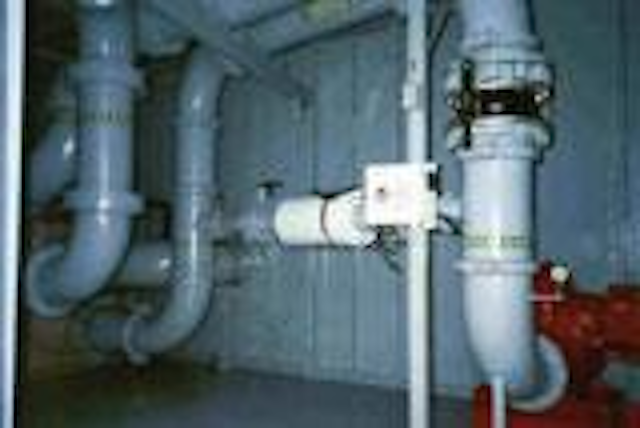 Click here to enlarge image
HRT Power provides a pulsed-power system for biological and scaling control. It is well established in water treatment that coagulation and calcium carbonate precipitation will result in microbial reduction. Under pulsed-power treatment, precipitation occurs in the bulk solution as a powder. These growing particles incorporate microbes and limit their growth. The cooling tower device uses coils to induce pulsed electric fields in the recirculating water.
HRT-Power
Houston, TX
Tel: 713-827-0001
Web: www.hrtpower.com
Water conditioners
The HC-Series of Heavy Commercial water conditioners from Water Right offer capacities between 60,000 and 600,000 grains and flow rates to 107 gpm. They are ideal for use in boiler feeds, cooling towers, and light industrial applications. The systems use a lead-free, solid brass piston-type controller that can be expanded to multiple tank configurations for applications requiring continuous soft water or higher flow rates.
Water Right, Inc.
Appleton, WI
Tel: 800-777-1426
Web: www.water-right.com
Fluid flow measurement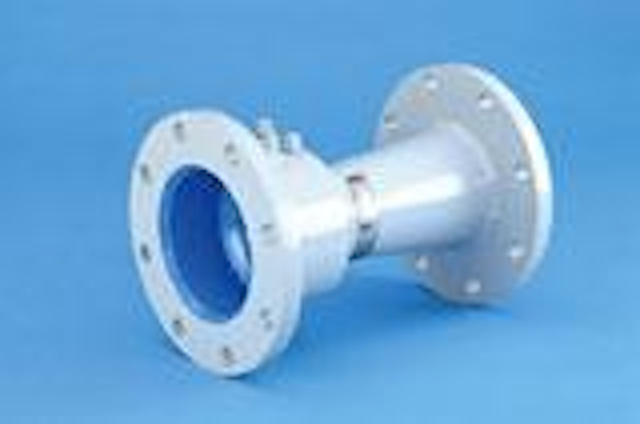 Click here to enlarge image
Wyatt Engineering designs and manufactures differential-producing flow elements such as venturi tubes, flow nozzles, orifice plates, and pitot tubes. These meters are used throughout industry for many fluid flow measurement applications. With both ISO 9001:2000 and PED/97/23/EC certifications, the company can supply these meters to a worldwide market. One product is the BVT-U venturi tube, which offers a combination of high accuracy, rangeability, and high differential with low head-loss, for both liquid and gaseous flows.
Wyatt Engineering LLC
Lincoln, RI
Tel: 401-334-1170
Web: www.wyattflow.com
Chlorine sensors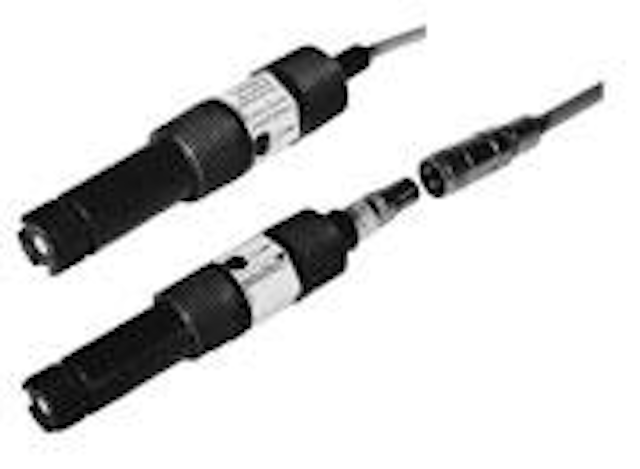 Click here to enlarge image
Rosemount Analytical's Model 499ACL membrane-covered chlorine sensors feature rugged molded Noryl (PPO) construction and are suitable for flow-through or submersion mounting. They allow operators to measure total or free chlorine or iodine without sample pretreatment or messy and expensive reagents. The sensor features a replaceable membrane that requires no special tools. The sensor also provides automatic correction to pH 9.5.
Rosemount Analytical Inc., Liquid Division
Irvine, CA
Tel: 800-854-8257
Web: www.raihome.com
Storage tanks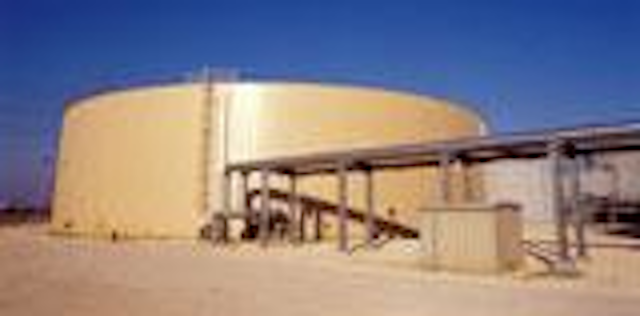 Click here to enlarge image
CB&I provides turnkey engineering, procurement/fabrication and construction of flat bottom tanks at power plants to store potable water, demineralized water, fuel oil and other fluids. The company's Strata-Therm® flat bottom tanks store stratified chilled water for Thermal Energy Storage (TES). When applied to power plant Turbine Inlet Cooling systems, the tanks reduce the capital costs and on-peak operating costs of mechanical water chillers.
CB&I (Chicago Bridge & Iron Company)
The Woodlands, TX
Tel: 832- 513-1000
Web: www.CBIepc.com
Self-cleaning water filter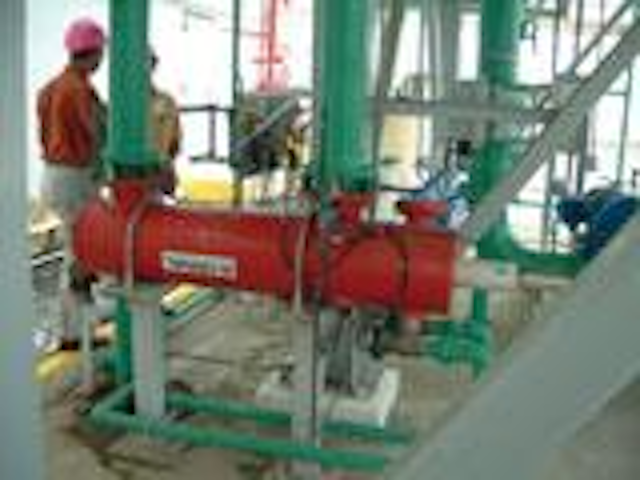 Click here to enlarge image
Orival Filters protect heat exchangers and prevent clogging of nozzles, tubes and other narrow passages by removing dirt particles down to micron size, of any specific gravity, from once-through and recirculating cooling water systems. Line pressure powered, the filter cleans itself without external power, and does not interrupt system flow. Available flows range from 10 to 10000 gpm.
Orival Inc.
Englewood, NJ
Tel: 800-567-9767
Web: www.orival.com
Bag filtration housings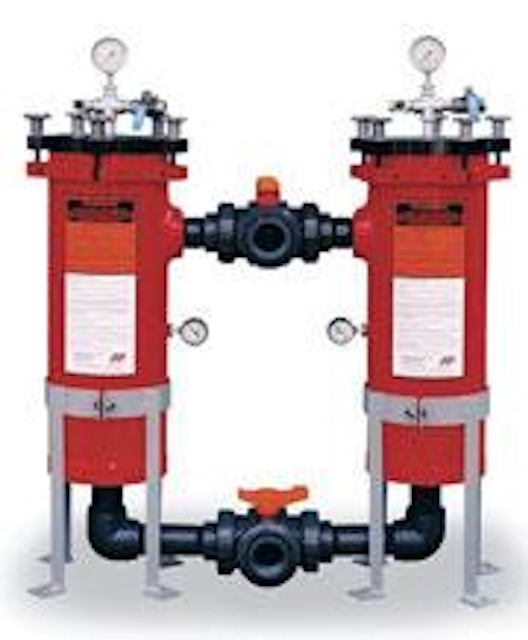 Click here to enlarge image
Freedom Plastics' thermoplastic bag filtration housings are a non-corrosive alternative for side stream filtration and in-plant process cooling applications. Non-corrosive features include a seamless plastic body and filter basket manufactured from PVC, CPVC or polypropylene material, Viton O-ring seals, and PVC powder coated leg stand. The unique design of the Snap-fit™ retaining basket holds standard sewn and welded 7" diameter #01 (16") and #02 (32") filter bags. The housings are rated for 100-psi maximum operating pressure at ambient temperatures. The filter housings can be duplexed or multiplexed for systems requiring continuous operation.
Freedom Plastics Inc.
Janesville, WI
Tel: 800-356-9432
Web: www.freedomplastics.com
Peristaltic metering pump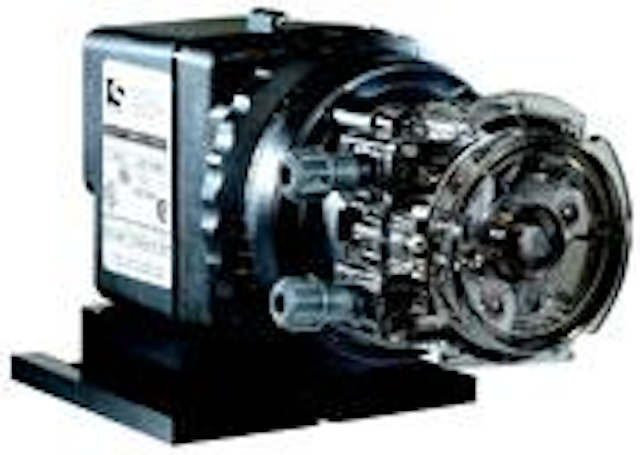 Click here to enlarge image
Stenner, a manufacturer of self-priming peristaltic metering pumps, features the Classic Series capable of 1.66 gph at 100 psi and 3.5 gph at 25 psi. The series is designed to meter water treatment solutions such as inhibitors and biocides for corrosion control and organic treatment of cooling towers. The pumps normally work in conjunction with water treatment controls, which activate the pumps from controllers that monitor the water chemistry. The series is adjustable from 5-100% for precision chemical injection and range. Benefits include self-priming up to 25 feet.
G.H. Stenner & Co., Inc.
Jacksonville, FL
Tel: 800-683-2378
Web: www.stenner.com
Pressure transducers
The KPSI 700 Series of submersible pressure transducers from Pressure Systems, Inc. (PSI) is now available with pressure down to ranges of 5 feet of water column full scale. The transducers are ideal for the hostile environments encountered in liquid level measurement and control, such as sump level, surface water monitoring, cooling towers, evaporation pans and weir level. The family of submersible level transducers is available in a choice of static accuracies from ±0.05% to ±1% F.S. These transducers are approved to FM, CSA and UL for Class I, Division 1, Groups A, B, C and D; Class II, Division 1, Groups E, F and G; and Class III, Division 1 hazardous locations, and also meet CE approval according to EN-50081-2 and EN-50082-2.
Pressure Systems, Inc.
Hampton, VA
Tel: 800-678-7226
Web: www.pressuresystems.com
Oil/water separators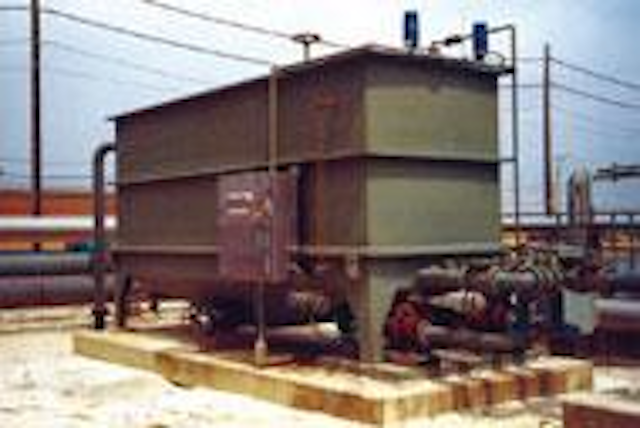 Click here to enlarge image
Hudson Industries designs and builds small to large volume atmospheric and pressurized coalescing oil/water separators for the treatment of low volume cooling and condensate water streams from power generation facilities. Using a unique coalescing material, the separators reduce free oil content to as low as 10 mg/l and can handle operating temperatures to 200°F and operating pressures to 350 psi. A wide range of options such as feed pumps and controls are available, as are materials of construction.
Hudson Industries
Akron, OH
Tel: 800-487-9668
Web: www.hudsonind.com
Collector wells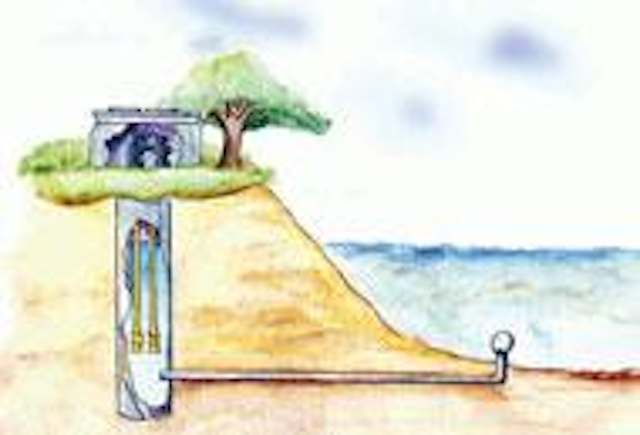 Click here to enlarge image
Collector Wells International develops water supplies from groundwater, surface water and infiltrated sources. The company constructs radial collector wells, infiltration galleries, recharge wells, outfalls, seawater collectors, surface water intakes and high capacity wells to develop cooling water for power plants. Its worldwide services include hydrogeologic investigations and design support. Intake yields per unit run from 1000 to over 100,000 gpm, with low screen entrance velocities to minimize screen plugging and impingement. The systems offer flood protection, simple operation and no dewatering, trenching or cofferdams are required.
Collector Wells International, Inc.
Columbus OH
Tel: 614-888-6263
Web: www.collectorwellsint.com