NEW LITERATURE
SOR, Inc. has released version 1.1 of its product catalog on CD-ROM. The CD includes product brochures, i/o manuals, dimensional drawings, unit conversion calculator and a direct link to the company's corporate website.
May 1st, 2004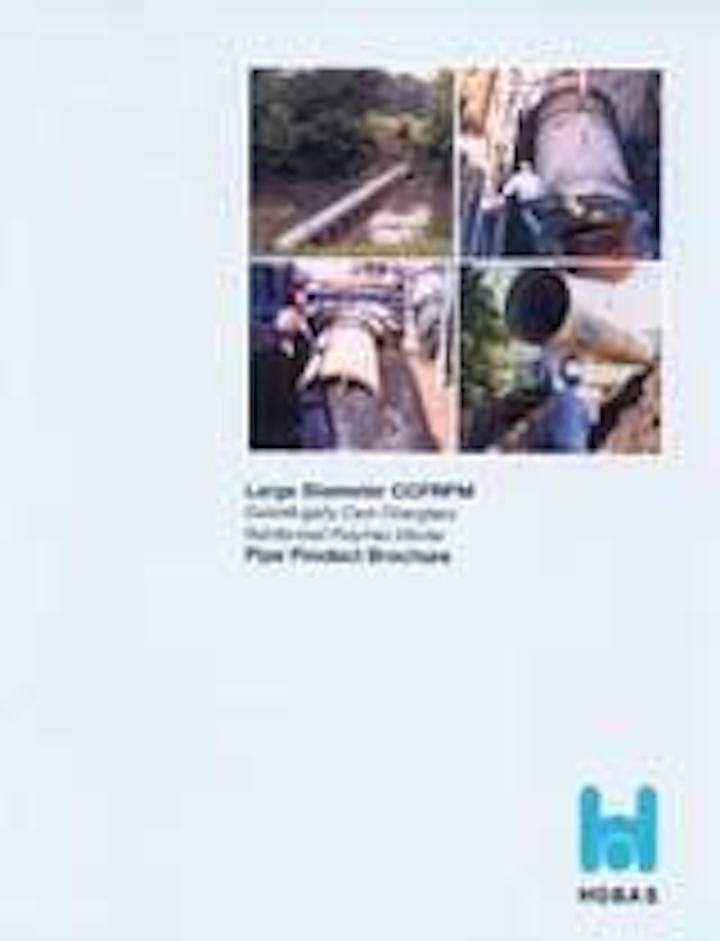 Instrumentation
SOR, Inc. has released version 1.1 of its product catalog on CD-ROM. The CD includes product brochures, i/o manuals, dimensional drawings, unit conversion calculator and a direct link to the company's corporate website. The company offers a line of pressure, temperature, level, and flow instrumentation for a wide variety of industries and applications.
SOR, Inc.
Lenexa, KS
Tel: 800-676-6794
Web: www.sorinc.com
Pipe products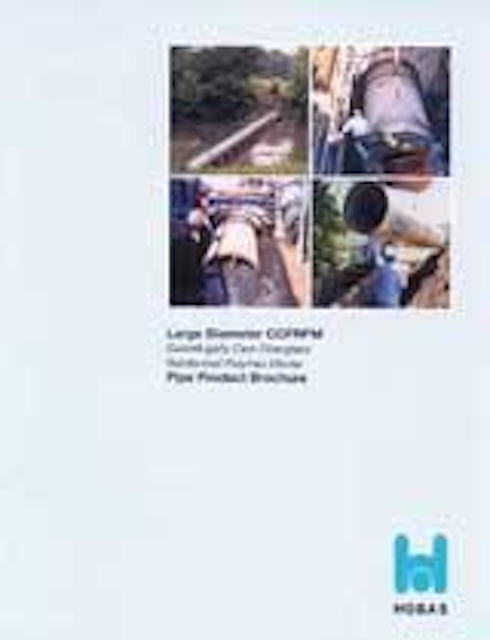 Click here to enlarge image
Hobas Pipe USA has issued an updated 70-page product brochure covering its centrifugally cast, fiberglass-reinforced, polymer mortar pipe. It includes complete information on sizes, stiffness and pressure classes, capabilities, hydraulic characteristics and couplings. The pipe provides inherent corrosion resistance, superior hydraulic characteristics and a long, maintenance-free life.
Hobas Pipe USA
Houston, TX
Tel: 800-856-7473
Web: www.hobaspipe.com
Automation systems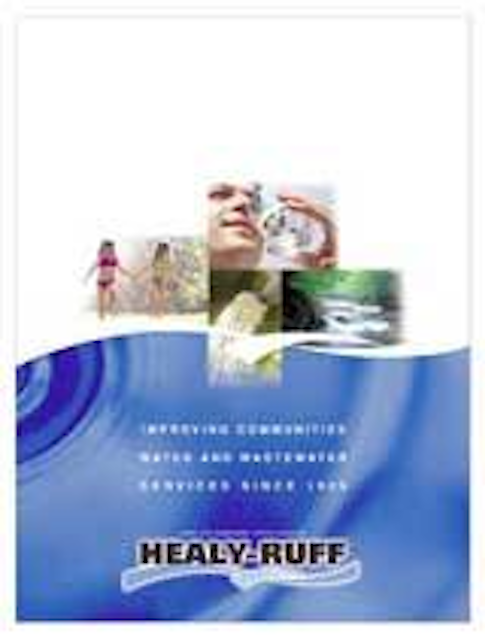 Click here to enlarge image
A new brochure describes products and services offered by Healy-Ruff. Control solutions discussed in detail include the company's Pumpak control panels, V-Pac family of telemetry controls, Systemanager SCADA software, professional services and WorkSite Web-based system monitoring. The brochure includes client testimonials.
Healy-Ruff
St. Paul, MN
Tel: 651-633-7522
Web: www.healyruff.com
Biosolids handling, storage
USFilter Asdor Products has recently published new literature detailing its capabilities for handling and storing dewatered biosolids titled, "Asdor Dewatered Biosolids Truck-Loading System Solutions." Using a systems' approach, the company can provide a number of different solutions for dewatered biosolids handling, storage and truck-loading requirements.
USFilter
Schaumburg, IL
Tel: 847-706-6947
Web: www.usfilter.com
Wastewater retrofits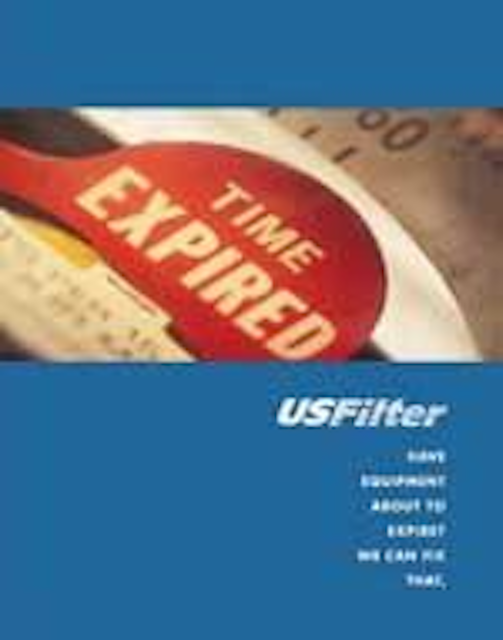 Click here to enlarge image
The Davco Products division of USFilter has a new brochure illustrating its retrofit and reconditioning capabilities. The tri-fold brochure incorporates both graphics and text to present alternatives to industrial customers for their older, inefficient treatment equipment. The company can refurbish existing equipment to include technology upgrades, capacity upgrades, or changing out older biological processes. Whether problem equipment resides in headworks, clarification, biological, aeration, filtration, sludge handling, or the overall complete system, Davco Products has options available to save the customer both time and money.
USFilter Davco Products
Thomasville, GA
Tel: 800-841-1550
Web: www.usfilter.com
Automated measurement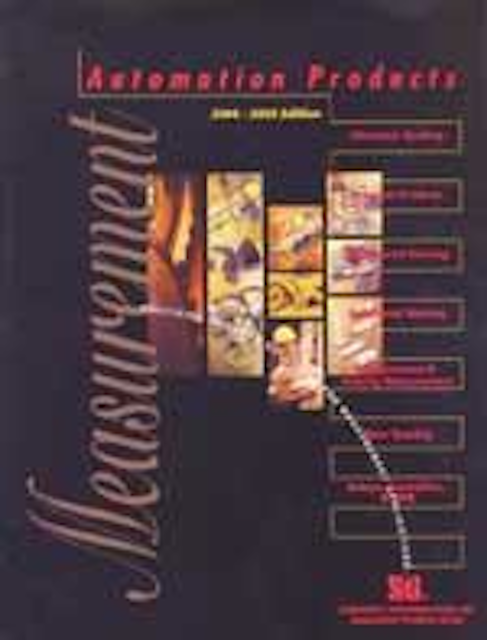 Click here to enlarge image
Scientific Technologies has published its 2004-2005 Selection Guide to Measurement Automation Products. Featured technologies include ultrasonic sensors, pressure products, liquid level sensors, solid level sensors, displacement and velocity transducers/ transmitters, flow sensors, as well as data loggers, relays, controllers and man-machine interface (MMI) products. Each product category includes a selection guide, and clearly details product features, options, application examples, specifications, schematic/system drawings, dimensions and ordering information.
Scientific Technologies Inc., Automation Products Group
Logan UT
Tel: 888-349-7098
Web: www.stiapg.com
Water reuse
A new brochure highlighting USFilter's PowerMax™ Series equipment is now available. The 12-page brochure describes the series' features and benefits, and illustrates the various pre-treatment, demineralization and condensate polishing technologies available for these customized systems. Tables for each technology offer guidelines on choosing the best one for specific applications and water quality requirements. Designed specifically for the power industry, the equipment converts influent surface, well or gray water into high-quality water suitable for boiler feedwater, NoX control, turbine fogging, cooling tower makeup and steam condensate polishing.
USFilter
Lowell, MA
Tel: 978-614-7198
Web: www.usfilter.com
Process medium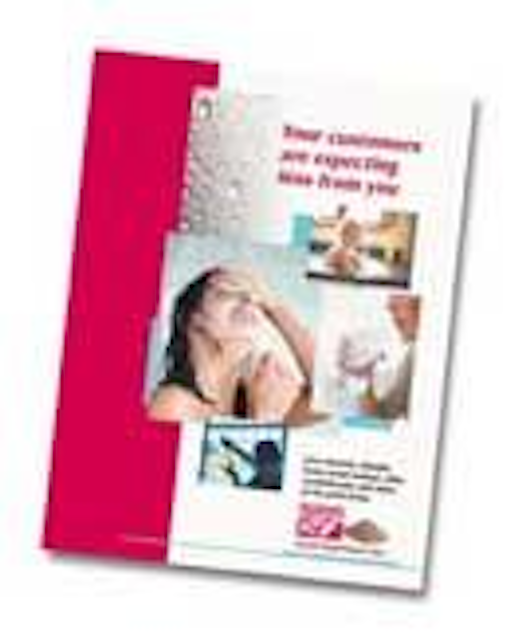 Click here to enlarge image
KDF Fluid Treatment offers a new full color brochure featuring its KDF® 55 Process Medium. As the literature describes, the medium provides an effective means of removing contaminants in water at the point-of-use. The brochure includes charts, graphs and illustrations detailing the effectiveness of the medium as well as color photos depicting some of its numerous applications. The medium is a high-purity formulation of copper-zinc alloy that reduces contaminants such as chlorine, bacteria, heavy metals and scale using a chemical process called redox, or oxidation-reduction.
KDF Fluid Treatment, Inc.
Three Rivers, MI
Tel: 800-437-2745
Web: www.kdfft.com
Electric valve actuators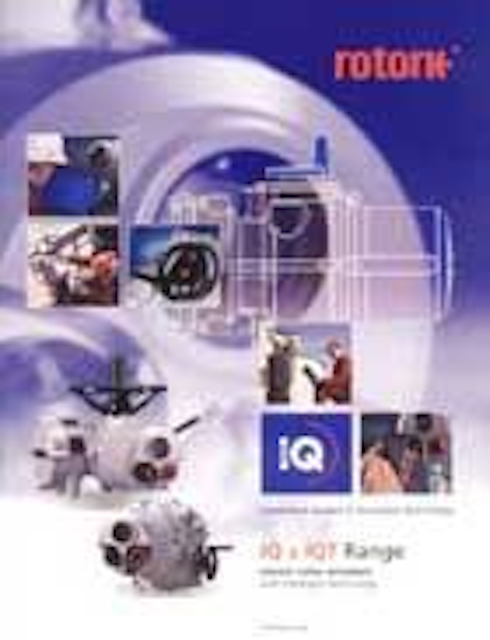 Click here to enlarge image
A new, 32-page, full-color brochure features an in-depth overview of the features, specifications, and benefits of Rotork IQ and IQT electric valve actuators. The IQ range of actuators is designed for multi-turn applications, while the IQT range provides quarter-turn operation. Both actuators are double-sealed to achieve a watertight enclosure and are non-intrusive. Users can configure and set the actuators without removing their covers by using an intrinsically safe, point-and-shoot hand-setting tool, which is supplied with the actuators.
Rotork Controls, Inc.
Rochester, NY
Tel: 585-328-1550
Web: www.rotork.com
Data loggers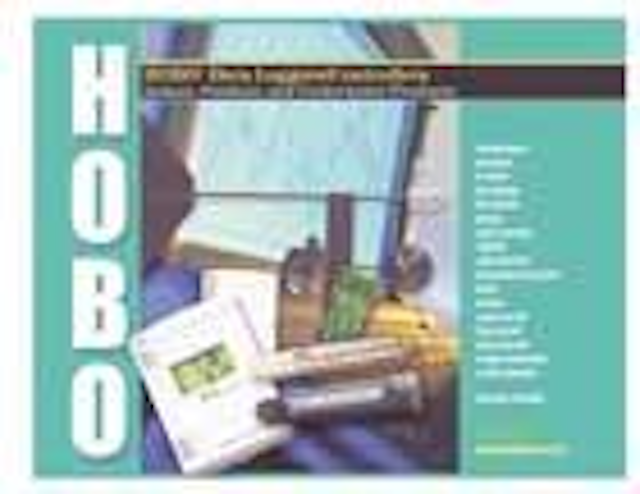 Click here to enlarge image
Onset, a provider of battery-powered data loggers and weather stations, has published 2004 product catalog. The catalog offers detailed product descriptions, specifications, and prices for its line of HOBO®/Stowaway® data loggers, weather stations, and Tattletale® logger-controller products. The catalog also features a graphically illustrated product selection guide, and expanded product information for HOBO Weather Station products.
Onset Computer Corp.
Bourne, MA
Tel: 800-564-4377
Web: www.onsetcomp.com/hobo
Valve actuators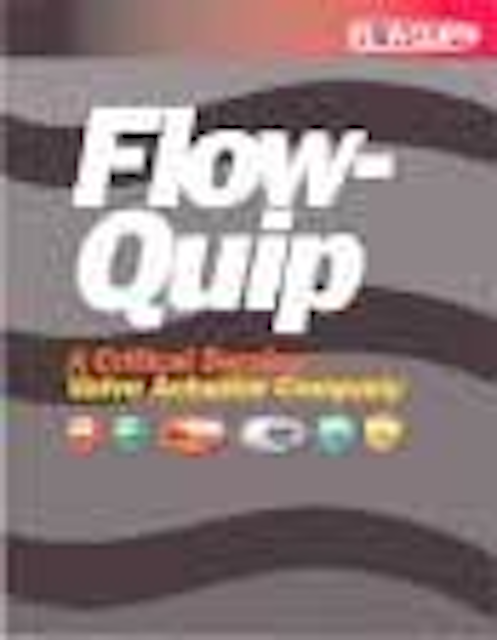 Click here to enlarge image
Flow-Quip has published a new eight page, four-color general brochure on its line of fail-safe and modulating actuators for valves. The brochure discusses the company's rotary actuators, linear actuators, solar powered actuators and hydraulic power units. The actuators are used in critical service for the protection of plants, pipelines, platforms, material storage terminals and underground storage caverns and the hydraulic power units provide an economical and reliable way to power groups of valves from one central power supply.
Flow-Quip, Inc.
Tulsa, OK
Tel: 918-663-3313
Web: www.flowquip.com
Fluid control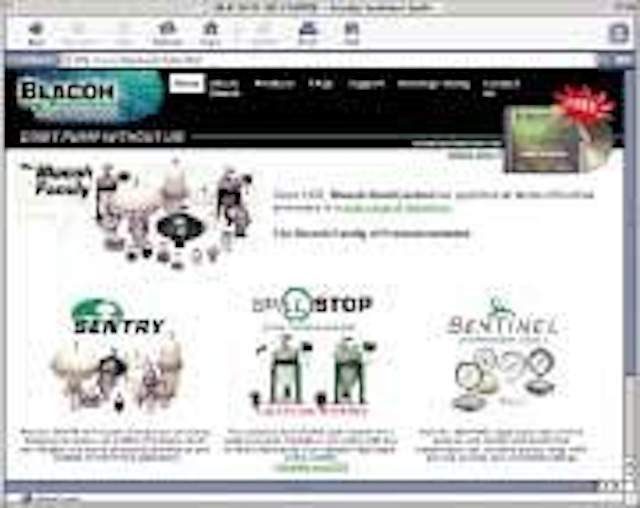 Click here to enlarge image
Blacoh Fluid Control has upgraded its website. While the site will continue to focus on its family of products, including the Sentry® Pulsation Dampeners, Sentinel® Diaphragm Seals, and Spill-STOP® Leak Containment Systems - the new and improved site now offers an ROI calculator specific to the patented Blacoh Spill-Stop Leak Containment system.
Blacoh Fluid Control
Riverside, CA
Tel: 909-342-3100
Web: www.blacoh.com