NEW PRODUCTS
Membrana has introduced a new 14 x 28 Liqui-Cel® Membrane Contactor to its product family. This is the largest integrally potted Membrane Contactor available today for removing dissolved gasses from a variety of liquids.
May 1st, 2004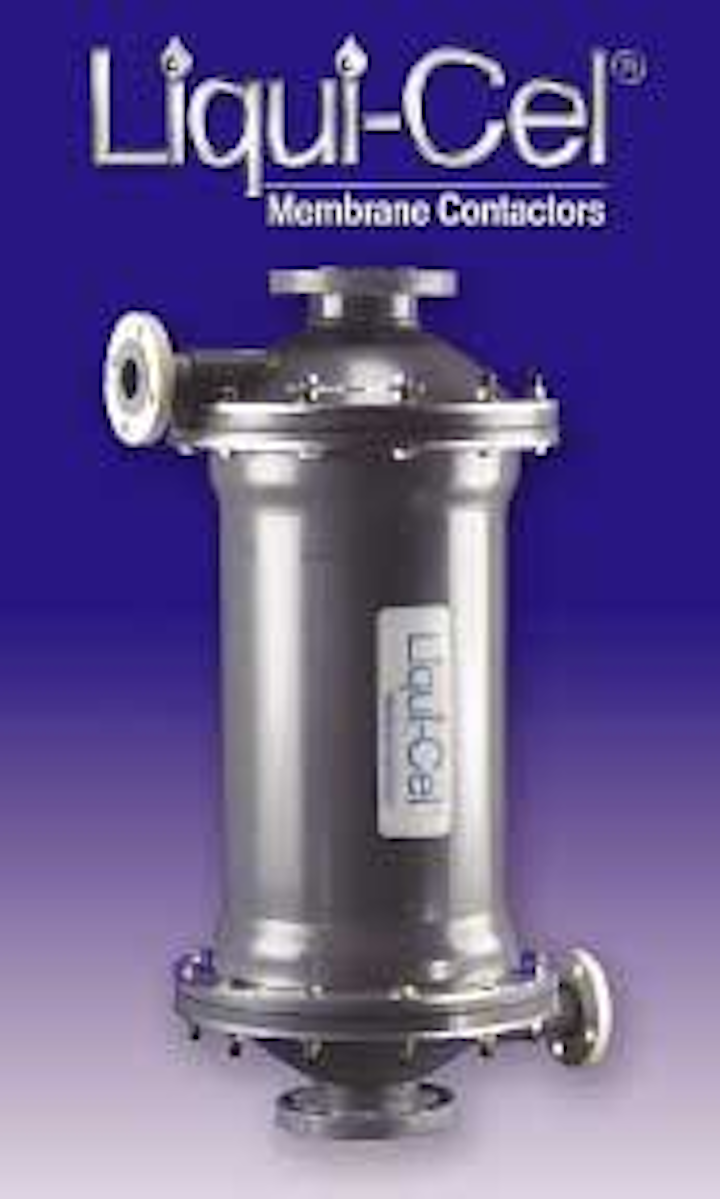 Membrane contactor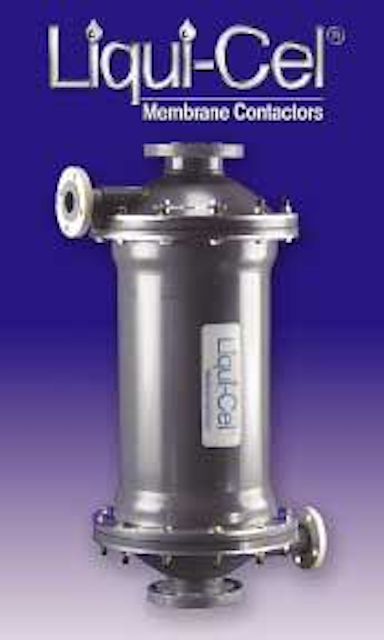 Click here to enlarge image
Membrana has introduced a new 14 x 28 Liqui-Cel® Membrane Contactor to its product family. This is the largest integrally potted Membrane Contactor available today for removing dissolved gasses from a variety of liquids. It contains 2370 ft2 or 60% more membrane area than the current 10 x 28 Liqui-Cel Membrane Contactor and it is more cost effective in higher liquid flow rate applications. The contactor is currently being bid and selected for systems with flow rates as large as 8806 gpm.
Membrana, a Div. of Celgard, Inc.
Charlotte, NC 28273
Tel: 704-587-8406
Web: www.membrana.com
Pressure gauge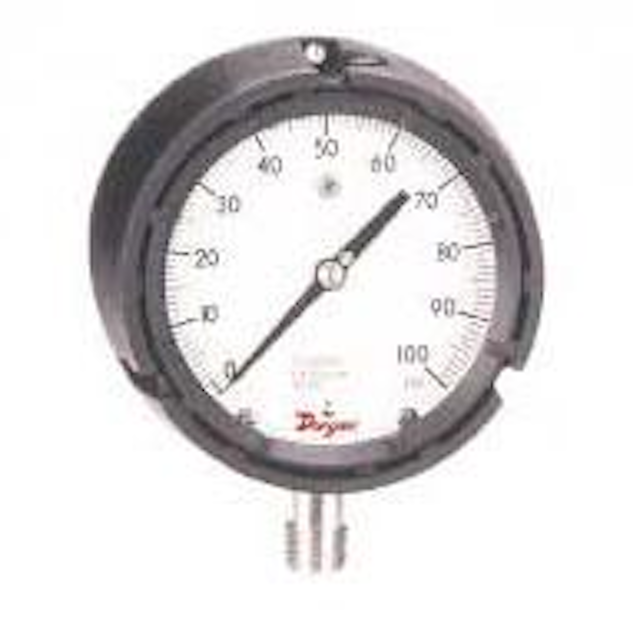 Click here to enlarge image
Dwyer Instruments has released the Series 760 Pressure Gauge. The liquid filled gauges are designed to perform in applications where vibration, pulsation, mechanical shock and pressure spikes are common. They feature a stainless steel tube and socket for greater chemical compatibility. The units feature glycerin fill and a micrometer adjustable pointer.
Dwyer Instruments Inc.
Michigan City, IN
Tel: 219-879-8000
Web: www.dwyer-inst.com
Bioreclamation RTU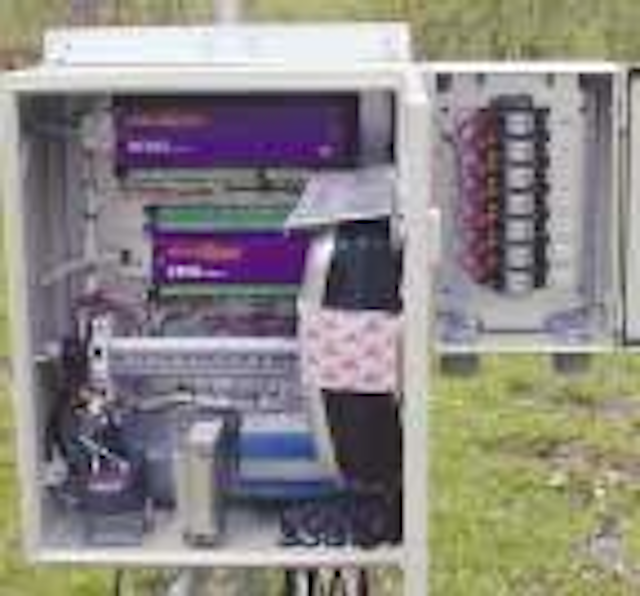 Click here to enlarge image
The JS-400 Series Bioreclamation RTU, available from J&S Instruments, is a turnkey package engineered for use on bioreclamation piles. The RTU monitors and logs data from insitu sensors for oxygen, temperature, moisture and optional meteorological parameters. The NEMA4 enclosure contains the RTU's components including a multi-channel data logger, power supply, battery backup and surge protection. It is designed for use with 120 vAC primary power and has a solar power option.
J&S Instruments, Inc.
Springfield, OH
Tel: 888-564-3282
Web: www.jsinstruments.com
TOC analyzers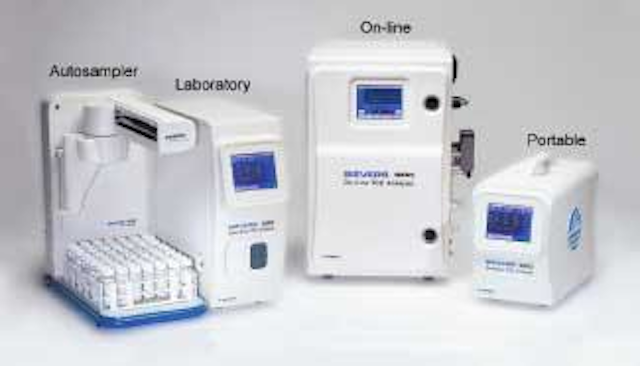 Click here to enlarge image
Ionics Instrument Business Group has released its new Sievers® 900 Series Total Organic Carbon (TOC) Analyzers. The new, three-model series includes the 900 Laboratory, 900 On-Line, and 900 Portable TOC Analyzers, offering improved analytical performance, ease of use, productivity, and reliability. Also introduced was the optional 900 Autosampler. The new analyzers are an advancement over the company's Sievers 800 TOC Analyzers. Key enhancements include improved precision and accuracy across an extended 0.03 to 50,000 ppb dynamic range; 4-minute analysis time; automated calibration, verification, and reagent adjustment routines; a smaller instrument casing; a touch screen display for quick access to real-time or trend data, and a USB port for data transfer.
Ionics Instrument Business Group
Boulder, CO
Tel: 800-255-6964
Web: www.ionicsinstruments.com
Machining Fluid recycling
SMC Corp. has released the Series FN1 Filter designed for machine tool and general machinery industries. With a patented element design and back-flush feature, the filter generates no industrial waste, as there are no replaceable filter elements. The filter element is constructed of a series of grooved filter plates and wave washers placed one above the other and compressed by a compact cylinder on the top of the filter. When the element is compressed, foreign matter in the fluid is trapped in between the plates and washers. Decompressing the element allows the foreign matter to be back-flushed and washed away for collection.
SMC Corp. of America
Tustin, CA
Tel: 714-669-0941
Web: www.smcusa.com
Phosphate analyzer
Click here to enlarge image
Hach's Series 5000 High Range Phosphate Analyzer is used in applications involving boiler and cooling water, and other processes where phosphate-containing additives are used to treat industrial water. The analyzer's pump-free operation delivers reagents with minimal maintenance. The device can operate for 30 days with the automatic calibration feature. An accessible grab-sample cell allows accuracy checks at any time, while the self-diagnostics features continuously monitor operation.
Hach Co.
Loveland, CO
Tel: 800-227-4224
Web: www.hach.com
Paperless recorder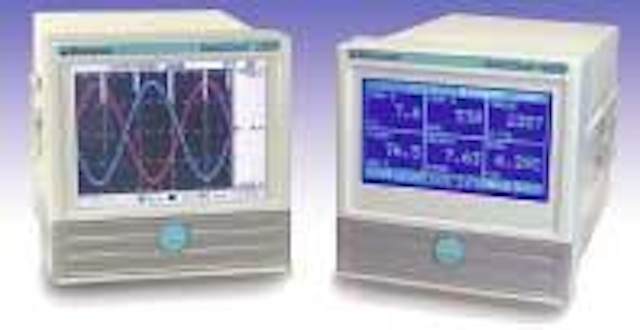 Click here to enlarge image
The Data-Chart® 2000 Paperless Recorder from Monarch has a 5.6" Active Matrix color LCD display that enhances review of information. Touchscreen control provides for setup, recorder functions, and data review on-site. Universal, isolated 2, 4, 6 or 12 channel input modules measure a wide range of DC voltage, DC current, RTDs and thermocouples with 0.05% voltage accuracy and high resolution. Data is stored in an internal 2 MB RAM buffer and on either a 3.5'' 1.44 MB floppy disk or a CompactFlash™ memory card up to 512 MB. The design offers a IP65 rated front bezel.
Monarch Instrument
Amherst, NH
Tel: 800-999-3390
Web: www.monarchinstrument.com
Fast cure polyurethane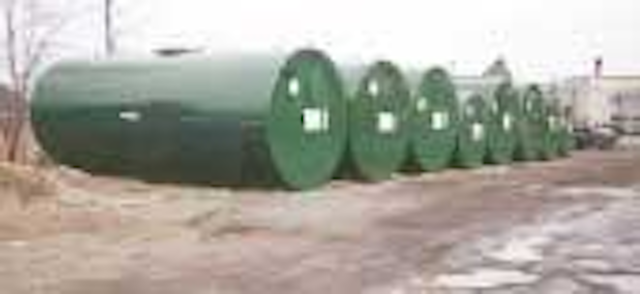 Click here to enlarge image
Chemline has announced the development of a new solvent-free, two component polyurethane coating that is applied directly to prepared steel, ductile iron or concrete to provide corrosion protection for the substrate. Chemthane 2260™ is a 100 percent solids (Zero VOC), fast-cure polyurethane that can achieve high film build in a single coat multi-pass application. Primers are generally not required for application of this product.
Chemline Inc.
St. Louis, MO
Tel: 314-664-2230
Web: www.chemline.net
Germicidal lamps
USHIO Germicidal lamps are Low-Pressure Mercury-Arc lamps that emit radiation peaking at 253.7nm (UV-C). This output at 253.7nm is effective to inactivate microorganisms such as bacteria, virus, yeast and mold. Designed by experienced engineers, and by using quality material in combination with a tightly controlled manufacturing process, the company provides lamps free of impurities to maintain strong and stable output throughout life of the lamp. The lamps are manufactured at an ISO 9001 certified facility.
USHIO America, Inc.
Tel: 800-838-7446
Web: www.ushio.com
Self-cleaning filters
Orival offers automatic self cleaning water filters that are powered by line pressure. The filters remove particles down to 10 microns and are independent of specific gravity. They don't interrupt system flow during the backwash cycle.
Orival, Inc.
Englewood, NJ
Tel: 800-567-9767
Web: www.orival.com
Powder-liquid mixer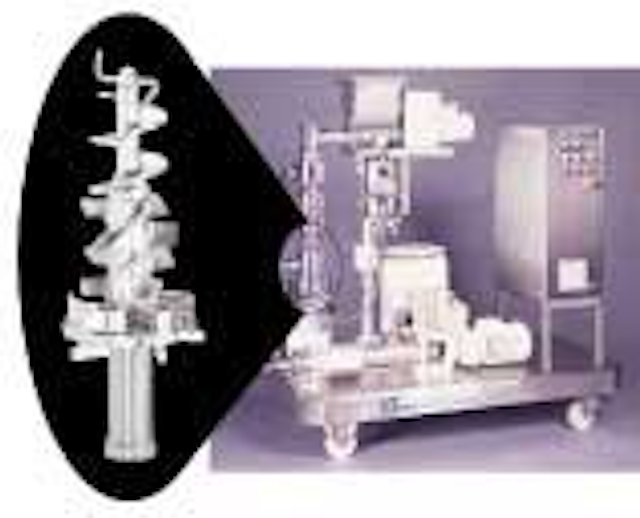 Click here to enlarge image
IKA Works' MHD provides single-step incorporation and dispersing of solids into liquids with a patented design that eliminates excess aeration. The MHD can be combined with a solids feeder, bulk bag unloader, and other equipment to create a complete turnkey system for continuous processing. The mixer can process solids concentrations up to 90 percent as well as extremely viscous liquids. By mixing liquids and powders into a homogeneous product in one, dust-free process, the mixers can reduce capital and operating costs by eliminating the need for tanks and other auxiliary equipment. The mixers accommodate a variety of interchangeable mixing tools allowing them to be optimized according to the application. Available in six sizes, the mixers offer powder feed rates up to 25,000 pounds per hour, and nominal liquid flow rates as high as 175 gpm. Adding pumps and feeding devices pushes feed rates even higher.
IKA Works
Wilmington, NC
Tel: 800-733-3037
Web: www.ikausa.com
Flowmeters
Dwyer Instruments has announced the release of the Series FS Flowmeter with Flow Limit Switch. The industrial, direct-reading flowmeters offer visual flow rate indication in GPM or LPM. The unit includes an adjustable, latching flow alarm to open or close AC electrical circuits, trigger warning lights, or activate other process control equipment. Operating within +/- 5% of full scale accuracy, the meters can be installed vertically or horizontally without installing any special plumbing. The flowmeter is constructed of high-impact-resistant polysulfone for compatibility with a wide range of fluids. Models are available with 3/4" or 1" male NPT connections.
Dwyer Instruments, Inc.
Michigan City, IN
Tel: 219-879-8000
Web: www.dwyer-inst.com
Static injection mixer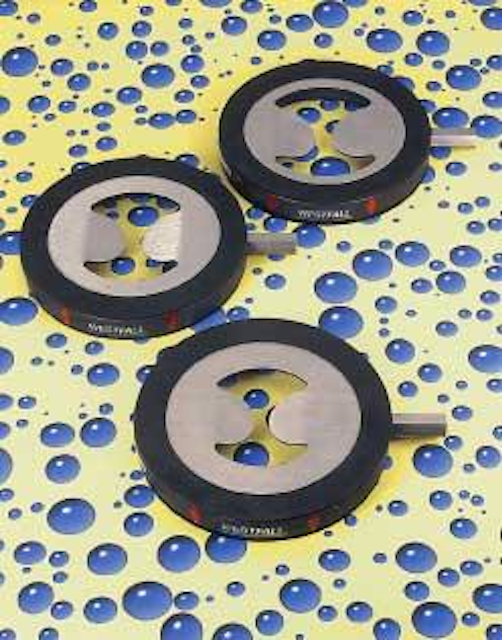 Click here to enlarge image
The Westfall Static Injection Mixer features a shaped orifice which can be sized to achieve a Beta Ratio (size of opening to pipe ID) that exactly matches the user's mixing and flow rate requirements. The mixer is a fixed plate that installs in-line and into which one ore more fluids are injected and mixed by a combination of alternate vortex shedding and shear zone turbulence. Beta ratios from 0.7 to 0.9 can be specified to achieve the required head loss at the designed flow rate. The mixers can accommodate flow rates ranging from <1.0 to >12 feet per second. They are available in sizes ranging from 2'' to 72'' in diameter.
Westfall Manufacturing Co.
Bristol, RI
Tel: 888-928-3747
Web: www.westfallmfg.com
Heat recovery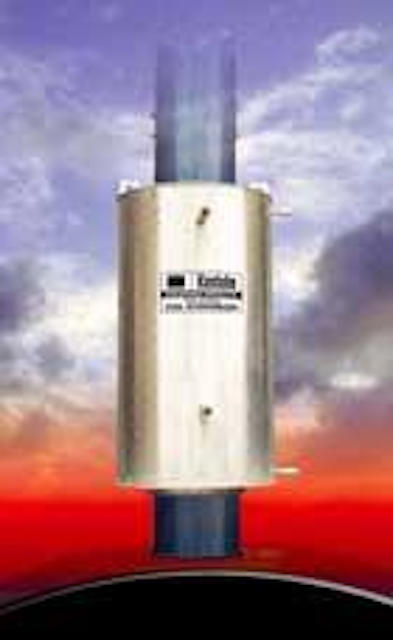 Click here to enlarge image
The X-ID® Firetube Economizer, available from Kentube, a lightweight heat recovery system specifically for smaller firetube boiler applications. The system features internally ribbed tubing which improves efficiency. Because the flue gases stay inside the tubes, the system can handle boiler load changes and eliminates the need for expensive flue gas bypasses. And because of its cylindrical design, it adapts to the boiler opening or stack, thus eliminating costly transitions. Because of its light weight, the system may be installed directly on the outlet of the boiler. Systems range in size from 40 hp to 400 hp.
Kentube Technologies
Tulsa, OK
Tel: 918-446-4561
Web: www.kentube.com
Scale control
Scale Free International has introduced the patented "Scale Defender" and "Tower Defender" systems. The products eliminate the need for chemicals in boilers, cooling towers, chillers and heat exchangers. Patented microprocessor controls alter the positive nature of process water to a negative or neutral state eliminating scale formation and addressing microbial concerns without the use of magnets.
Scale Free International, LLC
Fenton, MO
Tel: 636-305-0696
Web: www.scalefreeintl.com
Two-Wire transmitter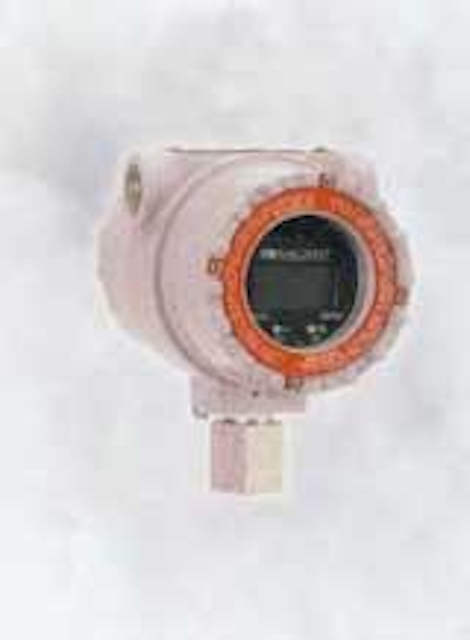 Click here to enlarge image
Aaliant offers the Model 2000 smart, Hart® compatible, two-wire 4-20 mA signal transmitter for use with its Strain Gage Target flowmeters. The transmitter's analog output can be proportional to flow rate or proportional to flow rate squared. It can be integrally mounted or remote-mounted up to 250 feet away.
Aaliant
Spartanburg, SC
Tel: 800-778-9251
Web: www.aaliant.com
Trace metals analysis
Agilent Technologies has introduced the Agilent 7500ce inductively coupled plasma mass spectrometer (ICP-MS) system for trace-metals analysis in environmental applications. The new system is up to five times more sensitive than its predecessor, providing low parts per trillion (ppt) detection in a wide range of difficult samples, from wastewater to foods to biological specimens. It is designed to meet the strictest U.S. Environmental Protection Agency and worldwide regulatory requirements.
Agilent Technologies Inc.
Palo Alto, CA
Tel: 877-424-4536
Web: www.agilent.com
Lab system interface
Labtronics Inc. has introduced a new LimsLinkCDS interface that simplifies the creation of a secure, bi-directional connection between Chromeleon Chromatography Management Systems and any LIMS. Configuration of the LimsLinkCDS - Chromeleon interface is completed using drop-down menus and check-boxes that use Chromeleon terminology. Each analyst or group of analysts can set up and store their own interfacing configurations. The interface queries the LIMS for worklists of samples to be run.
Labtronics Inc.
Guelph, ON Canada
Tel: 519-767-1061
Web: www.labtronics.com
Ultrasonic flowmeters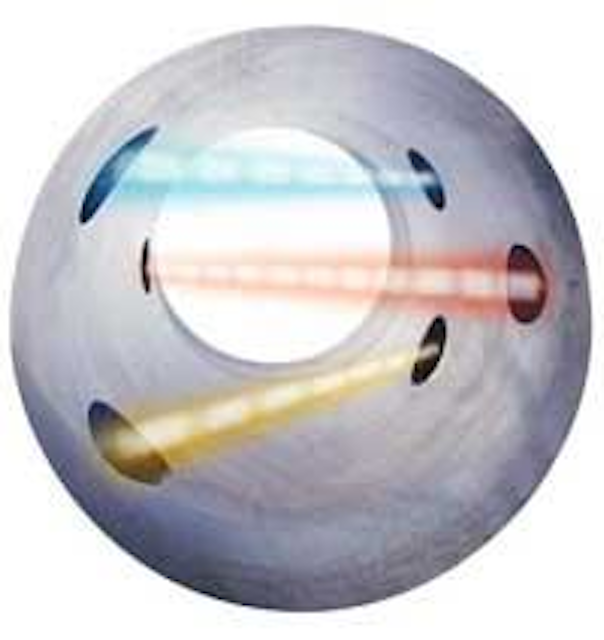 Click here to enlarge image
Krohne has introduced its UFM 3030 ultrasonic flowmeters, a new generation of 3-beam inline liquid ultrasonic flowmeters. The flowmeters' Digital Signal Processing improves accuracy, reliability and repeatability of the flow measurement. The flowmeters work independently of fluid conductivity and withstand high pressure, making them ideal for boiler feedwater application. The meters overcome the price and performance barriers previously preventing wide-scale use of ultrasonics and are more cost effective than a traditional magmeter for tube diameters greater than 8''.
Krohne Inc.
Peabody, MA
Tel: 800-356-9464
Web: www.krohne.com
Motor controllers
A new line of Allen-Bradley® ArmorStart™ distributed motor controllers from Rockwell Automation incorporates an Allen-Bradley PowerFlex® sensorless vector drive, giving OEMs and system-level users precise speed and torque control to meet a wide range of applications. Designed for applications requiring tight speed control, the controllers are ideally suited for On-Machine™ solutions as they require no additional enclosures and feature a modular, plug-and-play design.
Rockwell Automation
Milwaukee, WI
Tel: 800-223-5354
Web: www.rockwell.com
Steam trap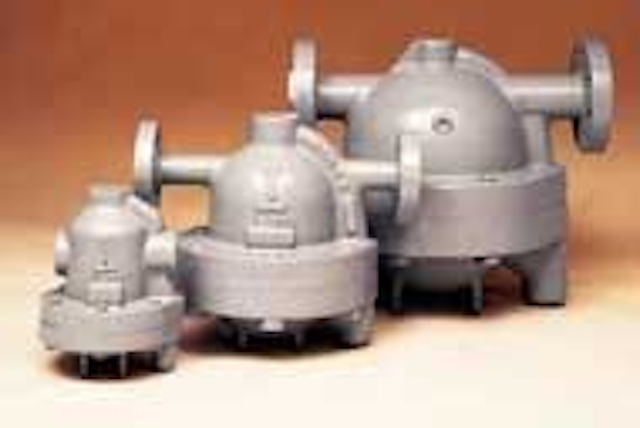 Click here to enlarge image
Nicholson Steam Trap now offers its NFT Series Free Float Steam Traps for use on process equipment such as heat exchanger and reboilers, as well as steam lines, steam cookers, steam heated vats and a host of petrochemical applications. Available in sizes 1/2'' through 2'', with flanged, screwed or socketweld end connections, for pressures to 650 PSIG and temperatures to 750 degrees F, the steam traps are ideal for both low and super high capacity applications. They perform equally well at both low (less than 20 PSIG) and high pressures and come with a 3-year warranty against defects in material and workmanship. Stainless steel internal components protect against erosion and corrosion.
Nicholson Steam Trap
Walden, NY
Tel: 800-210-1300
Web: www.nicholsonsteamtrap.com
Ultrasonic flowmeter
Click here to enlarge image
The Siemens Sono 3301 ultrasonic flowmeter is a battery-driven ultrasonic instrument that eliminates the need for cabling and power back-up systems. Engineered to measure water usage and ensure fair billing, the flowmeter is a cost-effective alternative to mechanical flowmeters for water and irrigation, even in remote regions. It makes real-time measurements every two seconds and has an accuracy of better than ± 1% of actual flow. The replaceable 3.6 volt battery will last for more than eight years, and yet is no bigger than a small flashlight battery.
Siemens Energy & Automation, Inc.
Spring House, PA
Tel: 215-646-7400
Bar screens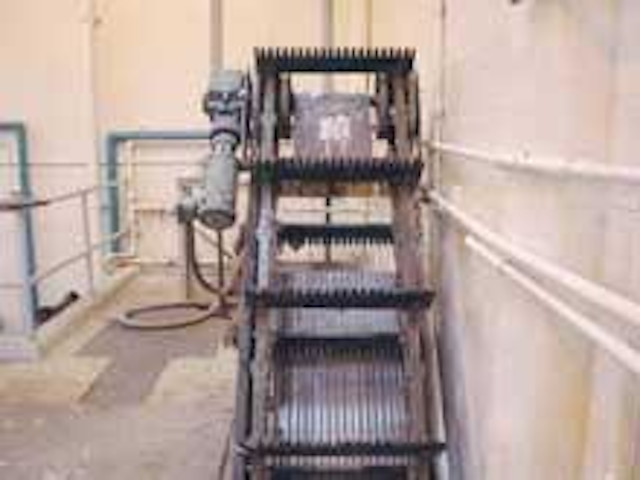 Click here to enlarge image
Duperon has developed the FlexRake™ for customers who wanted an automatic, continuous-cleaning mechanical bar screen product that is flexible, requires no operators and little to no maintenance. The device is designed to "flex" around and remove large debris that can weigh over 1,000 pounds. Additionally, the company's unique FlexLink™ technology has eliminated the need for massive frame installation and extensive onsite engineering.
Duperon Corp.
Saginaw, MI
Tel: 800-383-8479
Web: www.duperon.com
Boiler water testing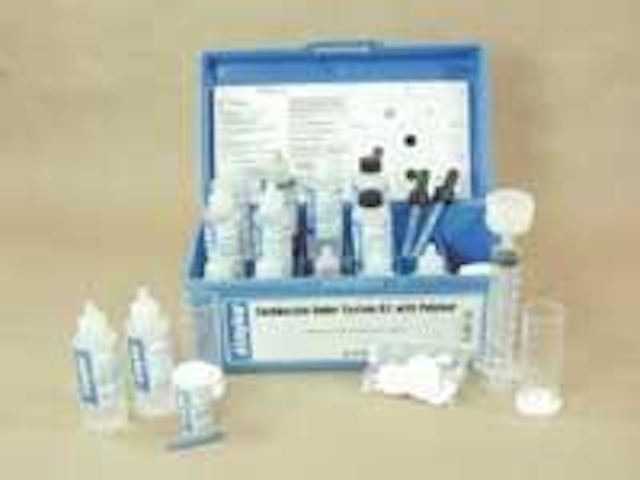 Click here to enlarge image
Taylor Technologies recently added the K-1693 to its line of products for industrial water analysts. The new combination kit features tests in ranges specifically designed for today's high- and low-pressure steam boilers using polymer treatment for scale control and sludge conditioning. The kit allows testing of P/T alkalinity (1 drop = 10 ppm CaCO3), chloride (1 drop = 10 ppm Cl-), total hardness (1 drop = 10 ppm CaCO3), trace hardness (1 drop = 0.5 ppm CaCO3), sulfite (1 drop = 10 ppm Na2SO3), and polymer (0, 2, 5, 7, and 10 ppm free polyacrylic acid).
Taylor Technologies, Inc.
Sparks, MD
Tel: 800-837-8548
Web: www.taylortechnologies.com
Cranes
Click here to enlarge image
eme's all aluminum alloy Gantry Cranes are lightweight, easily moved and assembled by one or two people. They are corrosion resistant and suited for environments found in water and wastewater plants. Weighing just 156 to 300 lbs. (depending upon model) the units can be assembled in remote locations. The hollow beam design allows operators to assemble units from 'the ground up' without the need for any type of rigging equipment. Seven standard models ranging in capacity from 1100 to 4400 lbs. can have beams from 6 to 25 ft. in length. Custom height models are also available.
eme
Fort Erie, ON,
Tel: 888-679-5283
Web: www.easilymovedequipment.com
Ion exchange resins
The ion exchange resin business, a key unit of Dow Liquid Separations, has successfully obtained global ISO 9001:2000 certification, reinforcing Dow's commitment to the ion exchange market. The certification is a significant achievement as it demonstrates the company's integration of an effective quality management system within the ion exchange business. Lloyd's Register Quality Assurance, working on behalf of The International Organization for Standardization (ISO) awarded the certificate for the Midland, MI, resins plant, as well as plants in Italy and Germany.
Dow Chemical Co.
Midland, MI
Tel: 800-447-4369
Web: www.dowex.com