PRODUCTS & SERVICES Valve Systems
Flow-Quip has published a new four page four-color brochure on its manPower™ fail-safe rotary actuators for ball valves, butterfly valves or plug valves.
May 1st, 2004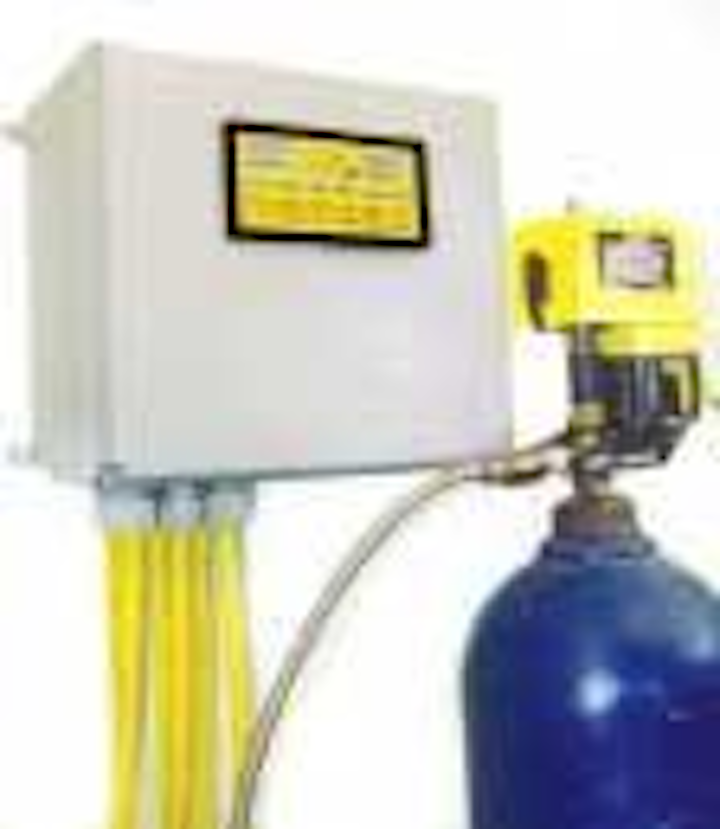 Valve actuators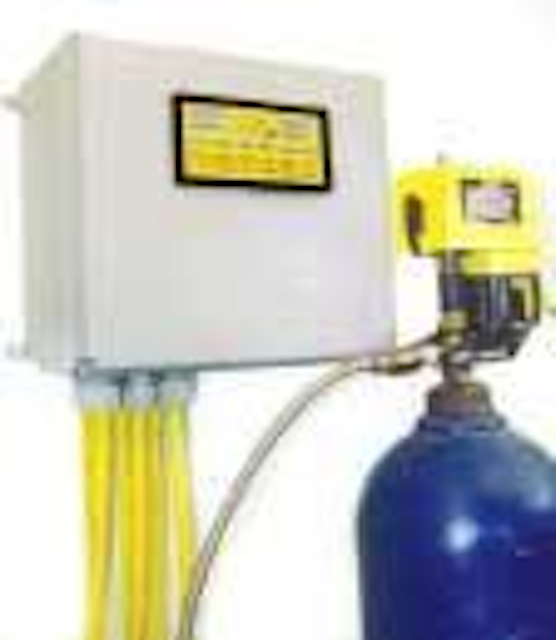 Click here to enlarge image
Flow-Quip has published a new four page four-color brochure on its manPower™ fail-safe rotary actuators for ball valves, butterfly valves or plug valves. The brochure discusses all of the key and optional features as well as typical applications for the actuators. The actuators are used in critical service for the protection of plants, pipelines, platforms, material storage terminals and underground storage caverns.
Flow-Quip, Inc.
Tulsa, OK
Tel: 918-663-3313
Web: www.flowquip.com
Valve actuators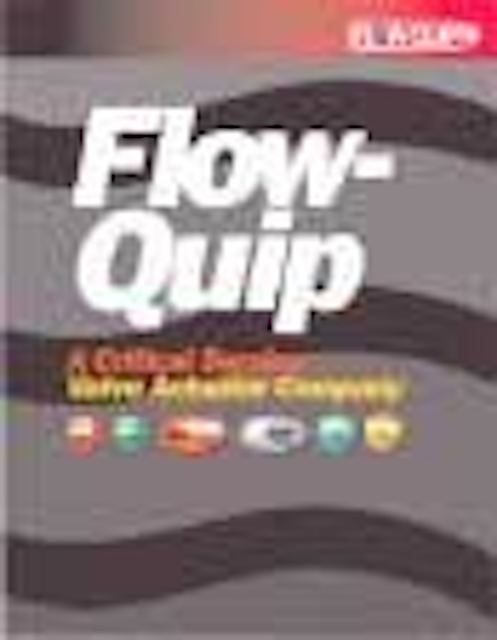 Click here to enlarge image
Halogen Valve Systems' Hexacon control system closes Chlorine and SO2 cylinder and ton container valves in less than one second when activated by leak detectors, earthquake sensors, and local or remote "panic buttons." The controller is a battery operated computer-based system that handles up to six Eclipse Actuators. Operators need not enter a toxic atmosphere to shut off a chlorine leak. All Fire Codes recognize and approve the "automatic-closing fail-safe shutoff valve" system in lieu of a scrubber treatment system.
Halogen Valve Systems
Irvine, CA
Tel: 877-476-4222
Web: www.halogenvalve.com
Knife gate valve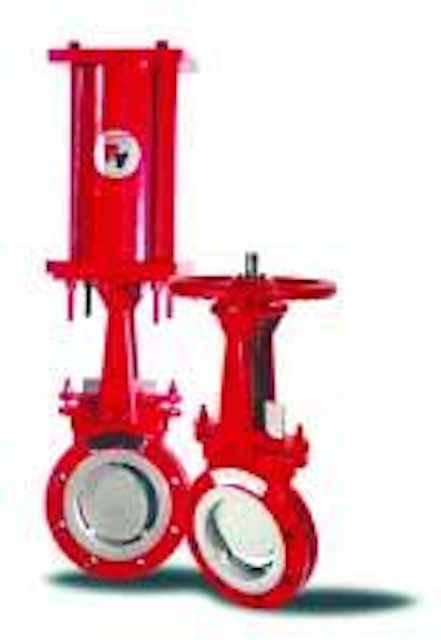 Click here to enlarge image
The Red Valve Series G Knife Gate valve, ideal for isolation applications, is available from stock in most of the popular sizes. The hand-wheel-actuated version typically ships within 24 hours. The pneumatically actuated version typically ships within a week. All wetted parts are stainless steel. Flanges are cast iron. The series has a double-lead ACME thread to reduce operating torque. Chamfered gate edges and an elastomer seal packing gland prevent packing wear.
Red Valve Co. Inc.
Carnegie, PA
Tel: 412-279-0044
Web: www.redvalve.com
Butterfly valve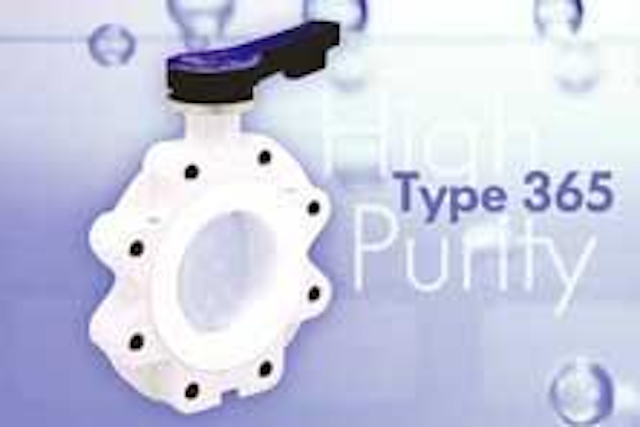 Click here to enlarge image
George Fischer has added the new high purity lug style Type 365 Butterfly Valve to its line of ball, butterfly and diaphragm valves. This new valve, which features a Teflon® PFA (perfluoroalkoxy resin) encapsulated alloy steel disc with Teflon® PTFE liner, is ideally suited for ultrapure water or aggressive corrosive service in semiconductor and chemical processing applications. The valve incorporates a one-piece disc-stem design that provides a leak-free mechanical stem seal.
George Fischer, Inc.
Tustin, CA
Tel: 800-854-4090
Web: www.us.piping.georgefischer.com
Butterfly valves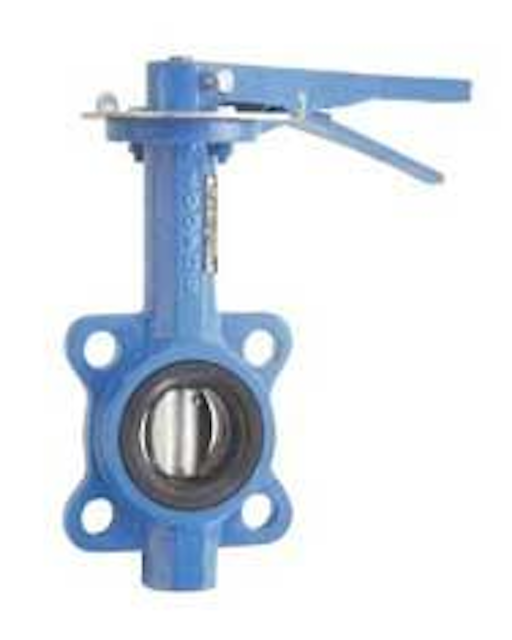 Click here to enlarge image
Spence Strainers International has announced its BFW and BFL Series 125 ANSI Class Cast Butterfly Valve Series. These resilient seated butterfly valves are available in 2" through 60" sizes, with wafer or lug body design and are engineered specifically for HVAC, process and industrial applications, such as liquids, gases or slurries, wherever positive shut-off is required. The valves are constructed with a ductile iron body and stainless steel shaft.
Spence Strainers International
Walden, NY
Tel: 800-398-2493
Web: www.ssiequipment.com
Adjustable chainwheels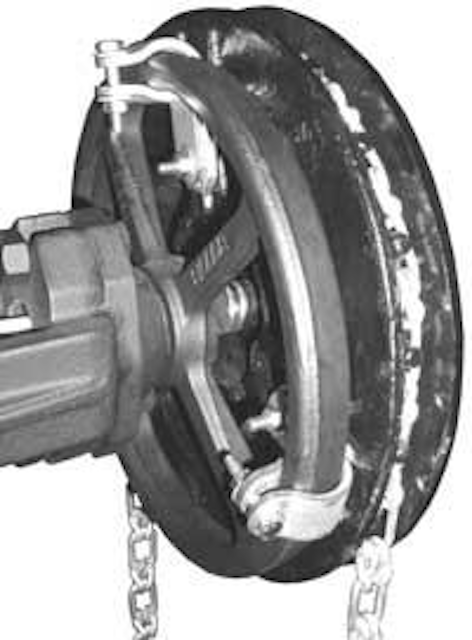 Click here to enlarge image
Ductile Iron Chainwheels from Trumbull Industries allow operation of valves in high, hard-to reach locations by means of a slight pull on the sprocket chain. Universal design allows the chainwheels to be clamped to handwheels, or pinned directly to a valve stem. All chainwheels are furnished with plated steel attachment hardware for clamping to handwheels. When the chainwheel is to be pinned to valve stem, a ductile iron bushing will be provided which can be machined to suit valve stem dimensions.
Trumbull Industries
Youngstown, OH
Tel: 330-799-3333
Web: www.trumbull-mfg.com
Safety relief valves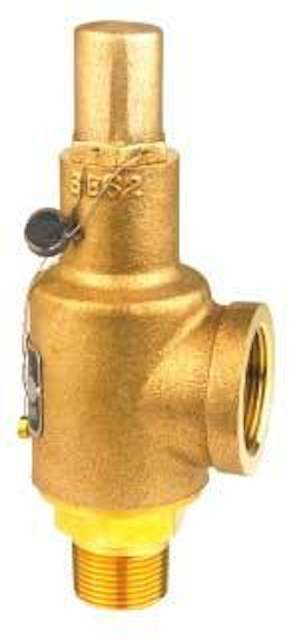 Click here to enlarge image
Rockwood Swendeman offers the RXSO Series Cryogenic Safety Relief Valves for use on cryogenic and industrial gas equipment where noxious or expensive liquids or gases demand high performance seal capabilities. The valves are used extensively on stationary cryogenic storage tanks, dual safety relief systems and on air and gas compressors for overpressure relief of tanks, pipelines, vessels and pumps and for corrosive industrial applications. The valves feature a bronze body, in sizes 1/2" to 2", which is suitable for pressures to 400 psig and temperatures from -423°F to +400°F.
Rockwood Swendeman
Walden, NY
Tel: 800-210-1300
Web: www.rockwoodswendeman.com
Butterfly control valves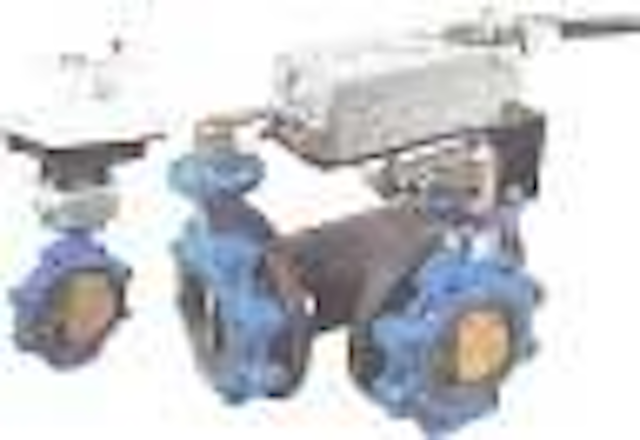 Click here to enlarge image
Clark offers a complete line of butterfly valves for both commercial and industrial applications. The valves are designed for hot and chilled water, as well as steam applications up to 10 PSI saturated steam inlet. The valves can be used for on/off or throttling control, isolation, flow balance, mixing or diversion. Valves are available in full-lugged or wafer mounting style. All bodies meet ANSI 150 pressure ratings for hydrostatic requirements.
E. Clark & Associates
Hudson, MA
Tel: 978-568-3400
Web: www.clarksol.com
Control valve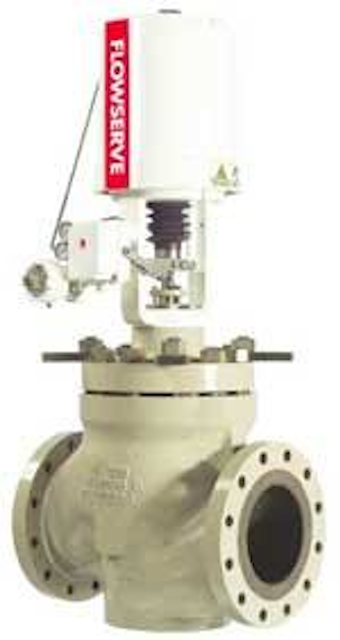 Click here to enlarge image
Flowserve® has announced the launch of its new Mark 100 globe control valve, designed for improved capacity, extra-fine control, and easier maintenance. The valve delivers higher capacity in a smaller package than conventional globe control valves in sizes 6"-16" and pressure classes 150-600. The wide, streamlined gallery of the valve increases capacity an average of 15 percent over competing valves. This provides end users significant cost savings by often allowing a drop in valve size.
Flowserve Corp.
Irving, TX
Tel: 972-443-6500
Web: www.flowserve.com
Pump control valves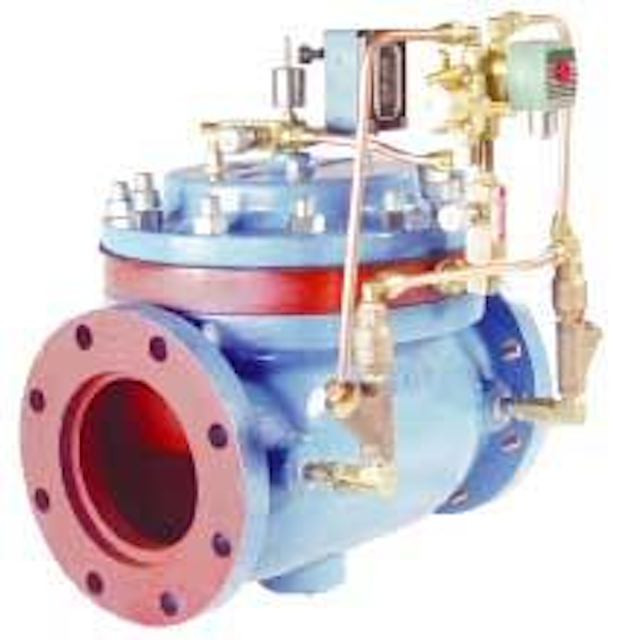 Click here to enlarge image
The OCV Series 125 and 126 Pump Control Valves are designed to eliminate the surges associated with the starting and stopping of a pump. Electrically interfaced with the pump motor, the valve opens and closes at an adjustable speed, providing a smooth, predictable transition of pump discharge pressure and volume into the system. The valve opening speed is adjustable to pump and system requirements for a smooth increase in pressure.
OCV Control Valves
Tulsa, OK
Tel: 888-628-8258
Web: www.controlvalves.com
Valve actuator
Click here to enlarge image
Rotork has announced the availability of the IQT electric, quarter-turn, non-intrusive valve actuator. The IQT actuator is suited for many of the quarter-turn valve applications in water and wastewater treatment plants. It is double sealed to provide a watertight enclosure and incorporates advanced electronic diagnostic and networking capabilities. Users can configure and set the non-intrusive IQT actuator without removing its covers by using an intrinsically safe, point-and-shoot hand-setting tool, which is supplied with the actuator.
Rotork Controls, Inc.
Rochester, NY
Tel: 585-328-1550
Web: www.rotork.com
Butterfly, plug valves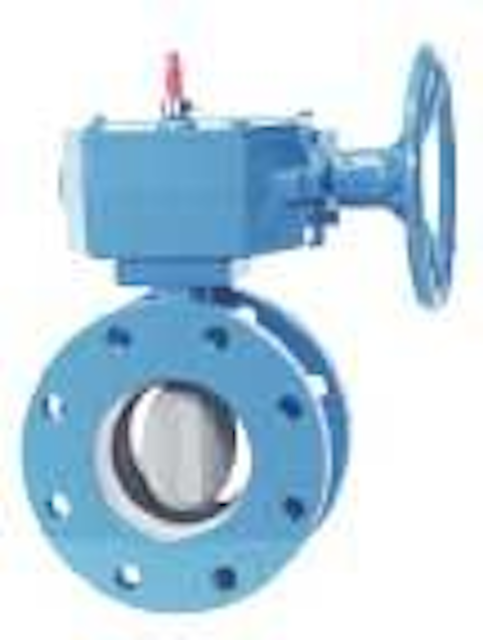 Click here to enlarge image
Henry Pratt designs and manufactures valves for fluid service in the wastewater industry. Pratt's butterfly valves are used to regulate the flow of fluid in piping systems. The seat-in-body design reduces seat failure due to corrosive buildup in the valve and pipeline. Symmetrical lens-shaped discs or flow through discs (on 30'' and larger) provide more strength and higher Cv/lower head loss resulting in energy savings. Nonmetallic bearings prevent galvanic corrosion and provides lower coefficient of friction.
Henry Pratt Co.
Aurora, IL
Tel: 630-844-4000
Web: www.henrypratt.com
Valve actuators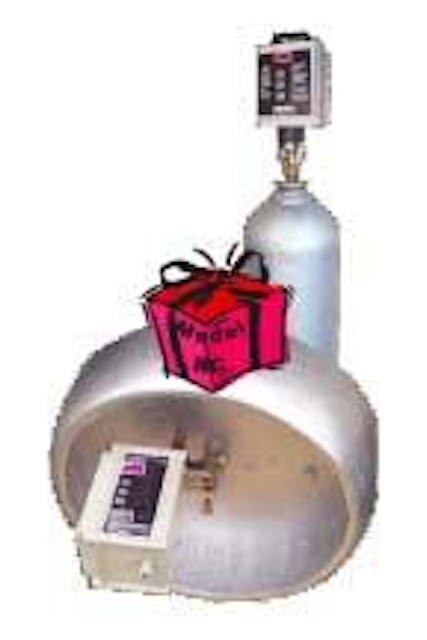 Click here to enlarge image
Robo-Control™ manufactures battery-operated actuators to remotely open and close hazardous gas cylinder valves such as chlorine and sulfur dioxide. The company's new Model RC actuator is a lower cost option in valve control. The actuator is designed to mount to the valve without interfering with existing hardware and does not require yokes or dispensers to support it.
Robo-Control
Bridge City, TX
Tel: 409-697-2666
Web: www.robo-control.com
Backflow prevention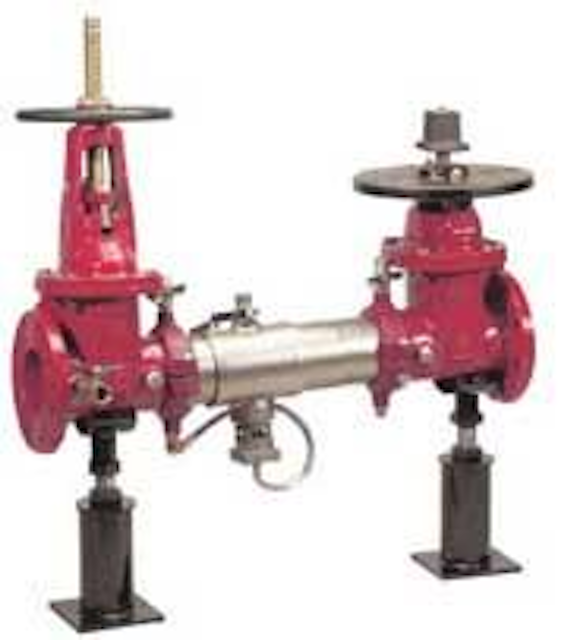 Click here to enlarge image
Ames has introduced its new Colt line of backflow prevention devices in sizes 2 1/2''-10''. These valves are light and compact. Included in this series are the Ames Series C200 Double Check Valve Assemblies, C300 Double Check Detector Assemblies, C400 Reduced Pressure Zone Assemblies and C500 Reduced Pressure Detector Assemblies. All the Colt valves feature an entire valve body and sleeve manufactured from 300 series stainless steel and grooved connections for ease of installation and pipe alignment.
Ames Co.
Woodland, CA
Tel: 916-666-2493
Electronic control valve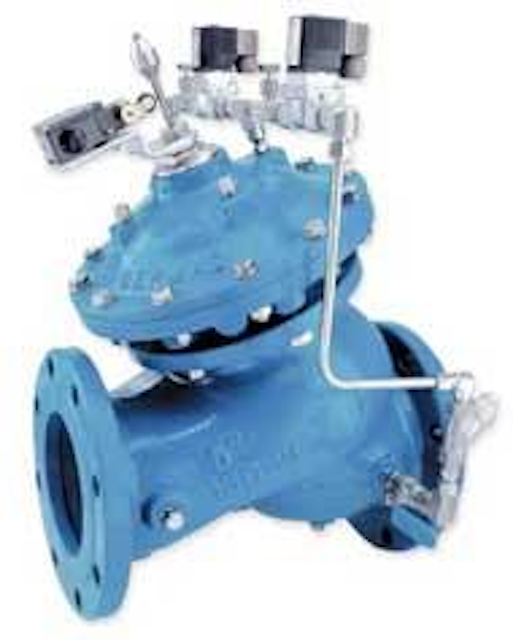 Click here to enlarge image
Controlled by PLCs, Bermad's Series 718 Electronic Control Valves modulate to provide pressure, level, flow, and/or temperature control in water distribution and treatment systems. These valves combine the advantages of line pressure driven hydraulic valves with the sophistication and control possibilities of PLCs.
Bermad, Inc.
Anaheim, CA
Tel: 800-821-6825
Web: www.bermad.com
Block-and-bleed valves
Swagelok Co. introduces Kenmac series double block-and-bleed valves to provide a smooth transition from process to instrumentation systems in a single, compact valve assembly. Each one-piece forged body incorporates a primary isolation valve and a variety of secondary block-and-bleed valves to replace conventional multiple valve installations. Benefits include fewer leak points and reduced size and weight, compared to traditional systems. Available in sizes from 1/2'' to 2'', flanged connections are manufactured according to ASME 16.5 RF and RTJ.
Swagelok Co.
Solon, OH
Tel: 440-248-4600
Web: www.swagelok.com
Globe control valve

Click here to enlarge image
The coupling of Burkert's Type 8630 TOP Control System and its Type 2712 Pneumatically Operated Globe Control Valve results in a complete, intelligent process control/proportional valve system. The Type 8630 is a digitally fired positioning unit that provides on/off and continuous functionality. It features a directly connected PID-controlled feedback loop integral with the actuator, and a PID Process Tune function allows PID values to be automatically set.
Burkert
Irvine, CA
Tel: 949-223-3100
Web: www.burkert-usa.com
Insertable valve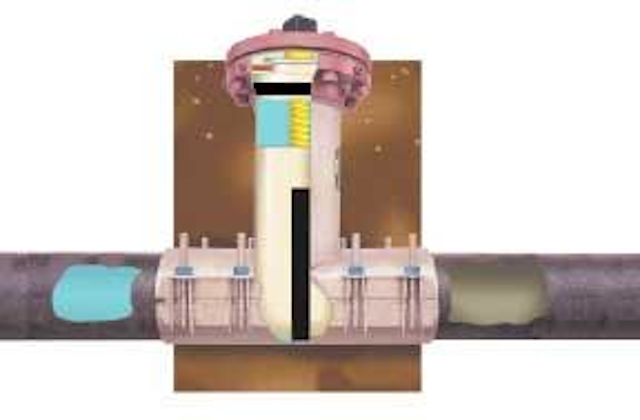 Click here to enlarge image
The Hydra-Stop Insta-Valve from Severn Trent is an insertable valve. Installation is as easy as 1, 2, 3. Just install the fitting, make the tap, then install the valve. The valve eliminates many of the problems commonly associated with valve insertion. Once installed, it operates with a standard valve key. The revolutionary valving system works with existing Hydra-Stop equipment or as a stand-alone system.
Severn Trent Services
Alsip, IL
Tel: 800-538-7867
Web: www.hydra-stop.com
Wedge gate valves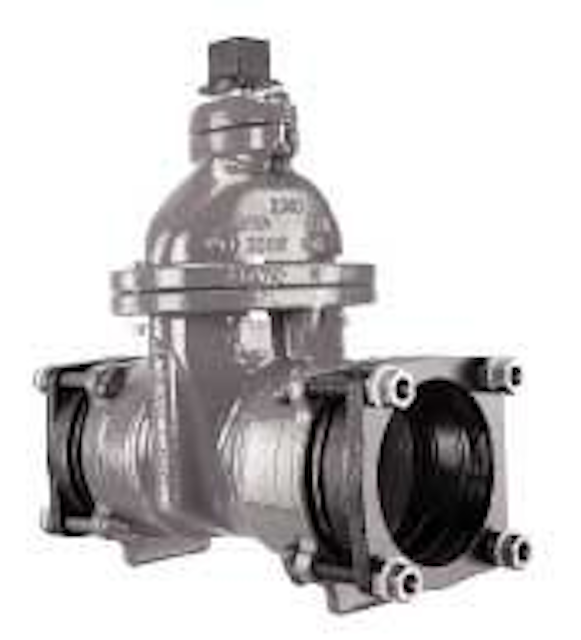 Click here to enlarge image
The Mueller 2362 Series Resilient Wedge Gate Valve incorporates a symmetrical design with refinements to enhance reliability and service life. Special features such as triple O-ring stem seals, extra-long wedge guides, polymer guide cap bearings and epoxy coating inside and out protect critical areas of the valve from damage, wear and corrosion. The valve operates at 250 psig and is hydrostatically shell tested at 500 psig. The entire valve is certified to ANSI/NSF standard 61.
Mueller Co.
Decatur, IL
Tel: 800-423-1323
Web: www.muellercompany.com
Air, vacuum valve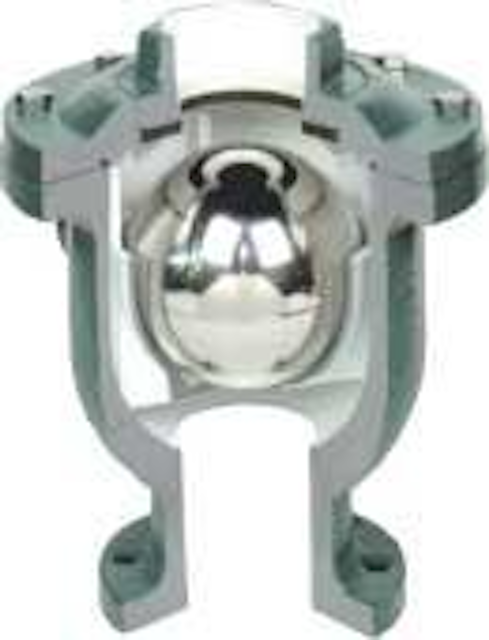 Click here to enlarge image
With an orifice the same diameter as its inlet, the Crispin Air & Vacuum valve allows large quantities of air to be vented from systems being filled with liquid. During system drainage, the air is allowed back in as liquid empties from the line. Its design is such that the velocity of air passing through the valve will not blow the float at normal design volumes. Indeed, it will not close until the arrival of liquid in the valve, and will not open to vent accumulating air as long as the system is under pressure and in operation.
Crispin Valve
Berwick, PA
Tel: 800-247-8258
Web: www.crispinvalve.com
Proportional control valve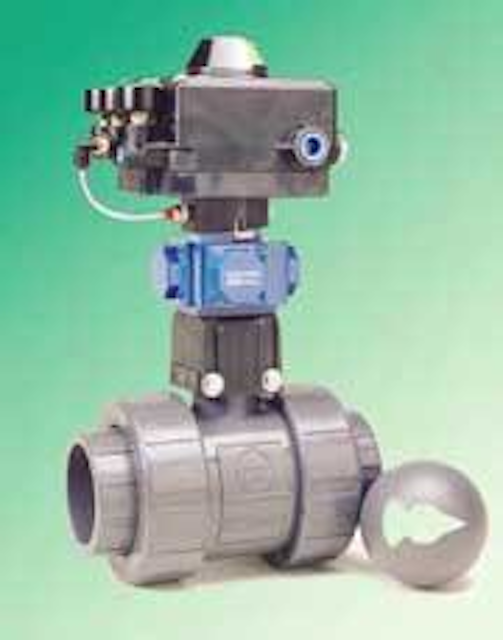 Click here to enlarge image
Hayward ProFile2 corrosion resistant, all plastic proportional control ball valves provide two linear flow curves, one for fast opening and one for slow opening. The percentage of flow through the valves with either flow curve is equal to the degree of opening. As the valves are opened or closed, the flow varies in direct proportion to the valve opening. This permits predictable, accurate control of the downstream flow rate with a 1/4 turn valve in many automated flow control applications in the water and wastewater treatment industries.
Hayward Industrial Products Inc.
Elizabeth, NJ
Tel: 908-351-5400
Web: www.haywardindustrial.com
Check valve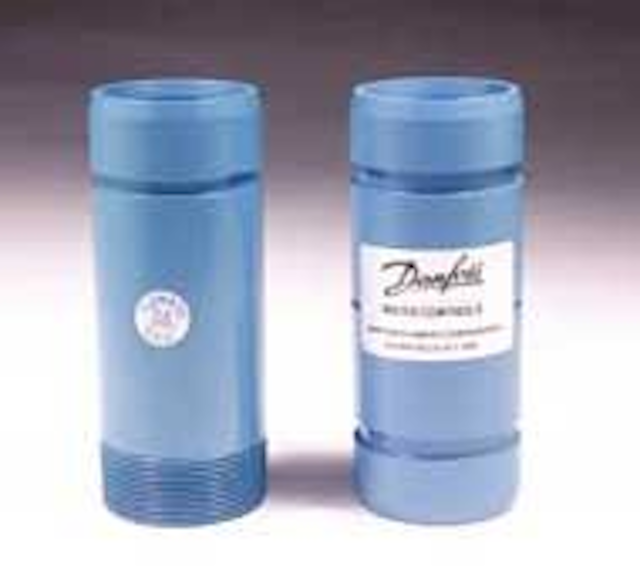 Click here to enlarge image
Danfoss Flomatic has introduced an extended size range series 80DICL Ductile Iron Check Valve and series 80S6CL Stainless Steel Check Valves in 2'' through 6'' in two different models. These new valves incorporate a patented lock type pipe connection for PVC drop pipe called Certa-Lok™, a trademark by Certain Teed Corp. The groove lock makes it easier to assemble or disassemble the pipe by hand, without special tools and eliminates extra fittings.
Danfoss Flomatic Corp.
Glens Falls, NY
Tel: 800-833-2040
Web: www.danfossflomatic.com
Pump control valve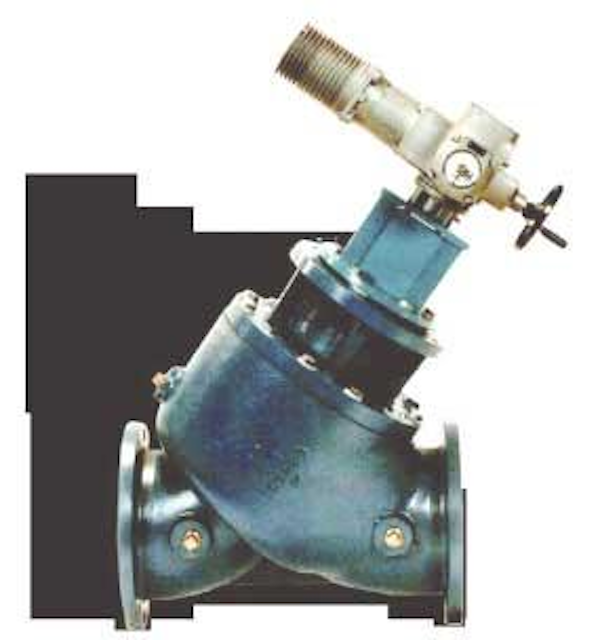 Click here to enlarge image
The GA Industries CHECKtronic® Pump Control Valve is an electric motor actuated check valve providing an adjustable opening and closing speed to control the pressure surges and waterhammer associated with normal pump operation. Its integral fail-safe "stop-check" immediately closes to prevent flow reversal upon pump failure or power outage, independent of the actuator or its controls, precluding the need for a separate check valve.
GA Industries, Inc.
Cranberry Township, PA
Tel: 724-776-1020
Web: www.gaindustries.com
Valve positioners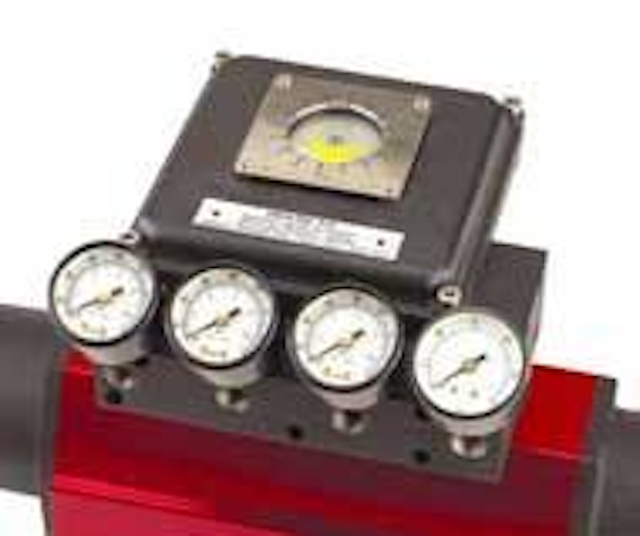 Click here to enlarge image
Asahi/America now offers the P-10 and K-10 Positioners from Westlock Controls. These low cost valve positioners are easy to calibrate and meet both NAMUR and ISO standards. The P-10 Pneumatic Positioner is a cam-characterized pneumatic valve positioner. It is designed to provide optimal performance for single and double-acting actuators in rotary or linear applications using standard pneumatic signals.
Asahi/America, Inc.
Malden, MA
Tel: 781-321-5409
Web: www.asahi-america.com