NEW LITERATURE
The Grinding & Dispersing Division of Netzsch offers a new 4-page, full color brochure highlighting its range of coarse to ultrafine particle size reduction equipment.
Jan 1st, 2004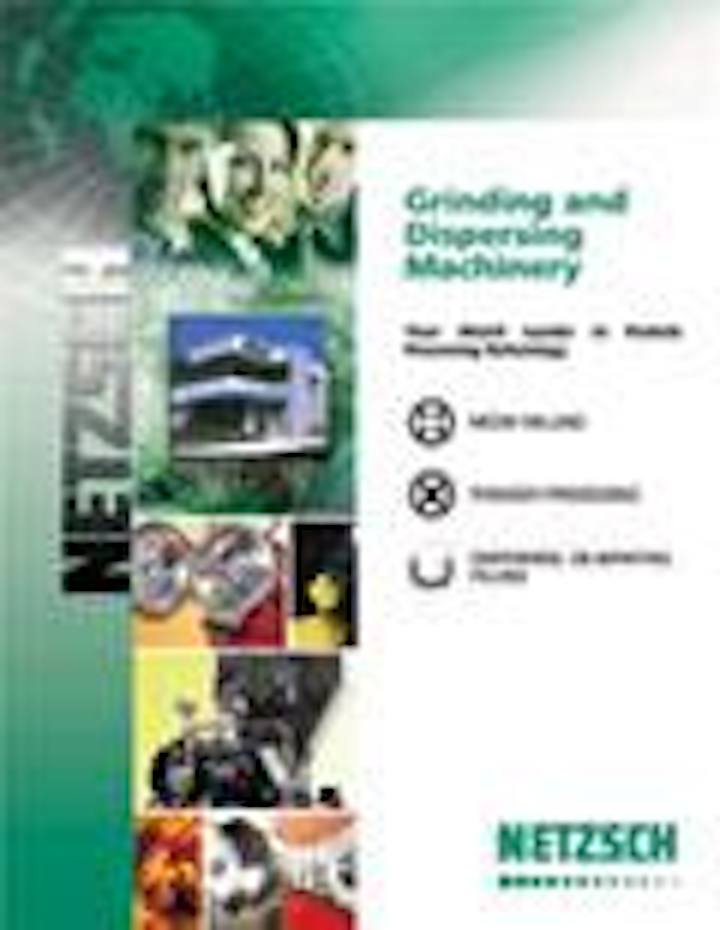 Grinding, dispersing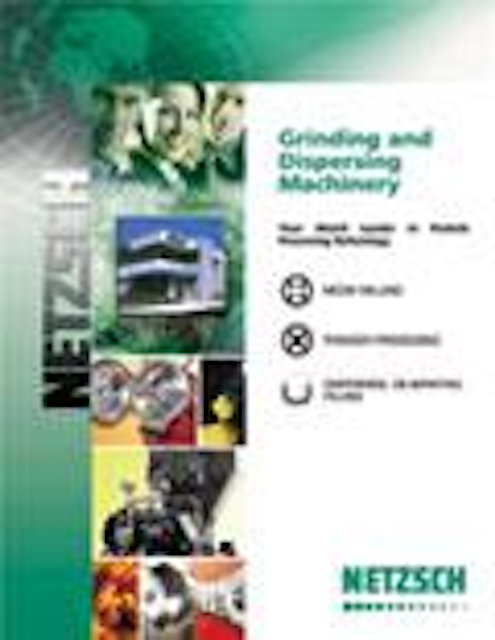 Click here to enlarge image
The Grinding & Dispersing Division of Netzsch offers a new 4-page, full color brochure highlighting its range of coarse to ultrafine particle size reduction equipment. The company's expertise and experience with fine grinding and processing applications is outlined in this brochure. An application chart lists the entire product line and their most common applications. The company's media milling, powder processing, dispersing, de-aerating, and filling machines are available in various approved materials of construction. The machines range in size from laboratory to production scale and are custom-engineered for specific processing applications.
Netzsch Inc.
Exton, PA
Tel: 610-363-8010
Web: www.netzschusa.com
Analysis, monitoring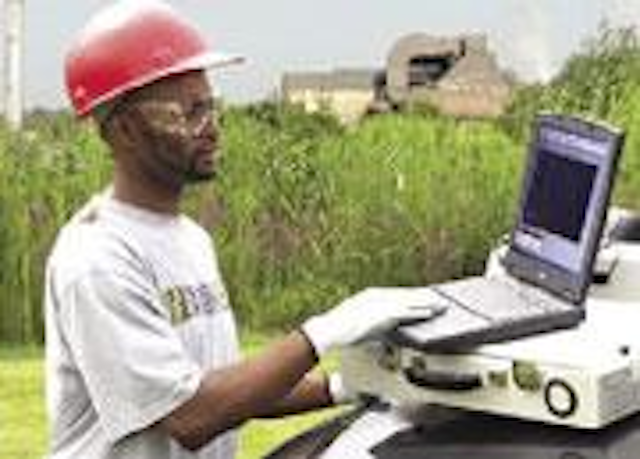 Click here to enlarge image
New literature describes how the Inficon Scentograph CMS200 Portable Water and Air Analysis/Monitoring System uses purge and trap gas chromatograph (GC) technology to analyze water and air samples on site and on time. The device is well-suited for several applications ranging from source water protection and early alert for water contamination to fence line air monitoring and testing for volatile organic compounds (VOCs) in cooling tower water. It also detects toxic industrial chemicals (TICs) and chemical warfare agents (CWAs) within minutes for faster decisions about potentially critical issues.
Inficon
East Syracuse, NY
Tel: 315.434.1100
Web: www.inficon.com
Solenoid valves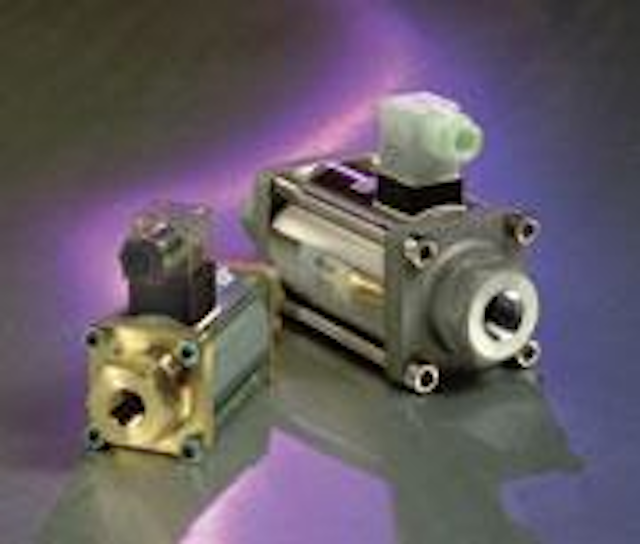 Click here to enlarge image
The cx-tec® solenoid valve, available from Springer Co-Ax, has a coaxial, straight-through, high flow design. The coaxial design eliminates internal pilot orifices and provides high flow rates. The integral actuator is never subject to the flow — whether gelatinous, pasty or contaminated fluids are seen or gases from vacuum to 600 psi. The combination of rugged construction and only one moving part allows the valve to offer up to 10 times the cycle life of more expensive solenoid valves equipped with external actuators, linkages and stem seals. For more information send for the guidebook "An Introduction to Coaxial Valve Technology."
Springer Co-Ax, Inc.
Penndel, PA
Tel: 800-215-757-3725
Web: www.cx-tec.us
Wastewater treatment
USFilter has published a new brochure about the AGAR™ process which enables wastewater treatment plants to increase treatment capacity without increasing plant size. The innovative biological process uses thousands of special biomass carriers to increase total surface area for biofilm growth. As a result, treatment plants can handle increasing flows and loadings without expanding the treatment plant footprint.
USFilter Zimpro Products
Rothschild, WI
Tel: 715-359-7211
Web: www.usfilter.com
Mixing system
Click here to enlarge image
A new 8-page brochure describes how the Tideflex® Mixing System (TMS) from Red Valve can eliminate stagnation ands thermal stratification in water storage reservoirs. The system uses patented Tideflex® Check Valve technology combined with a piping manifold to provide a better mixing system than the traditional common inlet/outlet system typically used in water tanks. Effective mixing of stored water and incoming water vastly decreases the formation and growth of dangerous bacteria, loss of disinfectant residual, disinfectant by-product formation, nitrification in chlorinated systems, and algae and biofilm growth.
Red Valve Co. Inc.
Carnegie, PA
Tel: 412-279-0044
Web: www.redvalve.com
Data loggers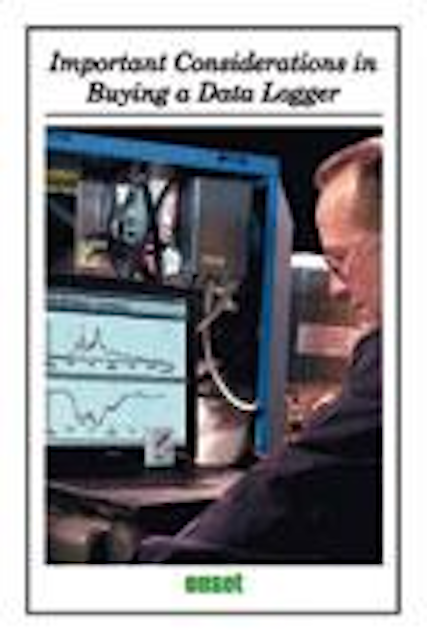 Click here to enlarge image
Onset has published a free report entitled, Important Considerations in Buying a Data Logger. The report provides HVAC contractors, facilities managers, and others with valuable tips on how to evaluate specific data logger product features, and offers insights into the most important things to consider during the product selection process. Topics covered include: Understanding measurement accuracy; Data offload options; graphing and analysis software capabilities.
Onset Computer Corp.
Bourne, MA
Tel: 800-564-4377
Web: www.onsetcomp.com
Tank coatings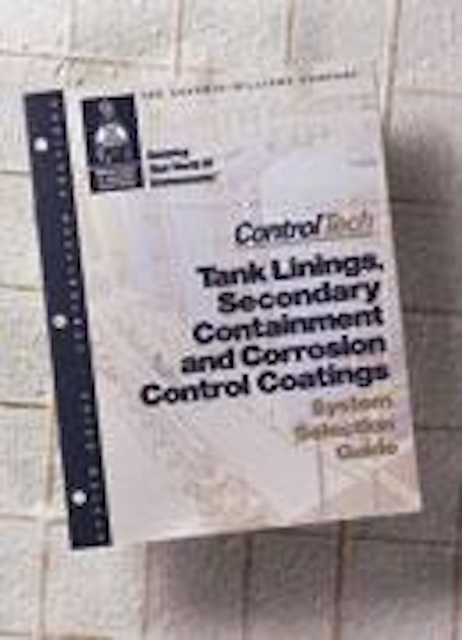 Click here to enlarge image
Sherwin-Williams Industrial and Marine Coatings group now offers a brochure for its new ControlTech™ family of coatings for tank linings, secondary containment and corrosion control. The 12-page "ControlTech System Selection Guide" describes the line of low-VOC, high performance coating systems for use on concrete or steel tanks, drains, clarifiers, sumps and slabs, and specialized equipment. System features, benefits and recommended applications are described, with systems listed in descending order relative to chemical and temperature resistance.
Sherwin- Williams Co.
Cleveland, OH
Tel: 800-524-5979
Web: www.sherwin-williams.com/im
Wireless systems
Wilcoxon Research has just released a new Industrial Wireless Solutions Brochure designed to help customers in selecting the BlueLynx® Wireless Sensor Link and Accessories that are right for their situation. The company provides wireless solutions for transmitting 4-20 mA, thermocouple, on/off status or dynamic accelerometer signals, among others. The brochure features diagrams for point-to-point and point-to-multipoint applications that will show the customer how data collection equipment, PCs and PLCs interface with the wireless sensor links.
Wilcoxon Research, Inc.
Gaithersburg, MD
Tel: 301-330-8811
Web: www.wilcoxon.com/pc_index.cfm
Stormwater monitoring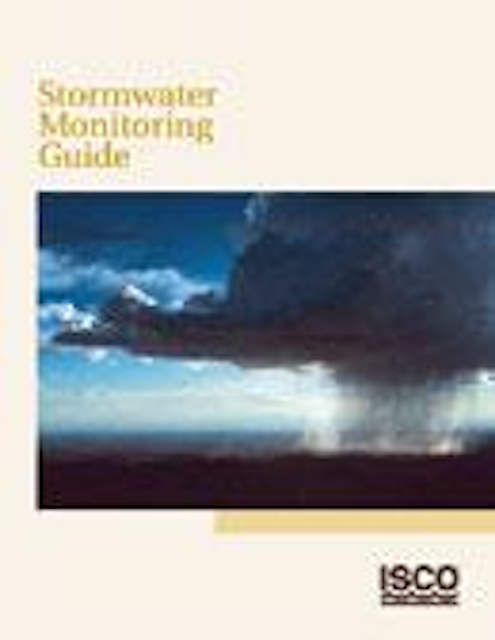 Click here to enlarge image
The Isco Stormwater Monitoring Guide will help answer questions about EPA stormwater monitoring regulations. The guide is a comprehensive brochure that covers a variety of topics including: a summary of EPA regulations, a glossary of terms pertaining to stormwater monitoring, application information, and product recommendations. The brochure also includes product specifications on integrated Isco stormwater runoff systems featuring automatic samplers, open channel flow meters, and accessory equipment. The company's Flowlink® software for on-site or remote reporting of rainfall, flow, and sampling information is also covered.
Isco
Lincoln, NE
Tel: 800-228-4373
Web: www.isco.com
Reference materials
The National Institute of Standards and Technology (NIST) has released its new, comprehensive Standard Reference Materials Catalog. NIST supplies industry, academia, government, and other users with over 1,300 reference materials of the highest quality and metrological value. These standards are currently available for use in industrial materials production and analysis, environmental analysis, health measurements, and basic measurements in science and metrology. Standard Reference Materials (SRMs) have been used by NIST as vehicles for transferring measurement science and technology, through channels of industry and commerce, to the nation at large. As such, SRMs are crucial reference points in the establishment of a comprehensive measurement system for the entire nation.
National Institute of Standards and Technology
Gaithersburg, MD
Tel: 301-975-2208
Web: www.nist.gov