PRODUCTS & SERVICES Ion Exchange/Separation Equipment
Zenon Environmental is a provider of membrane technology and ancillary systems for water and wastewater treatment.
Jan 1st, 2004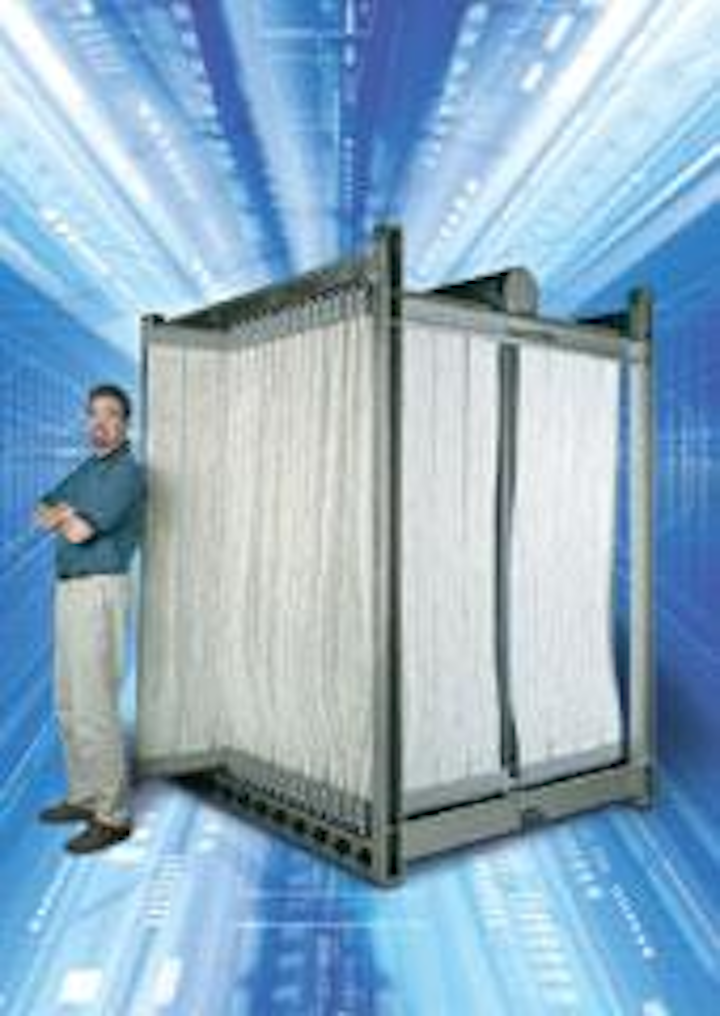 Membrane treatment systems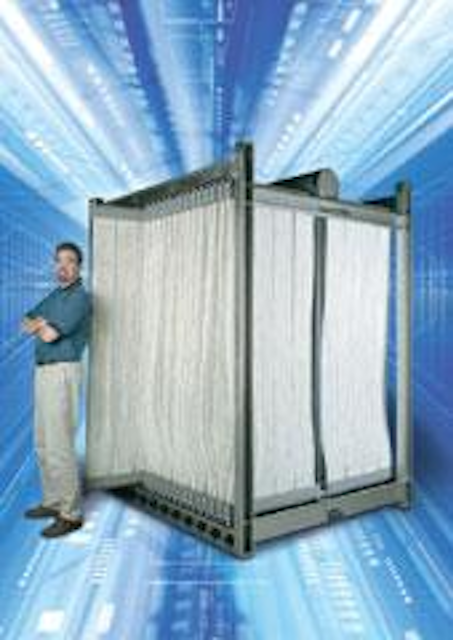 Click here to enlarge image
Zenon Environmental is a provider of membrane technology and ancillary systems for water and wastewater treatment. The company's patented membrane systems specialize in purifying drinking water and RO pre-treatment, treating wastewater for safe discharge into the environment, and recycling wastewater for reuse. It also supplies high purity water treatment systems employing ultrafiltration, reverse osmosis, ion exchange, EDI and other technologies. With hundreds of installations in nearly 40 countries, the company's customers include municipalities, industries, government agencies, land developers and ship owners.
Zenon Environmental Inc.
Oakville, ON
Tel: 905-465-3030
Web: www.zenon.com
Condensate filters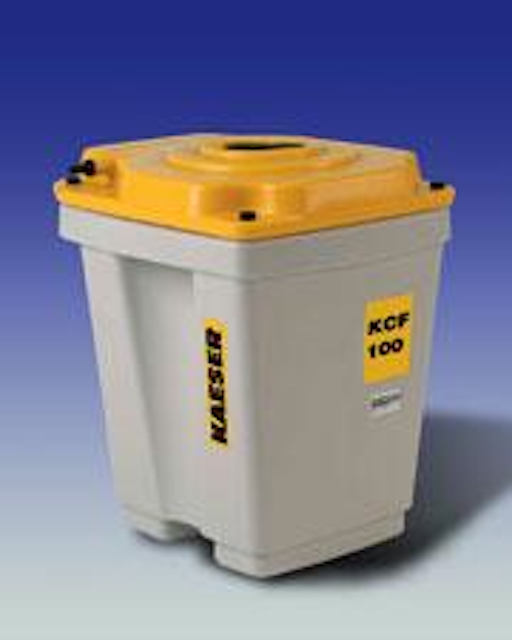 Click here to enlarge image
Disposing of compressed air condensate is a major environmental concern. This oil/water mixture is classified as hazardous waste and cannot be discharged into municipal wastewater systems unless the oil and contaminants are removed. The Kaeser Condensate Filter (KCF) is designed to filter out oil and other contaminants making the water safe for disposal. The key to the KCF function is the three-stage, self-contained plastic filter cartridge, which is convenient for replacement and disposal. The unit requires no electricity and little maintenance. The filter cartridges are designed to handle most compressor lubricants and are available in two sizes. The KCF-20 is designed for flows of approximately 100 cfm, while the KCF-100 will handle flows up to 500 cfm. For larger flows, simply connect multiple KCF units together with an optional Flow Splitter.
Kaeser Compressors, Inc.
Fredericksburg, VA
Tel: 800-777-7873
Web: www.kaeser.com
Electrodeionization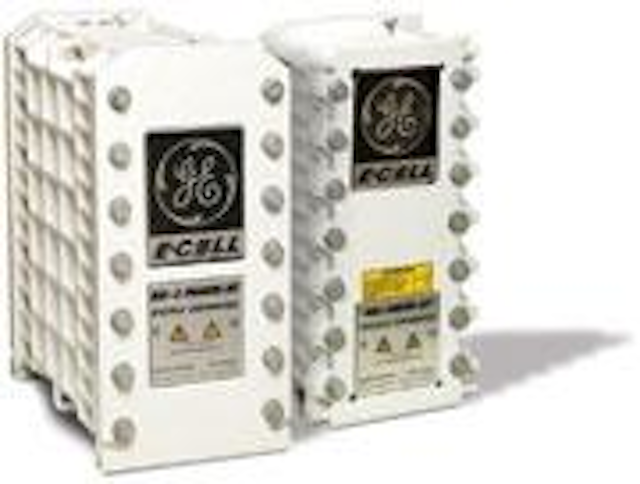 Click here to enlarge image
E-Cell™ electrodeionization technology from GE Water Technologies is a chemical-free, environmentally-safe, ion-exchange process for producing industrial process water of the highest purity. It removes ions by passing an electrical current through conventional ion-exchange resin, eliminating the use of regeneration chemicals and the generation of a hazardous waste stream. The system's continuous operation and modular stack design offers substantial benefits for water processing applications in a broad range of industries, including power generation, pharmaceutical, semiconductor and biotechnology.
GE Water Technologies
Tevose, Pa
Tel: 519-829-4585
Web: www.gewater.com
Electrodeionization system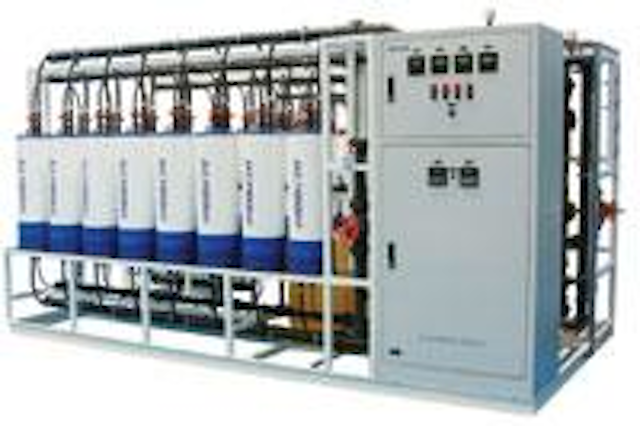 Click here to enlarge image
The Omexell™ EDI system uses a spiral-wound membrane that is sealed in a high strength FRP pressure vessel to optimize performance and maintain continuous product quality while eliminating the need for chemical regeneration. EDI is typically used to polish RO permeate and the module can produce up to 18+ MW-cm high-purity water with high silica and boron rejection.
Omexell, Inc.
Houston, TX
Tel: 713-973-9731
Web: www.omexell.com
Wastewater filtration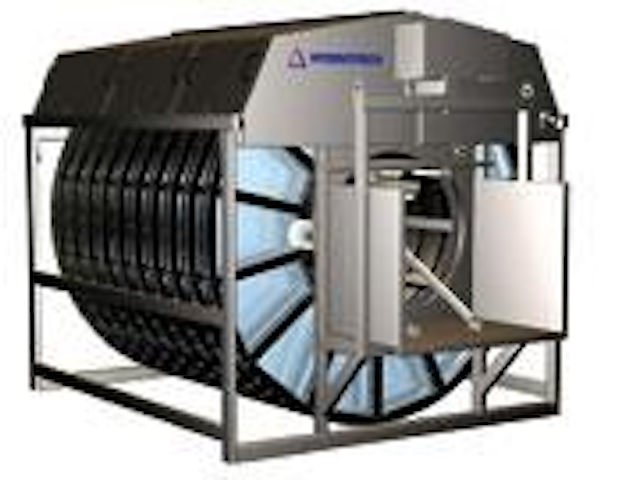 Click here to enlarge image
USFilter's Kruger Products Hydrotech Discfilter produces effluent suitable for wastewater reuse applications, especially where space-saving and large filtration capacities are required. The footprint requirement for the filter system is 25 percent of the total installed footprint of many conventional filter technologies, such as sand filters. Also, the systems include modular and changeable filter elements; filter discs can be added or removed to correspond with changes in plant capacity.
USFilter Kruger Products
Tel: 919-677-8310
Web: www.usfilter.com
Water treatment system
USFilter is now offering the PowerMax Series, a complete line of equipment designed to convert surface, well or gray water into high-quality water suitable for use as boiler feed, NOx control or turbine fogging. The series also includes proprietary systems for steam condensate polishing. USFilter provides these systems on an equipment supply basis, as a complete turnkey project, or as a build-own-operate contract.
USFilter
Plainfield, IL
Tel: 866-953-4636
Web: www.usfilter.com
Oil/water separators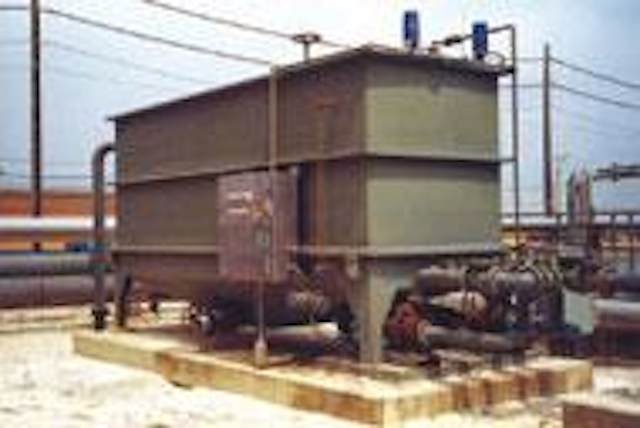 Click here to enlarge image
Hudson Industries designs and builds small to large volume atmospheric and pressurized coalescing oil/water separators for the treatment of low volume cooling and condensate water streams from power generation facilities. Using a unique coalescing material, the separators reduce free oil content to as low as 10 mg/l and can handle operating temperatures to 200°F and operating pressures to 350 psi. A wide range of options such as feed pumps and controls are available, as are materials of construction.
Hudson Industries
Akron, OH
Tel: 800-487-9668
Web: www.hudsonind.com
Filtration system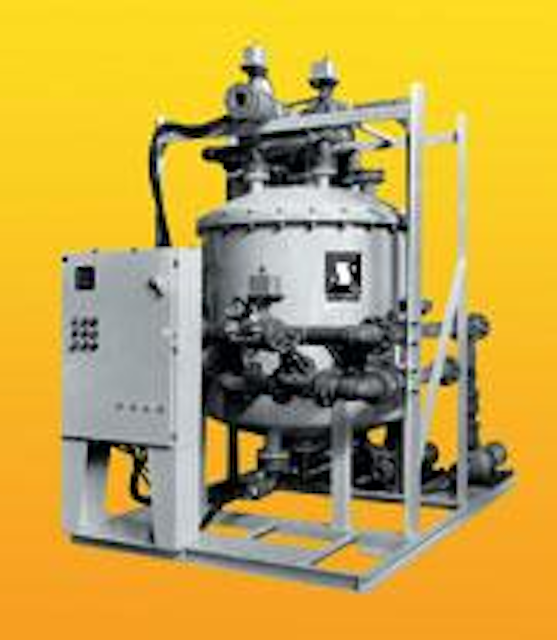 Click here to enlarge image
Serfilco offers the Excel Filtration System, an automatic backwash filter which uses a floating permanent media and unique "up" flow design to achieve sub-micron particle retention with single pass filtration. The system is specifically designed for final particulate entrapment in critical applications that cannot be met with other filtration methods. Filtration is accomplished by a floating bed of ground polyethylene, creating a dense filter media for retention of submicron particles, assuring a high degree of clarity.
Serfilco, Ltd.
Northbrook, IL
Tel: 800-323-5431
Web: www.serfilco.com
EDR treatment systems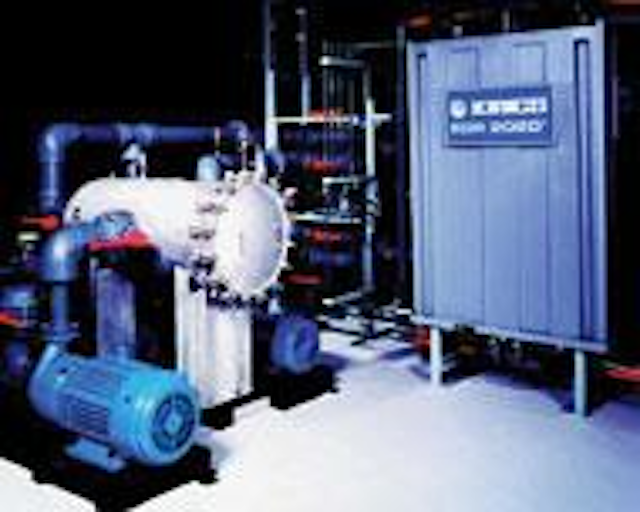 Click here to enlarge image
Ionics provides electrodialysis reversal (EDR) systems for a range of municipal applications. The EDR process uses DC voltage to transfer ionic species from the feed water through ion exchange membranes to a concentrate stream, creating a more dilute stream. The polarity of the DC voltage is reversed several times per hour. The alternating exposure of membrane surfaces to the dilute and concentrate streams provides a self-cleaning capability that enables purification and recovery of up to 94% of the feed water as product.
Ionics, Inc.
Watertown, MA
Tel: 617-926-2510
Web: www.ionics.com
Ion exchange resins
MIEX® DOC is an ion exchange resin that removes raw water dissolved organic carbon (DOC), a precursor to disinfection by-products (DBPs) from drinking water. The patented high capacity ion exchange resin includes a magnetized component. The combination of this magnetic resin with a unique continuous ion exchange process offers water treatment operators a DOC removal process capable of achieving new standards in water quality. The process is flexible and can adapt to changes in raw water quality to meet more stringent EPA Disinfection By-Product standards.
Orica Watercare, Inc.
Watkins, CO
Tel: 877-414-6439
Web: www.miexresin.com
Solids recovery filtration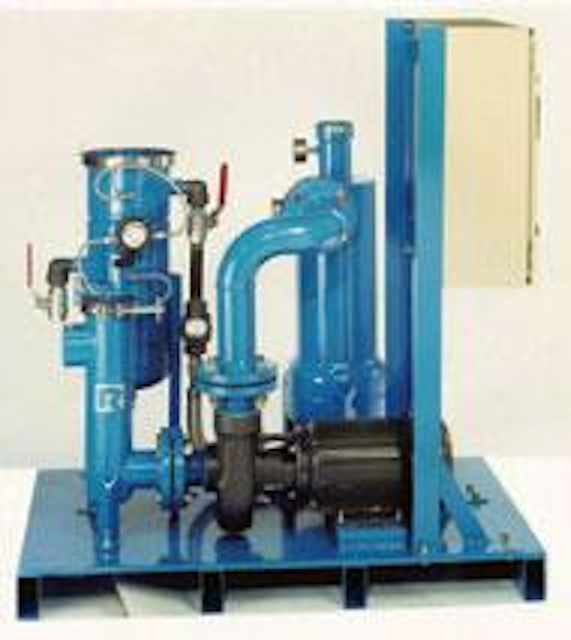 Click here to enlarge image
Rosedale Products has released its new Solids Recovery Filtration system (SRF). The system is designed to protect open and closed loop cooling processes. Ideal for cooling tower water systems, the SRF can be used in a variety of applications to reduce solids problems. Components of the system include a basket strainer for coarse filtering, a centrifugal pump with motor, a separator achieving 50-75 micron removal rating, and a bag filter following the purge of the separator. It features an electrical control panel with a HOA selector switch and NEMA 4x enclosure.
Rosedale Products Inc.
Ann Arbor, MI
Tel: 734-665-8201
Web: www.rosedaleproducts.com
Bag filtration housings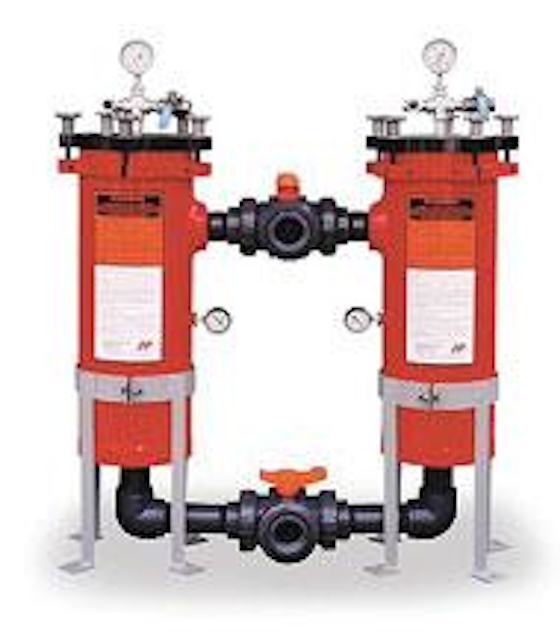 Click here to enlarge image
Freedom Plastics' thermoplastic bag filtration housings are a non-corrosive alternative for side stream filtration and in-plant process cooling applications. Non-corrosive features include a seamless plastic body and filter basket manufactured from PVC, CPVC or polypropylene material, Viton O-ring seals, and PVC powder coated leg stand. The unique design of the Snap-fit™ retaining basket holds standard sewn and welded 7'' diameter #01 (16'') and #02 (32'') filter bags.
Freedom Plastics Inc.
Janesville, WI
Tel: 800-356-9432
Web: www.freedomplastics.com
Oil/water seperators
Click here to enlarge image
Jay R. Smith Mfg. Co. is a manufacturer of oil/water separators and wash-water recycle systems. Its Ultracept® Oil-Water Separator separates oil, grease and other hydrocarbons from wastewater in situations where these contaminants will come into suspension. The modular unit is fabricated in stainless or mild steel with bitumastic coating. The system is totally passive with no moving parts and discharges can be under 10 ppm.
Jay R. Smith Mfg. Co.
Montgomery, AL
Tel: 334-277-8520
Web: www.jrsmith.com
Self-cleaning water filter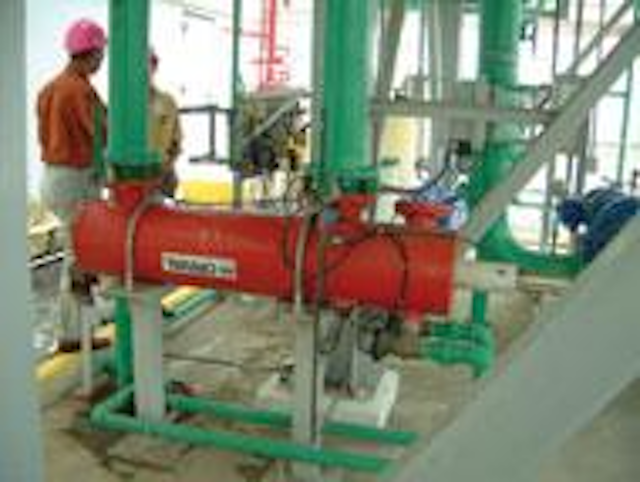 Click here to enlarge image
Orival Filters protect heat exchangers and prevent clogging of nozzles, tubes and other narrow passages by removing dirt particles down to micron size, of any specific gravity, from once-through and recirculating cooling water systems. Line pressure powered, the filter cleans itself without external power, and does not interrupt system flow.
Orival Inc.
Englewood, NJ
Tel: 800-567-9767
Web: www.orival.com
Container filters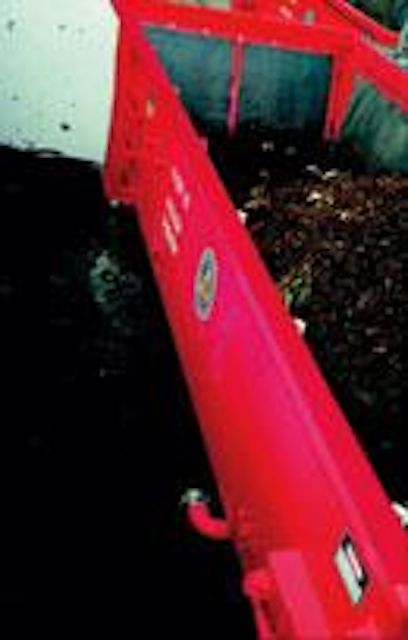 Click here to enlarge image
Flo Trend's Container Filter is a patented, one-step method for separating and dewatering sludge, slurries and waste streams. Various applications include dewatering grit and bar screenings; street and storm lift station waste; as well as wastewater treatment plant waste streams. The simple design of the filter consists of the following three components: the container, porous support plates and a filter media.
Flo Trend Systems
Houston, TX
Tel: 713-699-0152
Web: www.flotrend.com
Arsenic removal systems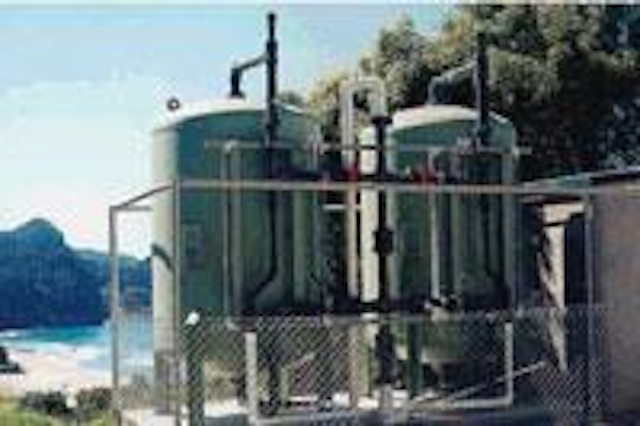 Click here to enlarge image
Media G2®, from ADI International, is an iron-based adsorption filter media, designed for the removal of arsenic and other metals such as iron, manganese, lead, copper and uranium. It is certified to ANSI/NSF 61 for drinking water applications, and has independent performance certification by EVT Canada. The media removes arsenic from 1200 ppb to less than 2 ppb. The process is completely pressurized (no settling basins, and therefore no re-pumping required). Unlike many other technologies, there is virtually no wastage of water — nearly every drop of water passing through the filter emerges as treated drinkable water.
ADI International Inc.
Fredericton, New Brunswick
Tel: 506-451-7407
Backwash filter system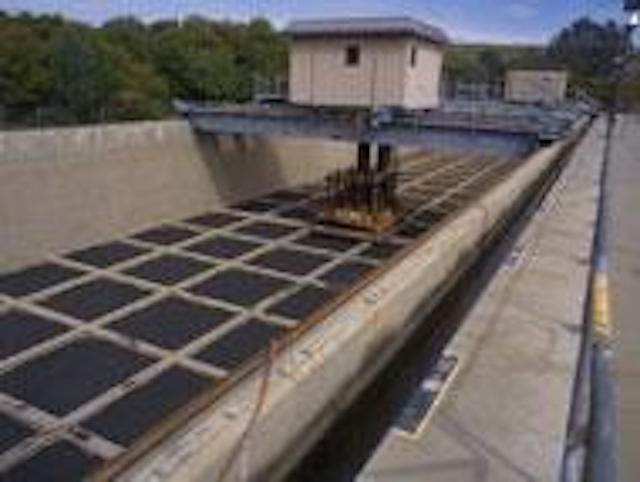 Click here to enlarge image
The Roberts Maximus™ Automatic Backwash Filter System is an alternative for potable and tertiary filtration. The innovative traveling crane system uses a unique backwash hood which mates to square filter cells. The arrangement of the filter cells allows for wide and long filter basins, which are ideal for large plants. Conventional deep filter media beds increase filter bed efficiency and holding capacity compared to shallow bed traveling bridge designs.
Roberts Filter Group
Darby, PA
Tel: 610-583-3131
Web: www.robertsfiltergroup.com
Denitrification
F.B. Leopold recently introduced its elimi-NITE™ Denitrification System for removing nitrogen in wastewater effluent. In addition, employing deep bed, mono-media filters, the system can simultaneously remove suspended solids. The gravity, downflow, packed-bed denitrification system is an attached growth, microbiological process which removes nitrate-nitrogen achieving levels below 1 mg/liter. Physically, it is identical to a deep-bed downflow sand filter with Leopold® Type S® Dual Parallel Lateral Underdrain and silica media or a filter bed engineered to specific effluent requirements.
F.B. Leopold Co. Inc.
Zelienople, PA
Tel: 724-452-6300
Web: www.FBLeopold.com
Perforated band screen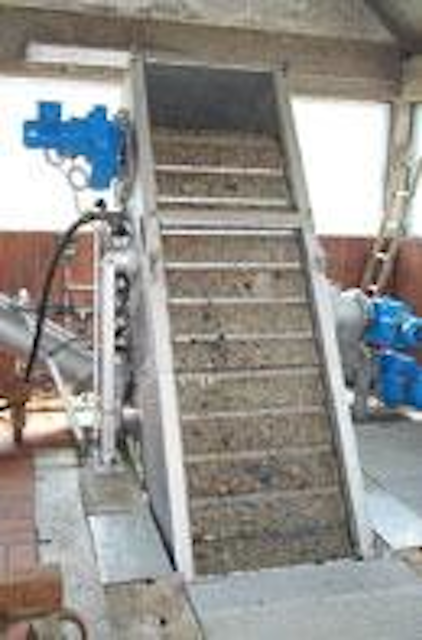 Click here to enlarge image
Huber will display its Revolution™ perforated band screen for fine screening in two-dimensions. The screen is installed at an angle between 60° and 70° in channels up to 7' wide with discharge heights over 20' high. 2 mm, 3 mm, or 6 mm diameter perforations are available.
Huber Technology
Huntersville, NC
Tel: 704-949-1001
Web: www.huber-technology.com
Drum filters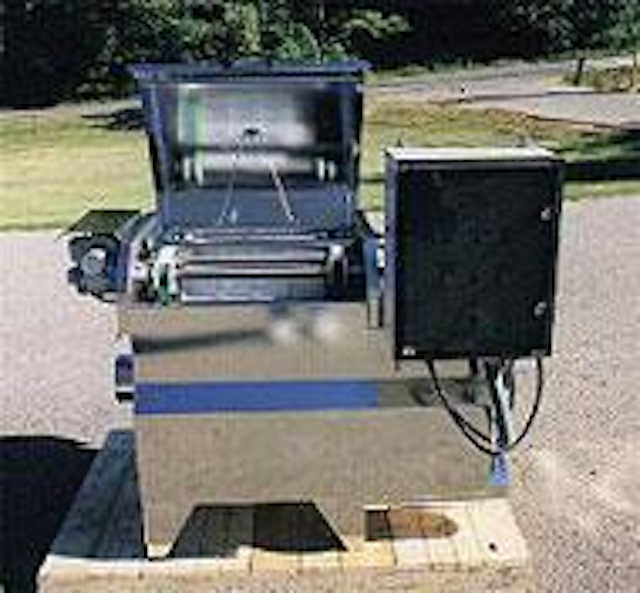 Click here to enlarge image
BMF Microscreen Drum Filters, available from Purestream, are designed for the tertiary stage filtration process and especially for the removal of non-soluble particles in sanitary and industrial wastewater treatment plants. The drum filters are designed to be gravity fed, but can receive pumped effluent. They are designed to be installed above grade as a stand alone filter complete with a stainless steel tank or in a concrete channel for in-ground installation. The filter systems are completely automatic which insures simple operation. No part of the filters need lubrication, and maintenance is limited to periodic replacement of the used filter cloth. The life span of the filter cloth is determined by the condition of the water being filtered and the content of the solid materials it contains.
Purestream ES
Walton, KY
Tel: 859-371-9898
Web: www.purestreaminc.com
Fine screens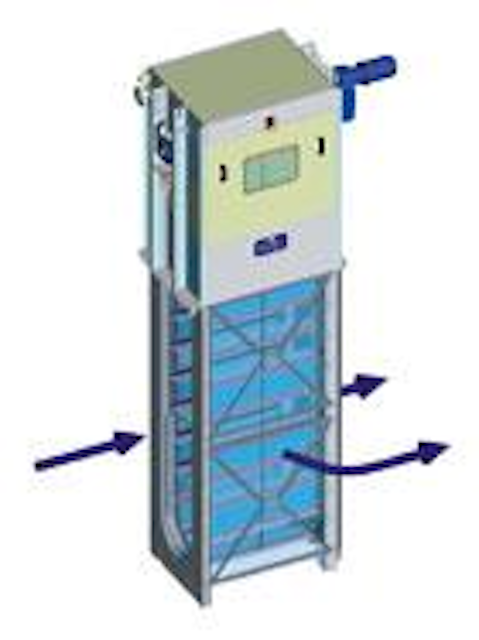 Click here to enlarge image
Brackett Green provides fine screening technology with apertures of 6 mm to 0.5 mm for use in screening solids at headworks and membrane applications. The company's Central Flow Band Screens (CF 100™ & CF 200® ) and Single Entry Cup or Double Entry Drum Screens eliminate bypassing and carryover of solids and floating debris. This positive separation of influent from effluent combined with the capture efficiency of the ProPaPanel® essentially eliminates downstream identifiable floatables.
Brackett Green USA, Inc.
Houston, TX
Tel: 281-480-7955
Web: www.bgusa.com
Filtration system
The CTF System from Valve & Filter Corp. is a filtration system for removing particulate from fluid handling systems. It works to remove suspended solids down to 15 micron using stainless steel screen media. A controller monitors dirt cake buildup on the screen and at preset intervals or high D.P., conducts a backwash lasting less than 30 seconds without interrupting filtration and flow. The system can be used to keep cooling towers clean for improved efficiency. It mounts in a "side stream" loop around a cooling tower. The skid-mounted system comes with its own filter, pump, valves, controller, and pump starter.
Valve & Filter Corp.
Arvada, CO
Tel: 303-425-4242
Web: www.valveandfilter.com
Ion exchange treatment
DI-SEP® Ion Exchange Systems from Smith & Loveless offer end-users a variety of systems for virtually any ion exchange need, including deionization, dealkalizing, and water softening applications. For ultra-pure, mining and boiler feed applications requiring deionization, the company offers deionization systems in separate-bed and mixed-bed configurations.
Smith & Loveless
Lenexa, KS
Tel: 913-888-5201
Web: www.smithandloveless.com