Scada & Process Control
The Model 61 Boiler Blowdown Control System from Electro-Chemical Devices offers a complete, ready-to-use system  ....
Nov 1st, 2011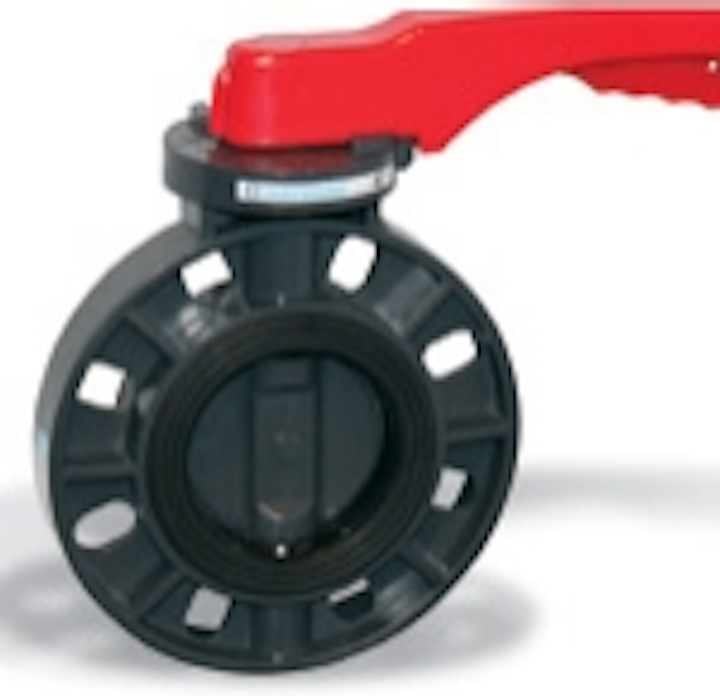 Blowdown control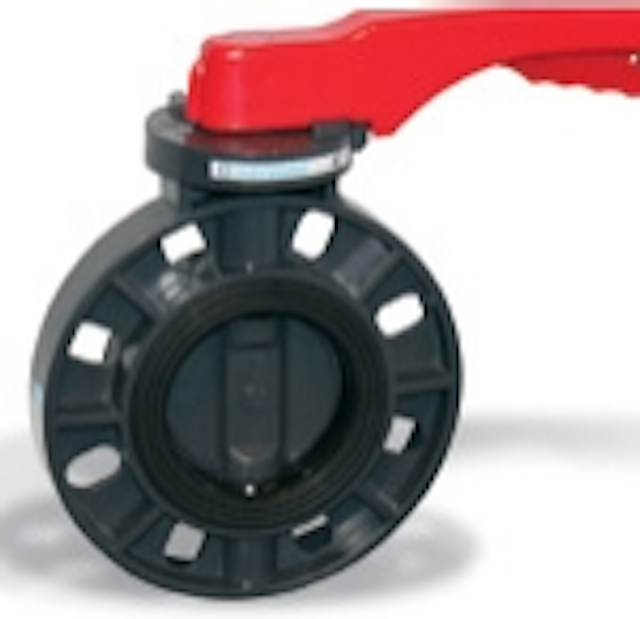 The Model 61 Boiler Blowdown Control System from Electro-Chemical Devices offers a complete, ready-to-use system providing continuous control of the surface blowdown rate for commercial and industrial boilers, optimizing blowdown cycles and reducing scaling and corrosion to reduce plant operating costs and extend boiler life. The automated system can reduce boiler maintenance make-up water consumption and the energy needed to heat it. In comparison to performing blowdown cycles manually, the system offers operational cost advantages by continuously adjusting the blowdown rate to optimize the boiler water's electrolytic conductivity. The system calculates TDS levels by measuring conductivity in the boiler water. The conductivity measurement is made using ECD's precision CS10 Conductivity Sensor, featuring a standard range of 0-10,000 µS or optional ranges of 0-1000 µS or 0-100 µS. Outputs can be configured using the standard T23 transmitter, the optional C22 controller or optional T28 transmitter for Intrinsically Safe (IS) or Explosion Proof applications. Electro-Chemical Devices,www.ecdi.com
pH meter
The Metrohm 826 Mobile pH meter is a waterproof pH meter suitable for use wherever there is a harsh environment. The meter features level IP67 protection meaning that it is sealed against dust and submersion in water up to 1 meter. Other features include wireless printing, choice of 1-3 calibration points, memory capable of holding 200 results and an impact resistant carrying case to carry the meter and everything needed for pH measurements in the field. Metrohm USA Inc., www.metrohmusa.com
Pressure sensing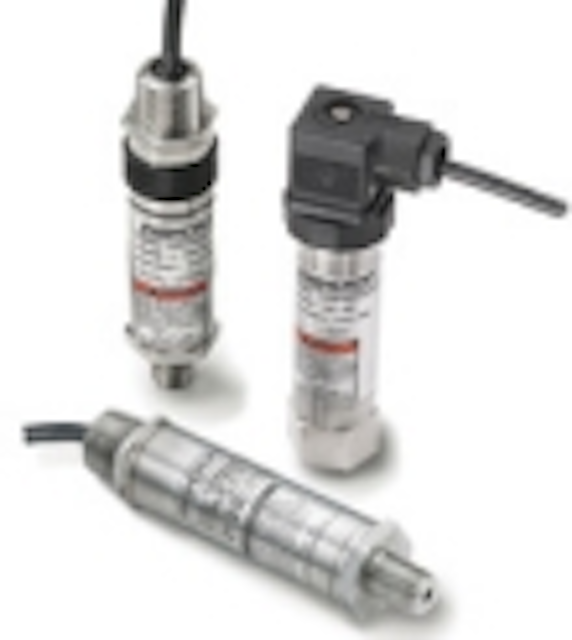 Ashcroft® A2, A2X and A4 pressure transmitters answer the call for a heavy duty sensor. Available in accuracies up to +/-0.25% F.S., the A2 is offered with a wide variety of electrical connections, analog output signals and pressure ports to meet the requirements of most any industrial application. The A2X (explosion/flame proof) and A4 (intrinsically safe) configurations are specially designed for hazardous environments. Ashcroft Inc.,www.ashcroft.com
Ultrasonic flow measurement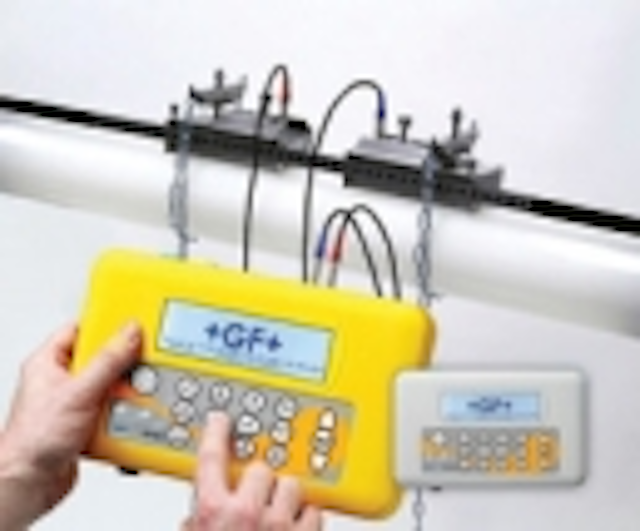 GF Piping Systems has added an Ultrasonic Flow Measurement and Logging Family to its line of flow and analytical measurement instrumentation. Featuring advanced DSP technology, the new ultrasonic family includes two portable models, Portaflow 220 and 330 ,and two fixed installation models, Ultraflo 3000/4000. Both system types display instantaneous fluid flow rates or velocity and totalized values and install quickly and easily without interrupting the process stream. The systems' data loggers can output data directly to a PC or printer or store data in the instrument's memory for downloading at a later time.
Flow monitoring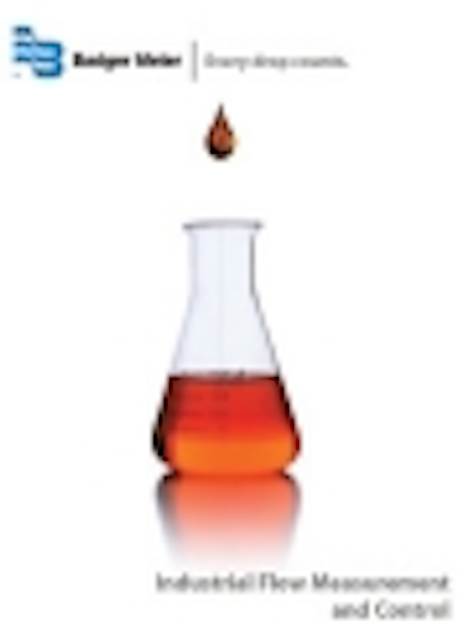 Badger Meter recently produced an industrial product brochure designed to highlight its product offerings in agricultural, automotive, commercial and industrial process applications. Advanced flow measurement and control solutions, data management software and technical support services enable customers worldwide to operate more efficiently, minimize downtime and conserve resources. To view or download a PDF of the new brochure, please visit http://www.badgermeter.com/industrialbrochure.aspx. Badger Meter,www.badgermeter.com
Conductivity measurement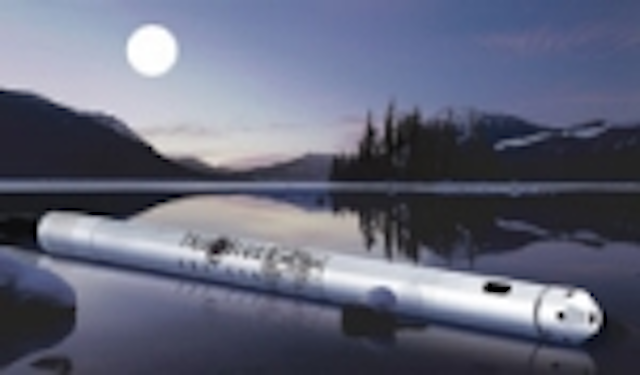 Measurement Specialties now offers the TruBlue 585 CTD transducer that monitors and logs conductivity to a 1% accuracy as well as temperature and pressure levels. The transducer's internal 5-year 3.6 V lithium battery has on-board surge protection making it ideal for remote environmental data collection and process, including environmental and watershed management applications, ground water, surface water, canal and harbor monitoring. It features a fully sealed design, multiple interfaces, and an internal memory of 8 MB that is capable of storing up to 550,000 data conductivity, level and temperature measurements. Measurement Specialties, http://trubluemonitor.com/585.html
Water treatment controller
Omega's new CDCN13 series of high accuracy controller systems have NEMA 4X wall mount enclosures and some of the features include: conductivity/TDS control with choice of bleed programs, temperature monitoring, make up and bleed water meter totalizers, a Langelier saturation index, six feed programs for four chemical additives and a probe failure indication alarm. The CDCN13 is a fully programmable controller designed for complete chemical automation and can easily handle cooling tower, boiler water, industrial process water, food processing, drinking water and wastewater treatment applications. Omega Engineering Inc., www.omega.com
Analytical instrument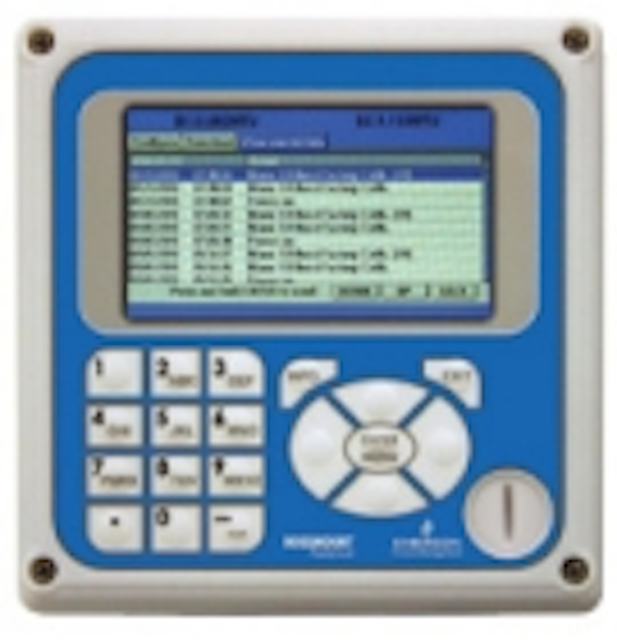 The new Model 56 4-wire multi-parameter liquid analytical instrument was recently introduced by Rosemount Analytical. It is currently available for demonstration and sale, and serves industrial, commercial and municipal applications with the widest range of measurement inputs available. The instrument features a high resolution color LCD Screen for on-screen data trend graphs. It has SMART-enabled pH, eliminating field calibration of pH probes through automatic upload of calibration data. Troubleshooting of most problems can be done with a onscreen user manual and clear display of faults, warning and diagnostics. Emerson Process Management, Rosemount Analytical,www.raihome.com
Ultrasonic flow meters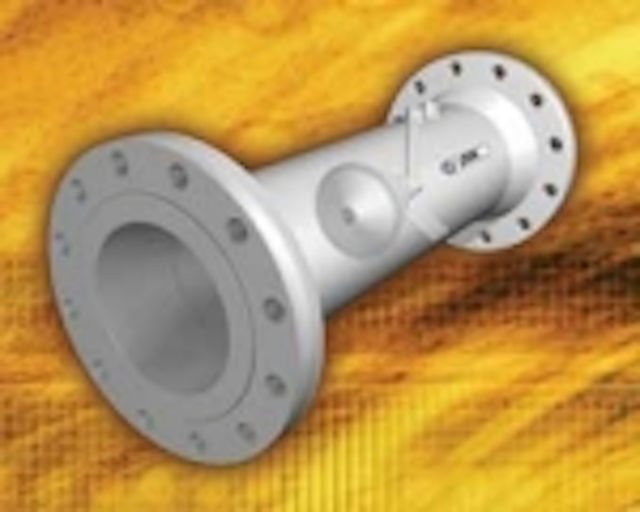 Sierra Instruments has introduced a new lineup of its transit-time ultrasonic flow meters. The lineup now includes improved next generation Innova-Sonic® 205i and portable 210i models. New to the offering, the Innova-Sonic® 203 has been optimized for customers still looking for good performance, but needing a lower cost, less feature rich option for dedicated clamp-on ultrasonic metering. The 205i is the company's highest performing dedicated clamp-on instrument incorporating the latest developments in digital signal processing to offer excellent accuracy and repeatability for a wide variety of liquids. The 210i portable clamp-on ultrasonic meter has received a complete repackaging into a smaller more light weight, hand-held configuration including new brighter display and pushbuttons. Sierra Instruments, www.sierrainstruments.com
Flow meter
McCrometer has introduced the FPI Mag™ (Full Profile Insertion) Electromagnetic Flow Meter. It is the successor to the company's Multi-Mag Insertion Flow Meter. The new meter is an economical solution for medium and large line sizes, reducing installed costs by more than 45 percent. It is packaged in a heavy-duty 316 stainless steel sensor body for maximum structural integrity. The sensor is coated with a 3M fusion-bonded epoxy coating for operational longevity. It also features additional sensing electrodes for greater sensitivity. The sensor installs without interrupting service, de-watering lines, cutting pipe or welding flanges. McCrometer,www.mccrometer.com
Control panels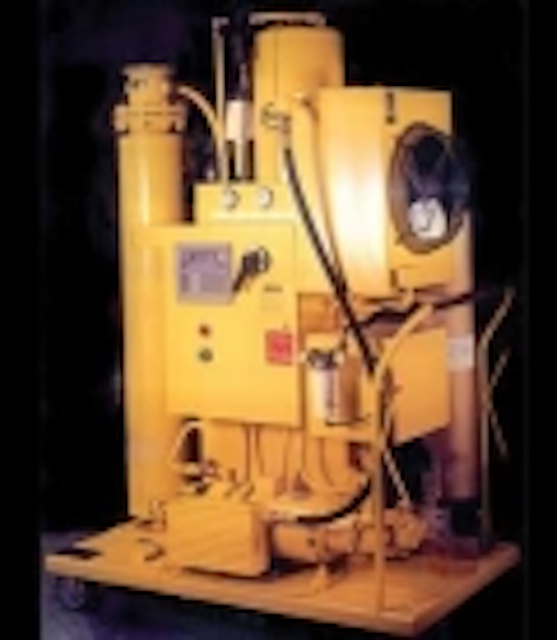 The WS Series control panels from SEE Water are advanced simplex and duplex panels controlled by mechanical float switches designed for wastewater and sewage pump applications. The panels come standard with NEMA 4X enclosures, upgraded pump protection and complete monitoring auxiliary contacts for building management and SCADA systems. The panels and technology make complete application status available 24/7. All panels manufactured by the company are 100% factory tested and ARRA Certified (Made in the USA). SEE Water Inc., www.seewaterinc.com
Telemetry, remote SCADA
Schneider Electric offers reliable and flexible products for Telemetry & Remote SCADA applications. Its SCADAPack E field controllers are designed to optimize monitoring and control of remote water assets, such as pump and lift stations, distribution networks, and treatment plants while ensuring data integrity, overall system visibility and security. Featuring the power of DNP3 and IEC 60870-5 on a scalable platform, operators benefit from no holes in data even when communication links go down. Schneider Electric, www.controlmicrosystems.com
Conductivity measurement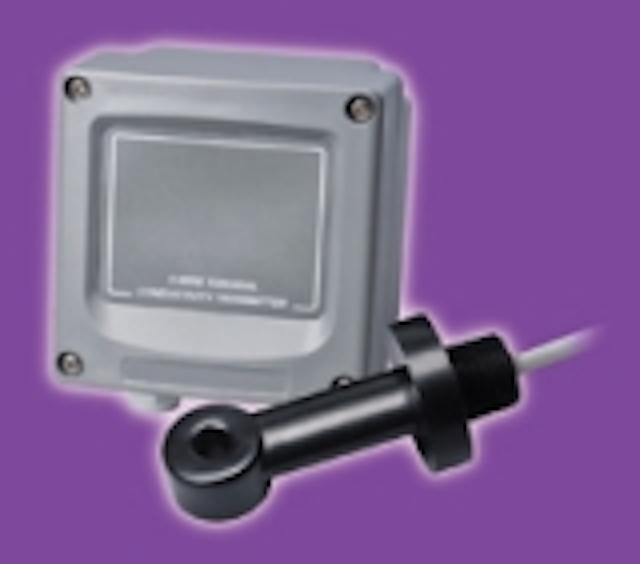 Engineers in search of a highly accurate and low-maintenance conductivity sensing solution will find that the new TCS3020 Toroidal Sensor from Sensorex when combined with the TCSMA Toroidal Transmitter or TCSTX Toroidal Transmitter, offers a complete conductivity measurement system. The sensor is designed for optimal performance from 0-1,000 mS. It offers the dependability of toroidal technology, providing a non-contacting, inductive type conductivity measurement. As an inductive sensor, it is resistant to the corrosion, coating and fouling common to contacting conductivity sensors. It is designed for long term deployment with no maintenance. Sensorex,www.sensorex.com
Multi-gas detector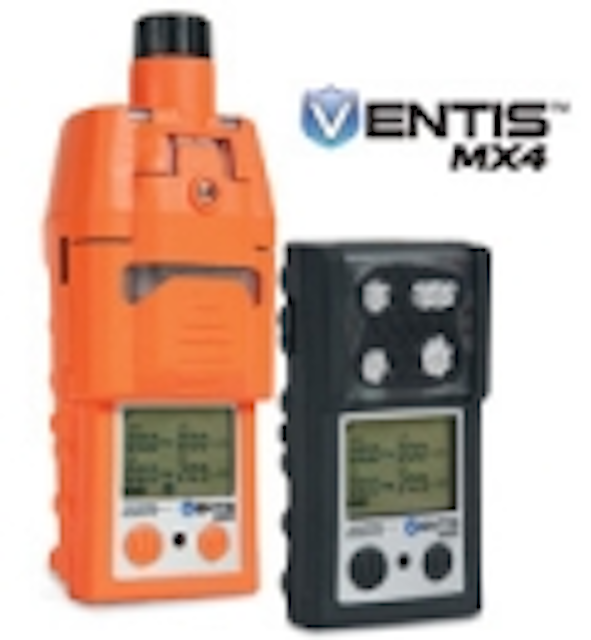 The Ventis MX4 from Industrial Scientific is a small, reliable multi-gas detector. Particularly useful in wastewater settings, users can select a powerful, yet lightweight pump for monitoring in confined spaces, or use the instrument without the pump for continuous personal monitoring during storm and wastewater collection. Additionally, a wide range of sensors are available to ensure safety in a variety of environments. The detector is compatible with iNet®, Industrial Scientific's Gas Detection as a Service solution. The software-based service increases safety by providing visibility into alarms, exposure and usage. Industrial Scientific, www.indsci.com/ventisbuilder
Remote monitoring
The Aquavx Scout RTU is the gateway to the company's Advanced Remote Monitoring service. The new panel mounted RTU offers full functionality in a compact package with 10 digital/discrete/pulse inputs, four analog inputs, two relay outputs, and MODBUS RTU support over its RS485/RS232 port. Users can receive real-time alarms via SMS, email, or automated voice telephone call, volumetric flow calculation, historical data, trending, and reporting for less than they would typically pay for a traditional landline based dialer. Aquavx,www.aquavx.com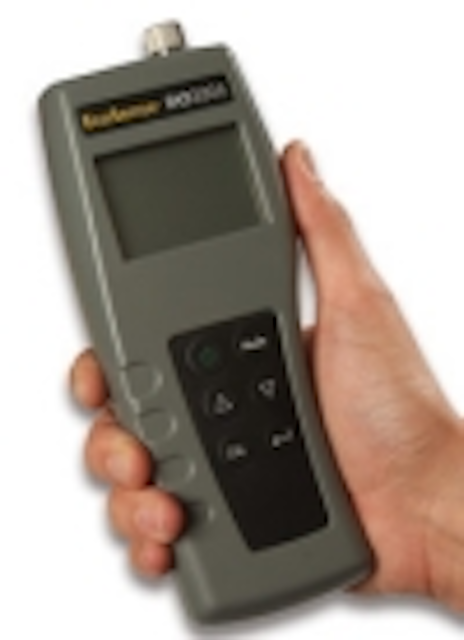 Monitoring instruments
ITT has announced the introduction of the YSI EcoSense® pH100A, DO200A and EC300A instruments for the measurement of conductivity, specific conductance, salinity, TDS (total dissolved solids), dissolved oxygen, BOD, pH, mV and temperature for the lab or field in environmental and wastewater applications. The instruments feature easy-to-use interface, one-hand operation and IP-67 waterproof case. The new YSI models replace earlier versions of the EcoSense line. YSI was recently acquired by ITT. ITT Analytics,www.ittanalytics.com
Venturi flow meters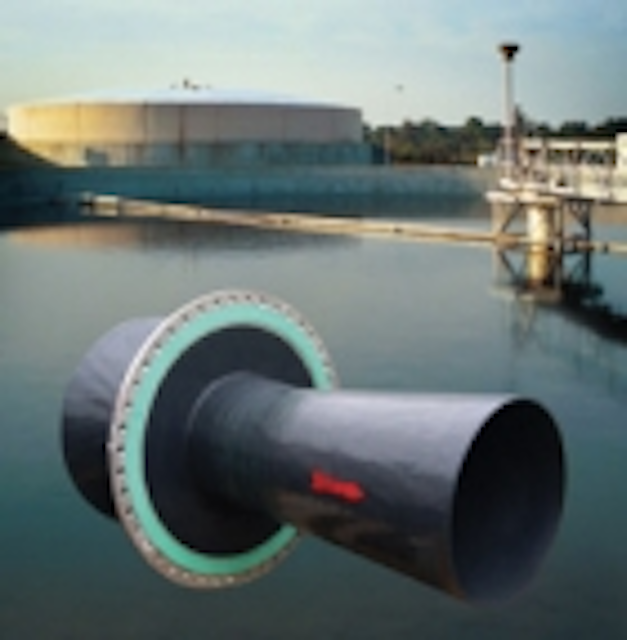 A line of corrosion-resistant venturi flow meters up to 10 feet in diameter for measuring the rate of flow at all types of water treatment plants is available from Westfall. The company's 2350 Series Venturi Flow Meters are made from fiberglass reinforced 10090 vinyl ester resin and have a stainless steel throat liner and flange. Capable of metering up to 50 mgd flow, the meters are comparable to cast iron flow meters in performance at one-third the cost because they are less expensive to manufacture and weigh considerably less. Available for piping from .75" to 120" O.D., the meters are installed between ANSI flanges. They have a short laying length design, provide low permanent pressure loss, and have no moving parts. Westfall Manufacturing Co.,www.westfallmfg.com
Data logger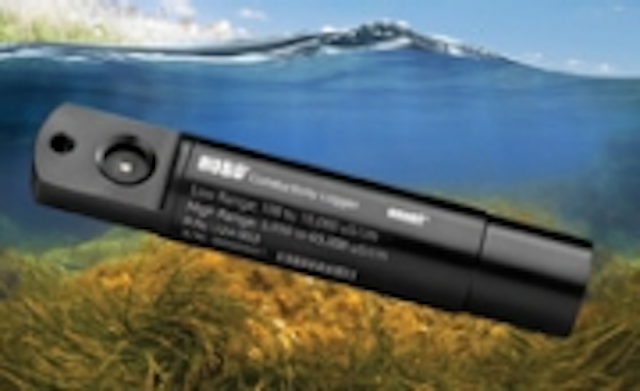 Onset Computer has expanded its line of conductivity data loggers with the new Hobo® U24-002 Conductivity/Salinity data logger. The new data logger reduces the cost of monitoring conductivity, salinity, and temperature in ocean bays, estuaries, and other salt-water environments while making logger maintenance easier. It features a non-contact sensor to reduce fouling-related measurement errors, easy access to the sensor for cleaning, and a durable Delrin® housing. Onset's HOBOware® Pro software helps users graph and analyze water salinity data, and offers a number of features that simplify salinity monitoring. Onset Computer Corp.,www.onsetcomp.com/salinity
Fluorometer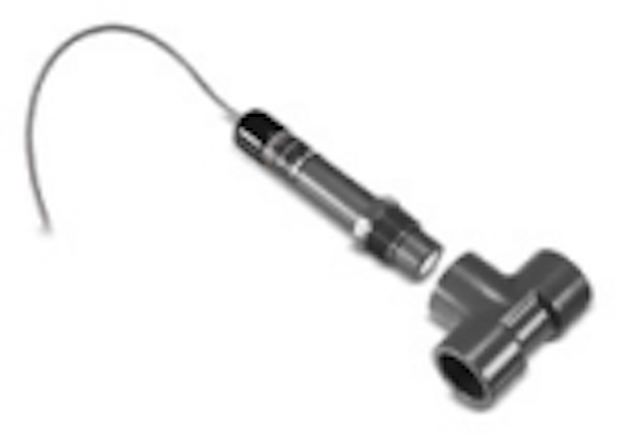 Turner Designs' Enviro-T is a single-channel, in-line fluorometer which provides a 4-20 mA output signal proportional to the relative concentration of chlorophyll fluorescence in the sample water, thereby providing a continuous indication of the algal biomass in the sample water. It installs into a plumbing tee for direct in-line measurements and, when integrated with data collection systems, enables early detection of algal blooms, estimation of algal biomass, and measurement of daily and seasonal fluctuations in the algal community. Turner Designs, www.turnerdesigns.com