New Products
Hayward Flow Control has launched a new design of its NVA Series Needle Valves. The series features an integrated stem / PTFE seat ...
Jan 1st, 2011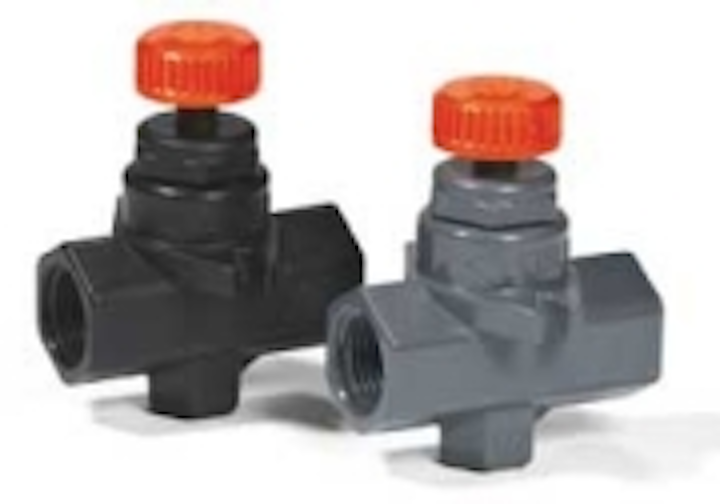 Needle valves
Hayward Flow Control has launched a new design of its NVA Series Needle Valves. The series features an integrated stem / PTFE seat for improved control and performance. Also incorporated in the new design are flanges for mounting panels. Sizes range from ¼" (DN8) to ½" (DN10). Available materials include PVC and GFPP with FPM seals. Hayward Flow Control, 888-429-4635, www.haywardflowcontrol.com
Commercial meter
The new Sensus accuMAG™ meter is a stand-alone commercial water meter that delivers improved accuracy and reliability, has low maintenance requirements, and can connect with Advanced Metering Infrastructure (AMI) systems. Available in 3" to 24" sizes, the battery-operated meter applies magnetic measuring principles, a rectangular flow tube design and a uniform flow profile to deliver heightened accuracy and reliability. Sensus, Raleigh, NC, www.sensus.com
Chemical feed
Siemens Water Technologies announced a new addition to its technology portfolio with the purchase of the Clearlogx Process chemical feed system. Siemens will integrate the technology into its Memcor membrane systems, which will support greater membrane performance for especially difficult-to-treat water sources. The Clearlogx automated chemical feed system enhances organic contaminant removal in water and wastewater, while simultaneously improving membrane and conventional filter performance. Siemens Water Technologies, www.siemens.com/water
Handheld PDA
Handheld US has introduced the Nautiz X3®, the company's smallest and lightest rugged handheld PDA yet. Designed to offer full rugged performance in the most mobile package possible, the device measures only 150x67x23 mm and weighs less than 260 grams, but carries an IP65 rating and passes full MIL-STD-810G testing. It is equipped with a 806 MHz X-Scale processor, operates Windows Mobile 6.5 Professional and has a range of performance features including 3G cellular, a 3-megapixel camera with autofocus and LED flash, WLAN, and Bluetooth. Handheld US, 541-752-0313, www.handheldgroup.com
Digital meters, probes
Hach has expanded its electrochemistry offering with the new HQd Benchtop meter and IntelliCAL™ ammonia ion selective electrode (ISE) probe. Designed to test water quality, the benchtop meter and ammonia probe automatically recognize the testing parameter, calibration history, and method settings to minimize errors and set-up time. The new meter enhances productivity by allowing easy switching and set-up of multiple smart probes. Advanced technology also provides simplified data transfer through standard USB ports and two-way communication to both PC and lab automation equipment. Hach Co., Loveland, CO, www.hach.com/smartprobes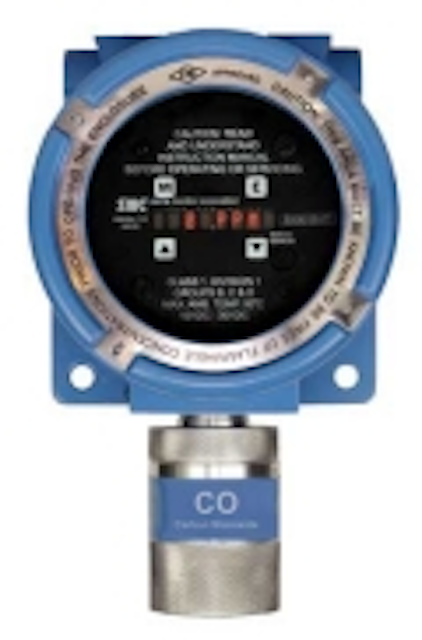 Carbon monoxide gas sensor
The Sierra Monitor Model 5100-04-IT Carbon Monoxide Gas Sensor Module uses network-enabled smart sensor technology that offers extended calibration frequencies only requiring calibration every 6 months, cutting normal calibration requirements in half. It features an 8-character, fixed and scrolling LED display for ease of set-up with understandable menus. It offers a choice or combination of outputs, including 4-20 mA and Serial RS-485 Modbus RTU interface.Sierra Monitor Corp., Milpitas, CA, 800-727-4377, www.sierramonitor.com
SCADA software
Schneider Electric has announced Vijeo® Citect® V7.20 SCADA software, the latest version of its integrated industrial automation and control solution, increasing overall performance of control systems through improvements in operating systems technologies and native integration of real-time video to enhance security features. The software provides a more holistic view of processes through the addition of support for the Microsoft® Windows® 7 operating system. Providing a control system that supports the latest Microsoft operating systems, it allows users to take advantage of the technology and security improvements these operating systems offer both now and into the future. Schneider Electric, Palatine, IL, www.schneider-electric.com
Polyethylene tank stands
Assmann Corp. has released new modular polyethylene tank stands for use with the FDO (full drain outlet) assembly. These new stands can be installed on any suitable, flat surface and elevate polyethylene tanks 12" from grade for a full drain tank without the need to pour concrete. The stands are 100% chemical resistant and are suitable for all corrosive environments. Features of this modular tank stand include corrugated sidewalls for maximum support, interlocking dovetail joints for securing modular sections together and optional wind load anchoring points. Assmann Corp. of America, Garrett, IN, 888-357-3181, www.assmann-usa.com
Manhole inspection
Clamping in seconds to the pole of a QuickView® zoom survey camera, the new ClipStream™ from Envirosight displays and records real-time video during pipe and manhole inspections. The monitor's wide viewing angle and tilt-mount make it easy to see footage, even when the device is deeply extended or used overhead. Alternately, the monitor undocks for wireless viewing at distances up to 32'. The video unit captures up to 16 GB (approximately 12 hours) of AVI video and JPEG still images to a micro SD card. Recorded footage can be viewed directly on the system's 3.6" color LCD, or transferred to a computer or smart phone by ejecting the card or tethering via USB. Envirosight LLC, Randolph, NJ, www.envirosight.com
Double-diaphragm pumps
Wilden®, a maker of air-operated double-diaphragm (AODD) pump technology, has developed its Advanced™ Series Metal AODD pumps with the characteristics necessary to effectively handle mining operations. Advanced pumps are able to excel in mining operations where large solids and abrasives often must be handled because of the unique set of features that they have, including: improved flow rates; product containment; bolted liquid paths; self-priming and dry-run capabilities; anti-freezing technology; variable flow and pressure rates; lube-free operation; and ease of operation and maintenance. Wilden Pump, Grand Terrace, CA, www.wildenpump.com
Butterfly valves
Assured Automation has announced its new line of High Performance Butterfly Valves. The HP Series offers Class VI shut-off and an advanced seat design which provides a bi-directional interference and pressure assisted seal. These valves are available in sizes 2" through 12" with a pressure rating up to 285 PSI for 150 class and 740 psi for 300 class valves. Body is available in carbon or stainless steel with Wafer or Lugged flanged end connections. The HP Series disc is engineered for a quick release from the seat, which reduces torque and seat wear. Machined position stops on the body locate the disc in the seat to achieve maximum seat and seal life. Assured Automation, Clark, NJ, 800-899-0553, www.assuredautomation.com
Power supply
Halogen Valve offers an Instrument Power Supply with battery power that provides uninterrupted 24 VDC for standard monitoring equipment like the Jupiter and Satellite gas detection systems. A three stage battery charger, powered by 115/230 VAC at 50 to 60 hertz maintains the 12 VDC battery at peak performance levels. The power system is designed to maintain a full charge that will provide 24 VDC output during a loss of AC power for up to three days. Membrane panel status lights provide diagnostic information for various system configurations. Halogen Valve Systems, Irvine, CA, 877-476-4222, www.halogenvalve.com
Bimetal thermometers
Ashcroft® bimetal thermometers eliminate the use mercury to measure temperature. Available in dial diameters from 2" to 5" and in ranges from -80 to 1000°F (and Celsius equivalents), these instruments are available in standard stem lengths from 2½" through 24" and special order stems up to 60". Ashcroft Maxivision® thermometers provide a fixed rear or bottom stem while the Everyangle™ design allows the stem angle to be adjusted. Hermetically sealed for easy wash-down or liquid filled to counter high vibration, the stainless steel bimetal thermometers are ideal for virtually every difficult installation. Ashcroft, 800-328-8258, www.ashcroft.com
Pressure sensors
American Sensor Technologies now offers the AST5400 wet / wet differential pressure sensor (also termed differential pressure transducer or transmitter) to measure line pressures up to 2,000 PSI with a turndown ratio of 15 to 1. Using Krystal Bond™ Technology, the sensor contains no silicone oil, O-rings, or welds. This MEMS pressure sensor technology completely isolates the media to the pressure ports, thus eliminating contamination risk. The low strain level on the diaphragm results in accurate, repeatable measurements. American Sensor Technologies Inc., Mount Olive, NJ, www.astsensors.com/index.php.
More Industrial WaterWorld Articles
Past IWW Issues