Sludge
Municipal Solutions provides automated Access Terminals and integrated Access Security and Billing Software Systems for authorizing, tracking, and billing for bulk water sales and septage receiving.
Nov 1st, 2002
Septage receiving system
Municipal Solutions provides automated Access Terminals and integrated Access Security and Billing Software Systems for authorizing, tracking, and billing for bulk water sales and septage receiving. The systems can restrict access to authorized haulers and provide a means of tracking who is dumping what and when. The system provides a date and time stamped record of: company and individual truck dumping at a facility; identification of the generator of the waste; waste classification or type of waste being dumped; and verification that identifies industrial wastes that have been pre-authorized.
Municipal Solutions Ltd
St. Albert, Alberta
Tel: 780-459-7126
Web: www.municipal-solutions.com
Centrifugal pumps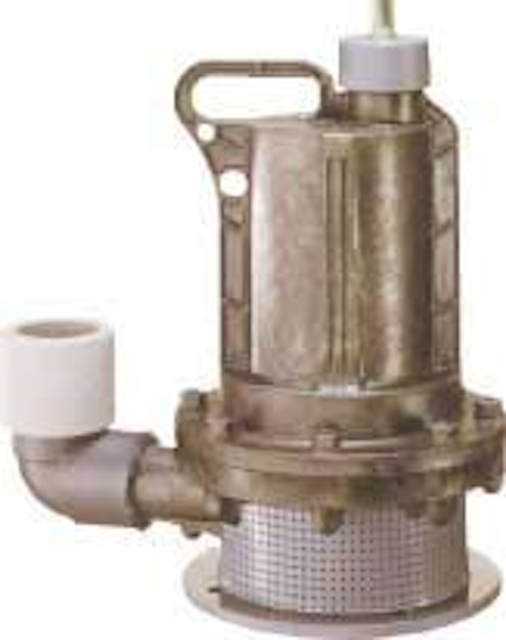 Click here to enlarge image
World Chemical's GW Series magnetic-drive centrifugal pumps provide non-metallic wetted parts and seal-less pump and motor design for continuous duty with wastewater, strong acids, bases, and chemicals that foam. These pumps are constructed with CFR polypropylene thermoplastics; bushings in high purity ceramic and PTFE; with SiC pump shaft. Close coupled to a Dry-Submersible motor with regular and high temp design to 167 F. Motors come thermally protected in 115v, 230v or 460v with a power cord that is covered in highly corrosive resistant material. The GW Series has a product range of 91 gpm or 45 ft. TDH.
Sealless Solutions L.L.C.
Exton, PA
Tel: 717-626-9694
Web: www.worldchemusa.com
Peristaltic pumps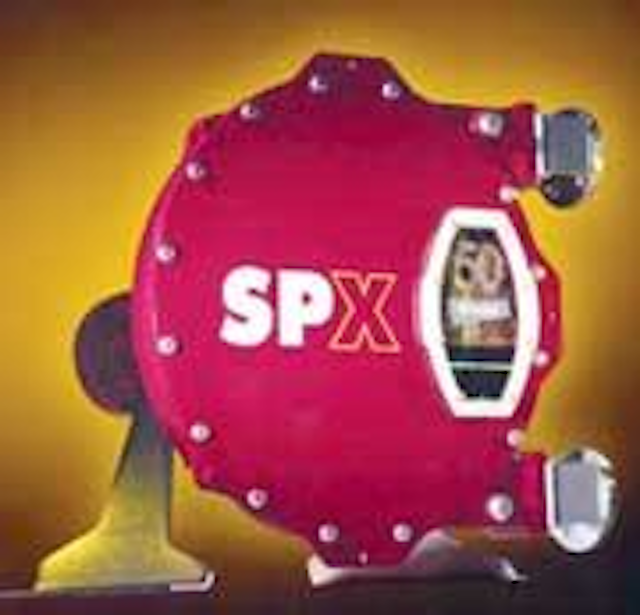 Click here to enlarge image
Watson-Marlow Bredel offers the SPX pump, which is ideal for the feeding of primary or thickened sludge to digesters or filter presses. The pumps are designed for continuous operation and can handle aggressive liquids. Every Watson-Marlow Bredel peristaltic pump is an inherent metering pump with repeatability at 99.5%. Many models include integral digital drives and displays in washdown enclosures. These self-priming pumps accommodate flow rates from 0.1 microliter to 350 gpm, and are extremely durable, withstanding pressures up to 232 psi.
Watson-Marlow Bredel
Boston, MA
Tel: 800-282-8823
Web: www.wmbpumps.com
Sludge pumps
The Double Disc™ pump from Penn Valley can be used for a variety of industrial sludge and slurry handling applications including but not limited to belt press feed, centrifuge feed, thickener feed, thickened sludge transfer, primary sludge, scum, septage, lime slurry, etc. Based on a Free Diaphragm™ technology, the pump uses an "induced flow" principle of operation whereby the discs perform the duties of both diaphragm and valve, providing a double acting, non-clogging pumping action. The elimination of check valves allows the pump to handle large solids, rags and fibrous material with no loss in pumping action.
Penn Valley Pump Co., Inc.
Warrington, PA
Tel: 215-343-8750
Web: www.pennvalleypump.com
Sump pumps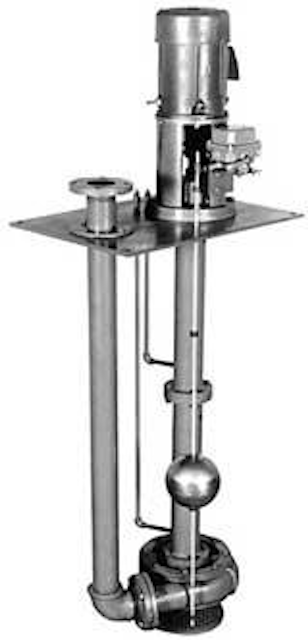 Click here to enlarge image
Vertiflo Pump Co. offers a rugged, dependable Series 800 Industrial Vertical Immersion Sump Pump for service in water, corrosive chemicals and hazardous liquids. Applications include sump drainage, flood control and process drainage to meet EPA and OSHA requirements. The Series 800 is designed for severe services with minimal maintenance at heads to 230 feet and temperatures to 350° F. The pumps have operated trouble free for over 20 years in pit depths to 26 feet and up to 3000 GPM.
Vertiflo Pump Co.
Cincinnati, OH
Tel: 513-530-0888
Web: www.vertiflopump.com
Tractor composter
Brown Bear Corp. has introduced a revised model of its farm tractor composter. The PTOPA35C-10.5 unit is designed to be attached to the front of 100-160 hp farm tractors. The composter requires a front 3-point hitch, 1000 rpm PTO, and creeper transmission. It is available for ISO and counter ISO PTO shaft rotation. The unit can compost biosolids, yard waste, manure and other organics. The unit's unique design assures that all material to the bottom of the windrow is mixed.
Brown Bear Corp.
Corning, IA
Tel: 641-322-4220
Web: www.brownbearcorp.com
Sludge volume index analyzer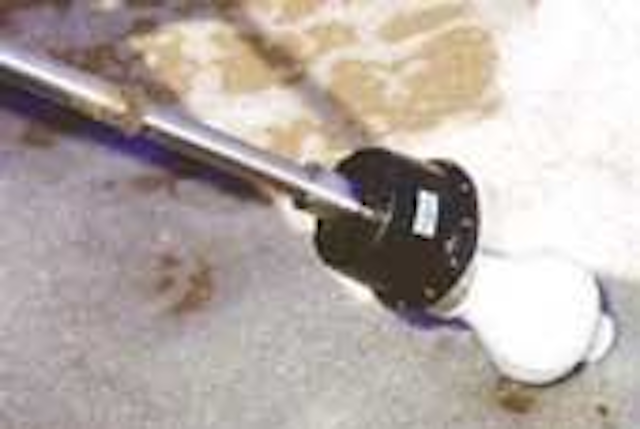 Click here to enlarge image
For the first time, an on-line sludge volume index measurement can provide wastewater treatment plant operators early warning of upset conditions. Hach's OptiQuant SVI Analyzer gives operators a continuous analysis of Sludge Volume without frequent intervention. The in-situ measurement provides analysis by measuring a true representative sample directly in the aeration basin. In addition, the analyzer provides a graphical display of the settling curve, eliminating the need for manual plotting to determine sludge age and return activated sludge flow rate.
Hach Co.
Loveland, CO
Tel: 800-227-4224
Web: www.hach.com
Vacuum enhanced dewatering
Click here to enlarge image
Used in conjunction with Flo Trend® Systems' Container Filters, the Flo-Vac® Pump provides vacuum enhanced dewatering that improves cake dryness when dewatering sludge. The pump is connected to the Container Filter, where circulating liquid in the tank creates a vacuum that assists in the dewatering of various types of sludge. The pump is dry-run proof, can pull up to 30 inches Hg of vacuum, can be powered by electric, gas or diesel and can be used with a variety of filtration equipment. Tank sizes range from 45 to 1000 gallons.
Flo Trend Systems
Houston, TX
Tel: 713-699-0152
Coagulants
GE Betz's all-organic tannin and starch technology can efficiently neutralize charges and coagulate solids, fats, oils and greases without producing excess sludge in a wide range of wastewater treatment applications. KlarAid™ coagulants are self-precipitating, with heavy metal complexing abilities and an affinity for oil and grease. They perform over a wide range of influent conditions and are safer and easier to use because of their all-organic structure derived from natural materials. Makedown and dilution is a simple process, and there is less need for pH or feedrate adjustments. The tannin and starch coagulants have minimal environmental impact, producing organic sludge that can be incinerated or landfilled.
GE Betz
Trevose, PA
Tel: 215-355-3300
Web: www.gebetz.com
Dry polymer preparation system
The DynaJET dry polymer preparation technology from Fluid Dynamics is designed to meter dry polymer to a pneumatic conveyance system where the polymer is dispersed prior to wetting. The dispersed polymer then becomes completely engulfed in the wetting chamber where complete polymer-particle wetting takes place. The systems feature a wide range of control options and various polymer storage and handling options to choose from, in order to meet a plant's specific needs.
Fluid Dynamics, Inc.
Boulder, CO
Tel: 888-530-7300
Sludge mixing
The JetMix Vortex Mixing System from Liquid Dynamics Corp. can be used to mix stored industrial waste biosolids prior to land application. The mixing system blends micronutrients to aid in field assimilation. It requires very little maintenance and even permits intermittent operation on an as needed basis. A pair of nozzles are mounted inside on the bottom of the tank and can be rotated 360 degrees, creating a powerful toroidal flow pattern. As an option, JetMix can be equipped with an over-the-top nozzle to break up surface crust as needed.
Liquid Dynamics Corp.
St Charles, IL
Tel: 630-513-8366
Web: www.jetmix.com
Positive displacement pumps
Viking Pump offers a line of positive displacement pumps for handling neat and post-dilution polymer metering functions in water and wastewater treatment systems. When compared to progressive cavity pumps, the company's gear and lobe pump designs have a smaller footprint and its non-contacting lobes will not wear or become damaged if run dry for an extended period of time. All Viking pumps use low shear pumping action, ideal for even the highest viscosity polymers.
Viking Pump, a unit of IDEX Corp.
Cedar Falls, IA
Tel: 319-266-1741
Web: www.vikingpump.com
Centrifugal pump
Little Giant Pump Co. has introduced the 20GH-RFK, a drop-in universal pump to fit wet wells using semi-positive displacement style grinder pumps. The centrifugal pump is powered by a 3450 rpm capacitor start, capacitor run, single phase oil-filled motor. A rubber stator helps reduce failures caused by abrasives and from various oils commonly found in wastewater. The pumps offer a maximum TDH of 110 feet, and a maximum flow of 65 gpm, and can use the existing wire of the pump being replaced.
Little Giant Pump Co.
Oklahoma City, OK
Tel: 800-701-7894
Rotary blower packages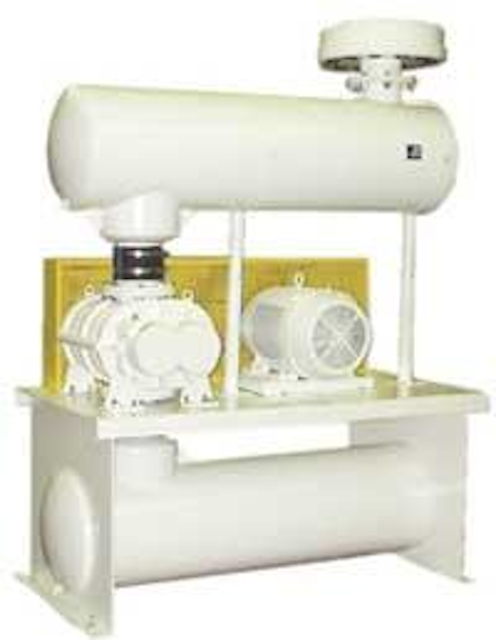 Click here to enlarge image
Tuthill has introduced a new line of compact rotary blower packages. Based on the Competitor® Plus™ rotary positive blowers, PneuPak™ blower packages are an economical low-pressure (up to 15 PSIG or 16 in. Hg vacuum) air source for many industrial applications, including wastewater aeration. The package blowers are factory built and warranted, and mounted on a base with integral silencer. Multiple configurations are available.
Tuthill Vacuum & Blower Systems
Springfield, MO
Tel: 800-825-6937
Web: www.pneumatics.tuthill.com
Sludge collection system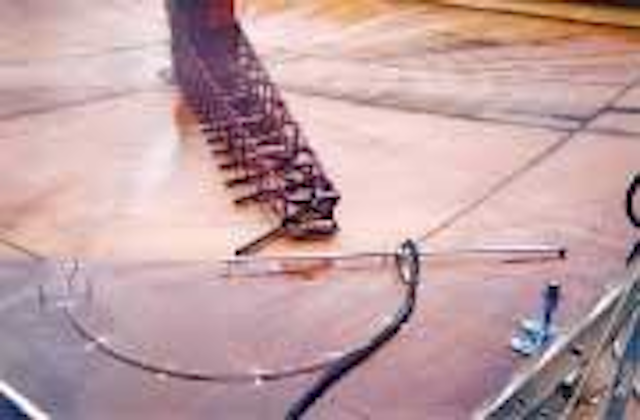 Click here to enlarge image
For over 12 years, EIMCO Process Equipment Co. has manufactured Trac-Vac®, a pneumatically powered, settled-sludge collection system. The collector mechanism's self-contained underwater drive system has ample power to push the sludge collection header through flocculated settled sludge deposits on the bottom of sedimentation/clarifier basins. The collection header removes accumulated sludge while as much as 90 gpm to 130 gpm (per collector) of fluid is being transferred out of the basin.
EIMCO Process Equip. Company
Salt Lake City, UT
Tel: 801-526-2000
Web: www.eimcoprocess.com
Hydraulic submersible pump
With variable speed diesel engine power, Godwin's Heidra® 150V hydraulic submersible pump meets a variety of flow and head requirements up to 1,600 gpm and 110 feet of head. In addition, the pumpend features a vortex impeller able to pass solids to 5 inches in diameter. On industrial sites, the six-inch submersible is used for volatile liquids pumping, API separator cleaning, tank cleaning, and high suction lift applications.
Godwin Pumps of America, Inc.
Bridgeport, NJ
Tel: 856-467-3636
Web: www.godwinpumps.com
Dredging system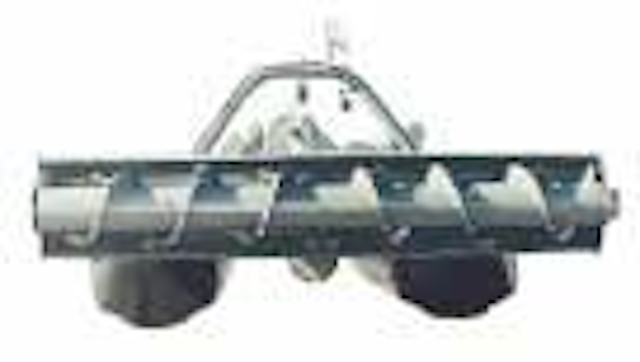 Click here to enlarge image
Crisafulli's FLUMP™ (Floating Unmanned Lagoon Pumper) is used by chemical companies, coal-fired power plants, pulp & paper facilities, and sand and gravel mines, to clean settled wastes, sludges and slurries from settling ponds, lagoons and basins. Remotely controlled for worker safety and lower labor costs, the dredge can be ordered with basic controls, handheld radio remote, or as a fully automated system. For a coal-fired electrical generating station, a FLUMP with abrasion-resistant pump is used to dredge and pump a slurry consisting of water and fly ash, specific gravity of approximately 2.0.
SRS Crisafulli, Inc.
Polymer preparation system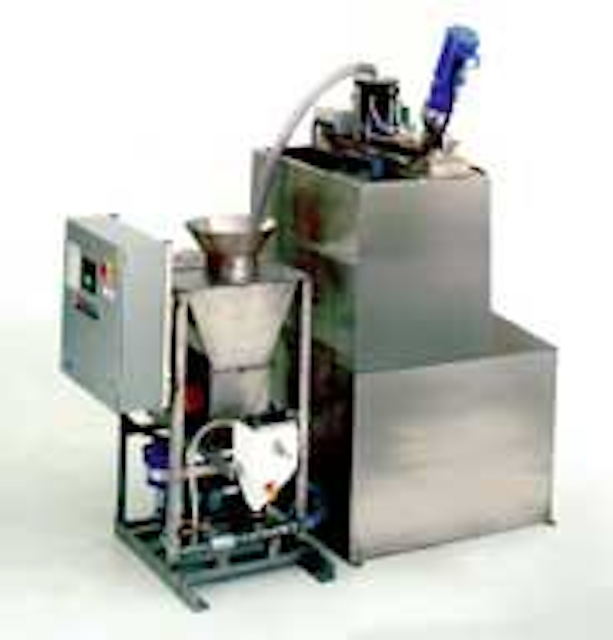 Click here to enlarge image
A new dry polymer preparation system from Severn Trent Services features an air driven feed that helps lower maintenance by keeping the dry and wet parts of the system separated. The Semblex Model Polymax® DL "In-Tank" Dry Polymer Preparation Systems are designed to mix, dilute and age large volumes of polymer solution from dry polymer concentrate. Advantages include complete initial wetting/dilution with minimal operator attention and lower operating costs.
Severn Trent Services
Colmar, PA
Tel: 866-787-9287
Web: www.severntrentservices.com
Sludge blanket clarifier
The Spiracone sludge blanket clarifier from USFilter General Filter Products provides maximum water production in minimal space. The process begins when raw water and chemicals are hydraulically mixed and then pass upward through the distinct zones for reaction-flocculation, clarification, and sludge removal. Hydraulic mixing eliminates mechanical mixers, while the conical shape eliminates scrapers. The unit's compact size reduces cost and the mixerless and scraperless design minimizes maintenance. Applications include clarification; softening; removal of iron, color and turbidity; phosphate reduction and heavy metals. A pilot plant is available.
USFilter General Filter Products
Sturbridge, MA
Tel: 800-547-1202
Web: www.usfilter.com
Divalent cationic product
Applied Chemical Magnesias' Floc-cite™ is a safe, non-toxic, non-corrosive divalent cationic product for reducing polymer requirements in sludge conditioning for most wastewater treatment processes. Being a customized ratio of calcium-to-magnesium, the product produces improved cake solids, and dewatering and settling properties. It also can improve overall floc strength and density, resulting in a reduction in optimal polymer dose by 30% to 75%. The material can be administered as a dry powder or in slurry.
Applied Chemical Magnesias Corp.
Fort Collins, CO
Tel: 800-397-1210
Web: www.magnesias.com
Diaphragm filter plate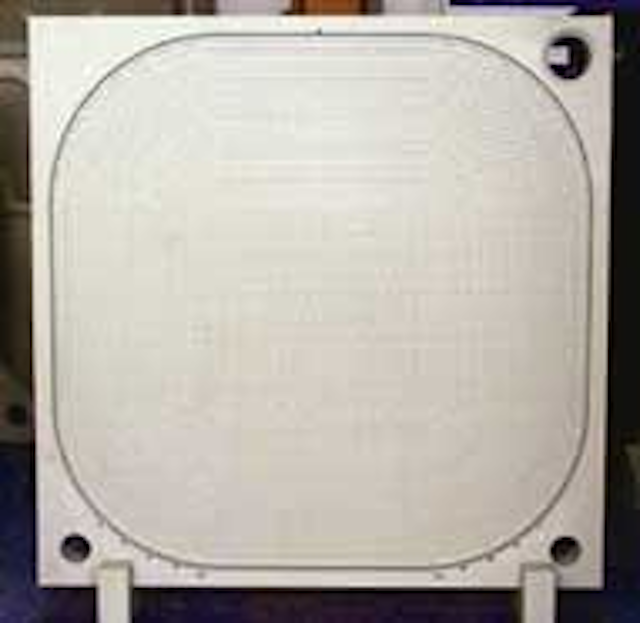 Click here to enlarge image
Available for the first time in the U.S. is a simple replaceable diaphragm (membrane) filter plate from Klinkau America Inc. This 3-piece filter plate boasts a replaceable diaphragm that virtually "snaps into and out of place" without additional gaskets. The new design provides the ability to replace the diaphragm piece only instead of the complete diaphragm filter plate. The diaphragm filter plates are designed for use in liquid/solid separation processes utilized in polishing, filtration, dewatering and recovery application in a wide variety of industries. The company offers a wide range of filter plates (elements) and options, as well as filtration accessories such as recessed chamber filter plates, filter plates and frames, diaphragm filter plates and filter plate accessories.
Klinkau America Inc.
West Chester, PA
Tel: 610-430-0101
Web: www.klinkauamerica.com
Low-flow pumps
Magnatex Pumps offers Magnatex® MMP Series Pumps, designed specifically for low-flow, low-head applications. These magnetically driven, sealless centrifugal pumps provide pumping of flows from 1/2 to 20 gpm, heads to 90 feet and pressures to 85 psig. The pumps feature the company's "straddle bearing" design which reduces shaft load and bearing wear. They are furnished with shaft, thrust ring, sleeves and bushings made of Beta sintered Silicon Carbide material. Slip-fit construction allows for easy maintenance and the sealless, mag-drive design eliminates the need for mechanical seals.
Magnatex® Pumps, Inc.
Houston, TX
Tel: 713-972-8666
Web: www.magnatexpumps.com
pH electrode
Mettler-Toledo Ingold announces the new InPro® 4250 pH electrode with improved performance even in industrial wastewater, emulsions, suspensions, solvents, strong acids and alkalis. The new electrode is a combined pH/temperature electrode offering an expanded 0-14 pH range and integral temperature sensor. The probe includes the Xerolyt®Plus reference system. The system features a solid polymer, which means very low maintenance (no refill of electrolyte), and is pressure resistant for most common operation pressures (up to 232 psig). The reference electrolyte is in direct contact with the measuring media using an open junction (no diaphragm), thereby, eliminating clogging problems.
Mettler-Toledo Ingold
Woburn, MA
Tel: 888-687-7867
Web: www.mt.com/pro
Process controllers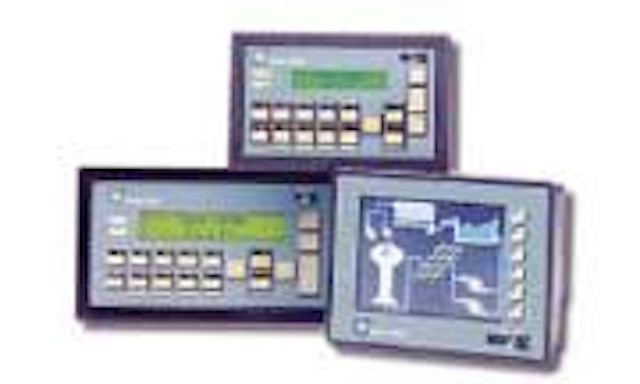 Click here to enlarge image
Healy-Ruff's new Versatile Process Automation Controllers (V-PAC) are specifically designed for water and wastewater applications such as SCADA, telemetry, and variable speed pump control. Key benefits are derived from V-PAC's flexible I/O, integrated user interface, and a single software program for both ladder logic and display configuration. Open communication options include Modbus, DeviceNet™, Ethernet, and CAN protocol.
Healy-Ruff
St. Paul, MN
Tel: 651-633-7522
Web: www.healyruff.com
Rotary drum thickener
The Hycor® ThickTech™ Rotary Drum Thickener from Parkson is a sludge thickening system that has set new standards for volume reduction. The thickener commonly reduces sludges by 90% with a 98% capture rate. The system is compact and requires less floor space than other thickeners. It is economical to operate with low horsepower and water consumption and requires minimal operator attention.
Parkson Corp.
Fort Lauderdale, FL
Tel: 954-974-6610
Web: www.parkson.com
Sludge pumping
The Moyno® 2000 HS System is designed to pump dewatered sludge in wastewater applications. It includes key features such as the Moyno® Model 2000 G4 progressing cavity pump, that enable it to handle semi-dry, high solids content material. The G4 pump features a flanged suction port that accepts dewatered sludge cake from the system's twin-screw feeder. This, along with the pump's augered connecting rod, ensures a 100% pump cavity fill rate. The progressing cavity design results in lower overall system pressure and its constant, non-pulsating flow imparts less stress on piping, machinery and drive systems.
Moyno, Inc.
Springfield, OH

Tel: 877-486-6966
Web: www.moyno.com
Flowmeters
Niagara Nutating Disc positive displacement flowmeters measure virtually any liquid including viscous fluids such as asphalt, corn syrup, glue and corrosive liquids with unmatched rangeability. Sizes vary from 3/4 in. to 6 in. and are available in mechanical and magnetic types. The flowmeters are available in many construction variations allowing compatibility with any application — even under high pressures and high temperatures. A full line of registers and accessories are available for totalization, rate indication, transmitting and batch control.
Niagara
Spartanburg, SC
Tel: 864-574-3327
Web: www.aaliant.com
Sludge blanket detection
The Milltronics InterRanger DPS 300 is a microprocessor-based sludge blanket detection system for use in up to two water and/or wastewater primary clarifiers. It uses one or two Echomax® non-contacting XCT-12 transducers and echo processing techniques to continuously monitor the sludge blanket. Communications via RS-232/RS-485 or bi-polar current loop, and isolated mA outputs, provide the capability for integration with centralized control systems. For either round or rectangular clarifier tanks, the DPS 300 has an effective measurement range of 3 ft. to 100 ft. The self-cleaning transducer can be left in place for extended periods without requiring maintenance.
Siemens Energy & Automation
Grand Prairie, TX
Tel: 800-365-8766
Web: www.sea.siemens.com/ia
Polymer control
The Streaming Current Meter from Micrometrix is designed for controlling polymer dosage on sludge dewatering equipment such as belt presses and centrifuges. The instrument measures residual polymer charge in the filtrate to monitor how the process is performing. The sensor is self-flushing and responds to changes in mass flow, solid characteristics, and automatically maintains optimum polymer dosage. Automatic dosing is controlled via a 4-20 mA control signal. Benefits include dryer and more consistent cake with average polymer savings of 20-35%. Process upsets are prevented with alarm outputs
Micrometrix Corp.
Suwanee, GA
Tel: 770-271-1330
Web: www.micrometrix.com
Recessed impeller pumps
Morris Series 6100 cup-type recessed impeller pumps can perform under the most severe operating conditions. Grit, sludge, slurries, industrial or process waste and other demanding solids-handling applications are routine for this pump design. The pumps feature a universal stuffing box, high-chrome cast iron construction and a reversible casing.
Morris Pumps
Aurora, IL
Web: www.morrispumps.com
In-line grinders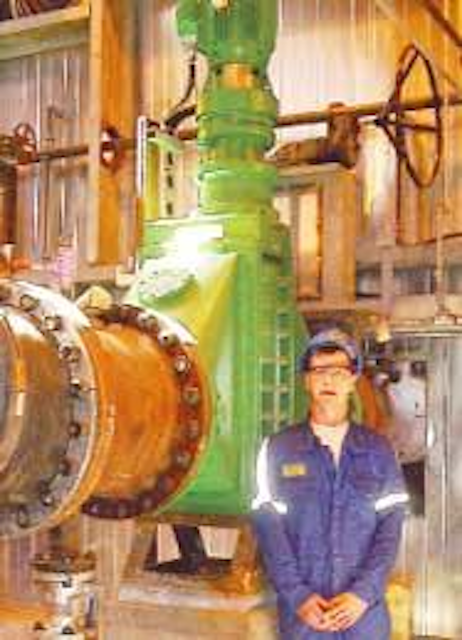 Click here to enlarge image
JWC Environmental has manufactured a massive Macho Monster® in-line grinder that stands taller than a person and fits a 20 in. line. The heavy-duty, dual-shafted grinder is designed for industrial wastewater and can shred tough solids that are in sludge and slurry. This protects pumps, belt presses and can enhance sludge digestion. One of the grinders is being used to grind tar sands for a Canadian based oil extraction company and protects their pumps from clogging.
JWC Environmental
Costa Mesa, CA
Tel: 800-331-2277
Web: www.jwce.com
Pumps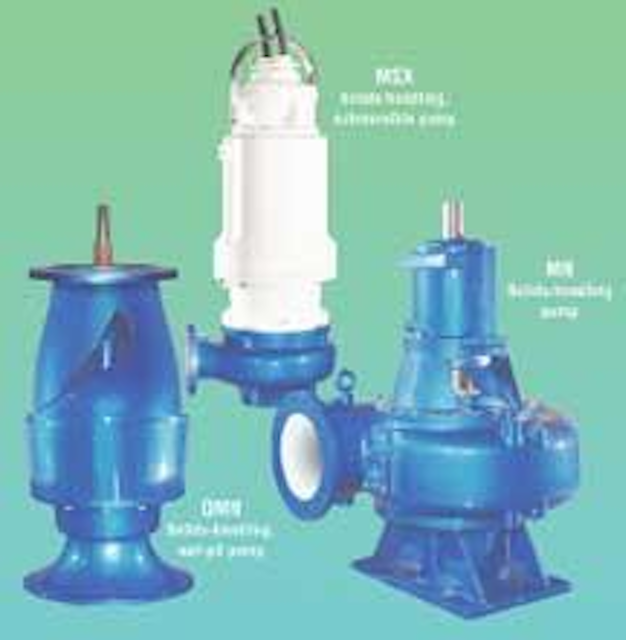 Click here to enlarge image
Flowserve Corp. offers a variety of solids handling pumps for wastewater applications, along with corrosion resistant process pumps and other specialized pumping equipment. Capacities range to 200,000 gpm and heads are to 300 ft.
Flowserve Corp.
Dayton, OH
Tel: 800-728-7867
Web: www.flowserve.com
Sump, process pump

Click here to enlarge image
The Model 3171 self priming vertical sump and process pump from Goulds Pump, an ITT Industries Co., is capable of handling a multitude of different applications including: process fluids, sump drainage, tank unloading, and chemical waste control. The sealless construction of the 3171 eliminates stuffing box problems, including expensive and maintenance intensive mechanical seals. Designed with a double-row thrust bearing, a heavy-duty one-piece shaft that eliminates misalignment and provides for longer bearing life, the 3171 features an open impeller design, which allows for external impeller adjustment for maximum efficiency. Available in 17 sizes with a wide range of alloys, the 3171 offers capacities to 3180 gpm, heads to 344 feet and temperatures to 450º F.
Goulds Pumps
Seneca Falls, NY
Tel: 315-568-7122
Web: www.gouldspumps.com
Submersible pumps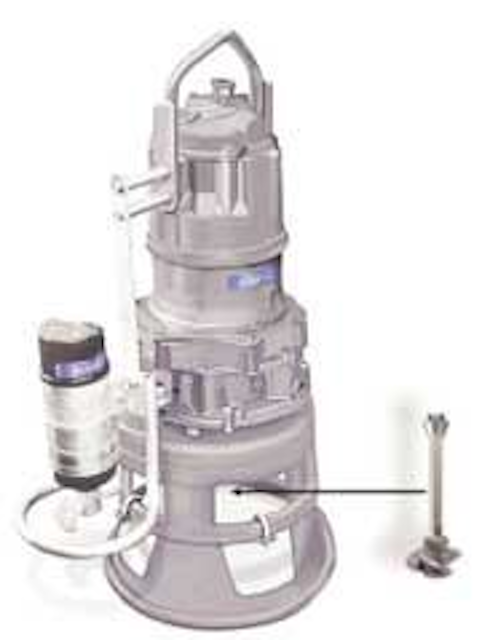 Click here to enlarge image
A heavy duty submersible pump designed specifically for various types of slurries has been introduced by ITT Flygt Corp. Designated as the 5100, the pump is ideal for use in power plants for bottom ash, refineries for petroleum coke, and most any other application where solid granules are present and can rapidly erode pump volutes and impellers. The unit employs a solid high chrome pump casing and its simplified hydraulic design eliminates the need for over-trimming the impeller. The impellers feature backvanes to reduce pressure on the outer mechanical seals. A double seal system ensures maximum leak protection.
ITT Flygt Corp.
Trumbull, CT
Tel: 203-380-4700
Belt filter presses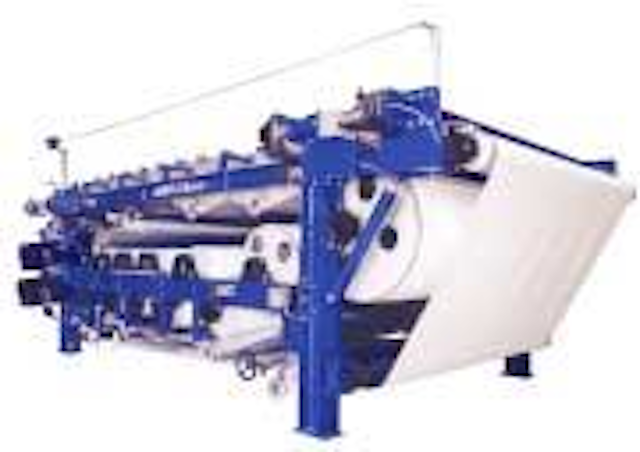 Click here to enlarge image
USFilter's new belt filter press line, manufactured under license from Sernagiotto Technologies, adds to the company's dewatering product portfolio and complements its high solids centrifuge and recessed plate filter presses. The flagship product is a high pressure, 15-roll, 3-meter wide machine. The company's laboratory can provide a complete analysis of a facility's dewatering requirements, selecting the best dewatering/separation technology to fit specific needs.
USFilter Dewatering Systems
Holland, MI
Tel: 800-245-3006
Web: www.usfilterdsg.com
Wastewater treatment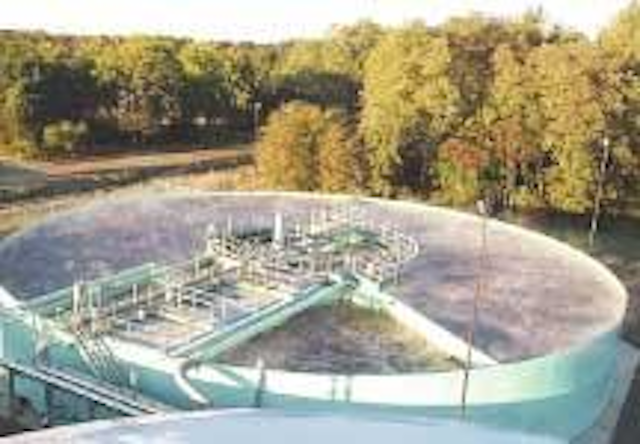 Click here to enlarge image
The Smith & Loveless Model R Oxigest® wastewater treatment system provides industrial facilities maximum space-efficiency in terms of total footprint area required. Its concentric tank design combines treatment zones (including aerobic and anoxic), clarifier, sludge storage and other required biological process zones in one circular tank, sized to treat high-strength process wastewater and groundwater flows up to 5 mgd. Its space-efficient design reduces the need for mechanical equipment that can increase capital and operational costs.
Smith & Loveless
Lenexa, KS
Tel: 913-888-5201
Web: www.smithandloveless.com
Solids-handling pumps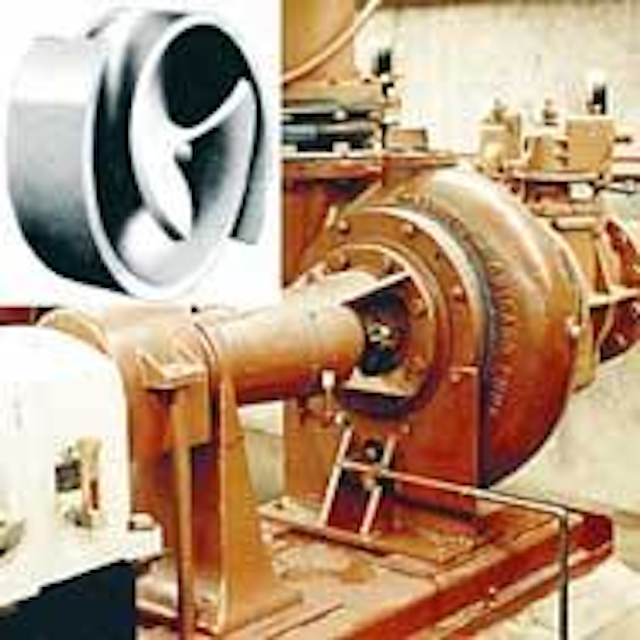 Click here to enlarge image
Chicago Pump offers sludge and wastewater pumps with a semi-open impeller design that reduces the risk of clogging and maintains pumping efficiency even under the worst of conditions. The self-cleaning impeller combined with a unique suction-plate design provides a self-cleaning flow path through the pump. Easy adjustment of the impeller clearance helps to maintain pumping efficiency over the life of the system. Lower energy consumption can produce a dramatic reduction in the lifetime operating costs of the pump installation.
Chicago Pump Co.
Aurora, IL Tel: 630-236-5700 Web: www.chicagopump.com