New Products
Compilation of new products for the industrial water market.
Dec 1st, 2016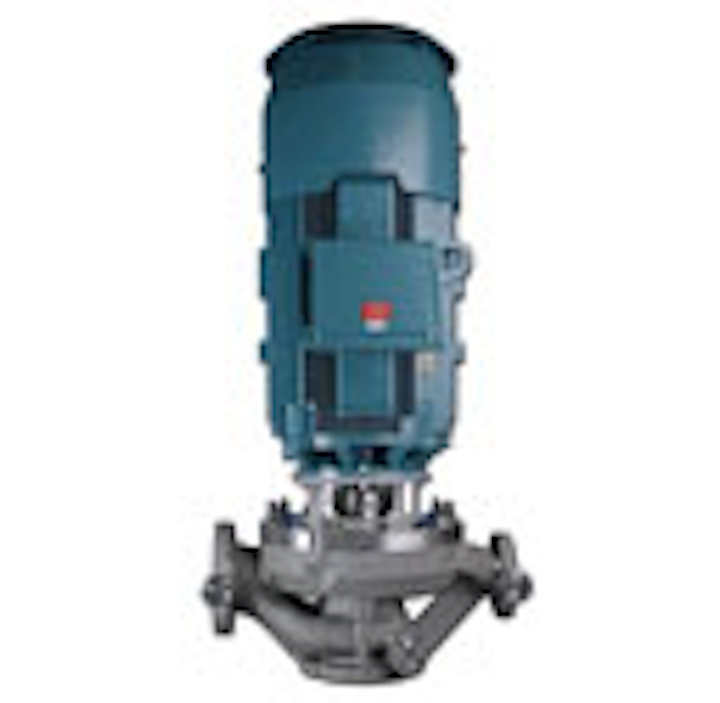 Ultra-low NPSHr, high-flow pump
Sundyne's LMV-803Lr ultra-low NPSHr, high-flow pump is an API 610 compliant direct-drive process pump available in either OH3 or OH5 motor mounting configuration that provides ultra-low NPSHr performance - less than 10 feet (2 m) across the entire performance range - for flows to 800 GPM (180 m3 / hr) and heads to 1,000 feet (305 m). This ultra-low NPSHr capability allows the pump to be installed at grade level, eliminating the expense of installation in a pit and performing maintenance in a confined space. It also features a vertical design.
Sundyne
Compliance monitoring of ballast water
The Ballast-Check 2 from Turner Designs is a small, handheld fluorometer that enables quick, indicative checks of ballast water samples. Testing of ballast water samples can be a time-consuming process requiring trained personnel and expensive equipment. Portable tools such as the Ballast-Check 2, which requires no reagents and minimal training, are an ideal way for ship operators to quickly check that they meet discharge standards before pulling into port and to provide documentation to state port control officials.
Turner Designs
Glass-reinforced epoxy pipe
The Glass Reinforced Epoxy (GRE) piping system from EPP offers a complete solution for the offshore environment against highly corrosive fluids at various pressures, temperatures, adverse soil and weather conditions (especially in oil exploration, desalination, chemical plants, fire mains, dredging, portable water, and more). With this system, there is no need for linings, coatings, cathodic protection, wraps or other forms of additional corrosion control. Pipes are lightweight, keeping transport costs low. An extremely smooth inner bore means less friction loss in pipelines, less pumping energy needs and lower operating costs. Pipes meet AWWA M45 and ISO 14692 standards. EPP Composites Pvt. Ltd.
Air stripper
The E-Z Tray® Air Stripper is a sliding tray, stainless steel air stripper ideal for removing volatile organic compounds (VOCs) from contaminated groundwater and waste streams. As contaminated groundwater enters through the top of the air stripper, air bubbles are forced by blower pressure up through the perforated trays. This creates a turbulent froth zone with an extremely high air-to-liquid surface area for mass transfer of VOCs from liquid to air. Using the froth instead of a conventional tower packing delivers high VOC removal efficiencies, even under fouling conditions. The system is easy to inspect and maintain, even during use.
QED Environmental Systems
Ion exchange resins
DOWEX MARATHON™ ion exchange resins from Dow Water & Process Solutions feature uniform beads that exhibit faster kinetics than conventionally sized resins and helps improve regeneration efficiency and higher operating capacity. Products include a suite of strong and weak acid cation exchange resins, and strong and weak base anion exchange resins for use in both packed bed and layered bed systems. The line-up allows operators to use the best combination of resins with their vessel type to achieve extremely low unit cost of demineralized water, high regenerability, and reduced waste volume.
Dow
Ribbon connector interface
The new compact 32-channel 40-pin ribbon connector interface from WAGO offers 24 VDC selectable connections that allow for use with a variety of PLC devices. The compact design utilizes less DIN rail space than competitors. Features include: convenient power supply terminations for sensors, operation voltage of 24 VDC, ambient operating temperature of -20°C to +55°C, and WAGO's CAGE CLAMP® spring pressure connection technology.
WAGO
Slurry and digestate processing system
Kumac, WELTEC BIOPOWER's slurry and digestate processing system, is a fully automated processing system that reduces liquid manure and digestate volume by 50%. In a four-stage procedure, clear water, liquid fertilizer concentrate and valuable solid matter are extracted from the source material. The processing system represents a sustainable, economic solution for mitigating the impact of the nutrient surplus by reducing the volume of slurry and improving its transportability.
WELTEC BIOPOWER
Improved stator design
NETZSCH Pumps North America's new iFD-Stator® 2.0 features a two-part, reusable stator housing and replaceable stator. Changing the stator within the housing is remarkably easy, with simple, compression-free assembly and disassembly. The defined compression for the iFD-Stator 2.0 is automatically generated when the elastomer collar is fastened. The new housing concept is easier to handle than the previous generation and delivers a longer service life than competing options. The iFD-Stator 2.0 delivers reduced pulsation and improved fluid flow compared to conventional stator design, as well as a considerable increase in efficiency due to reduced starting and running torque.
NETZSCH Pumps & Systems
Flowmeter verification tool
KROHNE's OPTICHECK flowmeter verification tool provides in-situ verification for mass and other flowmeters. It enables operators to perform preventive maintenance and responsive service to ensure that installed flowmeters are performing to specification. When the tool is connected in-line on site, it gathers measuring data to ensure that the flowmeter is performing within 1% of the factory calibration with a confidence level of 95%. The baseline for comparison can be historic repair data from the factory or on-site test results after performing a full verification. The device comes with all cables and accessories for easy connection and handling.
KROHNE Inc.
Automatic volumetric feeder
Scaletron Industries has introduced a new line of volumetric screw feeders for metered dispensing of powdered or pelletized chemicals into water, wastewater and chemical treatment processes. The Model VMF-28™ auger-style feeders feature a fully integrated Scaletron scale. Precise dosage amounts are automatically weighed and added to treatment processes without requiring an operator to measure and weigh amounts. Data is displayed at a central monitoring station where operators can quickly make adjustments as necessary from the control panel. Besides saving operators time, the new VMF feeders improve accuracy because the integrated scale continually monitors weight loss or gain.
Scaletron Industries Ltd.
Industrial pH analyzer system
The new application-specific Industrial pH Analyzer System from Electro-Chemical Devices is ideal for rugged industrial process and plant environments, delivering superior accuracy, flexibility, economy and long life. ECD's intelligent plug-and-play S80 sensors come with replaceable cartridges and are available in 10 different application-specific pH electrode configurations to support the most popular industrial process and plant applications in water and wastewater treatment. The sensors are available in a standard 0.75-inch diameter insertion/submersion configuration with threaded compression fittings or a valve retractable configuration. Standard construction is 316L stainless steel. Heavy duty materials available include Monel, titanium, and Hastelloy bodies.
Electro-Chemical Devices
Electro-hydraulic actuator
Rotork's Variable Speed Drive (VSD) provides a high response rate and stable control with minimal overshoot. Rotary and linear versions enable the operation of part-turn valves, globe valves, and dampers. Fail-in-place or failsafe open/close options are available. Positional accuracy is < 0.1% with repeatability < 0.1% of full stroke. A wide range of status, alarm, and input/output signals can be configured with parameters stored in non-volatile memory. Linear thrust outputs are from 2,000 to 100,000 lbs and rotary torque outputs are from 2,000 to 300,000 lbf-in. The control enclosure is available with NEMA 4X and NEC Class 1, Division 1 ratings.
Rotork Controls
Sonic drilling technology
Sonic drilling involves the use of a dual line threaded drill pipe, with the inner line being advanced with a core barrel attached to it. The LS™250 MiniSonic™ from Boart Longyear is a compact sonic rig that provides a continuous, relatively undisturbed core sample through any type of formation. When using the iso-flow groundwater profiling system, hydrogeological and geochemical data can be easily obtained. Drill spoils and waste are reduced by up to 80 percent compared to other methods. Safety features include an interlocked rotation barrier, reduced noise levels, a dump mast and wiggle tail, and a rod presenter.
Boart Longyear
Technology platform
The Oasys ClearFlo MBCx platform dramatically extends the capabilities of the company's flagship forward osmosis (FO) based system by increasing system flux by more than 100%, while integrating a sophisticated controls capability to provide far greater system flexibility and performance to aggressively drive down system life cycle costs. The MBCx makes high recovery brine concentration and ZLD viable for new applications, such as extending fresh water production from seawater desalination plants where intake expansion is not feasible or where environmental pressures on brine discharge are growing.
Oasys Water
Durable, structural foam basin
The Evolution E-Series Basin from TOPP Industries is a maximum durability structural foam basin that won't crack or dent. The E-Series features self-tapping lags for cover attachments, dual raised flat pockets for a tight inlet seal, and is gas tight for sewage and radon mitigation applications. TOPP Industries offers fiberglass and polyethylene sewage, sump and wastewater basins and accessories for a variety of applications. Other products available include septic tank risers, packaged lift stations and uniseals.
TOPP Industries
Valve island
The Type 8647 AirLINE SP valve island from Bürkert is compatible with the Siemens I/O system SIMATIC ET 200SP for maximum process reliability. It can be mounted in the control cabinet together with different Siemens modules for controlling up to 64 valve functions. It features pressure sensors and an LCD, which displays detailed status information directly at the device. Maximum system availability is achieved by means of the pneumatic valves in the supply channel: they are hot-swap capable, so they can be replaced during operation. Check valves in the exhaust duct ensure that pilot valves and actuators operate reliably by preventing pressure peaks.
Bürkert Fluid Control Systems
NSF-certified butterfly valves
Bonomi North America is introducing a new series of NSF-certified butterfly valves with factory-installed electric or pneumatic actuators for potable water applications with high flow requirements. The new N500 Series wafer and N501 lug body valves feature ductile iron body construction with EPDM rubber seats. They are available with stainless steel disc (N500S/N501S) or nylon-coated disc (N500N/N501N). All are approved to NSF/ANSI 61 and 372. Sizes range from 2 inches through 12 inches. Their longer-lasting two-piece stem is designed for critical automation applications. They are rated for 200 psi working pressure with high flow coefficient (Cv).
Bonomi North America
Heavy-duty waterproof transformer
The DCP-5-HD heavy-duty power converter provides a safe and effective way for users to tap into common 100- to 277-volt AC power sources and converts the current to 12 or 24 volts DC, allowing users to use standard AC power to operate equipment. It features an IP67-rated waterproof design, making it suitable for indoor or outdoor use and is wet area approved. Integral short circuit, over voltage, over temperature and overload protection will shut the unit down or reduce output in case of faults and overloads to protect the unit and connected equipment from damage.
Larson Electronics
Thermoset resin
Materia's Proxima® thermoset resins provide reliable, practical and economical solutions that solve major technology challenges in subsea thermal insulation, subsea buoyancy and downhole tools for the oil and gas industry. Proxima resins are extremely easy to process due to their inherently low viscosity and controlled cure profile. Proxima HTI resins for high-temperature subsea thermal insulation provide an effective thermal barrier between high-temperature flowlines and seawater. Proxima polymers maintain structural integrity in operating environments at water depths greater than 10,000 ft., and this advanced insulation technology can be rapidly and safely applied in the factory or the field.
Materia Inc.
http://oilandgas.materia-inc.com
Ultra soft metal activator
Sterilex Corporation's Ultra Soft Metal Activator is a disinfection solution for soft metal surfaces such as heat exchange coils, spiral freezers, IQF units and overheads. The product is based on Sterilex® proprietary PerQuat® Technology and is effective against most food pathogens. Can be used for both remediation of microbial challenges as well as rotational maintenance, and is easy to mix and circulate with low environmental impact (non-acid, non-volatile, etc.).
Sterilex