WEFTEC16 Show Preview
The 2016 Water Environment Federation Annual Technical Exhibition and Conference (WEFTEC.16) - considered the largest annual water quality event in the world - will take place Sept. 24-28 at the Morial Convention Center in New Orleans, La.
Jul 1st, 2016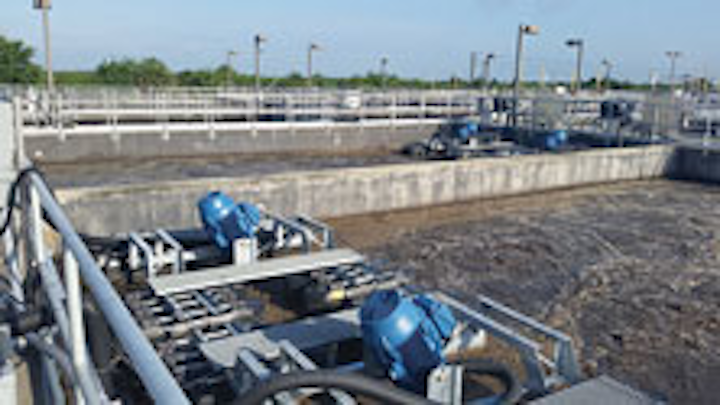 Sept. 24-28 | New Orleans, LA
The 2016 Water Environment Federation Annual Technical Exhibition and Conference (WEFTEC.16) - considered the largest annual water quality event in the world - will take place Sept. 24-28 at the Morial Convention Center in New Orleans, La.
The 89th annual conference is expected to draw more than 20,000 attendees and will feature 29 workshops, 16 mobile sessions on the exhibit floor, nine local facility tours, and 130 technical sessions. More than 1,000 companies will showcase the latest in water technology solutions during the 5-day event. A Stormwater Congress and Pavilion, along with an Innovation Showcase Pavilion, will round out the program.
On Monday, Sept. 26, the Opening General Session, titled "Creating the Future of Water," will feature a keynote address from Joe Whitworth, president of The Freshwater Trust, a non-profit organization that protects and restores freshwater ecosystems through science, technology, and incentive-based solutions. The conference kicks into high gear after that, with an exciting lineup of workshops and technical sessions.
Workshops are presented in an in-depth, hands-on format and will cover topics such as industrial water issues and treatment technologies; facility operations and maintenance; energy/residuals and biosolids management; and collection systems, among others. Technical sessions, organized by experts, focus on research and innovation; industrial issues and treatment technologies; facility operations and maintenance; residuals and biosolids management; collection systems and distribution; and water reclamation and reuse, to name a few. Topics include water challenges in the steam electric power industry, anaerobic treatment and resources recovery, innovations in regulations, and urban resiliency planning. WEFTEC Exhibition
The exhibit hall will showcase a variety of water and wastewater services and technologies related to biosolids and sludge; contract operations; engineering and consulting; instrumentation, controls and automation; pipe and collection systems; pumps, valves and motors; and more. The following pages contain a sneak peek at some of the products and services that will be on display. For more information, visit www.weftec.org.
Exhibit Floor Hours
Mon., Sept. 26: 8:30 am - 5:00 pm
Tues., Sept. 27: 8:30 am - 5:00 pm
Weds., Sept. 28: 8:30 am - 5:00 pm
Aeration solutions
Aeration Industries International features the Aire-O2 Triton® TR Series aerator/mixer and the Aire-O2® Antifouling Aspirator, which help to solve the most challenging industrial and municipal wastewater treatment needs.
Aeration Industries
Booth 1719
Polyethylene tanks and containers
Assmann Corporation has a full line of corrosion- and chemical-resistant tanks and containers in capacities up to 12,000 gallons. Constructed from virgin high-density crosslink or FDA-compliant linear polyethylene, the tanks are UV-stabilized and come in wide range of capacities and colors.
Assmann Corporation of America
Booth 2657
Compact, modular online analysis system
The Type 8905 Online Analysis System from Burkert is a modular system for monitoring all important water parameters on one platform. The device offers continuous measurement of high-priority water parameters such as: pH value; chlorine; conductivity; ORP value; and turbidity.
Burkert
Booth 541
Dewatering container
The AquaCat SludgeKing dewatering container from Park Process is specially designed with two center filter walls to provide 33% more filter area than standard dewatering containers. More filter area equates to faster drying times and drier cakes.
Park Process
Booth 8542
Ozone generation system
Aqua-Aerobic Systems' Aqua ElectrOzone™ Ozone Generation System is a reliable treatment solution with a proven track record. Applications for ozone treatment include taste and odor control, bleaching/color removal, oxidation and disinfection.
Aqua-Aerobic Systems
Booth 829
Tanks and covers
CST Industries is a dynamic combination of the world's leading factory-coated steel tank and aluminum cover companies and is home to brands including Aquastore®, HydroTec® (formerly Columbian TecTank®) and OptiDome® (formerly Temcor and Conservatek). CST tanks, domes and flat panel covers are manufactured in the United States in ISO-certified manufacturing facilities and are supported around the world.
CST Industries Inc.
Booth 3616
Non-contact radar
Endress+Hauser's Micropilot FMR10 and FMR20 non-contact radar devices measure the level and open channel flow of liquids by emitting continuous microwave signals. The Endress+Hauser-invented, direct-emitting radar chip allows for a compact design, giving the devices the ability to fit in applications with limited space.
Endress+Hauser
Booth 3745
Odor control
OMI Industries introduces Ecosorb® 5000S, a new water-based solution for reducing emissions from hydrogen sulfide, mercaptans, amines and thioethers. The new solution also offers strong odor control across a broad spectrum of compounds including acids and bases, is biodegradable, and meets OSHA standards.
OMI Industries
Booth 2009
Heavy duty sludge pump
The Bredel line of heavy duty sludge pumps from Watson-Marlow Fluid Technology Group are ideal for centrifuge and belt press feed. They feature only one wearing part - the hose - so there are no rotors, stators, or lobes to replace and no mechanical seals or packing to leak.
Watson-Marlow Fluid Technology Group
Booth 4847
Water conservation
OCV Control Valves are designed to get the most out of resources without wasting a drop. Standard design advantages create drip-tight Class VI closure, flow and pressure stability, preventing water loss and system-damaging surges. The Series 22 Electronic Control Valves offer more advanced control and water savings by allowing supply facilities to vary pressures and/or flow based on external factors, such as time of day.
OCV Control Valves
Booth 6246
Check valve
The ProFlex™ Style 790 Check Valve allows for passive flow operation that requires zero energy and relies on differential pressure only. The Style 790 valve features a flexible cuff on the inlet and discharge of the valve body, which allows for quick and easy installation. This valve is the elastomeric check valve of choice for municipalities, farmers, railway washouts and highway flood damage prevention.
Proco Products
Booth 3019
Vortex-shedding flowmeters
P420 vortex-shedding flowmeters from Universal Flow Monitors are PVC or CPVC flowmeters that are cost-effective for use in flow monitoring for desalination and water and wastewater systems in both municipal and industrial applications. The P420 Series meets requirements for an inexpensive flow rate transmitter without moving parts that can stick, bind or coat.
Universal Flow Monitors
Booth 7012
Disinfection safety
Maximize the safety of your chlorine disinfection system by using a ton container scale and an emergency valve shutoff system. The Chlor-Scale® ton container scale from Force Flow safely cradles a chlorine ton container while providing critical feed and chemical inventory information. The Halogen Eclipse® emergency valve shutoff system instantly closes the container valve when a signal is received from a leak detector, panic button or from SCADA.
Force Flow Halogen Valve
www.forceflow.comwww.halogenvalve.com
Booth 2218 Booth 2216
Ball valve
Val-Matic's QuadroSphere® Ball Valve has multiple flow paths and four recessed surfaces to provide self-flushing and prevent clogging by avoiding high scale and solids build up. Special machining of the ball substantially reduces the ball to seat surface contact, creating less resistance during cycles and lowering operating torque.
Val-Matic
Booth 5327
Corrosion resistant scales
Scaletron manufactures corrosion-resistant scales designed for weighing and monitoring the usage of corrosive chemicals and/or materials in water treatment, wastewater treatment and industrial applications. The company offers a complete line of scales including 150 lb. cylinder and ton cylinder scales; drum scales; tank and platform scales; IBC tote scales and spill containment scales.
Scaletron Industries
Booth 4510