Resource Spotlight
Compilation of print and digital information resources for the municipal water and wastewater markets.
Jul 1st, 2016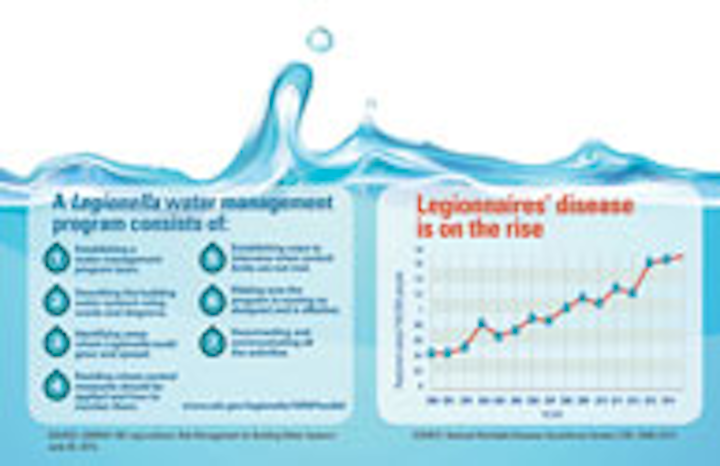 Legionnaires' prevention toolkit
"Developing a Water Management Program to Reduce Legionella Growth & Spread in Buildings: A Practical Guide to Implementing Industry Standards" is a new toolkit for building owners and managers, published by the Centers for Disease Control. Based on ASHRAE Standard 188, a document for building engineers, the toolkit provides a checklist to help identify if a water management program is needed, examples to help identify where Legionella could grow and spread in a building, and ways to reduce the risk of Legionella contamination.
Centers for Disease Control
Marine industry website
Xylem has introduced an online destination for marine professionals and enthusiasts, showcasing the company's range of system solutions and expertise in the recreational marine industry. The site, marine.xylem.com, is designed to educate consumers and industry professionals on the application and installation of Rule® and Jabsco® marine products, while providing a user-friendly customer service experience. The site features information on Xylem marine products such as: water pressure systems, ballast pumps, washdown pumps, engine cooling pumps, and bilge pumps and switches, among others.
Xylem Inc.
Valve selection checklist
Hunt Valve, a fluid power engineering company specializing in severe-duty valves and components, has published a free infographic that features expert advice on how to select a high-pressure water valve for an industrial application. The checklist features four steps required to identify the ideal water valve during the planning stages of circuit design. It also reviews six common industrial valve configurations for hydraulic and pneumatic circuits for engineers.
Hunt Valve
Storage tank operations brochure
The Steel Tank Institute-Steel Plate Fabricators Association (STI-SPFA) has issued an educational brochure for owners and operators of underground storage tank (UST) systems. The brochure encourages owners and operators to monitor and remove water from their fuel storage tanks in order to maintain quality product and reduce their business risk. The brochure has easy-to-understand text, a clear illustration of where water enters underground tanks, and a list of further resources.
Steel Tank Institute/Steel Plate Fabricators Association
Water reuse communications resource
The Association of California Water Agencies has released a new list of terms recommended for use in communicating about water reuse. "Water Reuse Terminology" was released June 1 in partnership with the California WateReuse Association and the California Association of Sanitation Agencies. Developed by a working group of the ACWA Communications Committee, CASA and WRA, the document includes commonly used terms and definitions intended to provide consistent and easy-to-understand messaging. The terms and definitions are grouped into categories based on how they are used in public outreach materials and technical reports.
Association of California Water Agencies
Regulatory compliance training
Offshore Technical Compliance (OTC) has introduced two new IADC-accredited regulatory compliance training programs: an offshore drilling and a marine regulatory compliance training. The Offshore Drilling Regulatory Compliance Training is designed to give participants fundamental knowledge on offshore drilling regulatory requirements and inspection methodology and skills. The Marine Regulatory Compliance Training is intended to provide participants with a deep understanding of marine regulatory compliance and inspection methodology and skills for oil and gas vessels, MODUs, FPSOs and floating production facilities operating in the Gulf of Mexico and in international waters. Both courses are held in Covington, La., with multiple course dates through the end of the year.
Offshore Technical Compliance LLC