New Products
Compilation of new products for the industrial water market.
Jul 1st, 2016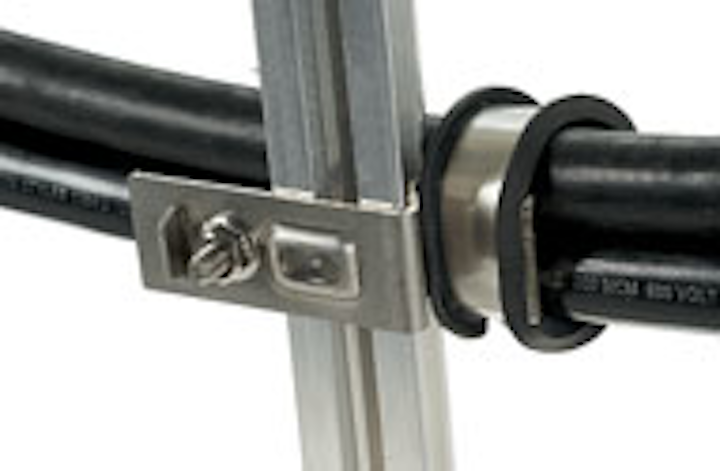 Automated equipment
AquaLogic™ from Select Energy Services is a full suite of automated water transfer solutions consisting of automated equipment, including pumps and a proportioning system, that responds to operator specifications and changing conditions in real time. AquaLogic water transfer pumps use sensors and programming to operate and maintain desired water flow rates by modulating pressure within the system. The proportioning system consists of a large manifold equipped with a programmable logic controller (PLC) and various sensors. Operators can combine two fluid streams, such as produced water, heavy brine, flowback water, and fresh water, to extend the life of water sources and reduce dependence on salt-water disposal wells.
Select Energy Services LLC
Wastewater treatment
ADI Systems' anaerobic membrane bioreactor (ADI-AnMBR) is the latest innovation in biological wastewater treatment. This technology combines anaerobic digestion with long-lasting physical separation membranes, maximizing the removal of organics from wastewater and the production of biogas. The membrane barriers ensure complete solids retention, efficient system operation, and process stability - even under peak hydraulic and organic loading conditions. The AnMBR can also be paired with an aerobic membrane bioreactor (ADI-MBR) to provide complete treatment and meet even the strictest discharge requirements.
ADI Systems
ZLD solution
Oasys Water's family of ClearFlo Water Transformation Solutions are specifically designed to tackle a diverse set of wastewater challenges. Oasys' ClearFlo Membrane Brine Concentrator (MBC)™ technology recovers more than 90% of fresh water in a simple and reliable membrane process, leaving a greatly reduced water volume to be recovered by the more costly and energy-intensive crystallization process. The ClearFlo Complete is an integrated end-to-end solution combining a pretreatment step with the ClearFlo MBC and adding a greatly reduced capacity crystallizer that together provide a complete liquid recovery solution.
Oasys Water
Ion exchange
Tonka Water's Pur-IX™ system is an ion exchange process that operates at maximum efficiency while producing minimum waste and salt usage. The system incorporates a series of ion exchange vessels, which are continuously treating water and regenerating vessels through a multi-port valve. This continuous process provides maximum resin loading but prevents nitrate dumping with its parallel vessel configuration. The multi-port valve has specially designed ports that eliminate pressure spikes so even during stage rotation, the feed or well pump will never see adverse pressure conditions. The treatment processes include nitrate removal from potable water, softening and other applications.
Tonka Water
Non-contact radar transmitter
Magnetrol International has launched the Pulsar™ Model R96 Non-Contact Radar transmitter for accurate, reliable level control in process applications. Virtually unaffected by the presence of vapors or air movement within a vessel's free space, the two-wire, loop-powered, 6 GHz radar transmitter measures a wide variety of liquid media in process conditions ranging from calm product surfaces and water-based media to turbulent surfaces and aggressive hydrocarbon media. Features include an extensive measurement range of 130 feet (40 meters), advanced diagnostics with automatic waveform capture and data logging, and a powerful device type manager (DTM) with field configuration and troubleshooting capabilities.
Magnetrol International
Electric valve actuator
The new Valbia® VB008 "Mini" quarter-turn, direct-mount electric actuator measures just 4-3/4" long by 2-3/4" wide. Used with 1/4" to 1-1/4" full-port, direct-mount ball valves, it provides the most compact and reliable automatic flow control for a wide range of applications. VB008 mini-actuators feature an F-03/05 pattern ISO-5211 direct-mount flange and square shaft slot for easy direct mount installation. The standard 110 VAC motor with Class II insulation meets CE standards and delivers 71 in/lbs. of torque in horizontal or vertical installations. A manual override, heater/thermostat, and LED indicator light are standard.
Bonomi North America
Ultrapure flowmeter
There are no metals in the fluid path of F-462N Series inline Variable Area Flowmeters from Blue-White Industries, making these units well suited for use in many ultrapure applications. Constructed of tough, chemical resistant polysulfone, F-462N flowmeters offer better resistance to high temperatures, pressures and a broad base of harsh chemicals than many plastic flowmeters on the market. The high-capacity F-462N utilizes precisely engineered ridges molded into the meter body, which guide PTFE floats. Calibration range is 2.0 to 80 GPM/8.0 to 300 LPM and permanent direct reading scales are easy to read.
Blue-White Industries
HART option for variable area flowmeters
Universal Flow Monitors is offering its variable area flowmeters with a HART protocol option, a significant new option for challenging flow situations, especially since an optional back-up switch can be added as well. Variable area vane flowmeters are designed to measure cooling water, process water, condensate return, treated effluent and flush-to-pump seals in industrial wastewater systems. These reliable meters provide rate, total and two adjustable set points when equipped with the new HART protocol transmitter. Optional mechanical switch back up offers redundancy in challenging applications.
Universal Flow Monitors Inc.
Off grid analyzer
The Smart LEA is a completely off-grid water analyzer, IP67, and battery-operated system that measures 8 parameters online: free or total chlorine, turbidity, pH, temperature, conductivity, and ORP as well as pressure and flow. It comes standard with an internal 3G modem that sends all the data to the cloud, and can operate on batteries for more than two years.
Blue I Water Technologies
Smartphone accessibility
Every day you use mobile technology, but how often do you use your smartphone or tablet to monitor your process and ensure operations are running smoothly? If you can't currently use your smartphone or tablet to quickly view your process, Canary's Axiom solution can help. Axiom is a multi-platform visualization tool that transforms time-series process data into usable information through trending and dynamic KPI displays. Canary's Axiom puts your process at your fingertips, anytime, anywhere.
Canary Labs
Pipe remediation
The Cretex/Hydratite Internal Pipe Joint Sealing System is a mechanical, trenchless remediation solution for leaking pipe joints consisting of a rubber seal that spans the joint and is held in place by stainless steel bands on either side of the joint. The retaining bands are hydraulically expanded and locked in place, eliminating all possibilities of infiltration, exfiltration or soil migration. These seals can be fitted into irregular-shaped conduits and may be used as end seals on CIPP projects.
Cretex Seals
Aeration system
The StreamLine Aeration System from Environmental Dynamics International uses integral diffusers, tubular membranes and inline support components to deliver a new level of simplicity and service life. StreamLine's proven design elevates the industry's standard practice by minimizing in-basin aeration piping and attached diffuser components. The self-contained membrane panels and the inline support system reduce stress points and potential material fatigue.
Environmental Dynamics International
Valveless metering pump
For small and mid-size treatment facilities, Fluid Metering's valveless QDX metering pump is the answer for low volume addition of methanol for nitrate removal in wastewater effluent. The release of high nitrogen concentrations of wastewater effluent into bays and watersheds is of great environmental concern as it can have a devastating effect on water ecosystems. Through a process known as "denitrification," water treatment facilities convert the excess nitrate into nitrogen gas, which is then vented into the atmosphere.
Fluid Metering Inc.
Insertion magmeter
The new ISM 5.0 Insertion Magmeter from Greyline accurately measures flow of conductive liquids in full pipes. It installs through a tap in the pipe wall and works on a wide range of pipe sizes. The dual-electrode sensor and continuous auto-zero function provides high accuracy - even at low flow rates. The ISM 5.0 sensor can be easily installed in new pipe systems or by hot tap in pressurized pipes with flowing liquids. There are no moving parts so obstruction to flow and pressure drop is minimal. Installation through a full port ball valve allows easy retraction and reinsertion without shutting down flow.
Greyline Instruments Inc.
Flow meter
The TIDALFLUX 2300 is KROHNE's unique flow meter for partially filled pipes. The meter can measure flows in pipes between 10 and 100 percent full and its non-contact sensor is not affected by oils and fats floating on the surface. In addition, TIDALFLUX has a broad diameter range to fit pipes up to DN1600 or 64 inches, and has high chemical and abrasion resistance to provide exceptional durability.
KROHNE
Cloth filtration
The AquaPrime cloth media filtration system is an economical and efficient solution for primary wastewater treatment and wet weather applications. It utilizes a disk configuration and exclusive OptiFiber® cloth media to filter screened, de-gritted, raw municipal sewage. Features allow the system to handle high solids applications and sustain low effluent TSS, making it ideal for both wet weather treatment and primary treatment in lieu of conventional sedimentation systems. It operates in less than 10% of the footprint of conventional primary settling basins and offers the added advantage of improving gas production in the anaerobic digestion system.
Aqua-Aerobic Systems
Wedge wire
Newark Wire Cloth provides engineered filtration products, including vessel internals, filter leaves, and strainers. Within the water and process industries product line, Newark offers engineered vessel internals for ion exchange, activated carbon and sand filtration systems. Products include hub and header lateral systems, filter nozzles, flat beds, collectors, distributors, and "SaniWedge" wedge wire or screen-wrapped lateral systems. The company also rebuilds and rescreens existing laterals. SaniClean 3A Strainers are engineered to suit each client's process requirements and are manufactured in single and duplex configurations. Newark offers perforated, wire mesh, synthetic and "SaniWedge" wedge wire filter elements.
Newark Wire Cloth Company
Petrolatum tapes
Denso Petrolatum Tapes can be used to protect pipes, flanges, valves and irregular shapes in aggressive soils, vaults, wet environments and many other corrosive environments. Denso Petrolatum Tape meets AWWA C217 Standards. No special training or equipment is required to install and the product can be applied in arctic or tropical temperatures.
Denso North America
Pipe crawler
Deep Trekker's DT340 Portable Pipe Crawler is a steerable pipe inspection tool. The system can operate both in dry and wet pipes, and is submersible up to 50 meters (164 feet). It is also 100% portable. The units are battery powered, with rechargeable lithium-ion batteries contained within the system. The batteries last between 6 and 8 hours on a single 1.5 hour charge. The DT340 can be used to perform pipeline inspections without limiting the direction and scope of the tool.
Deep Trekker
Metering pump
Neptune Chemical Pump Company's new Series MP7100 incorporates the ruggedness of a hydraulic diaphragm metering pump, eliminates the need for intermediate fluid or hydraulic oil to actuate the diaphragm and reduces the potential for gearbox oil to contaminate the process. The gears of the Series MP7100 pump operate in an oil bath for longer life while a finned gearbox design dissipates heat.
Neptune, part of PSG, a Dover company