Product Showcase
Collection of new products of special interest to the industrial water and wastewater markets.
Oct 1st, 2016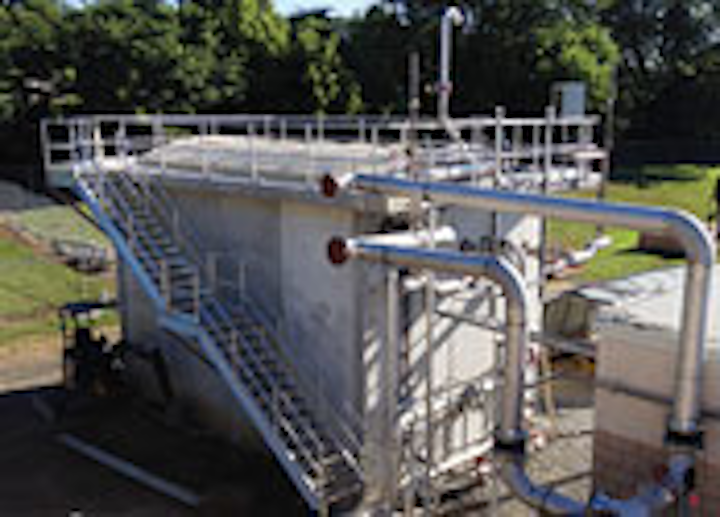 Wastewater treatments
ADI Systems' anaerobic membrane bioreactor (ADI-AnMBR) breakthrough technology combines anaerobic digestion with long-lasting physical separation membranes, maximizing the removal of organics from wastewater and the production of biogas. The membrane barriers ensure complete solids retention, efficient system operation, and process stability - even under peak hydraulic and organic loading conditions. The AnMBR can also be paired with an aerobic membrane bioreactor (ADI-MBR) to provide complete treatment and meet even the strictest discharge requirements in the industry.
ADI Systems
ZLD solution
Oasys Water's family of ClearFlo Water Transformation Solutions are specifically designed to tackle a diverse set of wastewater challenges. Oasys's ClearFlo Membrane Brine Concentrator (MBC)™ technology recovers more than 90% of fresh water in a simple and reliable membrane process, leaving a greatly reduced water volume to be recovered by the more costly and energy-intensive crystallization process. The ClearFlo Complete is an integrated end-to-end solution combining a pretreatment step with the ClearFlo MBC and adding a greatly reduced capacity crystallizer that together provide a complete liquid recovery solution.
Oasys Water
Ion exchange
Tonka Water's Pur-IX™ system is an ion exchange process that operates at maximum efficiency while producing minimum waste and salt usage. The system incorporates a series of ion exchange vessels, which are continuously treating water and regenerating vessels through a multi-port valve. This continuous process provides maximum resin loading but prevents nitrate dumping with its parallel vessel configuration. The multi-port valve has specially designed ports that eliminate pressure spikes so even during stage rotation, the feed or well pump will never see adverse pressure conditions. The treatment processes include nitrate removal from potable water, softening and other applications.
Tonka Water
Electric valve actuator
The new Valbia® VB008 "Mini" quarter-turn, direct-mount electric actuator measures just 4-3/4" long by 2-3/4" wide. Used with 1/4" to 1-1/4" full-port, direct-mount ball valves, it provides the most compact and reliable automatic flow control for a wide range of applications. VB008 mini-actuators feature an F-03/05 pattern ISO-5211 direct-mount flange and square shaft slot for easy direct mount installation. The standard 110 VAC motor with Class II insulation meets CE standards and delivers 71 in/lbs. of torque in horizontal or vertical installations. A manual override, heater/thermostat, and LED indicator light are standard.
Bonomi North America
Non-contact radar transmitter
Magnetrol International has launched the Pulsar™ Model R96 Non-Contact Radar transmitter for accurate, reliable level control in process applications. Virtually unaffected by the presence of vapors or air movement within a vessel's free space, the two-wire, loop-powered, 6 GHz radar transmitter measures a wide variety of liquid media in process conditions ranging from calm product surfaces and water-based media to turbulent surfaces and aggressive hydrocarbon media. Features include an extensive measurement range of 130 feet (40 meters), advanced diagnostics with automatic waveform capture and data logging, and a powerful device type manager (DTM) with field configuration and troubleshooting capabilities.
Magnetrol International
Petrolatum tapes
Denso Petrolatum Tapes can be used to protect pipes, flanges, valves and irregular shapes in aggressive soils, vaults, wet environments and many other corrosive environments. Denso Petrolatum Tape meets AWWA C217 Standards. No special training or equipment is required to install and the product can be applied in arctic or tropical temperatures.
Denso North America
Ultrapure flowmeter
There are no metals in the fluid path of F-462N Series inline Variable Area Flowmeters from Blue-White Industries, making these units well suited for use in many ultrapure applications. Constructed of tough, chemical-resistant polysulfone, F-462N flowmeters offer better resistance to high temperatures, pressures and a broad base of harsh chemicals than many plastic flowmeters on the market. The high-capacity F-462N utilizes precisely engineered ridges molded into the meter body, which guide PTFE floats. Calibration range is 2.0 to 80 GPM/8.0 to 300 LPM and permanent direct reading scales are easy to read.
Blue-White Industries
Automated equipment
AquaLogic™, from Select Energy Services, is a full suite of automated water transfer solutions consisting of automated equipment including pumps and a proportioning system, that responds to operator specifications and changing conditions in real time. The pumps use sensors and programming to operate and maintain desired water flow rates by modulating pressure within the system. The proportioning system consists of a large manifold equipped with a PLC and various sensors. Operators can combine two fluid streams to extend the life of water sources and reduce dependence on salt water disposal wells.
Select Energy Services LLC