New Products
Compilation of new products for the industrial water market.
Oct 1st, 2016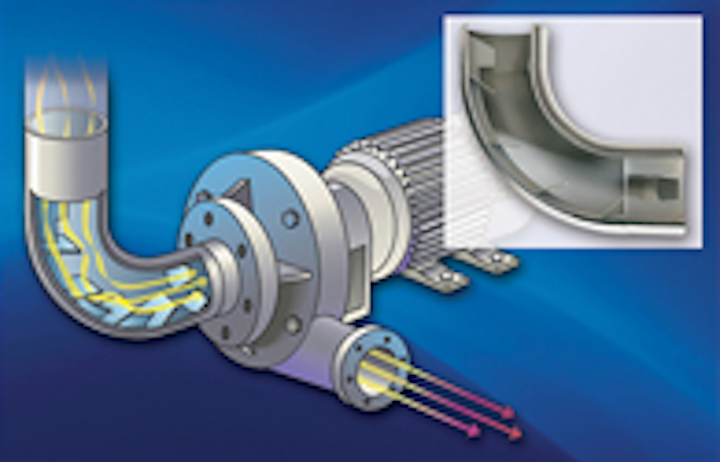 Elbow flow conditioners
The Vortab Elbow Flow Conditioner is an effective, low-cost solution to eliminate the turbulent fluid flows that result in pump cavitation, which can lead to line shutdowns, expensive maintenance and shorter pump life. The conditioner isolates the flow irregularities and conditions the flow stream into a swirl-free and symmetrical velocity profile. Vortab flow conditioners can be made from carbon steel, 316L stainless steel or Hastelloy C-276.
Vortab Company
Cooling products for corrosive environments
Many of Technical Systems' products, including air-cooled condensing units, chillers, fluid coolers, remote condensers, pumping packages and pumping skids, are available in corrosion-resistant designs that are suitable for use in coastal manufacturing, comfort, and process-cooling environments. They are also ideal for inland applications utilizing corrosive chemicals, such as poultry processing, animal byproduct production, and water treatment plants. Products may be built with 316 stainless steel, copper piping, and specially coated cooling coils. For especially corrosive environments, TSI offers passivation and electropolishing of stainless steel materials to further increase their corrosion resistance.
Technical Systems Inc., a division of RAE Corporation
Flow meters
Badger Meter has enhanced its line of Coriolis flow meters by releasing a new explosion-proof transmitter with intrinsically safe sensors for RCT1000 Coriolis Mass Flow Meters. The hazardous location Class 1, Division 1 certification applies to the RCT1000 dual tube Coriolis flow meters with 1/2- to 3-inch connectors and includes low flow options. RCT1000 flow meters identify flow rates by directly measuring fluid mass and density over a wide range of fluid temperatures and viscosities with a high degree of accuracy. Applications include chemical and petrochemical processing, oil exploration and refining, and other industrial processing applications in potentially hazardous environments.
Badger Meter
Safe corrosion inhibitor
Rivertop Renewables' sodium glucarate has been listed on the U.S. Environmental Protection Agency's Safer Chemicals Ingredients List (SCIL). Rivertop's product, manufactured at DTI in Danville, Va., is the first chemical with corrosion-inhibiting properties to secure full approval for the SCIL. Sodium glucarate enables superior performance from two Rivertop products: Waterline™ CI is designed to be a high-performing alternative to phosphorus-based corrosion inhibitors in the water treatment industry; and Headwaters® corrosion inhibitor for salt brine is used to de-ice winter roads while protecting vehicles and highway infrastructure from corrosion.
Rivertop Renewables
Paddle flow switch
The FSW-160 is the latest heavy-duty paddle flow switch from OMEGA. The switch is used to signal, start, or stop electronically operated equipment when flow or no-flow conditions occur. OMEGA's elastomeric sealing system is superior to the metal bellows that are subject to metal fatigue and corrosion. This seal system has been field-proven for over a decade. The NEMA 1 (IP10) enclosure and stainless steel paddle and shaft provide a solid design for reliable monitoring of flow switching applications such as automotive, manufacturing, chemical processing, HVAC, water and wastewater.
OMEGA
Filtration system
The AquaPrime cloth media filtration system from Aqua-Aerobic Systems is an economical and efficient solution for primary wastewater treatment and wet weather applications. It utilizes a disk configuration and exclusive OptiFiber® cloth media to filter screened, de-gritted, raw municipal sewage. Features allow the system to handle high solids applications and sustain low effluent TSS, making it ideal for both wet weather treatment and primary treatment in lieu of conventional sedimentation systems. It operates in less than 10% of the footprint of conventional primary settling basins and offers the added advantage of improving gas production in the anaerobic digestion system.
Aqua-Aerobic Systems
Calibration cylinders
Primary Fluid Systems has attained NSF/ANSI-61 certification for its Accudraw PVC and Glass Calibration Cylinders, which are used to ensure the accurate calibration of metering pumps. The calibration cylinders are available in sizes ranging from 100 mL to 20,000 mL. The new NSF/ANSI-61 certification ensures that the products are safe for drinking water use and that the products meet the regulations set out by the U.S. Environmental Protection Agency and Health Canada.
Primary Fluid Systems Inc.
Two-way bellows control valve
The new two-way bellows control valve from Bürkert is a pneumatically actuated process valve with a single action membrane drive. A PTFE bellows ensures the reliable separation of the media from the drive. The valve is constructed in full compliance with hygienic design requirements and is ideal for demanding control tasks with small flow rates for which membrane valves are not suitable. Applications include food and beverage production, pharmaceuticals and biopharmaceuticals, cosmetics and specialty chemicals. The valve is available in diameters from DN6 to DN20 and can be combined with seat diameters from 3 mm to 10 mm.
Burkert Fluid Control
Low flow pump
Vertiflo Pump Company's Model 1400LF "Low Flow" is used for a wide range of applications including boiler feed, condensate, chemical process, washdown and spray washers. Capacities to 50 GPM, heads to 345 feet TDH, and temperature to 250°F. Back pull-out construction allows for easy inspection or service/maintenance without disturbing the piping to the pump. Radial vane impeller has external impeller adjustment. Packing or various mechanical seal arrangements are available as standard options. Construction material selection includes ductile iron, bronze fitted, 316 stainless steel fitted and all 316 stainless steel.
Vertiflo Pump Company
Multi-stage pump
Goulds Water Technology's e-SV range of stainless steel vertical multistage pumps with newly designed hydraulics and EISA-compliant motor provide maximum efficiency in agricultural, HVAC, water treatment and light industry applications. The e-SV's design allows removal of the mechanical seal without having to detach the motor, reducing repair time by up to 50%. A reduced impeller axial thrust ensures longer standard motor bearing life, and a hard material intermediate bush bearing increases the pump's ability to withstand heavy-duty applications. Its optional patented i-ALERT™ monitor continuously measures the pump's vibration to reduce damage and support optimum performance.
Goulds Water Technology (GWT), a Xylem brand
Flow meters with HART interface
FCI's compact thermal flow meter line has been expanded and improved with an all new, advanced electronics design that features the addition of HART Version 7 digital bus communication and more. The new thermal mass flow meters, ST51A, ST75A and ST75AV, combine all new surface-mount, lead-free, RoHS-compliant electronics with highly accurate, repeatable, all-welded, equal-mass flow sensors. In addition to HART bus communications, standard outputs are dual 4-20 mA that meet NAMUR NE43 and feature a 500 Hz pulse. The electronics are housed in a rugged IP67 rated, dual-cable port transmitter enclosure available in aluminum or stainless steel.
Fluid Components International
Motor controller
The new Series KTV7 Multi-Motor Controllers are self-protected combination motor controllers, ideal for use with variable frequency drives (VFDs) in multi-motor installations for various industries. Designed for use with VFDs that have an output frequency of 400 Hz or less, the new KTV7 series provides the disconnect function for motor branch circuits, branch-circuit short-circuit protection, and manual switching. KTV7s are current-limiting devices with a fixed magnetic trip, and interruption ratings are available up to 65 KaIC at 400 V and 480 V. The KTV7 controllers provide motor overload protection with a trip class 10 thermal characteristic.
Sprecher + Schuh
Sewage treatment
Premier Tech Aqua's new integrated pump version of the Conder ASP HDPE Sewage Treatment Plant has now been improved to include an integral final effluent discharge pump system. Eliminating the need for a separate pumping station to be installed downstream of the drainage, the product will now allow the installer to overcome common obstacles where site conditions mean gravity discharge would be difficult or impossible. Designed for installation where mains drainage is unavailable, the product showcases an integrated blower as standard and optional telescopic extension kit along with completely belowground installation for minimal visual impact.
Premier Tech Aqua
Proportional poppet valve
A new proportional poppet valve for descaling applications from Hunt Valve lasts three to five times longer than traditional poppet valves. By eliminating the effects of water hammer and system shock, this valve technology promotes safety in the plant and cuts operating costs in half. The proportional poppet descale valve incorporates Hunt Valve's patented balance chamber design feature, and offers proximity switches or linear variable differential transformer (LVDT) position feedback for constant monitoring of the valve's position. The valve has a pressure rating of 5,000 psi (320 bar) and is available in sizes DIN 10 to 250 (0.5" to 10" in diameter).
Hunt Valve
Security system
PureTech Systems and SpotterRF have created the C20B radar, which provides detection out to 120 m. Targets can be displayed and updated through the PureActiv map-based video management user display and the sharing of position data to allow advanced autonomous sensor control, such as the ability to steer a camera to the exact point of intrusion and the subsequent hands-free tracking of the intruder using a pan-tilt-zoom camera. The technology provides for increased situation awareness to the user, enabling the viewing, management and track merging of various target types (radar, video, GPS, etc.) through a central user interface.
PureTech Systems