New Products
Compilation of new products for the industrial water market.
Jun 1st, 2016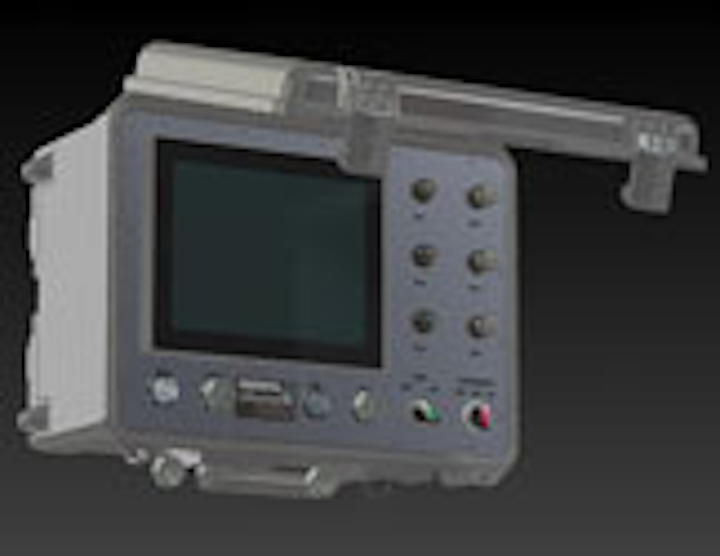 Digital data charting
Braeden Engineering and Consulting introduces its new Digital Charting System 1200 series (DCS-1200). The DCS-1200 records and charts data collected from various types of sensors and performs tests based on parameters input by the user. While this technology has a multitude of uses including measuring temperature, torque, pH and more, its initial primary function is performing pressure tests. The DCS-1200 package includes 12.1-inch touch panel PC equipped with Windows 7 Prof OS and customizable user-friendly charting software capable of displaying multiple charts with multiple pens and simultaneously running tests based on parameters set by the user.
Braeden Engineering and Consulting LLC
Metering pump
Watson-Marlow Fluid Technology Group has released the new Qdos 120, offering flows up to 31.7 gallons per hour (gph) at a maximum pressure of 58 pounds per square inch (psi), double the flow of existing models in the Qdos range of peristaltic metering pumps. This latest addition to the product range builds upon the core foundations of the Qdos suite of high-accuracy chemical metering technology. Qdos 120 not only offers double the flow of other models (in comparison with Qdos 60), it delivers a step-change in performance and usability compared to conventional solenoid or stepper-driven diaphragm metering pumps.
Watson-Marlow Fluid Technology Group
Bar-wrapped concrete cylinder pipe
B-303 pipe from Forterra is manufactured using a welded steel cylinder lined with centrifugally-applied mortar or concrete; a mild steel reinforcing bar is then helically wound around the outside of the cylinder and coated with dense Portland cement mortar. This composite construction combines the best of both materials — the strength of steel with the corrosion resistance and durability of concrete and mortar. The completed pipe is able to withstand internal pressures and external loads normally encountered in the waterworks industry. The design allows for easy modifications in the field, such as adding a manhole outlet, making service taps, and performing simple repairs.
Forterra Pressure Pipe
High flow grinder
The TASKMASTER TITAN TM20000 is the latest addition to the TASKMASTER TITAN grinder line from Franklin Miller. Its design features one cutting stack that intermeshes with a second one, having a much larger diameter to rip, tear and shred solids entrained in liquid flow to fine particles so they can be more easily processed by pumps and other equipment. These units are available with TEFC, XP as well as FMI's explosion-proof submersible motors. Other options include hydraulic drives, shaft extensions, and guide rails and channel frames for easy installation even in deep wetwells. Available in single, tandem and duplex versions in standard iron and steel as well as stainless steel construction.
Franklin Miller Inc.
Ozone analyzer
The new plumb and play OZ80 Ozone Analyzer from Electro-Chemical Devices features a reagent-less design for low operating costs and offers a choice of three factory calibrated measurement ranges designed to help busy process and plant engineers achieve accurate measurement with a simple easy-to-install system that can be up and running in less than 15 minutes. The OZ80 Analyzer is factory assembled and factory calibrated prior to arriving at the plant and features powerful amperometric sensors to detect and monitor O3 levels in water. These amperometric sensors are manufactured with a gold cathode, a silver anode and a rugged microporous membrane.
Electro-Chemical Devices
Flow meter with Modbus capabilities
Sparling Instruments has begun production on a Modbus-capable version of its TigermagEP™ electromagnetic flow meter. Responding to requests from customers for an electromagnetic flow meter with integrated Modbus for use in digitally controlled or automated systems, TigermagEP electromagnetic meters, whether integral or remote style, that are already installed in a system can also be upgraded to Modbus by adding an optional Modbus-enabled transmitter or module. The modules are easy to change out in the field, so it's fast and simple to integrate existing TigermagEP mag meters into a Modbus network.
Sparling Instruments
Aluminum deflection elbows
The cast aluminum line of Smart Elbow® deflection elbows from HammerTek® is now available in tube and pipe sizes from 1.5 inches up to 12 inches in diameter. Engineered for dilute-phase and dense-phase pneumatic conveying of abrasive materials utilized in wastewater treatment, the deflection elbow prevents material from impacting the elbow wall and causing wear, failure and downtime. The elbows feature a spherical chamber that protrudes partially beyond the desired 90º or 45º pathway, which causes a ball of material suspended in air to rotate, gently deflecting incoming material around the bend without impacting the elbow wall or generating heat.
HammerTek Corp.
Screw Press
The Q-PRESS® from Huber is a screw press with a conical screw shaft and cylindrical sieves consisting of three treatment zones: inlet and drive zone, three-part thickening and dewatering zone, and press zone with pneumatic counter-pressure cone. The supernatant is quickly removed by the feed pump via a large free filter surface at a low primary pressure while the volume of material between the screw flights is reduced by the conical screw and the sludge is dewatered. Residual water is pressed out of the sludge by the pneumatic counterpressure cone at the press discharge.
Huber Technology
Multiple screw pumps
NETZSCH Pumps North America's new NOTOS™ line features multiple screw pumps that are hydraulically balanced, delivering efficient pumping with very low axial force. The two-screw pump operates with a drive screw intermeshing with a driven screw transferring torque from one to the other, while the three-screw pump operates with a drive screw intermeshing with two driven screws that transfer torque from one to the other. In both, the screws are surrounded by a ferrous pump housing, and together, the screw geometry and housing form the pumping chamber. Rotation, screw diameter, and screw pitch define the pump's flow rate.
NETZSCH Pumps & Systems
https://pumpen.netzsch.com/en/
Customizable smart graphics displays
The OMEGA® OM-SGD Series of panel meters with bright color TFT smart graphics displays are available in 3 screen sizes. They offer a wide operating power supply voltage range of 4 to 30 Vdc and two alarm outputs. Waterproof NEMA 6 (IP67) versions are also available. Using the provided Simple Wizard-based configuration software, select from over 40 standard display configurations to program in seconds to your exact requirements
OMEGA
Stainless steel treatment
The Foreverbolt NL-19 treatment is an advanced corrosion protection that modifies the surface of stainless steel products, producing a brighter finish, increased strength, and superior corrosion resistance without affecting the fastener's exterior dimensions. The company offers an ever-growing number of NL-19 treated fasteners for use in the water treatment industry.
Foreverbolt
Corrosion control
Belclene® 400 from BWA Water Additives is a multifunctional deposit control agent that provides great flexibility in developing phosphonate-based corrosion control formulations for cooling water, process water, and similar applications. Controls calcium phosphate and zinc deposition, iron oxide and silt dispersant.
BWA Water Additives US LLC
Flush flanged diaphragm seal
The new Ashcroft DF diaphragm seal delivers an economical way to isolate pressure instruments from harsh media. This flush flanged design eliminates the use of a costly lower housing and prevents clogging around the diaphragm. A raised face or ring joint flange mates directly to six different-sized ASME flange unions. Several choices of diaphragm sizes, wetted materials and instrument connections are available.
Ashcroft
Ultrafiltration
GE's new ZeeWeed 700B horizontal-designed, inside-out ultrafiltration (UF) membrane offers seawater pretreatment for injection and solids removal in offshore oil and gas applications. Using SevenBore fiber technology, ZeeWeed 700B are blended polyethersulphone (PES) membranes, which allow the membrane to stay permanently hydrophilic and reduce the fouling tendency. When compared to granular filter media and cartridge filters, the ZeeWeed 700B membrane produces superior water quality and is virtually unaffected by variable raw water quality. It extends the life of a sulfate removal unit by providing an improved pretreatment technology, decreased life cycle costs and reduced weight as well as footprint.
GE Water
Portable lighting system
The HAL-18LED-BP LED portable lighting system from Larson Electronics provides operators with instant illumination in areas where an AC power supply is not accessible. The unit is constructed of polycarbonate and the LED lamp head is vibration and impact resistant. This explosion proof lighting system provides up to 1,500 lumens of high quality light in a compact yet portable package. The 18 watt LED light comes in a 90-degree beam spread and operates on a 12-volt rechargeable nickel-metal hydride battery, which operates for five hours on high mode and 10 hours on low mode.
Larson Electronics
Tank mixer
The JetFlo Mixer from Park Process is a tank mixer designed to pull in and eject three times the amount of water pumped through its nozzle. As fluid is pumped through the JetFlo's inlet nozzle, a low pressure zone is created between the end of the nozzle and the inlet of the diffuser section, which pulls in surrounding fluid and entrains it in the motive flow from the nozzle. The diffuser (venturi) section produces the velocity recovery necessary to keep the plume of fluid together and with enough dynamic energy to push far into the surrounding fluid.
Park Process
Continuous level measurement
Created by Massa Products Corporation, the MassaSonic™ PulStar™ series of sensors are equipped with an IP68 rating ideal for use in various environments and materials. A user-friendly platform is available in each model, making the series suited for all levels of technical ability within the field. Total measurement range offered by this series is from 4 inches to 18 feet. All models can work together in the same multi-drop network that supports up to 32 sensors.
Massa Products Corporation
Borehole pump
Goulds Water Technology has introduced the e-GS 4-inch high-capacity borehole pump, specifically designed for use in 4-inch and larger wells. The pump has a floating stack hydraulic design that enables sand and abrasives to pass easily. The product is ideal for use in irrigation systems, pressure boosting, geothermal systems and fountain applications. The stainless steel pump casing is corrosion resistant and has a built-in check valve to prevent drain backflow and hold pressure in the system. Newly designed impeller and diffuser combinations improve efficiency and performance, allowing for higher pressures per given horsepower — with flows up to 120 GPM and head up to 1,400 feet.
Goulds Water Technology, a Xylem brand
Turbo blower
Xylem Inc.'s Sanitaire TurboMAX blower is a high-speed turbo blower line offering high-efficiency, low-maintenance blower technology to reduce energy consumption and operating costs. Sanitaire TurboMAX blowers are engineered with a permanent magnet, high-speed motor paired with the latest air foil bearing technology resulting in a long lifetime and low maintenance requirements. Available in 13 blower sizes, 15-600 kilowatts (kW), and flow rates of 700-41,000 cubic meters per hour per blower, which can satisfy oxygen demands for plants 5,000-1.5 million person equivalent (PE) and above.
Xylem