Product Showcase
Collection of new products of special interest to the industrial water and wastewater markets.
Aug 1st, 2017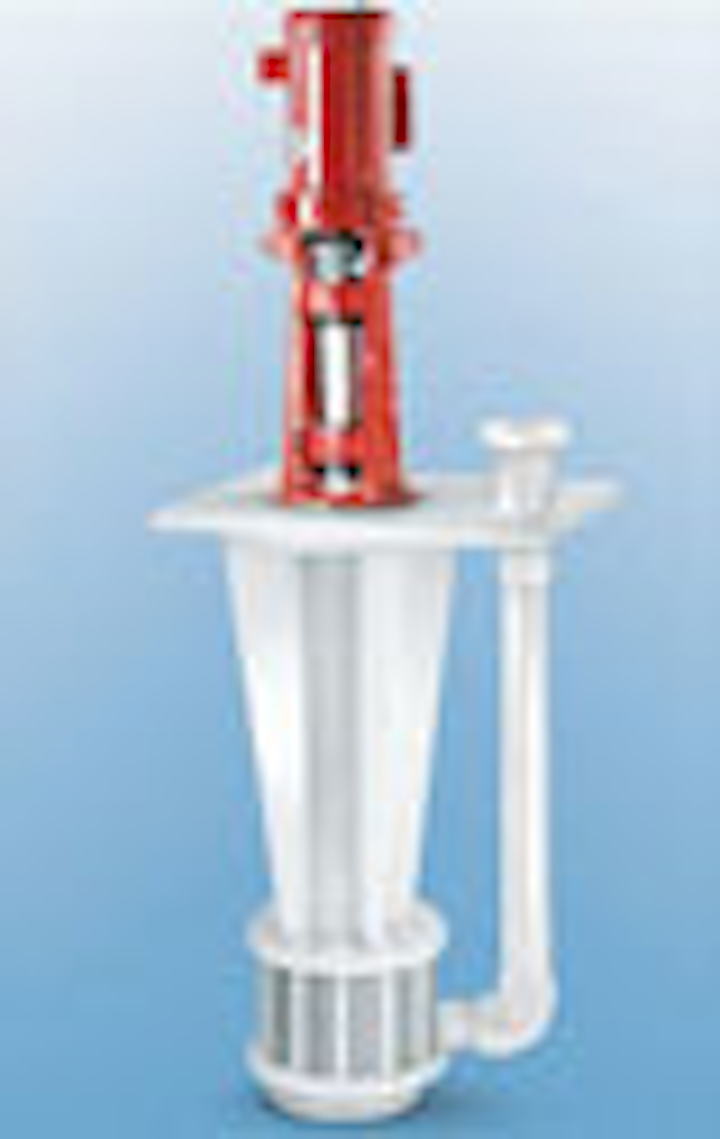 Cantilevered, bearingless vertical pump
The Sump-Gard® SGK cantilevered, bearingless vertical pump from Vanton Pump & Equipment Corporation features a large-diameter, plastic-sleeved, stainless-steel shaft that eliminates the need for immersing bearings or bushings, which enables the SGK pump to run dry for indefinite periods of time. The rugged SGK has a chemical-resistant, epoxy-coated, cast-iron motor bracket that accommodates NEMA, IEC and standard European motors. Available in lengths to 4 ft. (1.21 m) and flows to 1,000 gpm (227 m3/hr). Engineered to operate in corrosive, abrasive, hazardous and ultrapure fluid applications, the SGK is available in PVC, CPVC, PP and PVDF.
Vanton Pump & Equipment Corp.
Air operated diaphragm pump
IWAKI Air's new TC-X800 Series pump offers excellent flow rates and a new heavy duty body design. Operates at variable air pressures and is suited for both start/stop and fully continuous duty pumping applications. Can easily handle high head pressure and long discharge lines. Maximum flow rates at 211.3 GPM (800 LPM) and maximum discharge head 280 ft. (85 m). Iwaki Air AODD pumps are an ideal choice for the safe transfer of a limitless variety of liquids across many industries: corrosive chemicals, liquid slurries, abrasive particle slurries, viscous liquids, fuel, oils, glues, inks, and flammable liquids, just to name a few. Available in stainless steel, aluminum, polypropylene, and cast iron.
Iwaki Air
Clean up your cabinet
The diverse areas of application for Bürkert's Type 8640 valve terminal and the Type 8644 automation system in the food and beverage industry is expanded by AirLINE Quick with a stainless steel adapter plate and stainless-steel push-in connectors for hygienic applications. AirLINE Quick significantly reduces the number of components in the control cabinet. With fewer pneumatic hoses and cables, you can integrate AirLINE Quick directly in the floor or wall of the control cabinet, eliminating the need for bulkhead connections on the cabinet.
Bürkert Fluid Control Systems
Circuit breakers
Phoenix Contact's HMC series comprises the company's first 120 V AC hydraulic-magnetic circuit breakers for use in Class I, Division 2 applications. The UL-approved products utilize a fully sealed hydraulic-magnetic design that allows for accurate power switching and reliable overcurrent protection. Each breaker is rated for 50 V DC, and breakers up to 15 A are also dual-rated at 120 V AC. They have a short circuit current rating (SCCR) of 1 kA and a temperature operating range of -40°C to +65°C.
Phoenix Contact
Monitoring for industrial Ethernet networks
Belden Inc., a global leader in signal transmission solutions for mission-critical applications, has released the latest version of its Hirschmann network management software. Industrial HiVision 7.0 improves productivity by now allowing the simultaneous configuration of hundreds of SNMP-enabled devices from any manufacturer. A new, customizable Network Dashboard provides instant visibility into key network health indicators, making it easy to take corrective or preventative measures. The result is improved availability and security for industrial networks.
Belden Inc.
Submersible conditioning chopper pump
The Vaughan Conditioning Pump is a submersible chopper pump mounted on a portable stand and fitted with a high-velocity mixing nozzle. The Conditioning Pump recirculates the contents of wet wells by chopping and mixing to produce a homogeneous slurry that is more easily pumped out. Floating mats are removed and solids that have accumulated on the floor are resuspended. The pump is mounted on a portable stand so it can easily be used in multiple locations at a single jobsite, facility or municipality. Applications include: lift station conditioning, basin conditioning, influent station/channel conditioning, holding tank conditioning, and digester cleanout/homogenization.
Vaughan