Product Showcase
Collection of new products of special interest to the industrial water and wastewater markets.
Apr 2nd, 2017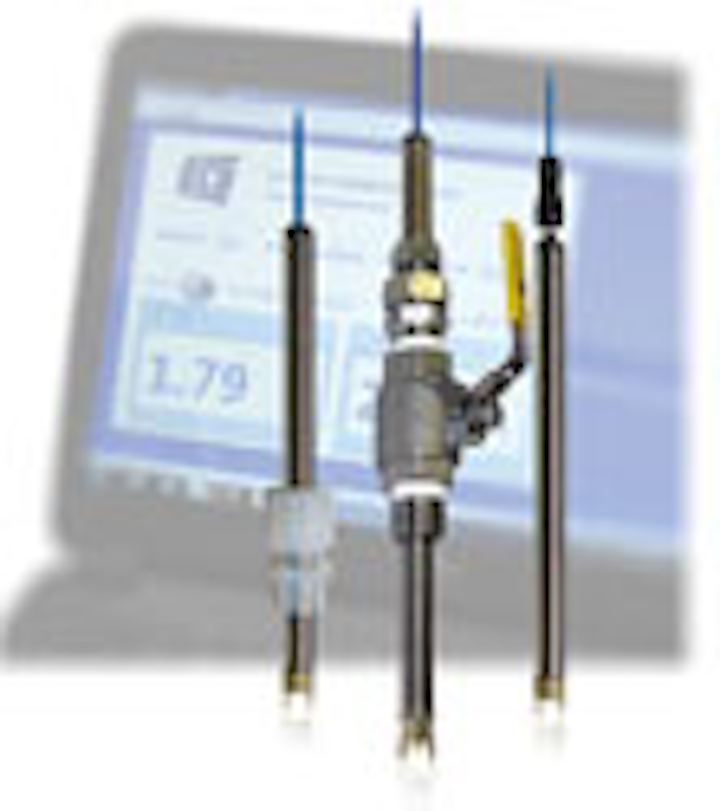 Intelligent sensors for analytical measurement
The DS80 Intelligent Sensor Series from Electro-Chemical Devices features a standard modular design, which can be customized for the accurate and reliable measurement of pH, ORP, DO, conductivity, resistivity and numerous specific ions. With their replaceable cartridge sensors, the instruments provide multiparameter analytical measurement. They can be customized for a wide range of measurements in the most rugged environments to perform unique tasks unavailable with off-the-shelf analytical sensors. The sensors store and identify calibration information and communicate via Modbus RTU with the ability to connect directly to a programmable logic controller (PLC) or a computer with a Modbus RTU emulator.
Electro-Chemical Devices
Electric actuators for continuous underwater use
A new version of AUMA's SA and SAEx multi-turn actuators is suitable for continuous underwater use, including water supply systems, hydropower plants, and civil engineering constructions for water applications. A universal sealing system combined with comprehensive corrosion protection qualifies these actuators for underwater use. Double-sealed cable glands at the electrical connection, inner seals - some in pairs - on all housing covers, and a one-piece solid shaft effectively prevent the ingress of water. The actuators are qualified for up to 15 m head of water, with higher heads of water available on request. Torques from 10 to 1,000 Nm are covered.
AUMA
Density measurement
The Dynatrol® Density System offers accurate and quality measurement of density, specific gravity, percent solids or percent concentration in-line or in vessels. The Density cells come in a full range of corrosion-resistant materials that are both weathertight and explosion proof. They also serve broad temperature and pressure ratings - with no moving parts for long operating life. Applications may include magnesium hydroxide, caustic soda, soda ash, alum slurry, ferric salts, sulfuric acid, lime slurry, flocculants, etc.; in power plants, chemical plants, paper mills or municipal water treatment facilities.
Dynatrol
Transmitters with radar sensing technology
GF Piping Systems has expanded its automation product line with two new level transmitters. Radar Level Transmitter Type 2290 features non-contact radar technology in a compact, economical unit. Available in a variety of different materials to resist even the most corrosive environments, the 2290's tank-mapping function makes it easy to block out objects like internal pipes, welding seams, stirrers or heating elements. Radar Level Transmitter Type 2291 is designed for continuous level measuring of conductive or non-conductive liquids, pulps or solids and maintains consistent measurement even under extremely tough conditions like turbulent process vessels.
GF Piping Systems
Admixture for concrete
KALMATRON® KF-A is a powder added to concrete mixes. It alters the interior structure of concrete, providing liquid and vapor impermeability, and works in a wide variety of temperatures up to +400°C without failure or cracking. It works as a water reducer during mixing and pumping; a plasticizer during transportation and placement; a shrinkage controlling and curing compound during setting time; a strength gainer and impermeability performing agent during hardening time; and a rebar corrosion inhibitor during batching. Safe for use with structures containing drinking water and/or food.
KALMATRON
Sample analysis
Asterion offers a new sample analysis submission process for the company's proprietary plating and pretreatment chemistries. Designed to ensure ease of use and quick customer response, the submission process meets growing customer requirements to optimize plating line efficiency and productivity at a low cost of ownership. Customers may submit up to ten sample requests per submission. Every sample is assigned an identifier number for testing at Asterion's advanced analytical laboratory. Free sample submission kits are offered to customers, including all required packing materials and shipping documentation. Testing includes chemical composition and trace analysis to determine composition, impurities and overall chemical quality.
Asterion LLC