New Products
Compilation of new products for the industrial water market.
Apr 2nd, 2017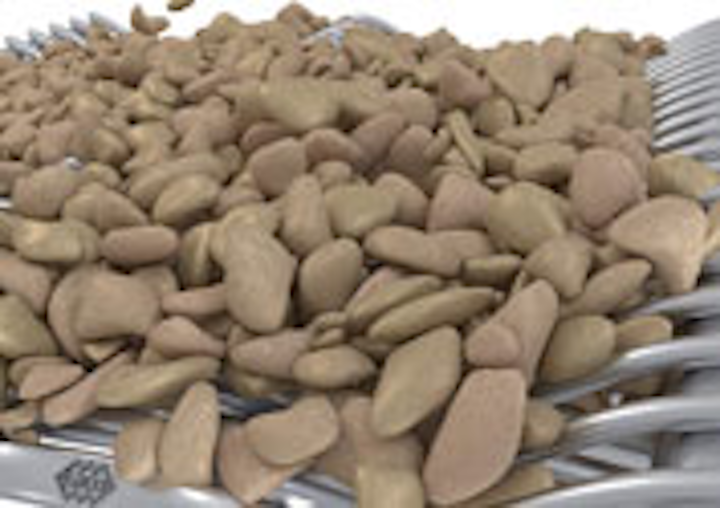 Pump for landfill applications
Q.E.D. Environmental Systems' new Autopump Ultra 4.5 for landfills eases wear, cleaning and maintenance. It features three times the clearance between the float and discharge tube of the previous version, as well as increased clearance between the float and outer casing. This cost-saving improvement allows for more high solids and precipitate to be pumped without the pump stalling, extending usage between cleaning and maintenance breaks. All metal parts are made from 316 stainless steel, and float ends on the pump are made from engineered plastics for easy cleaning, less friction and wear on the discharge tube.
Q.E.D. Environmental Systems Inc.
Mesh filter
GKD-USA introduces a completely new mesh filter for the oil and gas exploration and water filtration markets. Called porometric mesh, the product is a new mesh weave with significantly more porosity and air permeability. Developed from a comprehensive experimental study in which the erosion behavior of filter media for sand control in well pipes was investigated, the new type of mesh brings oil and gas exploration facilities more throughput at local pore velocities. For water and wastewater filtration facilities, the mesh offers high permeability, low-pressure losses and a sharp particle retention rate.
GKD-USA Inc.
Finance modeling
The Water Risk Monetizer, a financial modeling tool that enables businesses to factor current and future water risks into decision making, now incorporates water quality into its site-specific risk analysis to provide a more comprehensive risk assessment. Developed by Ecolab, the tool is designed to advance corporate water management using best-in-class local water basin datasets, economic techniques and scientific methodologies to monetize water-related business risks. New features include assessment of incoming water risk based on quantity and quality, assessment of outgoing water risk based on water quality, and more.
Ecolab
In-line liquid ultrasonic flow meters
Flow Technology's QCT Series of liquid ultrasonic flow meters are four meters that are available in sizes ranging from 1/8" to 1". The QCT Series in-line ultrasonic meter has been specifically designed for applications that require excellent accuracy and repeatability at an economical price point. The compact QCT Series has no moving parts and there is nothing in the flow stream that will cause an increase in pressure drop. The small-footprint, lightweight device is ideal for low viscosity liquid applications including water-based products and oils. All plastic construction makes it ideal for corrosive applications.
Flow Technology Inc.
Heavy metal precipitation
Synlite is a patented chemical reagent that permanently encapsulates hazardous metals allowing for an effective way to dispose of dangerous toxic sludge. Synlite can directly replace existing hydroxide precipitants and is introduced into water via solid or slurry forms. All that's left behind is a non-hazardous sludge that passes EPA 1311 TCLP. It can be used as a standalone product or in addition to other products. The hydroxyl components in Synlite raise the pH of solution for precipitation of metals while the zeolite material removes metals by adsorption, ion exchange and physically trapping ions within the lattice structure.
Synlite Water Technology
Coriolis flow meters
OMEGA's new FMC-5000 Series of Coriolis Flow Meters are designed to meet the challenges of measuring mass fluids that can be corrosive or difficult to measure. Optimize plant efficiency over a wide flow range from this single meter, with high accuracy and simple installation. For use with flow measurements and custody transfer in many industries such as petroleum, petrochemical, chemical, pharmaceutical, pulp and paper, food and dairy, and more. The FMC-5000 is a rugged meter with no moving parts resulting in minimal maintenance requirements.
Omega
Methane detection
Satelytics, an Ohio-based software company, announces passive methane detection methods for wells and pipelines. Satelytics is a software platform designed for customers in the oil & gas, pipeline, power, and water & wastewater industries that need to monitor large and geographically dispersed infrastructure. It synthesizes large volumes of satellite and aerial imagery - measured in terabytes - into important areas of focus. The methane algorithm accounts for wind and atmospheric variation to ensure only the actual plume is quantified. Satelytics is able to monitor large areas, visualize methane plumes, and alert operators if measurements fall outside of prescribed thresholds.
Satelytics
Advanced filtration
Spiral Water Technologies introduces the Model S1000 automatic self-cleaning filter. Made with a robust stainless steel housing, it can be used for both process and wastewater streams. Designed to remove ultra-high and variable total suspended solids (TSS) from difficult-to-treat fluids in industrial process and wastewater treatment applications, it is ideal for use in such markets as food and beverage, power, chemicals, metals, and mining. It can operate at a maximum flow rate of 1,360 cubic meters per day (250 gpm), pressures up to 10.3 bar (150 psi) at 70°F, and temperatures up to 220°F (105°C).
Spiral Water Technologies
Flow management
The H2minusO© XL from Green4All Energy Solutions is a flow management tool specifically designed for the needs of industrial water users. The XL Series brings stability and efficiency to high-volume water applications with hundreds of hours of R&D efforts. The customized solution addresses specific volume and pressure needs to control water flow and bring more efficiency to utility budgets, product forecasting, and equipment stability.
Green4All Energy Solutions Inc.
Granular peat filtration
Axon Environmental Filters from Batta Technologies use thermally treated Swedish peat to filter oil, petroleum and heavy metals from water. The peat is hydrophobic, which means it won't take on water, and can be disposed of easily. Design includes a pre-sedimentation chamber, and two peat chambers for increased contact time with filter media. Effluent water contains almost no contaminants and is clean enough for release into the environment by EPA standards.
Batta Technologies
Chillers
Technical Systems' Series 35 Evaporative Cooled Chillers have been specifically designed to provide highly efficient cooling for commercial and industrial-duty applications, with easy installation and maintenance. The Series 35 features an integrated unit controller to communicate to building management systems and ensures safe operation, as well as high efficiency, industrial grade screw compressors. These units range in capacity from 50-500 tons in a single chiller package. They also feature fully-integrated pumping packages, and are available with a range of acoustic technology to meet the noise-sensitivity needs of any application. Can be designed for total redundancy, ensuring continuous operation in critical applications.
Technical Systems, a division of RAE Corporation
IAF technology
CST Wastewater Solutions' new Induced Air Flotation (IAF) technology is a major advancement on one of the world's most preferred and simplest flotation technologies for industrial applications, Dissolved Air Flotation (DAF). The company's energy-efficient IAF High Temperature Cell uses a spinning disk to provide pressurized air for vortex bubble formation in the volumes required in high temperature applications. The flotation cell is based on a multi-stage separation process with an internal launder to ensure the float product produced from the cell remains at the same temperature as the liquid, so as to facilitate sludge transfer.
CST Wastewater Solutions
Anti-microbial cooling
Delta Cooling Towers' anti-microbial cooling tower is constructed of anti-microbial resin which is fully compounded into the base cooling tower material. The anti-microbial resin contains additives that operate on a cellular level to continuously disrupt and prevent uncontrolled growth of microorganisms and biofilm within the cooling tower. The design of many cooling towers creates pockets where water may stagnate, another condition that can lead to microorganism development. The stagnant water areas are prime breeding grounds for Legionella to grow. To avoid such problems, Delta's cooling tower designs feature a sloped basin and/or basin sweeper system.
Delta Cooling Towers Inc.
Corrosion-resistant coatings
Cortec's VpCI®-368 coating has recently added extra Vapor phase Corrosion Inhibitors. Already, VpCI-368 provides excellent protection to metal substrates exposed to harsh outdoor conditions. The dark brown viscous liquid dries into a firm moisture-displacing, wax-like film that can be removed by mineral spirits or alkaline cleaners such as Cortec VpCI-414. The film can be used for a variety of applications where heavy-duty corrosion protection is needed. Available for application in complex, sealed spaces where a greater concentration of vapor inhibitor is beneficial. The extra dose of Cortec VpCI vaporizes from the coating, fills the enclosed space, and adsorbs on difficult-to-reach surfaces.
Cortec
Explosion-proof fan
The EPF-30-PT explosion proof fan from Larson Electronics is a Class I Division 1 and Class II Division 1 fan that is rated for use in hazardous locations where flammable or explosive vapors, gases, or dusts exist. It is an OSHA compliant 30" circulation fan that delivers maximum airflow in a variety of hazardous work environments. Non-sparking blades and a thermally protected, maintenance free 1/4 horsepower motor greatly reduces the risk of explosion. The fan unit generates over 8,000 CFM of air output and spins at 1,140 RPMs for efficient spot cooling.
Larson Electronics
Inline lamp drivers for ballast water
The Trojan Marinex Ballast Water Treatment (BWT) system now includes inline lamp drivers, enabling a substantial reduction in cabling and electrical panels. With this innovation, total system footprint has been further reduced by up to 30%. The inline driver configuration of the entire Trojan Marinex BWT product suite consists of models ranging in flow rate from 150 m3/h to 1,500 m3/h.
Trojan Technologies
IIoT solution
Schneider Electric's EcoStruxure Profit Advisor uses Big Data analytics to measure the financial performance of an industrial operation in real time, from the equipment asset level of a plant up to the process unit, plant area, plant site and enterprise levels. On-premise or cloud-enabled, it works seamlessly with any process historian to mine both historical and real-time data. It then processes that data through Schneider Electric's proprietary segment-specific accounting algorithms to determine real-time operational profitability and potential savings.
Schneider Electric
Refrigeration chillers
ENGIE Refrigeration chillers are now offered by Industrial Water Cooling. The Quantum Chiller Series from ENGIE Refrigeration provides a broad range of services for applications ranging from 250 kW to 6 MW. The different chillers in the series offer impressive solutions for each chilling situation and can be individually tailored to meet exact refrigeration requirements.
Industrial Water Cooling