New Products
Compilation of new products for the industrial water market.
Jun 1st, 2017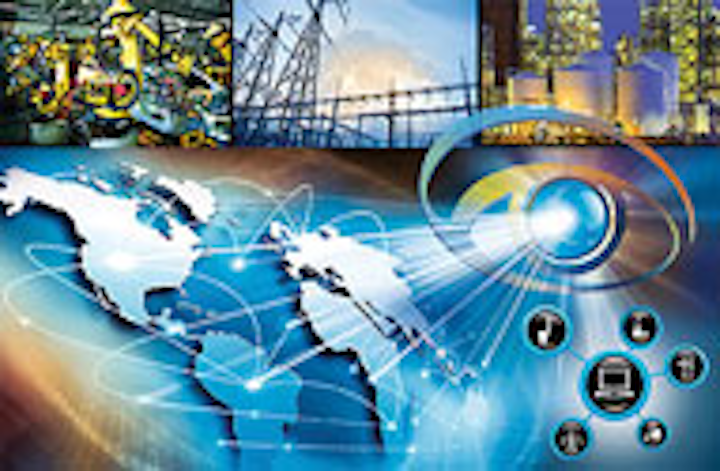 Monitoring for industrial Ethernet networks
Belden Inc., a global leader in signal transmission solutions for mission-critical applications, has released the latest version of its Hirschmann network management software. Industrial HiVision 7.0 improves productivity by now allowing the simultaneous configuration of hundreds of SNMP-enabled devices from any manufacturer. A new, customizable Network Dashboard provides instant visibility into key network health indicators, making it easy to take corrective or preventative measures. The result is improved availability and security for industrial networks.
Belden Inc.
Microwave switch
The Gladiator Microwave Switch from Hawk Measurement provides a high-power, circular, polarized microwave pulse that is emitted from the sending unit to the receiving unit in a transmission chain of approximately 100 pulses per second. Used in water and wastewater treatment facilities for potential blockage detection, barrier and machine detection, and detection of sludge between two points, the presence or absence of the signal at the receiver is used for indication.
Hawk Measurement Systems
Circuit breakers
Phoenix Contact's HMC series comprises the company's first 120 V AC hydraulic-magnetic circuit breakers for use in Class I, Division 2 applications. The UL-approved products utilize a fully sealed hydraulic-magnetic design that allows for accurate power switching and reliable overcurrent protection. Each breaker is rated for 50 V DC, and breakers up to 15 A are also dual-rated at 120 V AC. They have a short circuit current rating (SCCR) of 1 kA and a temperature operating range of -40°C to +65°C.
Phoenix Contact
Insulated riser clamp
The Klo-Shure Titan Insulated Riser Clamp series from Hydra-Zorb is made to fit vertical pipe runs and create a clean vapor barrier after insulation. Titan risers are molded with high-strength plastic with a crush-resistant design and a vertical load rating range of 1,000-2,000 lbs. These clamps offer three times faster installation with a dramatically improved finished appearance.
Hydra-Zorb Co.
Stainless-steel enclosed disconnect switches
Leviton's Powerswitch® non-fused disconnects in stainless-steel enclosures are intended for use in food and beverage processing environments where sanitary conditions are critical, as well as wastewater treatment, chemical processing, and other harsh industrial applications. Certified by NSF International, the enclosures have mounting feet that provide a 3/4" standoff from the wall, making them easy to clean. The enclosures have also passed IP69K testing and are proven to endure rigorous high-pressure, high-temperature washdown. Each disconnect enclosure features a watertight, high-visibility red and yellow over-mold handle built for strength and durability, with three provisions for padlocks for OSHA compliance.
Leviton
Waste-ejector pump
Vertiflo Pump Company's Model 700 industrial vertical non-clog waste ejector pump is designed for long life in tough services with heads to 100 feet TDH and flows to 1,500 GPM. Shaft diameters of 1.5 inches (Model 724) and 1.25 inches (Model 720) are standard. The impeller is a fully enclosed two-vane, non-clog design with wiping vanes that reduce axial loading and prolong bearing life. Wiping vanes aid in keeping particles from behind impeller and pump bearing assembly. Designed specifically for solids handling, the 700 Series incorporates a long radius elbow, reducing friction loss and allowing smooth flow through the discharge pipe.
Vertiflo Pump Company
Valves for pulp & paper
Several of Val-Matic's valves can be used in pulp and paper mills. Quarter-Turn Valves including Cam-Centric® Plug Valves, American-BFV® Butterfly Valves, EnerG® Ball Valves and QuadroSphere® Trunnion Ball Valves have seating systems built with corrosion- and wear-resistant materials. QuadroSphere® Ball Valves can handle the scale deposits because of the self-cleaning seats and a ball design that allows debris to be flushed from the valve body to avoid build up. Air valves help stabilize and relieve the pressure build up automatically. Check valves have a wide range of metallurgies, seating materials and coatings, perfect for corrosive and abrasive environments.
Val-Matic
Air operated diaphragm pump
IWAKI Air's new TC-X800 Series pump offers excellent flow rates and a new heavy duty body design. Operates at variable air pressures and is suited for both start/stop and fully continuous duty pumping applications. Can easily handle high head pressure and long discharge lines. Maximum flow rates at 211.3 GPM (800 LPM) and maximum discharge head 280 ft. (85 m). Iwaki Air AODD pumps are an ideal choice for the safe transfer of a variety of liquids across many industries: corrosive chemicals, liquid slurries, abrasive particle slurries, viscous liquids, fuel, oils, glues, inks, and flammable liquids, just to name a few. Available in stainless steel, aluminum, polypropylene, and cast iron.
Iwaki Air
Handheld fluorimeter
Turner Designs' Ballast-Check™2 is a small, lightweight, highly durable handheld fluorimeter ideal for quick indicative compliance checks of ballast water. Factory set, it is ready for use right out of the box, with no calibration necessary. Precision and accuracy of Ballast-Check 2 are optimized for the ballast water D2 regulations. Extremely simple one-button measurements display estimates of both algal abundance and algal activity, providing ship crew or port state control with an indication of risk for exceedance of the regulation. Small, battery-powered, waterproof, and easy to use.
Turner Designs
Produced water evaporation
Hydroflare, from Ship & Shore Environmental, is a first-to-market technology developed in partnership with Hydrozonix, a leading water quality management company. This new technology evaporates and treats produced water generated in the fracking process. Hydroflare takes natural gases produced by the fracking process and uses them to provide energy to evaporate produced wastewater.
Ship & Shore Environmental Inc.
Hazard protection wear
DuPont's Tychem® 6000 F FaceSeal is a tight coverall that features an integral rubber seal around the hood aperture. Designed to provide a perfect fit and tightness when wearing a full-face mask, the garment is ideal for applications where liquid leaks may be a particular hazard. The Tychem 6000 F FaceSeal offers excellent frontal protection thanks to a horizontal back opening that allows the user to step into the garment before pulling on the upper section. The rear vent is then secured using a zipper and flap with poppers.
DuPont
ASME Code-certified filter housings
Shelco Filters offers ASME Code certification for its USF Series and USB Series of filter housings. The certification follows globally accepted engineering standards, which ensures integrity, quality and durability in production and performance. Shelco's USF Multi-cartridge Housings and USB Bag Housings, which are entirely manufactured in the United States, are constructed in 304L or 316L stainless steel for maximum durability, are available to accept a wide variety of filter cartridges, and are designed to handle the most aggressive industrial filter applications. Shelco's heavy-duty ASME Code Cartridge Housings are available in various sizes, materials of construction and custom features.
Shelco Filters
Submersible conditioning chopper pump
The Vaughan Conditioning Pump is a submersible chopper pump mounted on a portable stand and fitted with a high-velocity mixing nozzle. The Conditioning Pump recirculates the contents of wet wells by chopping and mixing to produce a homogeneous slurry that is more easily pumped out. Floating mats are removed and solids that have accumulated on the floor are re-suspended. The pump is mounted on a portable stand so it can easily be used in multiple locations at a single jobsite, facility or municipality. Applications include: lift station conditioning, basin conditioning, influent station/channel conditioning, holding tank conditioning, and digester cleanout/homogenization.
Vaughan
Cantilevered, bearingless vertical pump
The Sump-Gard® SGK cantilevered, bearingless vertical pump from Vanton Pump & Equipment Corporation features a large-diameter, plastic-sleeved, stainless-steel shaft that eliminates the need for immersing bearings or bushings, which enables the SGK pump to run dry for indefinite periods of time. The rugged SGK has a chemical-resistant, epoxy-coated, cast-iron motor bracket that accommodates NEMA, IEC and standard European motors. Available in lengths to 4 ft. (1.21 m) and flows to 1,000 gpm (227 m3/hr). Engineered to operate in corrosive, abrasive, hazardous and ultrapure fluid applications, the SGK is available in PVC, CPVC, PP and PVDF.
Vanton Pump & Equipment Corp.
Water level dataloggers
Levelogger dataloggers from Solinst are SDI-12 compatible, making integrating accurate water level and temperature data into your monitoring network easy. Simply connect the Levelogger using a Solinst SDI-12 Interface Cable to your datalogging device. Leveloggers can be programmed to record independently of the SDI-12 system, providing reliable back-up data. With high accuracy, lifetime calibration and durable design, Leveloggers are ideal for your monitoring needs.
Solinst Canada Ltd.
Cabinet lighting
Weidmuller WIL is an industrial LED lighting solution designed to improve visibility for maintenance work in a range of applications that include standard industrial control cabinets and field applications. The new Weidmuller Industry Light (WIL), with an IP67 aluminum housing, can withstand harsh environmental conditions while delivering a space-saving and effective lighting solution in the cabinet or on the machine. Features a unique LED arrangement in a robust and compact 8-mm-deep housing. The 20-degree angle of the LEDs provide an ultra-wide light cone that can illuminate a broad area, eliminating the need to rotate the light for greater coverage.
Weidmuller
Ball valve
Asahi/America announces the next generation Omni® ball valve: the Omni Type-27. The compact ball valve's new design includes updated performance features and improved actuation capabilities. A new smooth ergonomic handle with open/shut indication tops the Omni Type-27. The rugged, injection-molded, one-piece body includes a single-threaded and sealed end carrier; double stem O-ring seals provide added leak protection. A molded ISO top flange for actuation mounting can be factory-added to the Omni Type-27. Available with socket or threaded end connections in 3/8" through 2". Materials: PVC and CPVC, both with EPDM seals and PTFE seats. NSF-61 certified and rated 150 psi at 70°F.
Asahi/America
Water softening, desalination
Engineering advances to Voltea's Membrane-Capacitive Deionization (CapDI©), for tunable, salt-free and chemical-free water softening and desalination include improvements in electronic controls, redesigned piping significantly reducing interconnected dead volume, and the use of Voltea's Single-block technology for module connections. These advances required a repositioning of Voltea's modules to a horizontal orientation, now called the IS-H (Industrial Series - Horizontal) Systems.
Voltea
Low profile sensors
The MassaSonic FlatPack Non-Contact Sensor is a low profile transmitter. These sensors are optimized to provide continuous non-contact distance measurement of fluids, pastes, or uneven solid bulk materials in constrained working zones for application ranges from 1 inch (25 mm) to 13 feet (4 m). Incorporating state-of-the-art dual-transducer ultrasonic technology and processing algorithms, all FlatPack Series Sensors provide precision measurement for factory automation, warehouse materials control, pipe and conveyor belt blockage, or tank level applications with non-uniform surfaces.
Massa