New Products
Compilation of new products for the industrial water market.
Jan 1st, 2017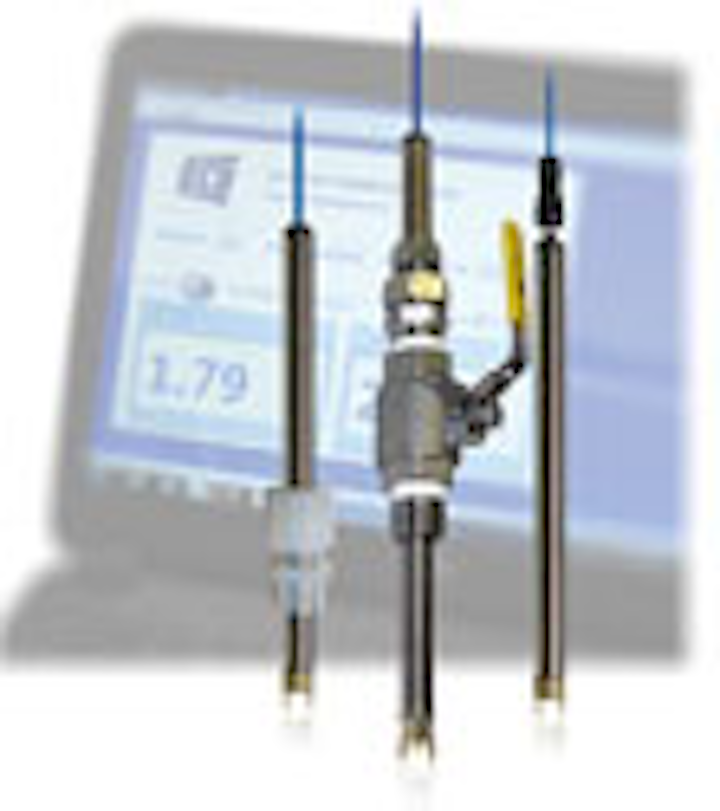 String lights
The VPLMSL-10-5FT-12.3-GL-NL-NP temporary construction string light set from Larson Electronics incorporates 10 hand lamps, equipped with a ceramic socket capable of accepting an LED, incandescent, or compact fluorescent lamp up to 100 watts. This set includes 10 polycarbonate globes with metal globe guards. The globe guard enclosure provides protection for the enclosed bulb and features a hook that allows operators to hang the task lights overhead. Five feet of 12/3 SOOW cable is stretched between each droplight, while three feet of cord terminates at each end. Designed for temporary illumination and daisy chain connections across the job site.
Larson Electronics
Intelligent sensors for analytical measurement
The DS80 Intelligent Sensor Series from Electro-Chemical Devices features a standard modular design, which can be customized for the accurate and reliable measurement of pH, ORP, DO, conductivity, resistivity and numerous specific ions. With their replaceable cartridge sensors, the instruments provide multi-parameter analytical measurement. They can be customized for a wide range of measurements in the most rugged environments to perform unique tasks unavailable with off-the-shelf analytical sensors. The sensors store and identify calibration information and communicate via MODBUS RTU with the ability to connect directly to a programmable logic controller (PLC) or a computer with a MODBUS RTU emulator.
Electro-Chemical Devices
Stator
NETZSCH Pumps North America's new iFD-Stator® 2.0, combines efficiency, economy and environmental safety in one system. Featuring a two-part, reusable stator housing and replaceable stator, the iFD-Stator 2.0 is compatible with all NEMO® NM® series progressing cavity pumps. Changing the stator within the housing is easy, with simple, compression-free assembly and disassembly; the defined compression for the iFD-Stator 2.0 is automatically generated when the elastomer collar is fastened. The new housing concept of the iFD-Stator 2.0 is easier to handle than the previous generation and delivers a longer service life than competing options, leading to reduced downtime and maintenance.
NETZSCH Pumps & Systems
https://pumps.netzsch.com/en
Electric actuators for continuous underwater use
A new version of AUMA's SA and SAEx multi-turn actuators is suitable for continuous underwater use, including water supply systems, hydropower plants, and civil engineering constructions for water applications. A universal sealing system combined with comprehensive corrosion protection qualifies these actuators for underwater use. Double-sealed cable glands at the electrical connection, inner seals - some in pairs - on all housing covers, and a one-piece solid shaft effectively prevent the ingress of water. The actuators are qualified for up to 15 m head of water, with higher heads of water available on request. Torques from 10 Nm to 1,000 Nm are covered.
AUMA
Density measurement
The Dynatrol® Density System offers accurate and quality measurement of density, specific gravity, percent solids or percent concentration in-line or in vessels. The Density cells come in a full range of corrosion-resistant materials that are both weathertight and explosion proof. They also serve broad temperature and pressure ratings - with no moving parts for long operating life. Applications may include magnesium hydroxide, caustic soda, soda ash, alum slurry, ferric salts, sulfuric acid, lime slurry, flocculants, etc., in power plants, chemical plants, paper mills or municipal water treatment facilities.
Dynatrol
Transmitters with radar sensing technology
GF Piping Systems has expanded its automation product line with two new level transmitters. Radar Level Transmitter Type 2290 features non-contact radar technology in a compact, economical unit. Available in a variety of different materials to resist even the most corrosive environments, the 2290's tank-mapping function makes it easy to block out objects like internal pipes, welding seams, stirrers or heating elements. Radar Level Transmitter Type 2291 is designed for continuous level measuring of conductive or non-conductive liquids, pulps or solids and maintains consistent measurement even under extremely tough conditions like turbulent process vessels.
GF Piping Systems
Admixture for concrete
KALMATRON® KF-A is a powder added to concrete mixes. It alters the interior structure of concrete, providing liquid and vapor impermeability, and works in a wide variety of temperatures up to and above 400°C without failure or cracking. It works as a water reducer during mixing and pumping; a plasticizer during transportation and placement; a shrinkage controlling and curing compound during setting time; a strength gainer and impermeability performing agent during hardening time; and a rebar corrosion inhibitor during batching. Safe for use with drinking water and food containing structures.
KALMATRON
Portable data loggers
The OM-DAQXL Series is a new OMEGA exclusive portable handheld data logger that delivers high performance and functionality. This series offers 8 or 16 universal analog inputs, fast sampling rates, large data storage, and a 7-inch TFT color touch-screen display offering advantages such as an intuitive user interface, easy channel configuration, data logging and play back, and many more. This series is ideal for a wide range of applications including R&D and industrial labs, chemical, water treatment or HVAC process monitoring, and strain measurement during physical testing of materials.
Omega
Fluid cooler
The Marley LW Fluid Cooler is an induced-draft counterflow closed-circuit fluid cooler from SPX Cooling Technologies. The new fluid cooler design incorporates patent-pending heat transfer technology, a lower height to address local code restrictions and other significant installation and maintenance advantages. The closed-circuit design keeps the process fluid in a clean, closed loop. Copper heat transfer coils offer corrosion resistance and greater thermal efficiency, which contribute to the LW's compact equipment size, lower weight and long service life. It is an excellent fit for industrial applications such as compressor, machine jacket and special fluid cooling.
SPX Cooling Technologies Inc.
MBR packaged systems
Hyflux's PoroCep® Membrane Bioreactor (MBR) packaged systems are ideal for the textile and food and beverage industries. Compact and energy-efficient with superior performance efficiency, the systems help industries save energy and reduce costs in their wastewater treatment efforts. The four newly launched skid-based models in larger treatment capacities of 600, 1,000, 2,000 and 3,000 m3/day will complete the PoroCep® MBR packaged systems range. Optional add-ons include Remote Assistance Monitoring (RAM) and Enhanced Performance Program (EPP), adopting the proprietary SuperBiotiX™, a special blend of microbial formulation proven to effectively reduce effluent BOD, COD, suspended solids and odor.
Hyflux
Sample analysis
Asterion offers a new sample analysis submission process for the company's proprietary plating and pretreatment chemistries. Designed to ensure ease of use and quick customer response, the submission process meets growing customer requirements to optimize plating line efficiency and productivity at a low cost of ownership. Customers may submit up to ten sample requests per submission. Every sample is assigned an identifier number for testing at Asterion's advanced analytical laboratory. Free sample submission kits are offered to customers, including all required packing materials and shipping documentation. Testing includes chemical composition and trace analysis to determine composition, impurities and overall chemical quality.
Asterion LLC
Check valves
The EPIC™ series of check valves from Check-All Valve Manufacturing are in-line, spring-loaded, poppet-type check valves that are designed to be cost effective, simple, rugged and efficient while operating in any flow orientation. The EPIC is machined from 300 series stainless steel bar stock with Aflas® seat/seals and a 1/2-PSI stainless steel spring (cracking pressure). It is streamlined so that media flows through the valve over smooth, contoured surfaces with a minimum change in direction. The check valve also achieves a high flow capacity and reduced pressure loss compared to other poppet-style check valves of similar sized connections.
Check-All Valve Mfg. Co.
Reverse osmosis system
Culligan International's new Industrial Water (IW) Reverse Osmosis System solves the most common problems for a variety of industrial and commercial water treatment processes. Available for flow requirements from 22 to 200 gallons per minute (GPM) with salinity levels up to 4,500 parts-per-million (PPM), the system suits applications such as pretreatment for high-purity requirements, biopharmaceutical manufacturing, water jet cutting, potabilization for drinking water, power generation and more. The unit is fully skid-mounted for fast and easy on-site installation.
Culligan
Hydraulically actuated diaphragm metering pumps
Pulsafeeder's PULSAPRO Series of Hydraulically Actuated Diaphragm metering pumps are positive displacement, hydraulically actuated diaphragm metering pumps that combine the high efficiency of a plunger pump with the sturdiness of a diaphragm seal to eliminate leakage. They provide maximum accuracy and repeatability with the dependability of a 5-year drive train warranty. Enhancements to the line include increased flow rates up to 270 gph (1,022 lph); pressure up to 5,100 psi (350 bar); temperature up to 275°F (135°C); and viscosity up to 1,000 cPs. All PULSAPRO pumps are compliant with API-675, CE and ATEX standards.
Pulsafeeder
Steel enclosures for hazardous areas
Weidmuller has expanded its Klippon® TB (Terminal Box) range of hazardous area steel enclosures with the introduction of three new versions: the MH (Multi-Hinge), QL (Quarter-Lock) and FS (Fixed-Screw). These new enclosures feature a range of approvals that include cULus, AEx, ATEX and IECEx ratings, making them suitable for use in Class 1/Division 2 and Class 1/Zone 0, 1, 2, 20, 21 and 22. They comply with the latest requirements covering equipment for use in potentially explosive atmospheres, making them ideally suited for harsh-environment applications in oil & gas, petrochemical, and other industries.
Weidmuller
Temperature and humidity probe
Campbell Scientific's new accurate, rugged EE181 air-temperature and relative-humidity (RH) probe is ideal for low-power, unattended applications requiring outstanding long-term stability and reliability. The EE181 features a steel-mesh filter and a proprietary coating on the RH element, which increases the life of the element and protects it from dirt, dust, salt, or other contaminants.
Campbell Scientific
Directional control valves
Hunt Valve's directional control valves offer the hydraulic directional control and long-term dependability required for steel and aluminum production. From pump unloading to coil handling, these valves are ideal for a variety of low-viscosity applications due to their zero-leakage design and ease of maintenance. Combo Directional Control Valves are designed for 95/5 water/oil service and are rated for up to 5,000 psig and flow rates up to 400 GPM. All valves offer four-way operation and two- or three-position configuration.
Hunt Valve
Flame-resistant, foul-weather outerwear
GORE® FR Apparel is a new line of FR foul weather outerwear products designed to meet the demanding needs of oil and gas workers. A jacket, bib, and detachable hood combination offers protection from incidental flame exposure and weather protection across a wide range of environmental conditions, while offering moisture management to improve comfort and safety. The durable, lightweight 2-layer ePTFE membrane construction also helps protect workers from exposure to hot liquids, steam, common oilfield contaminants, and allows for easy care and cleaning.
W.L. Gore & Associates Inc.