Water Briefs
Expanded services, new name for Severn Trent unit
Nov 1st, 2007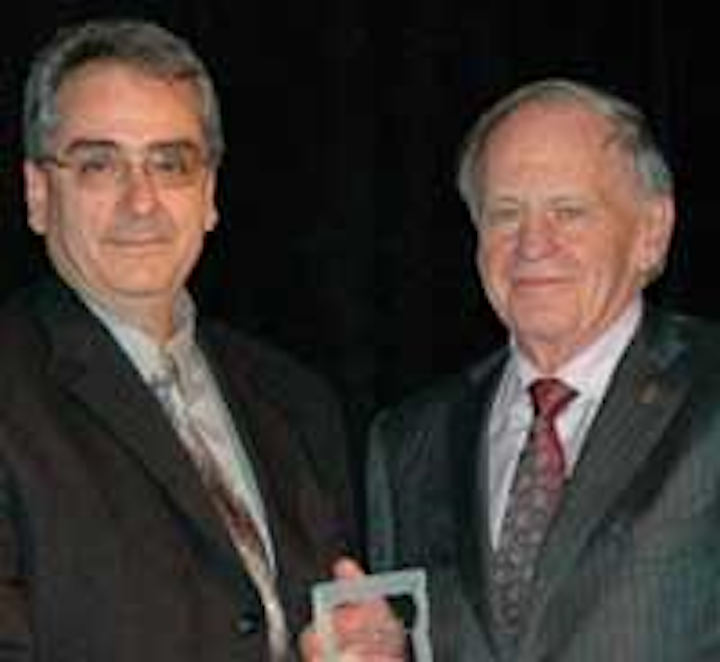 Expanded services, new name for Severn Trent unit
In a corporate reorganization that expands the company's service offerings, Severn Trent Water International Ltd. has been renamed Severn Trent Services International. Building upon the experience of four organizations – Severn Trent Services' North American Contract Operations Division, Severn Trent Italia, C2C and Severn Trent Water – the company now offers worldwide contract operating services in addition to its existing utility management services and contract management portfolio.
IDEX Corp. to acquire Nova Technologies Corp.
IDEX Corp. is purchasing Nova Technologies Corp., of which ADS LLC is a wholly owned subsidiary. Flow measurement equipment and software specialist ADS includes ADS Environmetnal Services, Accusonic Technologies and the Hydra-Stop product line, which the company acquired when it purchased Severn Trent Pipeline Services in 2006. In the same year it purchased DWC Technologies. In November, ADS also announced plans to acquire R&D company Condor Solutions Inc.
Hydraulic Institute seeks pump standard reviewers
The Hydraulic Institute is seeking a broad-based consensus of pump industry professionals and stakeholders in North America in the review process for drafts of its updated ANSI/HI Standard 2.1-2.2, Rotodynamic (Vertical) Pumps for Nomenclature and Definitions as well as ANSI/HI Standard 1.1-1.2, Rotodynamic (Centrifugal) Pumps for Nomenclature and Definitions. As such, it's seeking volunteers to review the standards and offer their opinions.
Water, wastewater SCADA systems market to exceed $275M
The far-reaching impact of technology and the quantum change in the way companies are restructuring and streamlining business processes are transforming the global Supervisory Control and Data Acquisition (SCADA) market. The world-wide market for SCADA systems for the water & wastewater industries is expected to grow at a compounded annual growth rate (CAGR) of 5.4% over the next five years. The market was $212 million in 2006 and is forecasted to be over $275 million in 2011, according to a new ARC Advisory Group study.
Pipeline inspection firms form strategic alliance
Pipeline inspection specialist Envirosight and Vivax, an innovator of push camera and locator technology, announced a strategic alliance to further develop push camera technology, and grow the sales channel for such technology throughout North America. This includes a digital operating platform that will be common among push cameras, mainline crawlers and zoom survey cameras, allowing operators to maximize interoperability of video inspection equipment with greater functionality. The alliance unites over 25 trained sales partner organizations throughout North America, as well as six authorized service centers.
Frost & Sullivan honors companies for growth excellence
Frost & Sullivan honored companies for innovation and leadership in a variety of industries at the 3rd annual Frost & Sullivan Growth Excellence Awards Banquet held in Monterey, CA, in September. The event was in conjunction with its Executive Congress on Corporate Growth: Growth Innovation and Leadership 2007. Among those honored were:
AEGIS – 2007 North American Motors & Drives Product Value Leadership of the Year Award
Aquatech International – 2007 North American Water Recycling and Reuse Systems Excellence in Technology Award
GE Water & Process Technologies – 2007 North American Desalination Technologies Excellence in Research Award
Pulsafeeder Inc., A Unit of IDEX Corp. – 2007 North American Positive Displacement Pumps Excellence in Product & Customer Service of the Year Award
Water-cooled chiller proposal represents energy savings
ASHRE estimates 13% annual energy savings relative to ASHRAE/IESNA Standard 90.1-2004 should result from a proposed addendum regarding air- and water-cooled chillers. The Energy Standard for Buildings Except Low-Rise Residential Buildings includes 14 proposed addenda to the 2007 standard that are open for public comment. Among them is a proposed addendum involving use of variable speed drives (VSDs), which establishes effective Jan. 1, 2010, an additional path of compliance for water-cooled chillers as well as consolidation and new requirements for some of the existing categories – with efficiencies of up to 30% in integrated part-load values (IPLV).
Ion exchange makers hike resin prices
Dow Water Solutions is increasing the price of all DOWEXTM ion exchange resin, adsorbent and catalyst products an average of 10% across the product line, globally, effective Nov. 15 or as contracts allow. This move followed shortly after Rohm and Haas Co. announced a similar worldwide price increase across its range of ion exchange resins, adsorbents, and catalysts. Meanwhile, LANXESS announced plans to build its new, EUR30 million ion exchange resin plant in the Indian state of Gujarat. Production is scheduled to start at the beginning of 2010.
Hanson Pipe now largest North American pressure pipe manufacturer
Building on its leadership in the pressure pipe industry, Hanson Pipe & Precast, along with the newly acquired companies USA-based Price Brothers Co. and Canada-based Hyprescon Inc., is now the largest pressure pipe manufacturer in North America. In March, Hanson bought Price Brothers, a Dayton, Ohio-based manufacturer of concrete pressure pipe founded in 1899. The acquisition expanded Hanson's product line and capacity in Bakewell, TN; Hattiesburg, MS; Palatka, FL; South Beloit, IL; and Weybridge, England. The July acquisition of Hyprescon Inc. and Miceli et Frères Ltée, includes Hyprescon's main concrete pressure pipe facility near Montreal and two facilities near Toronto as well as gravity and precast facilities in Montréal and Toronto. The deal also included Miceli's two facilities near Montreal. In addition, acquisition of Dallas, Texas-based Hanson's British parent company was completed Aug. 23 by Germany's HeidelbergCement Group, finalizing negotiations begun in May.
---

Among other recent headlines at www.industrialww.com, see:
Schlumberger Water Services acquires Water Management Consultants
Black & Veatch unveils 2007 National Stormwater Utility Survey results
Fluid Components International named 2007 Exporter of the Year
Ecovation acquires Biotim's anaerobic treatment technologies for U.S. market
Wallingford Software, Telog Instruments sign joint development agreement
Mueller Water Products to close NJ ductile iron pipe operations
Severn Trent De Nora wins ballast water treatment patent
Siemens, inge AG to cooperate on membrane technology
Schneider opens automation, control innovation center in Raleigh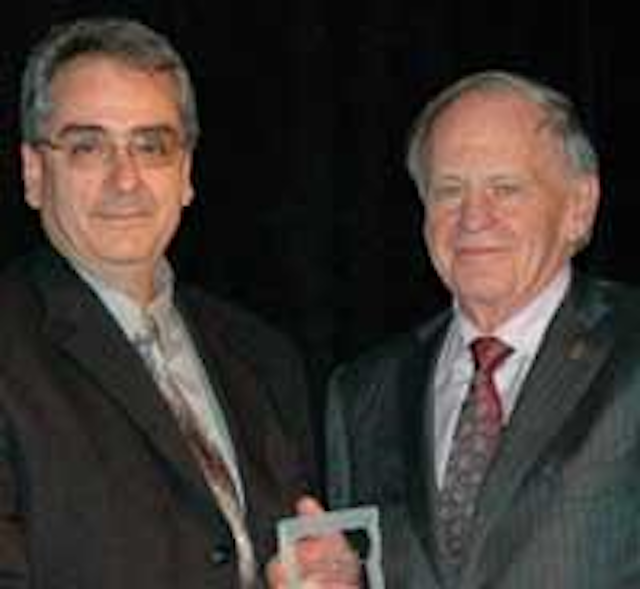 Click here to enlarge image
For development of a biogas purification process, eco-tec's Carmine Fontana and University of Toronto's Dr. James Smith accept the Canadian Innovation Award for Environmental Technology at the Canadian Manufacturers & Exporters' 8th Annual Awards Ceremony.