WEFTEC PREVIEW
Dallas hosts WEFTEC®.06 - the annual conference and exhibition of the Water Environment Federation...
Jul 1st, 2006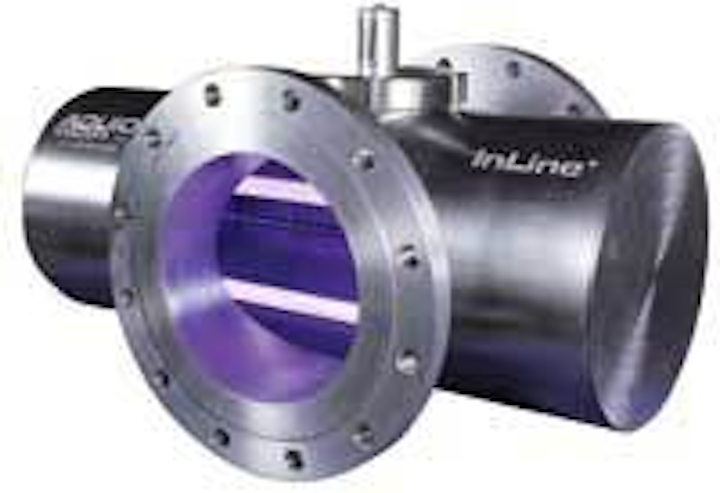 Dallas hosts WEFTEC®.06 - the annual conference and exhibition of the Water Environment Federation - Oct. 21-25. The largest U.S. event for water and wastewater professionals will include 94 technical sessions, 25 workshops and eight facility tours. Over 900 exhibiting companies will showcase a comprehensive array of the latest and best technologies. For more information, see: www.weftec.org
UV systems
UV disinfection specialist Aquionics will be showing, among its products, the InLine+ medium pressure UV system at WEFTEC.06. The system, which is specially optimized to treat wastewater, is the first medium pressure UV system in the world approved in accordance with the NWRI standard for re-use of effluent. Also on display will be a transparent model showing internal workings of a UV system, including the lamp wiper mechanism. Aquionics Inc., Erlanger, KY, 859-341-0710, www.aquionics.com
Oil separation media
HD Q-PAC® media allows oil-water separators to exceed the European Union's specification EN 858-1 and the API Standard 421 for 99.88% removal of all free oils, including droplets 20μ in diameter. In an emergency, an HD Q-PAC-filled OWS handling 1900 gpm (432 m3/hr) stormwater with 4,250 mg/L of oil discharged clean water with undetectable oil. Lantec Products Inc., Norwood, MA, 781-769-1901, www.lantecp.com
High-pressure jet pump
Thompson's JSC Series solids handling Enviroprime pump leads the industry in construction, industrial and mining applications. With its heavy-duty cast-iron construction and ability to dry-prime and re-prime automatically, this model is ideal for sewage bypass and general construction dewatering applications. The 6-inch pump is designed for flows to 2,500 gpm, maximum heads to 195', and can handle solids up to 3".Thompson Pump & Manufacturing, Port Orange, FL, 800-767-7310, www.thompsonpump.com
Clarifier
The Actiflo® Process is a compact clarification system that uses microsand enhanced flocculation and settling. A coagulant is added to the raw water/wastewater for destabilization of colloids. This then goes through a 2-stage flocculation with microsand and polymer. Destabilized suspended solids bind to microsand particles through polymer bridges creating dense floc particles, which - with aid of lamellar settling tubes - then settle very rapidly. Krueger Inc., a unit of Veolia Water, Cary, NC, 919-677-8310, www.krugerusa.com
Chemical feed pump
Siemens adds automatically controlled arrangements to its Wallace & Tiernan Chem-Ad Series diaphragm metering pumps: the Chem-Ad XL Model E60 and Model E60 Plus. The XL series provides chemical feed monitoring, controls and display with intelligent controls interface -- and tamper-proof controls, password protection and capacity display. Configurable operating menus are available in local and automatic control. Siemens Water Technologies, Warrendale, PA, 847-706-6947, www.usfilter.com
Line stopping system
Eliminate service disruptions and shutdowns of critical water, wastewater and gas distribution systems with the Insta-Dam® line stopping system. It isolates pipes ranging in size from ¾" to 4" for repair or replacement. Suitable for all types of pipe, it's the perfect tool for small plumbing contractors to large industrial and mechanical contractors. At 65% faster than conventional line stopping methods, the system is rated to 100 psi and provides 95% to 100% flow stoppage at the point of repair. Severn Trent Services, Alsip, IL, 800-538-7867, www.severntrentservices.com
Pre-engineered packages
RoyPak water treatment system packages are pre-configured to match the Milton Roy family of pumps. These off-the-shelf, user-specified systems are applicable for chemicals in water and wastewater treatment such as sodium hypochlorite, sodium hydroxide and ferric chloride. They're also suitable for process chemical feed and dosing systems in industrial and commercial processes. These systems are offered in 1- and 2-pump configurations specific to flow, pressure and chemical requirements specific to your needs. Milton Roy Americas, Ivyland, PA, 215-441-0800, www.miltonroy.com
Corrosion-resistant flow controls
Plast-O-Matic offers a low-cost Flow Control Valve in natural polypropylene, PVC and other rugged thermoplastics to maintain a constant, pre-determined flow in a piping system. Flow rates from ¼ gallon per minute to 120 GPM can be maintained to within 10% accuracy with varying inlet pressures from 15 to 120 psi. Ideal for highly corrosive or ultra-pure liquids, the valve is pre-set and tamper-proof, and requires no electrical connection or electronic control. Plast-O-Matic Valves Inc., Cedar Grove, NJ, 973-256-3000, or www.plastomatic.com
Chemical process pumps
Flowserve's family of chemical process pumps include the Flowserve CPX ISO 5199 and the Flowserve Mark 3TM ANSI B73.1 pump lines. Both ATEX-compliant, the CPX and the Mark 3 provide high performance and reliability for a broad range of applications, such as chemical, petrochemical, pharmaceuticals, pulp and paper, sea water, mining, primary metals, and water and wastewater treatment. Configurations include mechanically sealed, dynamically sealed, low-flow, self-priming, vertical-sump and recessed-impeller versions. Flowserve Corp., Dallas, TX, 800-728-7867, http://www.flowserve.com
Magnetic flowmeter
The ENVIROMAG 2300 meters offers quick, simple and low-cost installation and commissioning as an NSF-approved flow solution for water and wastewater industries. With no mechanically moving parts, the flow-sensor tube is maintenance-free. Its design incorporates a high-quality polyurethane liner with field-replaceable HC4 Hastelloy electrodes. Highly reliable, the meter boasts a 2000:1 turndown with specified measuring accuracy. Krohne Inc., Peabody, MA, 800-356-9464, www.krohne.com/northamerica.
Industrial membrane brochure
A new brochure is available from Koch Membrane Systems' industrial water and wastewater group. Applications - custom or packaged - include boiler feed, bottling and pharmaceutical water purification to meet process water requirements as well as wastewater reclamation or wastewater disposal in the treatment of landfill leachate, oily wastewater, metal working, chemical plant waste, etc. Technical assistance is available throughout system life by taking advantage of customizable KMS ASSIST® service and maintenance programs. Koch Membrane Systems, Wilmington, MA, 888-677-5624, www.kochmembrane.com
Duckbill check valves
Cla-Val Series DB duckbill check valves are a flexible sleeve design made of top quality fabric reinforced elastomer materials for maximum resistance to corrosion and wear caused by continuous operation with abrasive slurries, sludge or effluent. Four inlet connection styles are available including flanged, slipover, insert and jacketed, in a wide variety of elastomer choices. In use for over 100 years in waterworks applications, the duckbill concept is commonly accepted for use in industrial process piping systems, waste and storm water piping, and sewer piping systems. Cla-Val, Newport Beach, CA, 800-942-6326, www.cla-val.com
Coriolis flowmeters
Enhanced digital processing and sensor design improvements deliver increased accuracy and stability, plus unique meter self-verification capability, for Micro Motion® ELITE® Coriolis flowmeters from Emerson Process Management. This next-generation MVDTM (multivariable digital) technology and sensor design innovations deliver breakthroughs in entrained gas measurement performance and patented self-verification technology that allow in-situ assessment of meter calibration. Emerson Process Management, Boulder, CO, 303-527-5301, www.micromotion.com
Eliminate jar testing
Chemtrac's Coagulant Charge Analyzer (CCA3100) uses a fast, simple titration procedure to correlate "best jar" with a quantified, repeatable charge value resulting in optimized plant performance. Once this correlation is established, jar tests usually become less frequent, or unnecessary. The CCA can also be a useful tool to determine activity of different coagulants & polymers. The instrument is easy to operate & maintain with an adjustable stand that accommodates 250-2000 ml samples. Chemtrac Systems Inc., Norcross, GA, 800-442-8722, www.chemtrac.com
Self-priming pumps
Watch for Godwin to provide a new option for its Dri-Prime range of automatic self-priming pumps: natural gas engines. More municipalities select natural gas engines now for their Dri-Prime Backup Systems in lift stations. Also, watch for something new in the Dri-Prime CD series of high volume pumps with elevated head capabilities, more specialized water/wastewater applications for the Dri-Prime HL series of high head pumps, and a new line of small Godwin Wet-Prime gas pumps to round out solutions for any contractor or wastewater operator need. Godwin Pumps, Bridgeport, NJ, 856-467-3636, www.godwinpumps.com
Gas alert detector
BW Technologies by Honeywell presents the GasAlertMicro 5, a rugged, water-resistant instrument capable of simultaneously monitoring up to five gases including combustible gases, H2S, CO, O2 and other toxic gases including Ammonia, Chlorine and Phosphine. Choose from optional datalogging, motorized pump, multi-language support, and a variety of power options. BWT Technologies-Honeywell, Calgary, AB, Canada, 888-749-8878, www.gasmonitors.com
Photometer system
Industrial Test Systems eXact EZ System is a waterproof photometer with the sampling cell sealed and built into the meter; eliminating the cumbersome task of handling cells or cuvettes. It's EPA-compliant for both Free and Total Chlorine testing, features 0.01 ppm resolution, measures 18 different parameters, and is ideal for all regulatory testing purposes. Industrial Test Systems Inc., Rock Hill, SC, 800-861-9712, www.sensafe.com
Insertion magmeters
The AquaProbe 1 and 2 insertion electromagnetic flowmeters provide a cost-effective alternative to full-bore meters as well as a convenient way to perform surveys on existing lines and meters. AquaProbe 1, intended for permanent installations where power is available, connects with the ABB MagMaster transmitter. AquaProbe 2, powered by a battery pack, primarily serves temporary installations. Hot-tap insertion permits installation without interrupting flow, reducing inventory unit requirements, and cutting replacement costs. ABB Instrumentation, Warminster, PA, 800-922-2475, www.abb.us/instrumentation
GIS software
ArcGIS is an integrated collection of software products for building a complete geographic information system (GIS). It's used for creation, management, integration, analysis, display and dissemination of spatial data. This family of software products enables deployment of GIS functionality and business logic wherever needed - in desktops, servers, custom applications, Web services, or mobile devices. ESRI, Redlands, CA, 909-793-2853, www.esri.com
Process pump
Vanton Chem-Gard® CGM-ANSI magnetically driven end-suction process pumps are sealless, single-stage, volute-type centrifugals that meet ANSI B73.1 specifications and conform to HI standards. With flows to 600 gpm, heads to 280', temps to 275°F and ratings to 45hp, they're designed to provide leakproof transfer of corrosive, toxic, hazardous and volatile liquids. These aren't lined pumps. Vanton Pump & Equipment, Hillside, NJ, 908-688-4216, www.vanton.com
Custom enclosures
Fibox Enclosures has expanded its in-house capabilities to supply customized plastic and aluminum enclosures. New assets include a state-of-the-art CAM machining system for milling, engraving, cutting, and embossing. This allows fast turnaround on popular enclosure modifications including threaded and unthreaded holes, and panel, door, side, and window cutouts. This system can customize any one of over 525 standard enclosures. A graphics converter built into its software makes it easy to accept files from different CAD programs and convert them to proper machining instructions. Fibox Enclosures, Glen Burnie, MD, 888-342-6987, www.fiboxusa.com
Cast iron slide gate
Cast iron slide gates are commonly used in sewage treatment, flood control and municipal applications. They are designed to control the flow of fluid through openings under a face or seating head as well as under back or unseating head. Offered in square, rectangular or round flanges, cast iron slide gates utilize vertical and horizontal ribs to provide sufficient strength to meet the required design heads. Hydro Gate, Denver, CO, 800-678-8228, www.hydrogate.com
Plug valve
The Pratt Ballcentric Plug Valve - available in sizes from ½"-36" - is designed for wastewater applications. The round port design (available in sizes ½"-20") offers less resistance to slurry, sludge and fluid flow resulting in better flow characteristics and less pressure drop across the valve than other types of plug valves. The company designs, develops, manufactures and markets butterfly, rectangular, ball, nuclear, industrial, cone, sleeve and energy dissipating valves as well as valve actuators, control systems and couplings. Its products are used in potable water, wastewater, power, industrial and nuclear markets. Henry Pratt Co., Aurora, IL, 877-436-7977, www.henrypratt.com WEFTEC Booth # 1827
Diaphragm pump
Improve energy efficiency and reduce operating cost with ABEL's double-acting membrane pumps with pressures up to 90 PSI and capacities up to 275 GPM. The ABEL Electro-Mechanical Membrane, Positive Displacement Pump (Model EM) are 90% energy efficient, seal-less, self-priming, capable of running dry and delivers constant flow over its entire pressure range. ABEL Pumps L.P., Sewickley, PA, 412-741-3222, www.abelpumps.com
Shaft alignment
Even battery-powered portable instruments and maintenance tools normally require cables for transmission of signals and other measurement data. On the jobsite, cables always are cause for concern as they may get entangled, stepped on, damaged or cause accidents by stumbling over them. With introduction of wireless data transmission via Bluetooth®, the ROTALIGN® ULTRA Laser Alignment System for rotating machinery makes use of cables superfluous. Ludeca Inc., Doral, FL, 305-591-8935, www.ludeca.com